I love taking photos in Dorset, the county where I live. I am very fortunate to live in such a lovely part of the world.
So let me share 10 stunning photography spots in Dorset England with you. These are stunning locations that I love visiting and photographing. They include Durdle Door, Lulworth Cove, Brownsea Island and also some not so well known Dorset locations that may be new to you.
I will tell you a little bit about these locations, and also how to get to the exact locations where I took these photos from.
I hope that you like my photos, and that I inspire you to get out and take photos wherever you are.
And yes, 12 photos, 10 locations – don't worry it will all make sense trust me!
Who am I?
I am a photographer fortunate enough to be based in the wonderful county of Dorset in the UK. My work is photographing buildings, but I also love getting out and about taking photos in the many wonderful photo locations in Dorset.
This is something that I do not get to do anywhere near as often as I would like to and writing this post has inspired me to get out more and take photos of this wonderful place.
A quick word about these photos
All the photos were taken with my Canon DSLRs and processed by me. Yes these photos are all my own work! And these are my personal favourite photos taken in some of my favourite locations in Dorset.
Enough of all that – let's get into these Dorset photography locations.
Location 1 – Kimmeridge Bay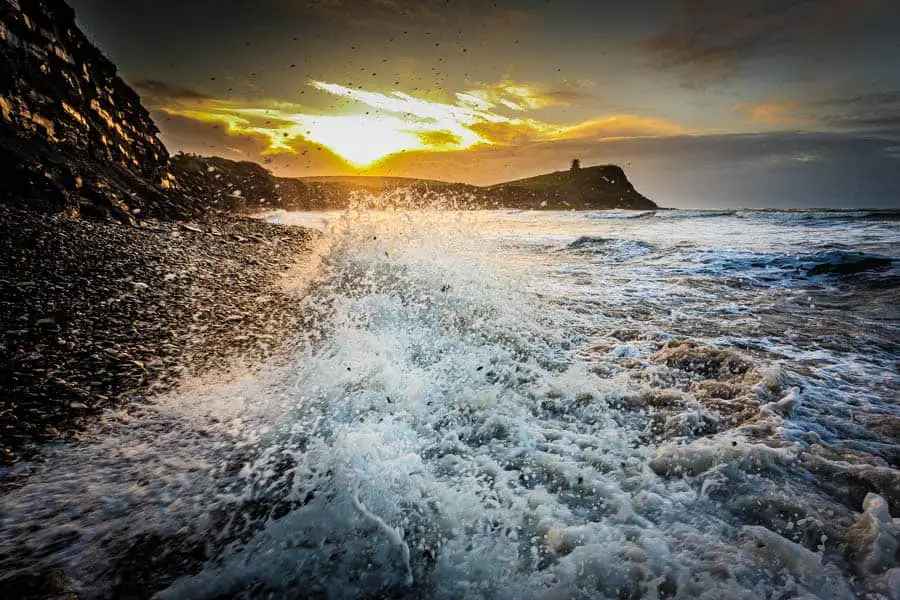 Kimmeridge Bay is located on the wonderful Jurassic Coast in Dorset. Easy to find with parking right on top of where this photo was taken.
Here it is marked with an X on the map (the location where I took the photo from that is). It is a bit of a walk along the top and down to the beach, which is rocky, so good footwear is recommended.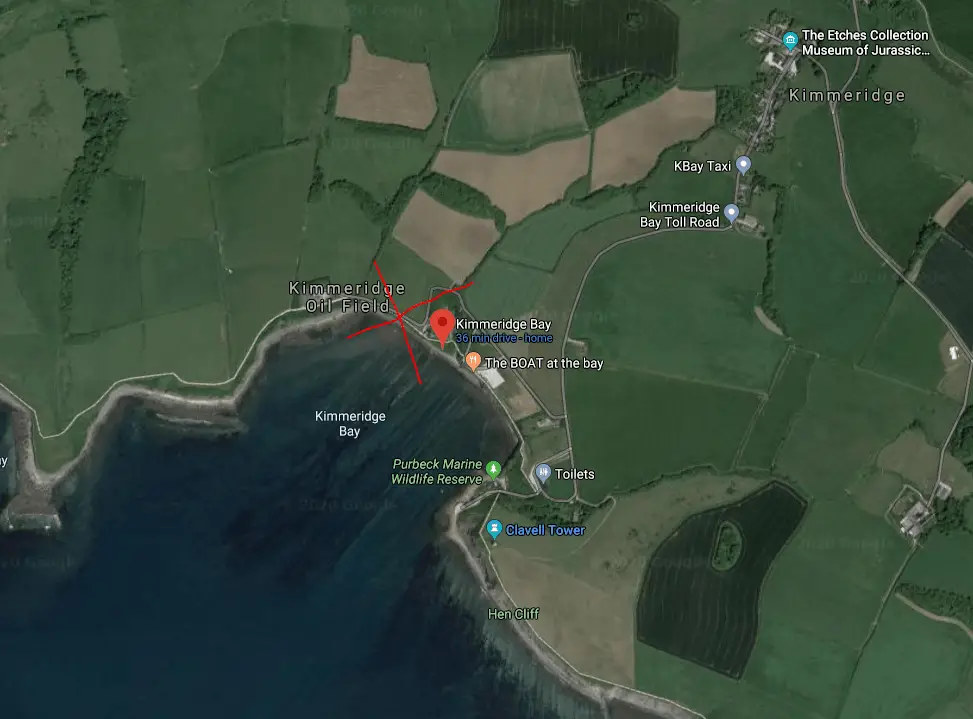 The beach is a gravel/ pebble affair, and the rocks on the cliffs are well worth a look – you might find the odd fossil, or even oil!
About my photo of Kimmeridge Bay at sunrise.
The photo was taken just after sunrise. This is one of favourite views of Kimmeridge, low level looking across the bay towards the scaffolded Clavell Tower.
Location 2 – Portland Bill Lighthouse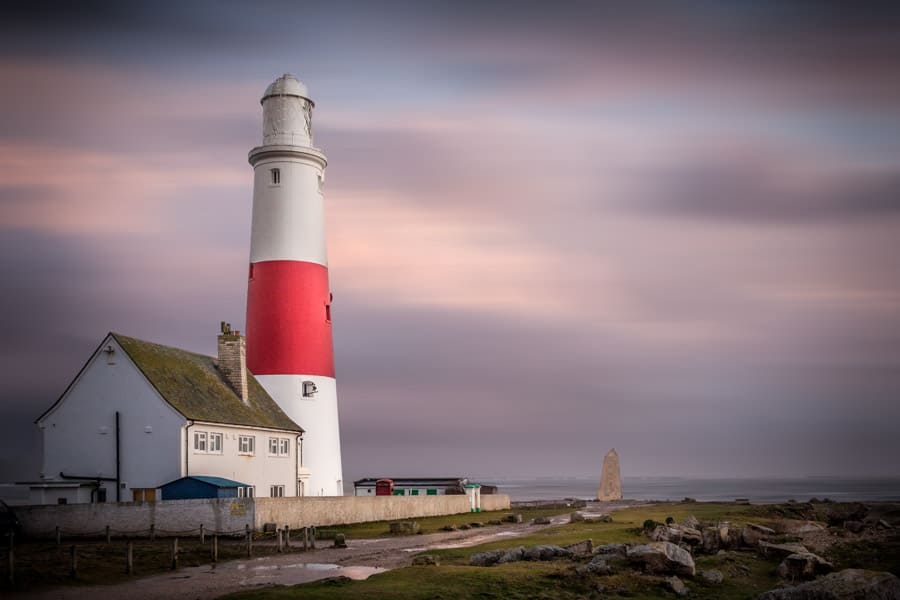 A famous Dorset landmark, Portland Bill Lighthouse is located right at the tip of Portland.
I like this photo as the clouds give lovely muted colours, with this photo being different from the usual photos you see with a clear blue sky. The muted grey clouds, moving courtesy of a long exposure, allow the red of the lighthouse to be the star of the photo, and quite rightly too.
Here is where I took this photo from, just down from the car park at the end of the road. It is a very short walk from the car park to the lighthouse.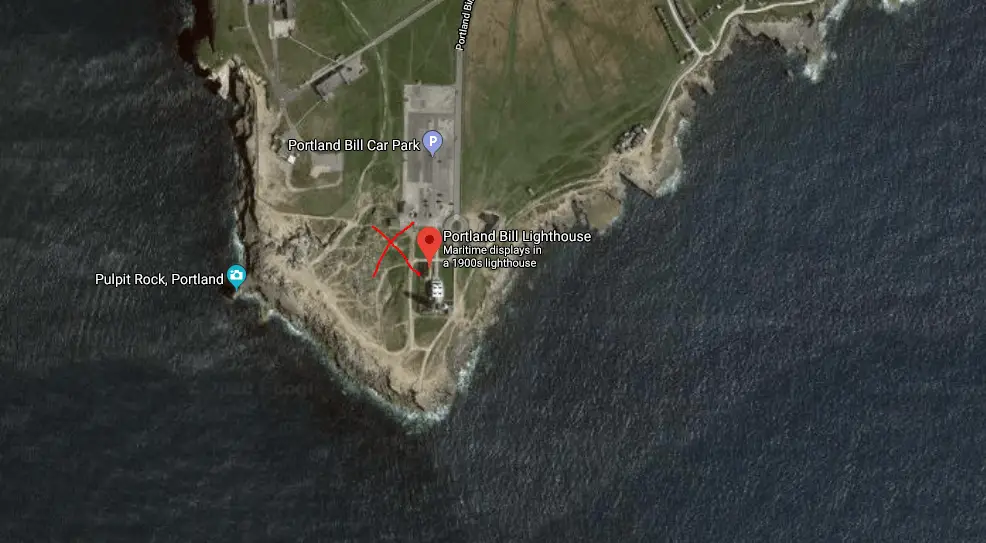 This is the square on view from the side for a change, with lovely clean bright summer light and some interest in the sky. Obviously architectural photography is my equal favourite with landscape photography.
Portland Bill Lighthouse is owned and operated by Trinity House.
Location 3 – the view from the cliffs overlooking the beach at West Bay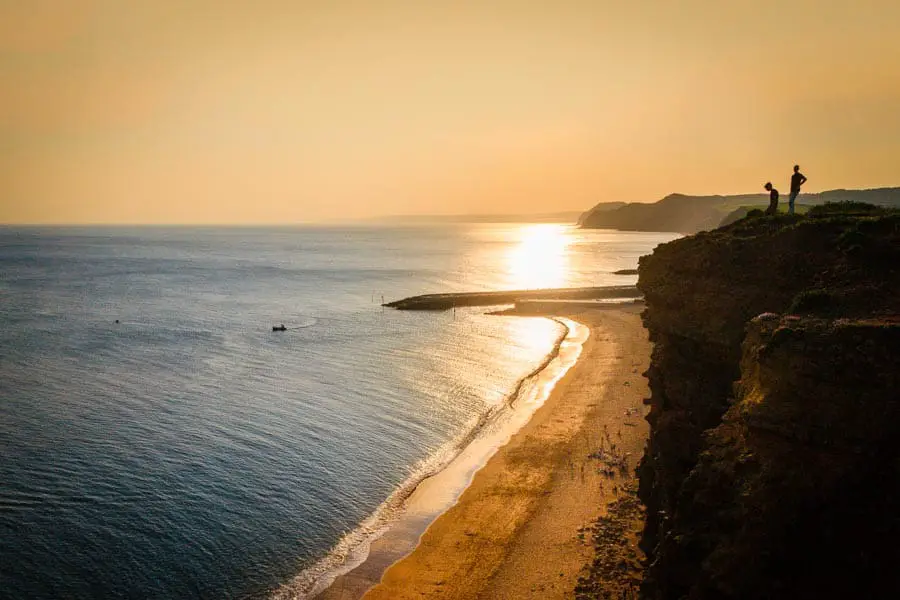 Another sunny landscape image is the picture from the top of the cliffs overlooking the entrance to Bridport Harbour and West Bay. This is a lovely warm early summer view of the cliffs, sea and beach.
The people on the top give the photo a human perspective and scale to the cliffs.
West Bay is in West Dorset and can be reached by driving to Bridport and then taking the road to the coast. There is plenty of parking around West Bay giving easy access to the beaches and cliffs above.
And yes the cliffs are quite high, so a bit of effort is needed to get up there, along with caution along the way and on the tops,
Here is where I took this photo from.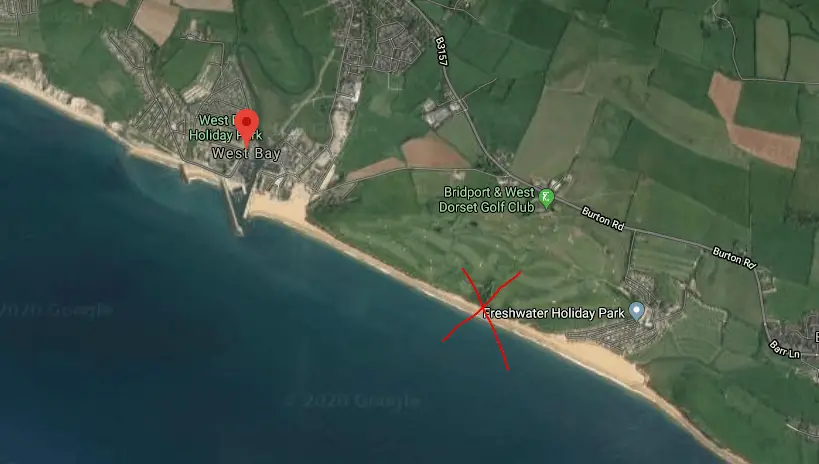 Location 4 – Portland photographed from lovely Ringstead Bay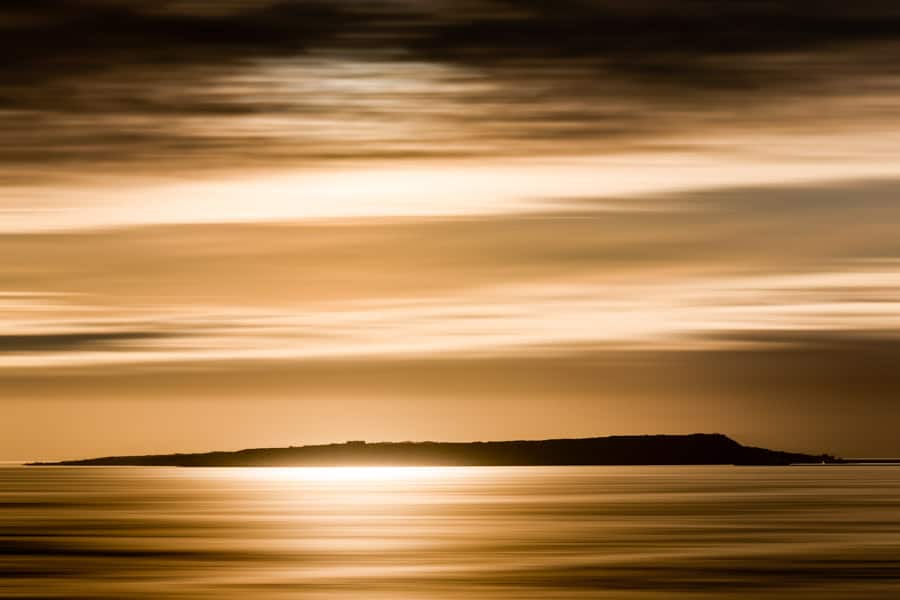 Ringstead Bay is a lovely National Trust site, from which you get great views of Portland. I was very lucky to be there and capture the amazing light in this image using a telephoto lens to isolate the land and the late winter sun and all those lovely colours and textures.
Not your usual view of Portland, and one that I like very much.
Here is where the car park is, from which I did not have to walk too far to get this shot. Just across the road from the pub. If you park there make sure you go in and have a drink though!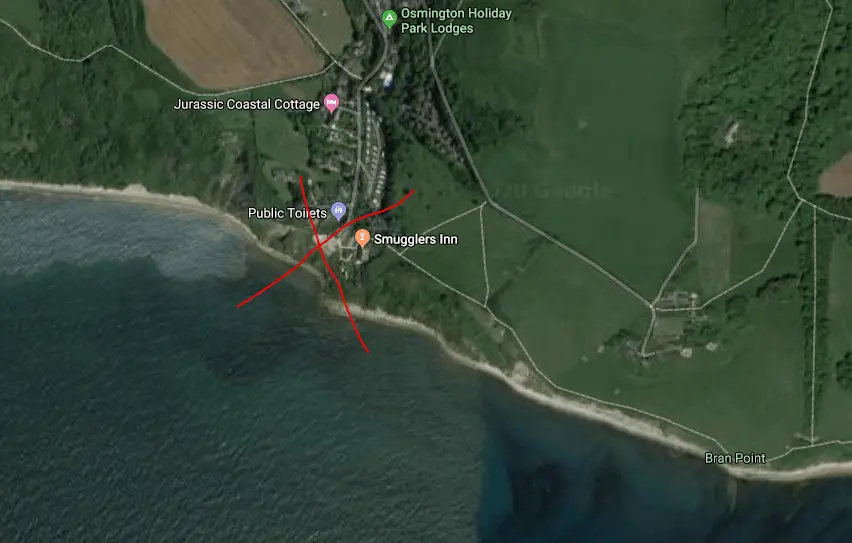 Location 5 – Lulworth Cove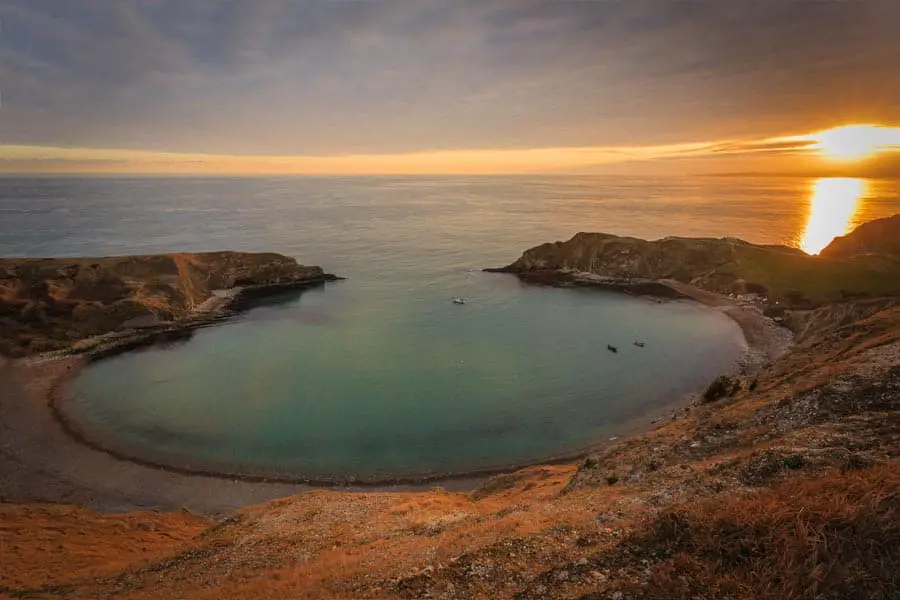 It is not easy to a picture of Lulworth Cove. It is quite big, and I had to get a good way back up the steep sides to photograph the cove, even with my 17mm lens. I was very fortunate that the sun decided to make a late appearance from under the clouds to give that splash of warmth to the scene.
I wanted to squeeze in all of the wonderful cove, and next time I go back there I will get a bit further up the hill to get a slightly wider shot.
And here is where this photo is taken. From the car park walk down and take the path on the left just before you get to the actual cove.
Lulworth Cove again! – Cove Fish, Lulworth Cove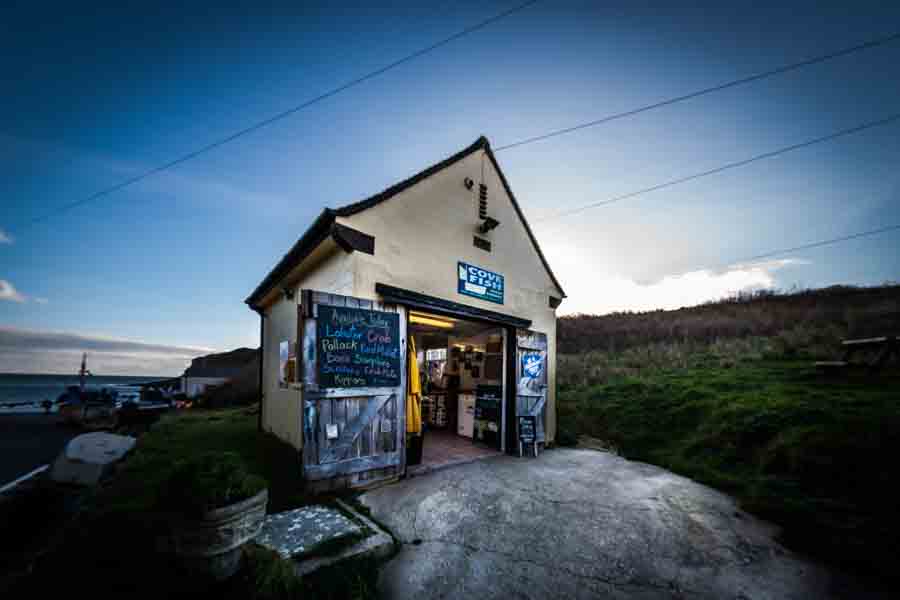 Next is the shop at Lulworth Cove called Cove Fish. I wanted a picture of Lulworth Cove, but not necessarily actual Lulworth Cove itself. Many people pass this building on their way down to Lulworth Cove. Well this is what I have seen, but hopefully enough people go into the shop and buy some of the lovely fresh fish on sale.
I like the mood and the feel of this picture. I have processed this to produce a nicely stylised image which I hope you like, and is not what you expect of a photo from Lulworth Cove?
This is where I took the photo from. Park at the visitors centre at Lulworth Cove and just walk down and you will see the shop on your right.
Location 6 – Dorset Red Post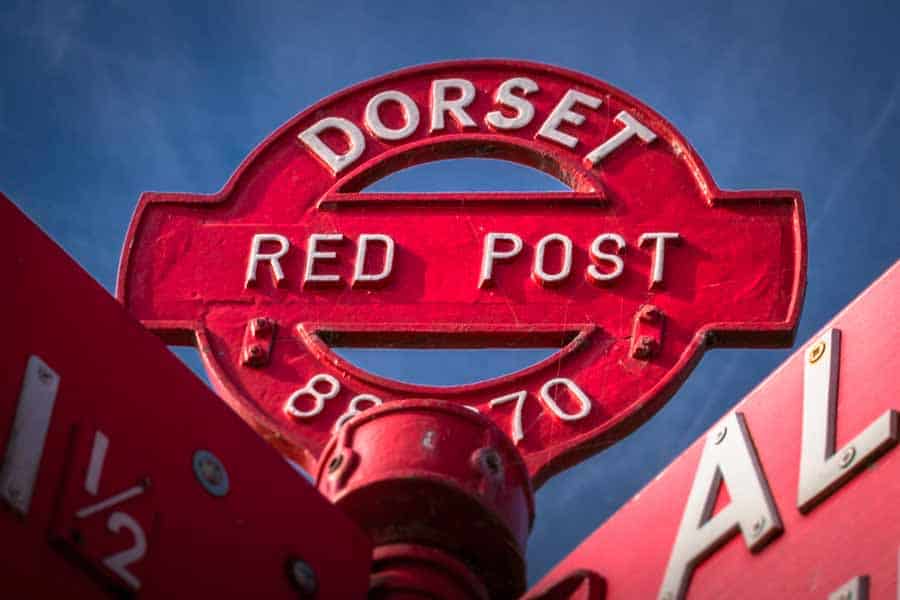 I love these red posts. I have always liked my pictures of the Dorset Red Post, but chose this image which I have never edited before. I had completely forgotten that the other images I have posted were the wider shots when the thing of most significance on this shot is the small central plaque with the words, "Dorset Red Post" no less.
And the red post of course.
There are many rumours about these mysterious red posts, with one being that they are something to do with prison in Dorchester and the transporting of naughty people to Australia back in the day!
Here is where this photo was taken, right on the A31. And no there is nowhere to park here so be prepared for a walk to get to this post.
So not necessarily a great Dorset photography location, but the point here is that there are great things to photograph all over the place – you just have to find them.
Most people drive past these red posts, some might think how odd they are. But few people stop to take a photo.
Location 7 – Durdle Door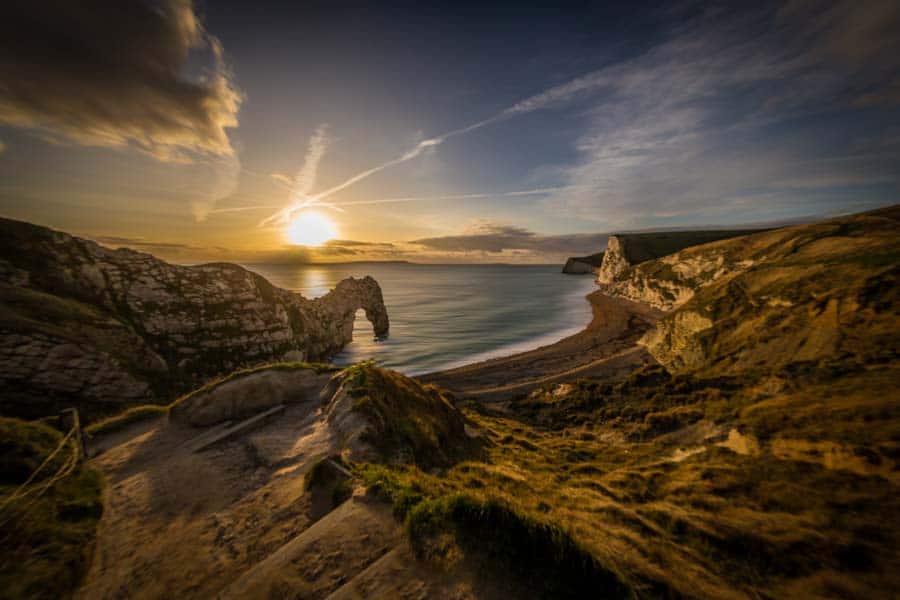 So, good I included Durdle Door twice. There are two views of Durdle Door, the first being a classic view looking back to Durdle Door having walked along the path to the west. The second picture is the view of Durdle Door from the other side of the path on the Jurassic Coast. I wanted to capture the whole scene, including the beach and cliffs beyond, spectacular features of the Jurassic Coast. Obviously, I waited for the sun to line through with the famous rock arch.
This is where the photos were taken from.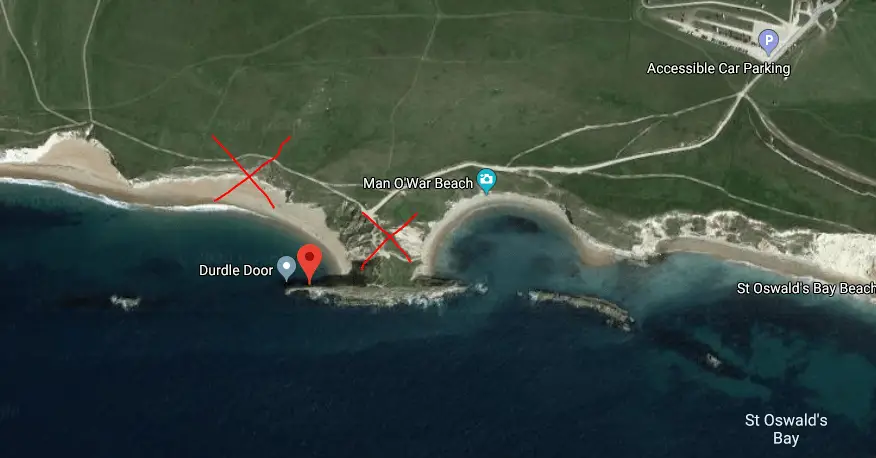 Location 8 – Bats Head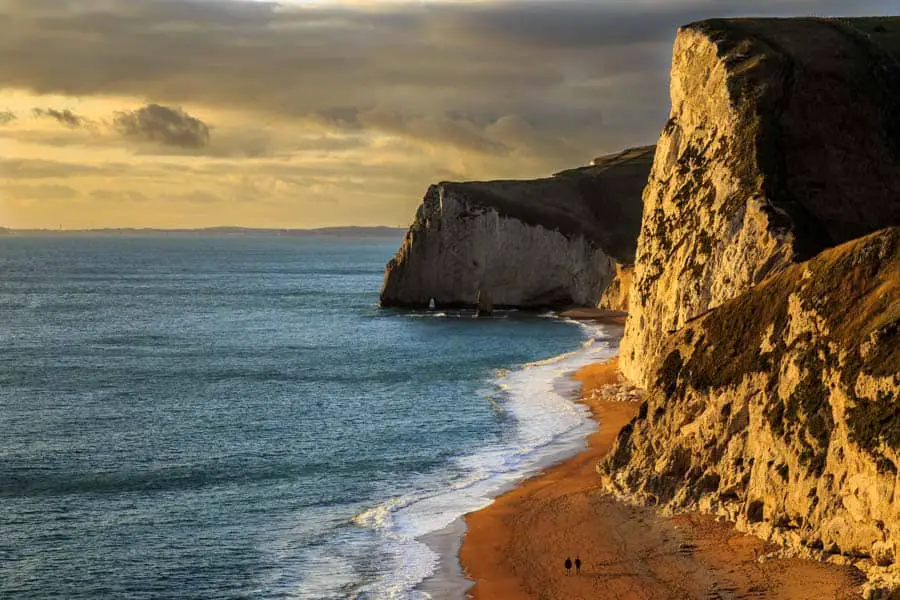 This is dramatic, bright, vibrant morning sunshine illuminating the spectacular Jurassic Coast. Another picture I really like, taken not far from Durdle Door. This picture of the Jurassic Coast is made by that dramatic morning light.
Bats Head is a great subject to photograph. And to get there get your boots on and prepare your lungs for some good up and down walking!!
A stunning view of the Jurassic Coast, with the cliff face illuminated by the late winter sun. Two people walking on the beach give the image scale and perspective. To get this view you have to just keep walking on beyond Durdle Door, up and down a few hills. It is well worth it trust me
Location 9 – Brownsea Island photographed from Sandbanks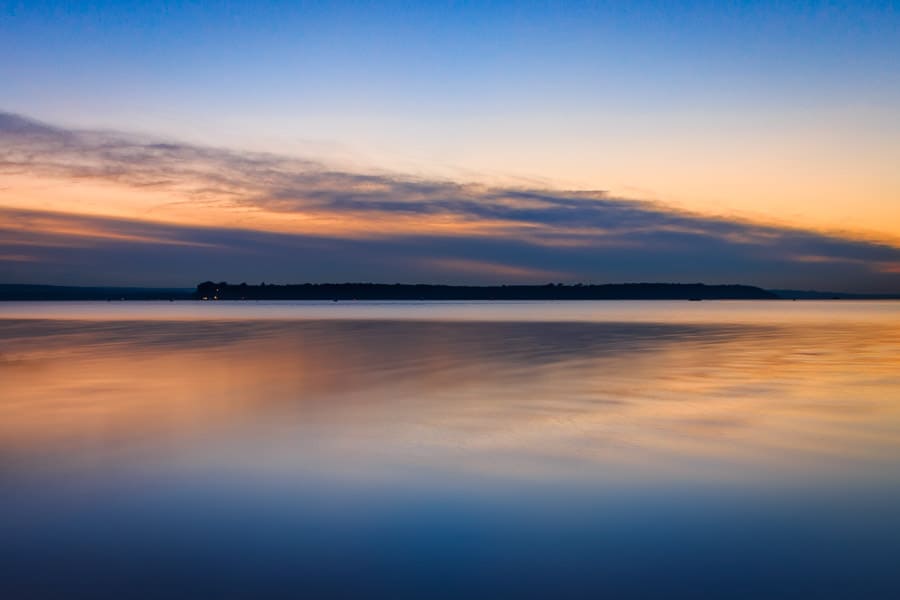 Brownsea Island is a very popular Dorset attraction. This National Trust site is accessible by boat from Poole Quay and a couple of other places in Poole Harbour including right next to where you drive on to the chain ferry. This sunset picture was taken on Shore Road in Sandbanks, one of my favourite roads.
Sandbanks is not just fancy houses, there are great views of Brownsea Island to be enjoyed from there too.
And this is where I took this photo.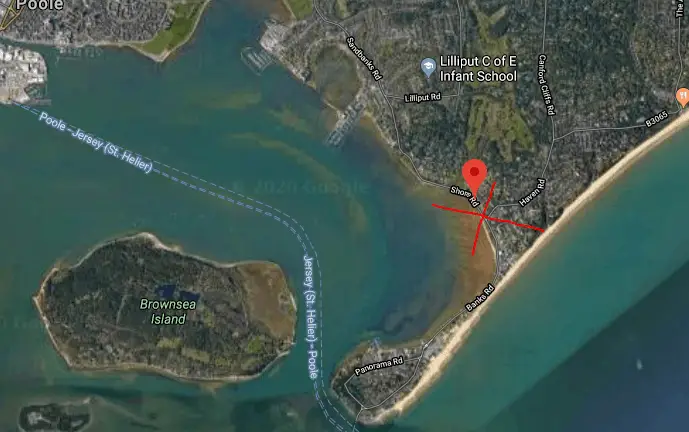 Location 10 – Delph Woods, Poole.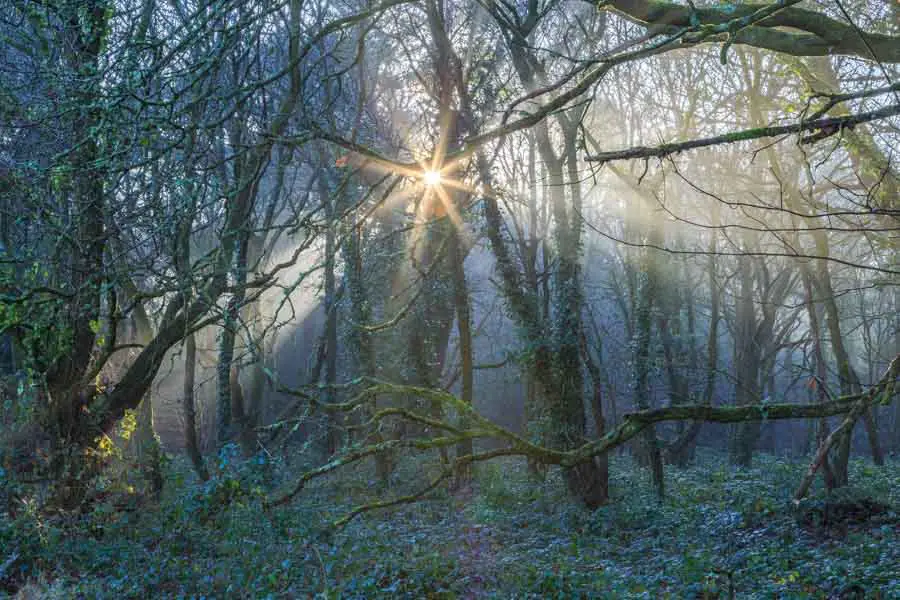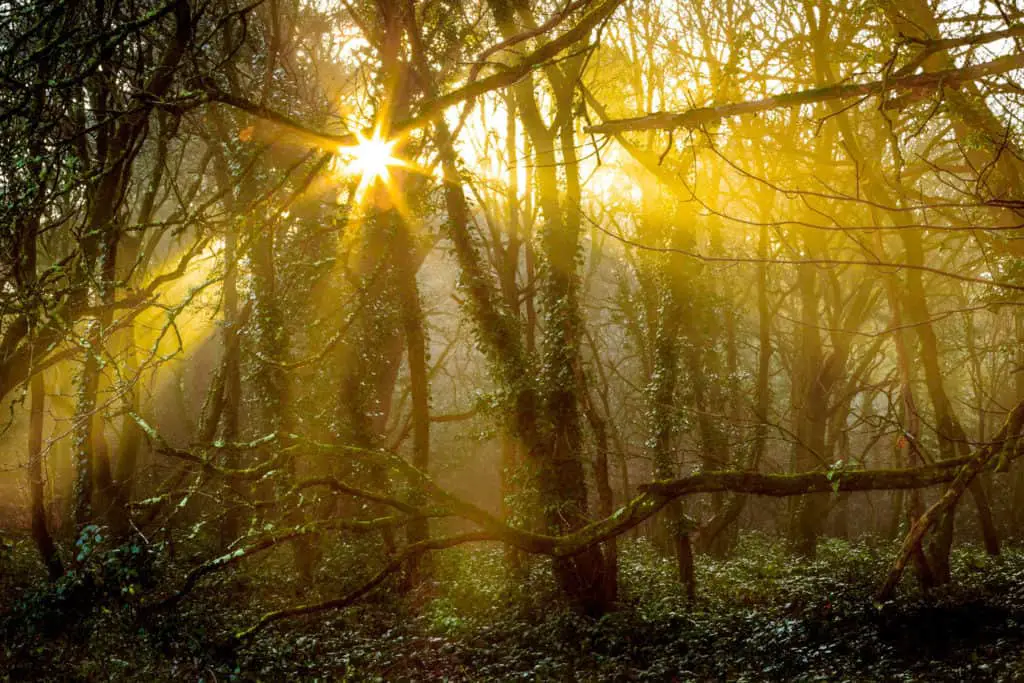 Something completely different is this picture of the misty woods in Poole. I want my collection of pictures of Dorset to be a bit different and love the mood and feel of this picture taken on one of those winter days when it was sunny then misty all day long. The rays of sun are illuminating the patches of mist in the lovely woods near Broadstone.
And the point of this photo is this – get out to the woods near you and find something magical to photograph! You do not have to go to some fancy headline location to get great photos – you just need to get out and find something interesting and some great light.
This is where I took this photo from.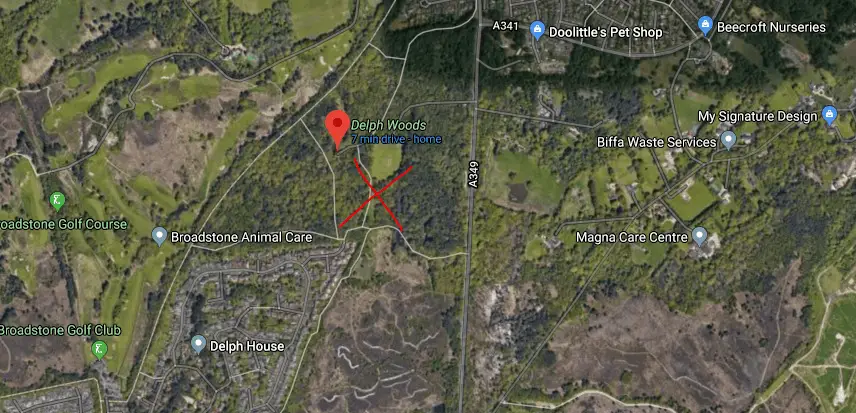 Go and take photos where you live
The last photo is a great example of just going out and finding something near where you live to photograph. These woods could be anywhere, and that is why I love this last photo so much. These woods are a couple of miles from where I live, and I went out there one sunny winters day and walked around. I got loads of great photos of a place that most people have never heard of.
And you can do the same – just get out and take photos!!
A word about my Canon DSLRs.
I took these photos using my Canon 5D and Canon 6D. My Canon 5D has been retired now, but my Canon 6D I still use for my architectural work, and it is still a great camera. And my most used lens is my Canon 17-40mm F4L lens. And my favourite tripod is the Three Legged Thing Corey, all packed in my Peak Design Everyday Backpack.
If all you can afford is a second- hand Canon 6D go for it – you will have a camera that you can get great photos with.
The links in this paragraph are affiliate links – if you click on them and buy something from Amazon I get a commission.
Summary
This page used to be on my Dorset Photographer page. I have removed the content from this page and updated the content for this blog post.
The web address for this page was https://rickmcevoyphotography.com – you will find a link from that page to this post until I have worked out how to do a redirect!
I am a photographer based in Dorset specialising in architectural photography. I also do landscape and travel photography, which are things I love to do when I am not being paid to photograph buildings.
Rick McEvoy MCIOB, ABIPP – Photographer in Dorset
#dorsetphotographylocations #dorsetphotography #dorset #dorsetphotographer #rickmcevoyphotography