I have not long returned from a two week holiday to Parga in Greece.
And I have just finished editing my photos, creating 19 Inspiring Parga photos taken with my Olympus OM-D EM5 Mk 2. In this post I will talk about these images, how I captured, selected and edited them, and lots of other good stuff. Now I expect that this will take more than one post, as I know having created this set of images that there is lots that I want to say, so let's get stuck in!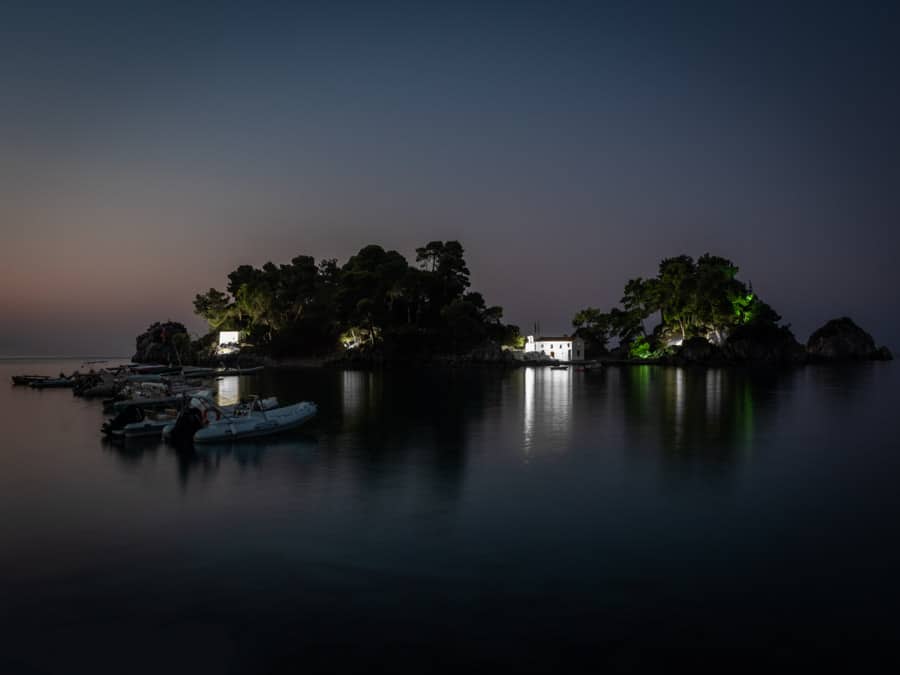 Full disclosure required.
I am an affiliate for a number of suppliers of stuff that I use, so some of the links you will find on this post take you to sites where if you buy stuff I get a commission.
Where is Parga?
Parga is on mainland Greece, across the Ionian Sea from Antipaxos, Paxos and Corfu.
Here it is on a map.
Who did we travel with?
TUI, on a two week package trip flying into Preveza Airport and stopping at the Alea Resort Hotel up on the hills above Parga.
How many photos did I take?
443. That is not bad for me, although to be honest I was not in photo taking mood. Apart from the morning locations I did not take any other photos as I did not get out and explore at all.
Parga was nice enough, but I did not love it like I did Paxos, so I was less enthused than normal to take photos.
When we went to Paxos I took 3000 photos, the same in Santorini, so this was a change for me.
What gear did I use?
I used my micro four thirds set up.
Olympus OM-D EM5 Mk 2
My favourite travel photography camera is the Olympus OM-D EM5 Mk 2. I like this camera so much I wrote a post titled Is The Olympus OMD EM5 Mk2 The Best Travel Photography Camera?
I think so.
And I am loving learning how to use the camera and some of the very special features contained within this little package of wonders.
Olympus 12-40mm F2.8 Pro lens
The only lens that I use most of the time is the wonderful Olympus 7-14mm Zuiko Pro F2.8 lens. I do also have a 40-150mm lens which I use for the odd telephoto shot, but this is the lens that tends to sit on my camera all the time. I am lusting after the 7-14mm lens though – the 12 mm (24mm full frame equivalent) is not quite wide enough for me.
But the lens is great and really sharp, and I love using it.
Three Legged Thing Corey with Air Neo Ball Head
My travel tripod of choice is the Three Legged Punks Thing Corey with Air Neo Ball Head, even with a stiff leg which it is currently suffering from! I know how it feels! I can happily walk around with my camera mounted on this tripod for hours and never worry about the weight of the gear, which is very important to me.
Three Legged Thing Universal L Bracket
This allows me to change from landscape to portrait orientation (and back) quickly without moving my tripod, meaning that I keep the composition that I have painstakingly created.
The best 45 quid that you will ever spend on photography gear – get one right here on Amazon.
Peak Design Everyday Backpack
The only bag that I take with me on trips, which is my hand luggage, day trip bag and camera bag. With more space than ever due to my size reduced camera gear. Check out the Peak Design website.
Olympus OI Share App
I take most of my photos on a tripod, and I also use my iPhone as the remote release, using the pretty good I have to say App from Olympus. I have my phone with me anyway, which I use to take videos, so why not use it as a remote release? One less thing to carry, and this helps me get super sharp photos.
Pec Pads and Eclipse lens cleaning solution
To clean the front lens element mainly – well I don't change lenses often so do not need to worry about the sensor and rear element!
And having cleaned the front element I use the same pad to clean the screen and viewfinder.
You can also use these two to clean things like glasses and sunglasses.
Pec Pads are thh cloths, and the Eclipse stuff is the cleaning solution.
Manfrotto Pixi
I use this little tripod mainly to shoot videos with my iPhone, but also use it with my Olympus camera when I want to get down low.
That was pretty much it. I don't use much gear to be honest, and this is my core set up for travel photography.
What camera settings did I use?
All of the photos (bar the one of the Vespa) were taken with my camera firmly placed on my Three Legged Thing tripod.
That being the case these are the settings that I use
AV Mode
ISO – 100. Well I actually go to 1600 when it is really dark.
Aperture – F8/ F16/ F22 – more on that later.
And I tried out the various HDR Modes on the EM5, and also the most excellent High Resolution mode, which I have sort of fallen for.
What did I take photos of?
As I said before I didn't get out and about anywhere near as much as I have in the recent past, so my photography was pretty much restricted to three early mornings where I captured the sunrise and some good stuff before sunrise down on the front in Parga.
How did I choose photos to edit?
First thing was to sort out the high res photos from the rest, which I did manually by picking the photos with significantly larger file sizes. I also had to pick out the HDR images, which I was trialling at the same time.
This was a bit of a pain and is something that I need to think about going forwards.
Once I had split out the images I only had 43 high res images to choose from, which was a good thing, and these are the ones that I started with.
How did I edit the photos?
I edited the photos in Lightroom, doing some finishing off in Photoshop. When I say finishing off I mean removing stuff that I did not want in the photo, including the pixel errors that I encountered – brightly coloured dots of annoyance!
I am also going to edit these photos using Luminar 4 – a job for next month though is it is not on public release yet so I couldn't share photos until then anyway!
OK – what is my favourite photo?
This one. This
is a photo of Panagia Chapel on Panagia Island. Now I know this post is titled "19 Inspiring Parga Photos Taken With My Olympus OM-D EM5 Mk 2" but I want to focus (pun not intended) on one photo. I will get back to the other photos in my blog next week.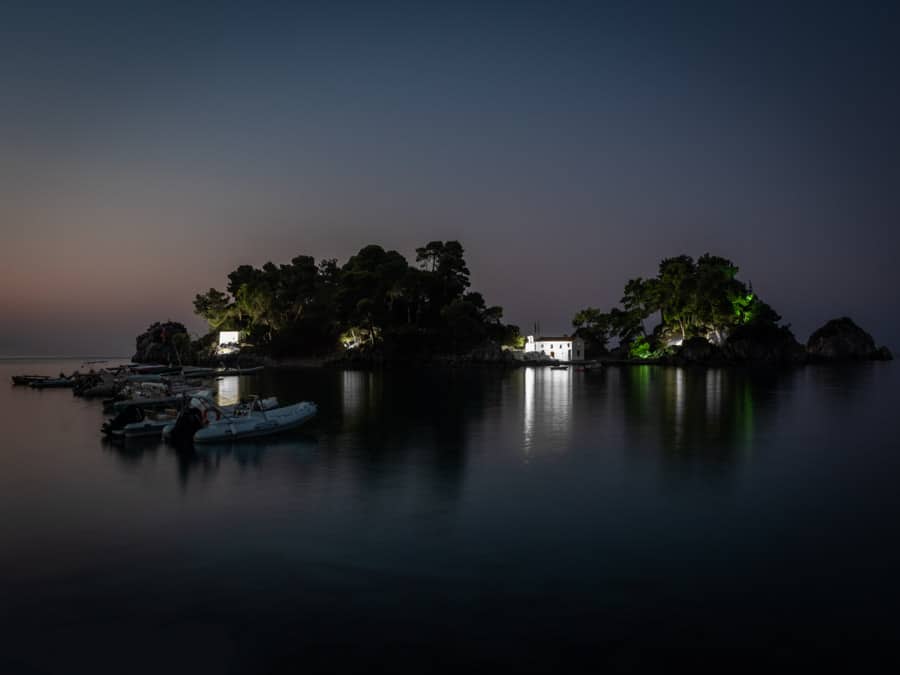 Where is Panagia Chapel?
Here it is on a map.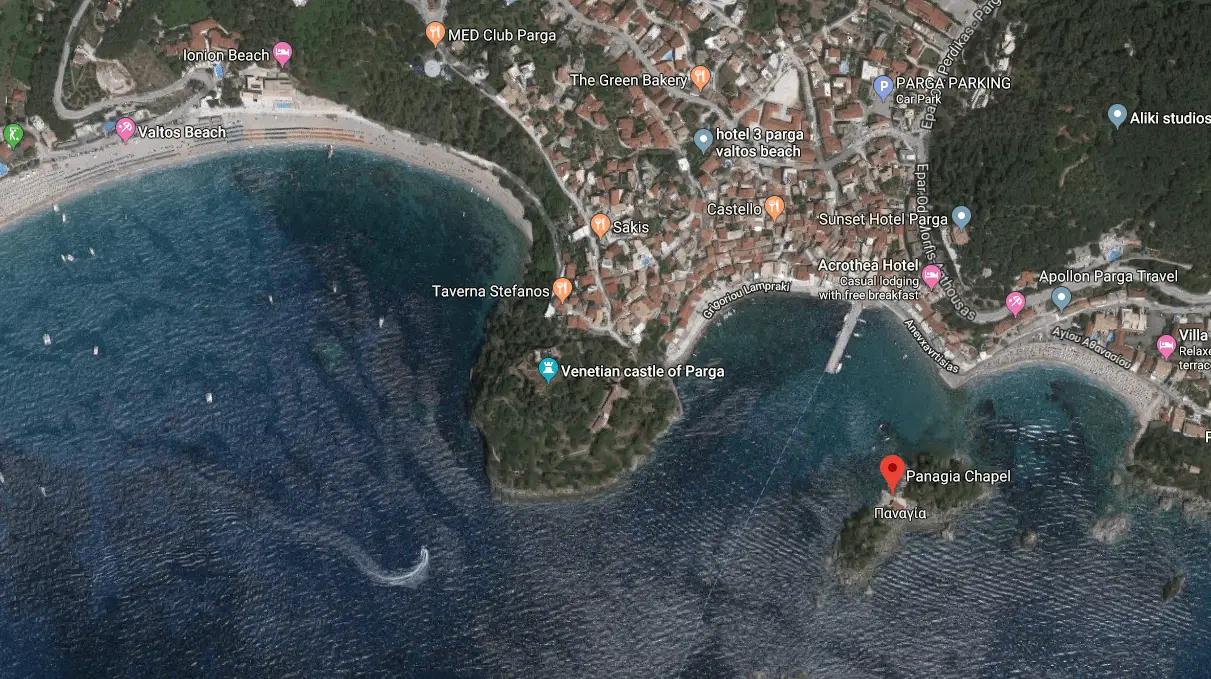 And where did I take the photo from?
Here.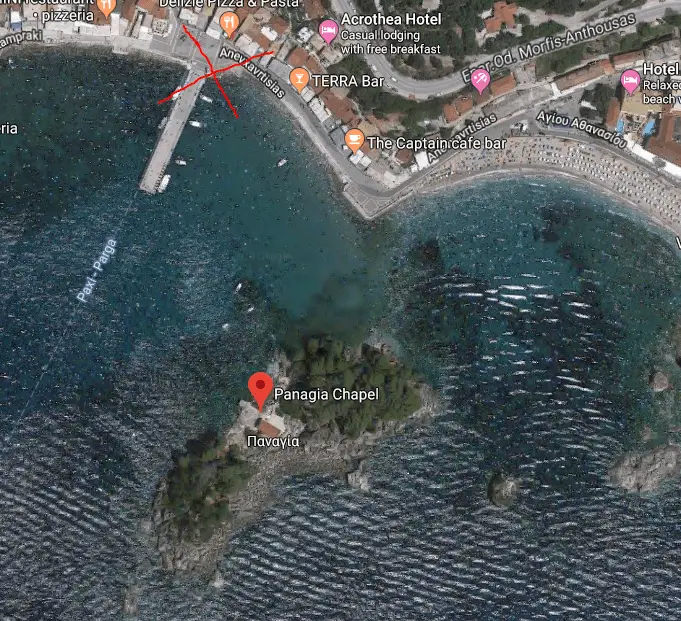 Panagia Chapel
There is an island less than 100m from the front of Parga, which has a white church on it, called Panagia Chapel. It has been said that you can walk to the island, which I am not sure about to be honest. You can certainly swim there though.
I stayed on dry land.
Will the lights be on in the morning?
Clearly yes. But there were doubts. Earlier on this year I was on the wonderful Greek Island of Rhodes. One morning I drove to Lindos to photograph the Acropolis, only to find that the lights were off!
I was delighted, if not relieved, to get down to the waterfront in Parga to find the lights on illuminating the church and other things on the tiny island.
Back to the church
5 of the 19 photos that I edited from my trip to Parga are of Panagia Chapel. That shows how much I was taken with this tiny church on a tiny island. It truly is a stunning site, and not one that many people will see with that lovely flat pre-sunrise water.
Sure you can see the church at night, but it is completely different before sunrise in the peace and quiet of very early morning. A very special time to witness such a stunning scene.
How did I get this shot?
This photo was taken at 4.31am. Now I am sure that that should be 5.31am local time. As I forgot to change the time on my camera Lightroom is saying 6:31, but my iPhone is saying 4:31. Oh well I guess it is not important, but I should change the clock when I get to a new time zone!
That is a rather important lesson for a travel photographer!
Here are the camera settings
High resolution mode

AV Mode

Shutter Speed – ½ second

Aperture F8

ISO 1600
Camera positions
Here is my camera in a high position perched on top of a bench so I could get a clear view over the boats.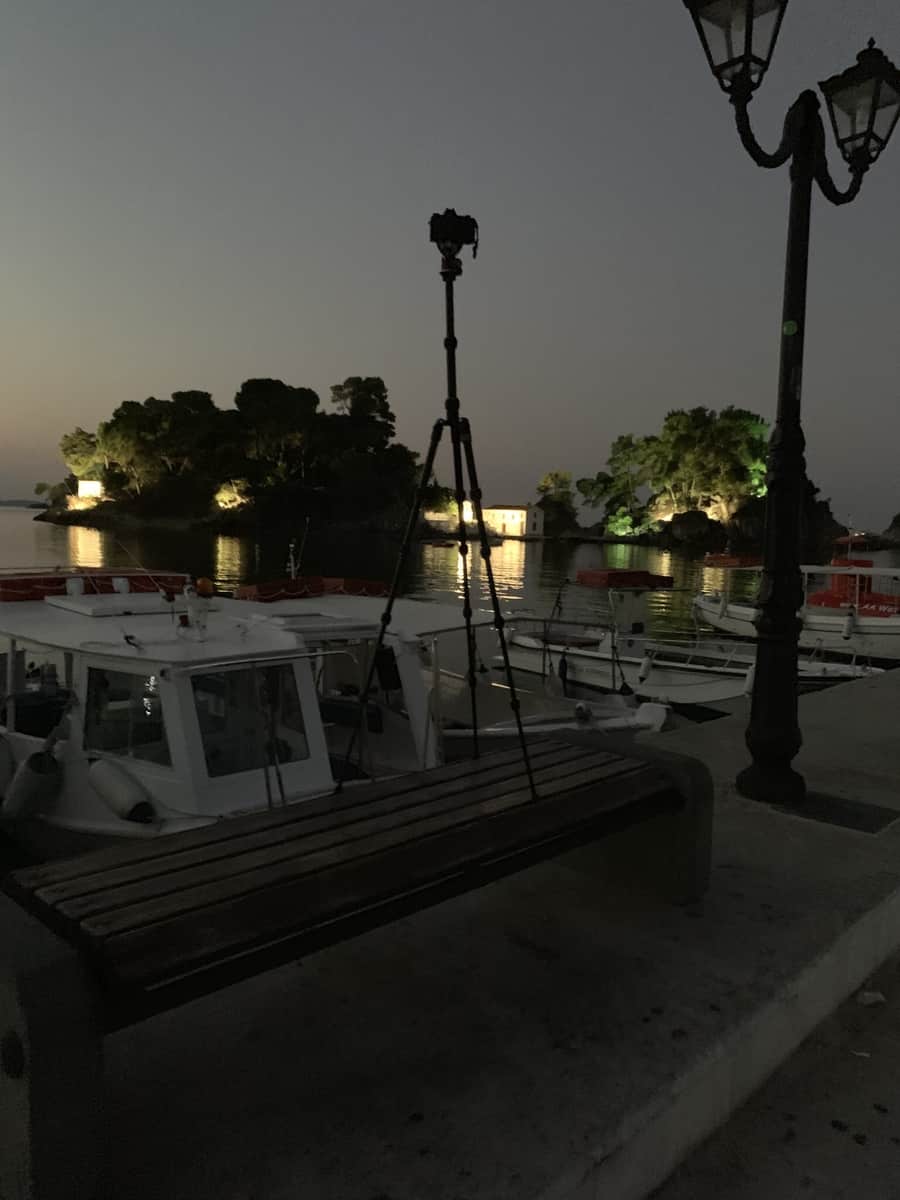 And this is the camera in portrait mode.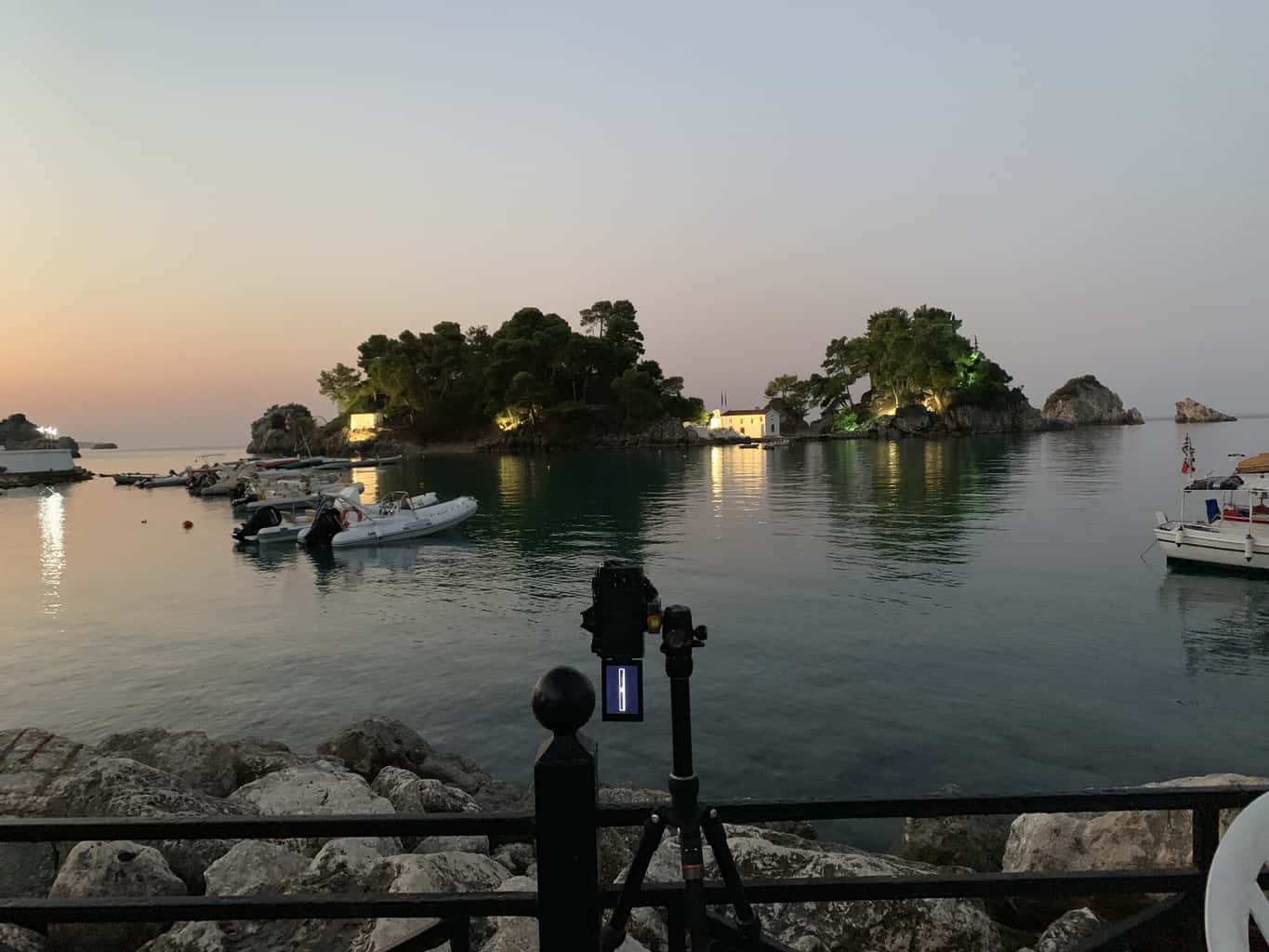 This photo shows you the scene nicely.
Processing in Lightroom
Getting the white balance correct was a challenge. I ended up doing Auto White Balance, and then manual adjustment, reducing the saturation under the lights using the HSL Panel.
I used the following panels in Lightroom
Basic Panel
To get the light how I want it.
HSL Panel
My favourite panel, where I can make subtle adjustments to the saturation and luminance by colour (I rarely use the hue adjustment).
Detail Panel
To reduce the sharpening down to 60 from the default (which I need to change)
Adjustment brush – dodge and burn
Another excellent tool which I use to apply local adjustment – dodge lightens and burn darkens. I apply these tools to subtly and locally adjust the lights and darks to give the image more depth.
Processing took me a bit of time as it is an unusually lit scene.
Photoshop
I had to go onto Photoshop to remove errors, blemishes and annoyances. I also reduced the noise using the Filter, reduce noise option. You have to be careful doing this that you do not affect details.
And that was that done. Probably 10 minutes all in.
Edit photos then leave them for a few days – this is why
When I was recording the video that accompanies this post I ended up doing a crop of the image – I find that after editing images if I do not look at them for a few days when I come back to them I find things that I can do to improve them.
This was pretty much an instant thing which came to me as I was recording the video, so much so that I did the crop whilst recording!
And here it is.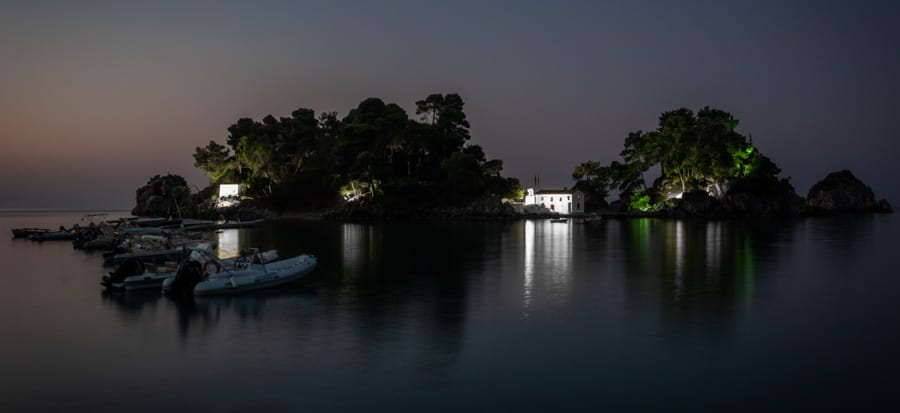 That is a much better composition. Not that there was anything wrong with the original composition – far from it. The crop takes out some of the sky and sea that are not really adding to the composition and makes a more natural frame.
And what about the other photos?
I know that this post is titled 19 Inspiring Parga Photos Taken With My Olympus OM-D EM5 Mk 2 – I will add a link to the web page with the other photos that I have processed, which will get culled down to 12 images eventually – I like things to be nice and neat and ordered after all!
Here it is – I have just created the page imaginatively called Parga!
And here is a screenshot of them!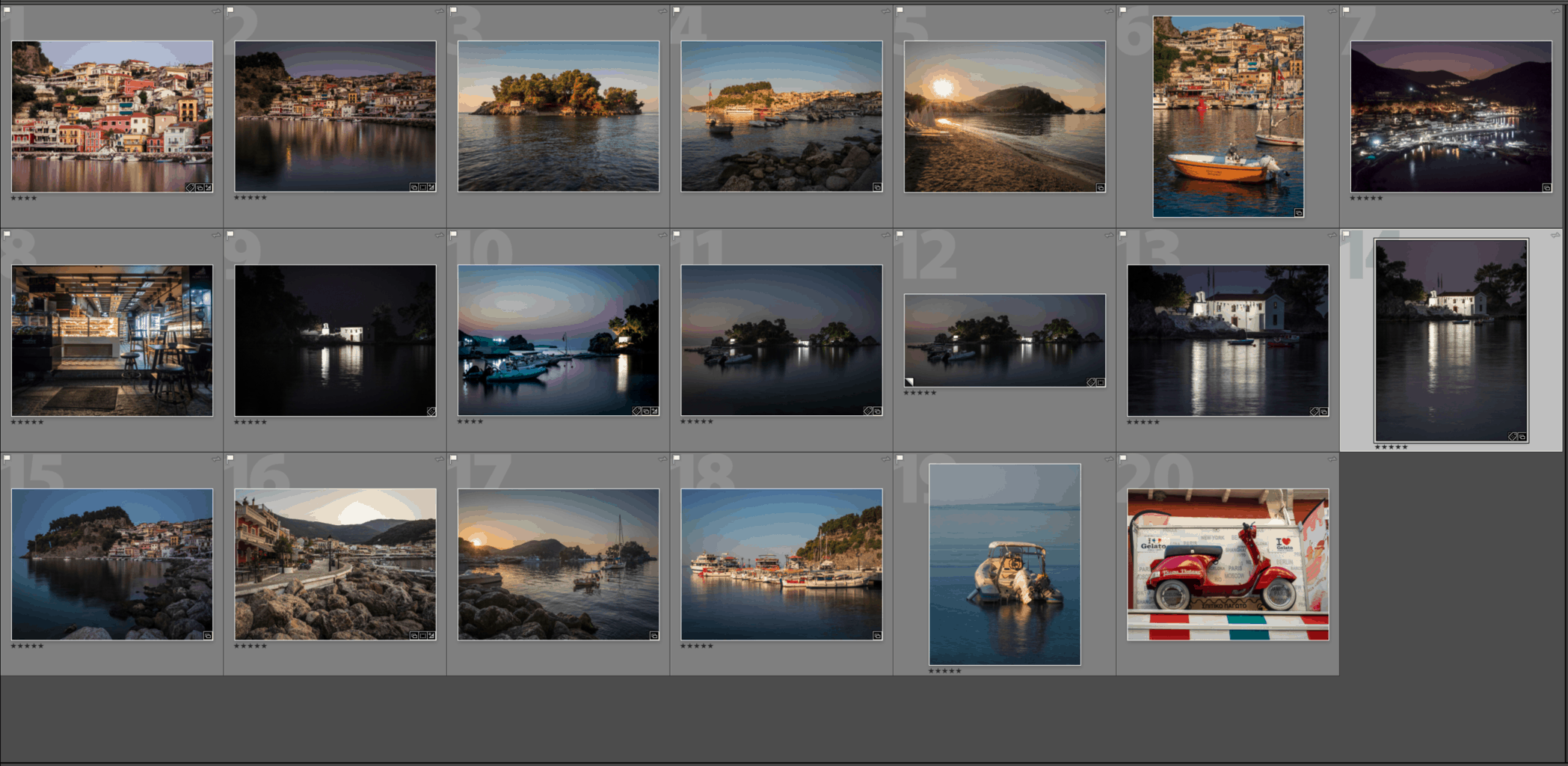 I will write about the rest of the images in my blog next week.  For now I hope that you have enjoyed this blog post and that you like my unusual picture of the Panagia Chapel on Panagia Island just off the mainland of Greece in Parga.
Related reading
I have written a series of posts about the trip to Parga, which you can read at the following links.
Parga Holidays – What Is Parga Really Like?
Parga Greece Reviews – Part 2 of 3
Parga TUI Package Holidays – Part 3 of 3
What is a day trip from Parga to Corfu Town like?
And check out the video on my You Tube Channel all about my photos of Parga Check out these inspiring Parga photos taken with my Olympus OM-D EM5 Mk 2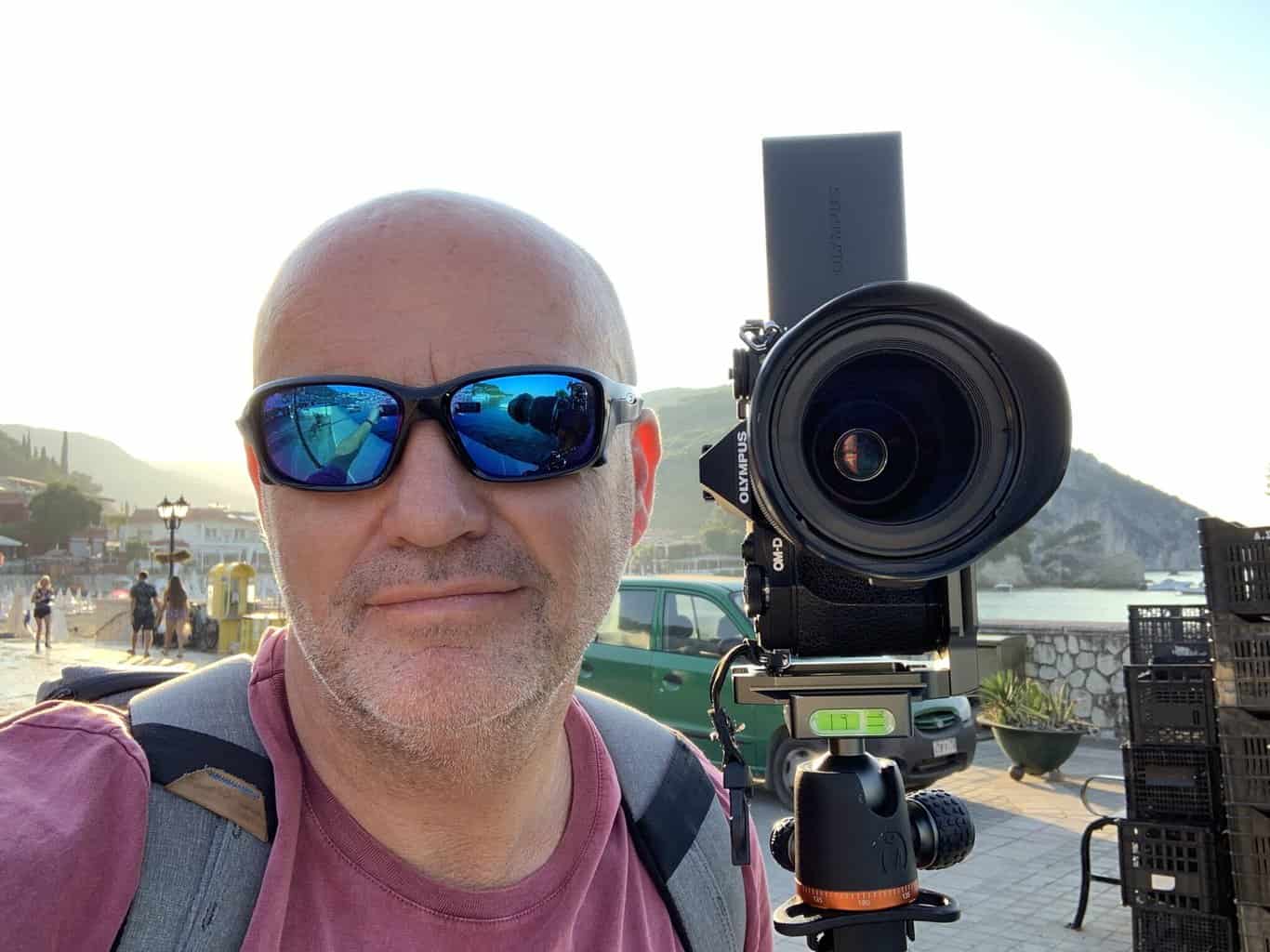 Summary
That's all for this week – I am glad to be back on photography after my travel writing of the last month or so. As I said next week I will write more about my set of photos of Parga.
Rick McEvoy Photography
#parga #greece #pargaphotos #olympusem5 #olympuscamera #microfourthirds #travelphotography #panagiachurch #rickmcevoyphotography