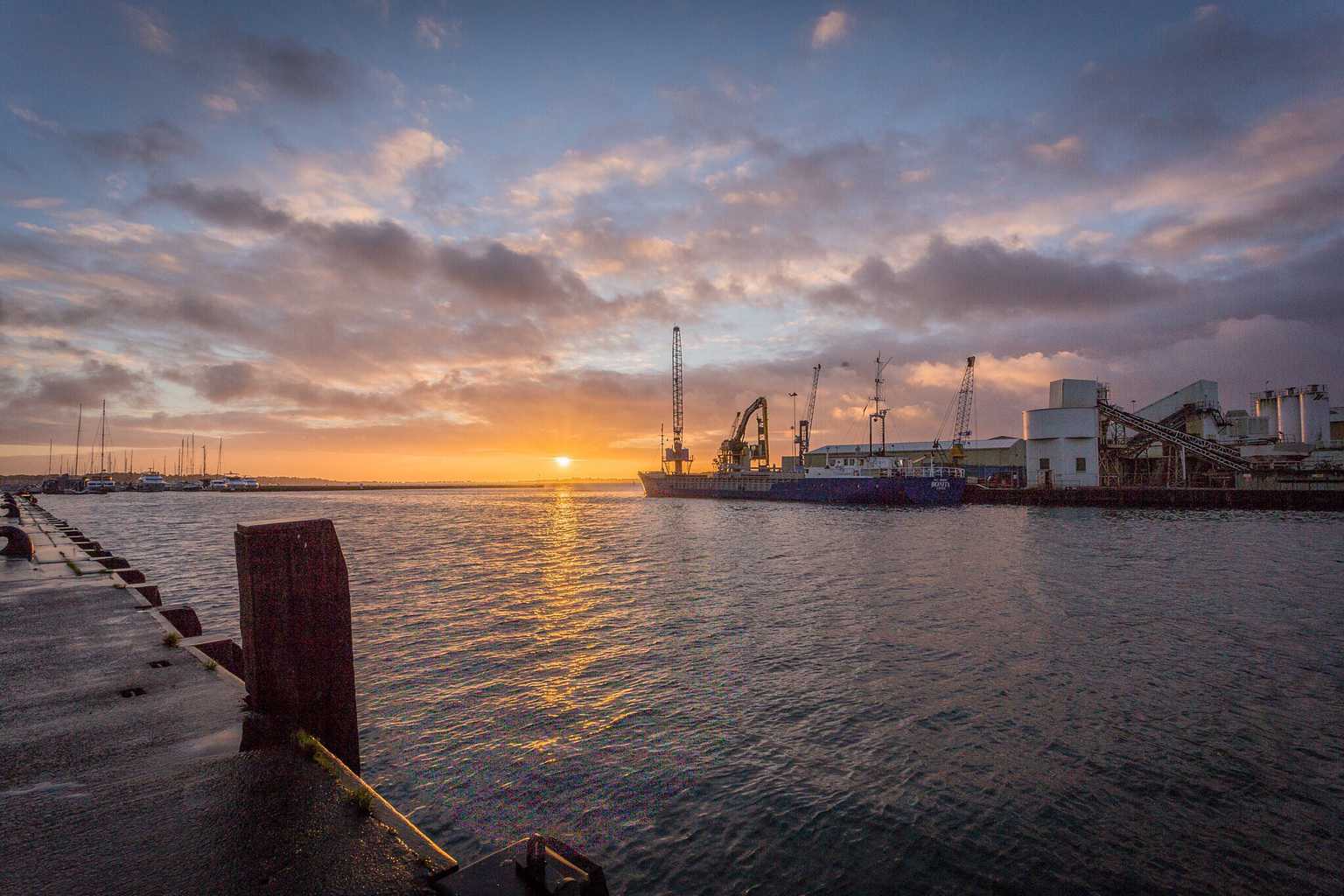 Taken last week, this is exactly what I was looking for, if not quite how and when I expected it. 
I parked up on Poole Quay at 6.30am, in plenty of time for sunrise, and sat in my car and drank my coffee. What was the weather doing.
Cloudy. Thick, grey, dull cloud. 
Great. 
This is the lot of a landscape photographer. Especially in England. The weather is in charge. So there is lots of waiting around. 
I have started taking more shots in cloud recently, trying to produce something different when others might not be. 
This is a real problem with my commercial photography, and especially architectural photography, where my client wants a certain elevation in nice warm morning sun.
When I say a problem I am talking about the weather, and what actually happens on the day. 
In England, the word I use to describe the weather is
Unpredictable
You can calculate when the sun will be in any position.
But not if. 
But this problem with commercial photography makes landscape photography such an adventure. 
Back to the shot. 
I dragged myself out of my nice warm car and assembled my gear, remote plugged in, camera settings and GPS on, then camera on tripod. 
This is how I work. Fully prepared at all times from when I leave the car to when I get back to it.
So I got out of my nice warm car and walked up to the Poole Lifting Bridge. 
Still cloudy. So I took a test shot. 
Dull. 
Now what? I took some shots of the bridge itself which are quite interesting. So I decided to walk down Poole Quay, with Poole Port and Sunseeker across the water. 
And the clouds started to move and change, and the sky got brighter between the clouds and the land. And then the sun appeared.
And this shot. One of many taken, and one of the best. This is a 2 shot HDR Lightroom merge. 
And this one shot made all that effort worthwhile. 
Thanks for reading this post – please do visit my website at
 http://www.rickmcevoyphotography.co.uk/
where you can find out more about me and my photography in Dorset
http://www.rickmcevoyphotography.co.uk/
#architectural photography
 #photography in dorset
#Poole Quay
#Poole Port
#Sunseeker
#Poole Lifting Bridge
#commercial photography
#landscape photography
#architectural photography
#landscape photographer 
#Poole
#Dorset