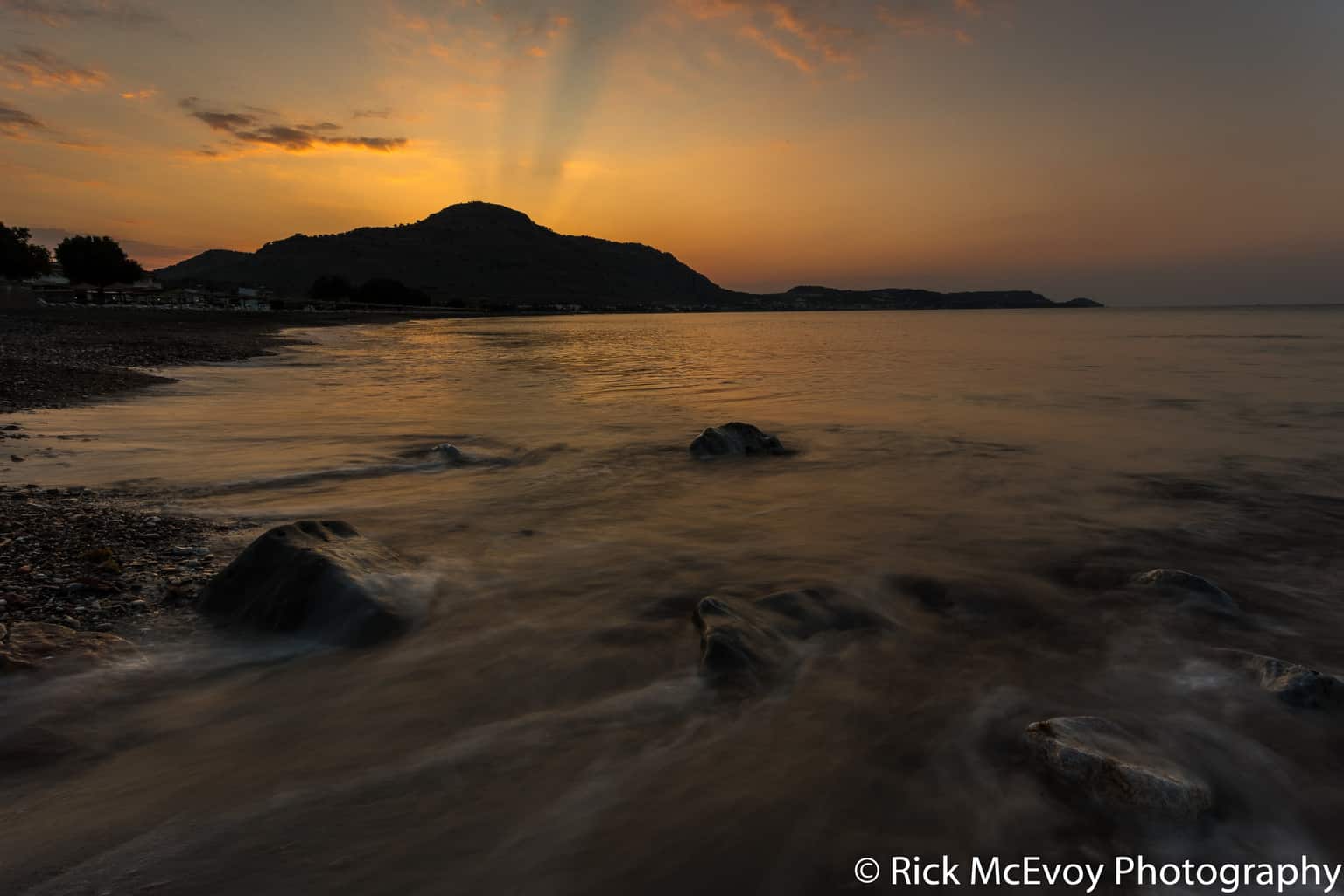 This is my favourite shot from a recent holiday to Rhodes. I got up at 5am one morning, and drove to this location I had soptted at the end of Lardos Bay and waited for the sunrise.
I had prepared for this shot by going on a quick drive around the area to find a suitable location for a sunrise shoot. The last thing I wanted to do on holiday is get up that early and then have to find something to photograph! Preparation and planning make for better shots.
I was travelling light, only having my Canon 6D, 17-40mm lens, Manfrotto Pixie tripod and one cable release. That was it – nothing else. And having just that kit worked really well for me.
The 17-40mm F4L lens is my favourite lens, and will be until I get the amazing new Canon 11-24mm lens, which is not cheap unfortunately.
Anyway back to the shot. This is actually 2 images merged into one. The first image as taken at 1/25th second at F22, the second 0.6 second at F22. Both at ISO 100. The correct exposure was 1/6th second, so I have taken the 2 stops underexposed and 2 stops over exposed shots and merged them in Lightroom. I have done this so I get the detail in the highlights and shadows. This for me is true HDR, using the technique to record as much of what is there as possible. I shot knowing what I wanted the outcome to be, and knowing exactly how I was going to post-process in Lightroom.
Shooting knowing what your end point is, and also knowing how you are going to post-process comes with practise – lots of it. I have practised so much now that my workflow is intuitive, giving me quick, high quality and consistent results every time. S0 if I was to offer one piece of advice it would be practise, practise practise!
I am a professional photographer in Bournemouth, Poole, Sandbanks, Dorset and Hampshire