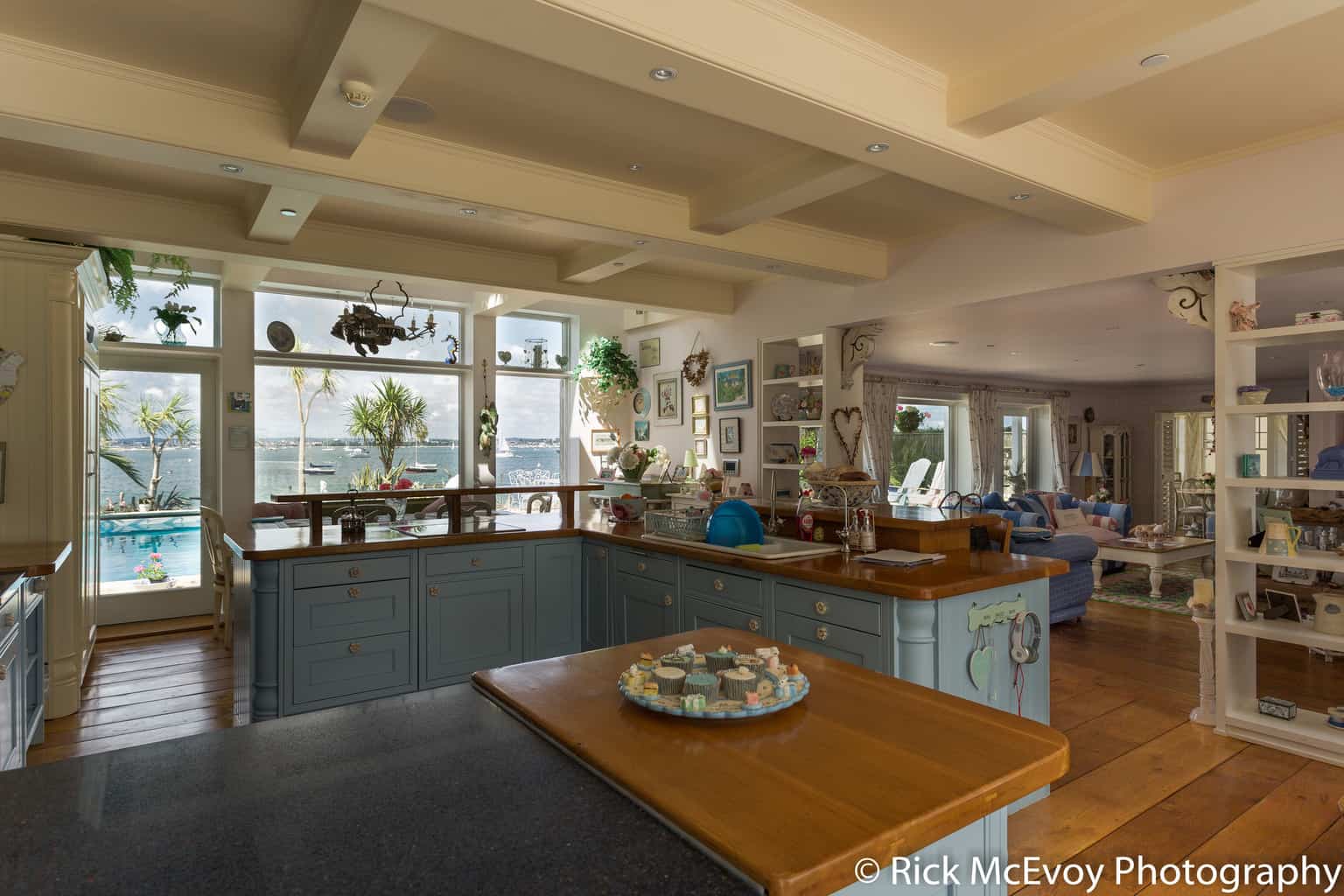 Interior photography the old fashioned way – a single shot dodged and burned….
This is a test shot of the kitchen in a stunning property in Sandbanks, Dorset. This shot was the only shot I took of the interior, as I did not get the job. Confusion amongst agents meant that this prime job ended up being given to someone else.
At least I had the chance to visit this stunning residence though, and managed to capture such a great shot whilst being shown round the property.
I will write separately about securing, or not securing, work, and some of the pitfalls. But for this post I will concentrate on the image itself.
In this shot I was trying to convey the openness of the space, including all the features of the room as well of course as the amazing view you can see in the window. This means that the exposure has to be absolutely perfect.
This shot was a single image edited in Lightroom only. I can tell this quickly in Lightroom as the file has the extension .CR2, which is the canon Canon Raw file. I carried out vertical correction, and corrected the distortion you get with a 20mm focal length, and only did other basic adjustments. Apart from this, I did some good old fashioned dodging and burning, opening up the shadows and reducing the brightness in the highlights.
Dodging and burning is a technique that we used to use in the days of the darkroom, where you would cover part of the exposure with a piece of card to give it more lightly (waving it gently so you did not get a sharp edge).
Obviously you now know that I am old enough to have worked in a darkroom, but in my defence I have to say that I was quite young when I started my photographic journey!
Interestingly if I was to do this shoot now I would take a bracketed set of images and merge the files to extract out the full dynamic range, which I managed not to need in this shot, which is certainly food for thought……
Technical information
Camera – Canon EOS 6D
Lens – 17-40mm F4L
Focal length used – 20mm
Shutter – 1/100th second
Aperture – F8
ISO – 100
Image taken in RAW format
Thank you for reading my post, which I hope you found of interest. If you would like to discuss anything photography related just call or email me, or send a message to me though my website contact form – I really don't mind how and I would be delighted to hear from you, and you will hear back from me honest.
To find out more about the professional photography services I provide please visit my website at www.rickmcevoyphotography.co.uk.
If you would like to subscribe to my weekly blog round up and monthly photography articles, I will send you free of charge my "Top 5 Photography Tips" article as a small thank you.
I am a professional photographer working predominantly in Bournemouth, Poole, Sandbanks, Dorset and Hampshire.