My Greek Sunrise!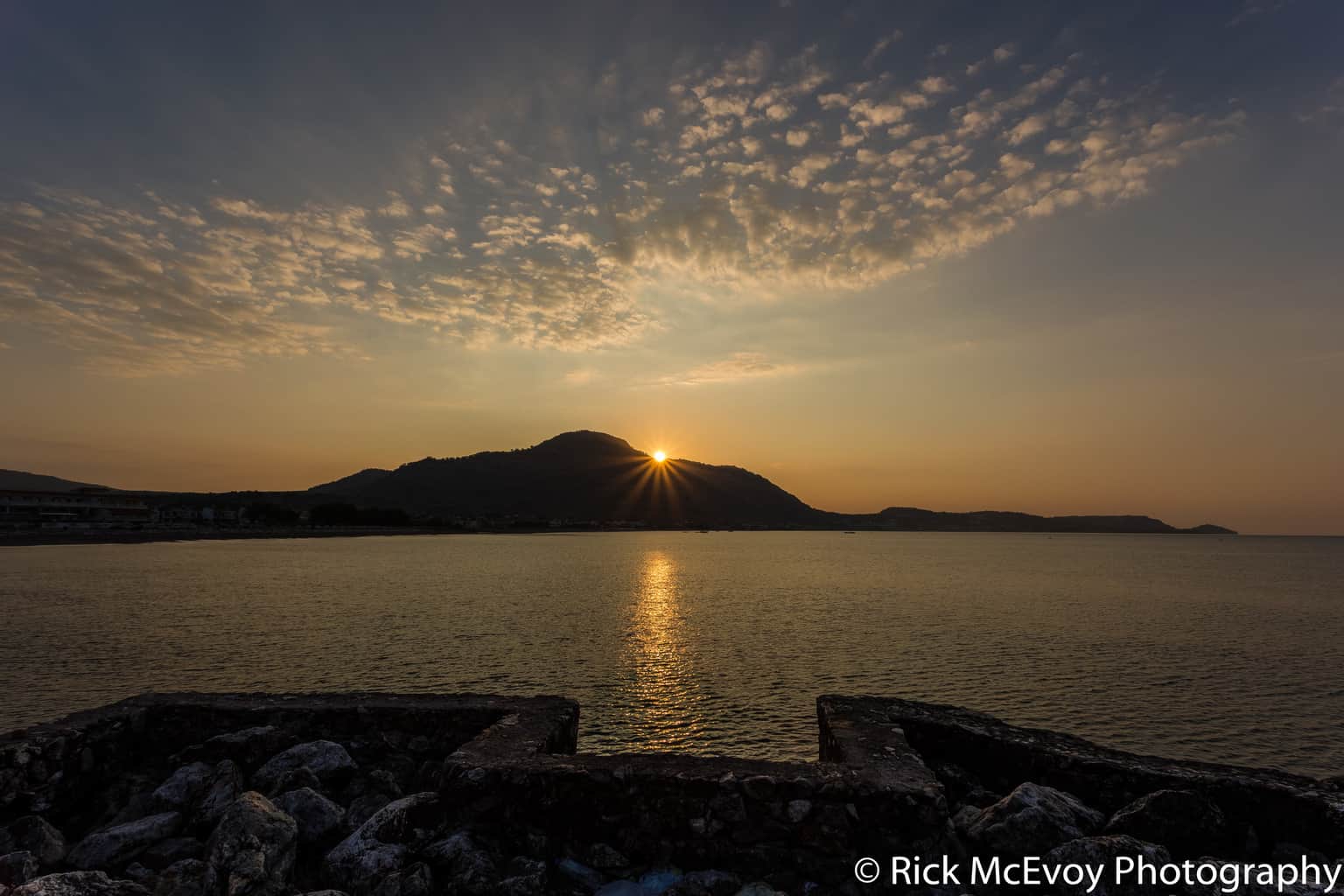 I like this sunrise shot for a number of reasons. Firstly I have to as I got up at 4.30am on holiday! I wanted to capture the sunrise, and having spent a number of days thinking about it I decided to go for it. Thankfully in Rhodes the weather is quite predictable, i.e. hot and sunny, so I did not have to plan for the weather particularly. No the planning was more to do with getting up and having my kit ready in the morning.
I did a couple of scouting trips to find a location for the sunrise, unusually for more I actually planned this early morning shoot! I found the interesting concrete structure and calculated using the fantastic app "The Photographers Erasmus" where the sun would appear. I got this roughly correct.
The problem I had was finding ground level enough to place my tripod, or indeed my feet. The location was basically formed from random piles of rocks. I had to quickly abandon the tripod as the sun was about to pop out over the mountain. And even more rapidly change the settings to go handheld. I pushed the ISO to 640, giving me 1/2500th second at F16 when the sun appeared. I bracketed the shot, as I wanted to capture all the highlights and shadow details.
I wanted to capture the depth of the scene, but had trouble placing the foreground structure as it was at a strange angle!
Anyway after all that trauma the sun popped over the mountain and I got it just as planned. I like this shot as it gives the warm feeling of a sunrise. I like the colours – the blue in the sky and the orange of the sunrise. The clouds give the sky interest (blue skies can be so dull) and the shoreline structure frames the shot nicely (but exactly as I had hoped for).
Not a bad effort, and justified getting up early on holiday!
I merged two of the exposures in Lightroom and provided basic adjustments to the merged dng HDR image. It was quite a quick edit, and as ever I was delighted that no cropping was required!
Seriously Why I like it
Technical information
Camera – Canon EOS 6D
Lens – 17-40mm F4L
Focal length used – 17mm
Shutter – 1/2500th second
Aperture – F16
ISO – 640
Image taken in RAW format
About me
I am a professional photographer based in Bournemouth, Poole, Sandbanks, Dorset and Hampshire.
Please visit my website at www.rickmcevoyphotography.co.uk to find out more about the professional photography services I offer.
You can also subscribe to automatically receive regular updates from me.