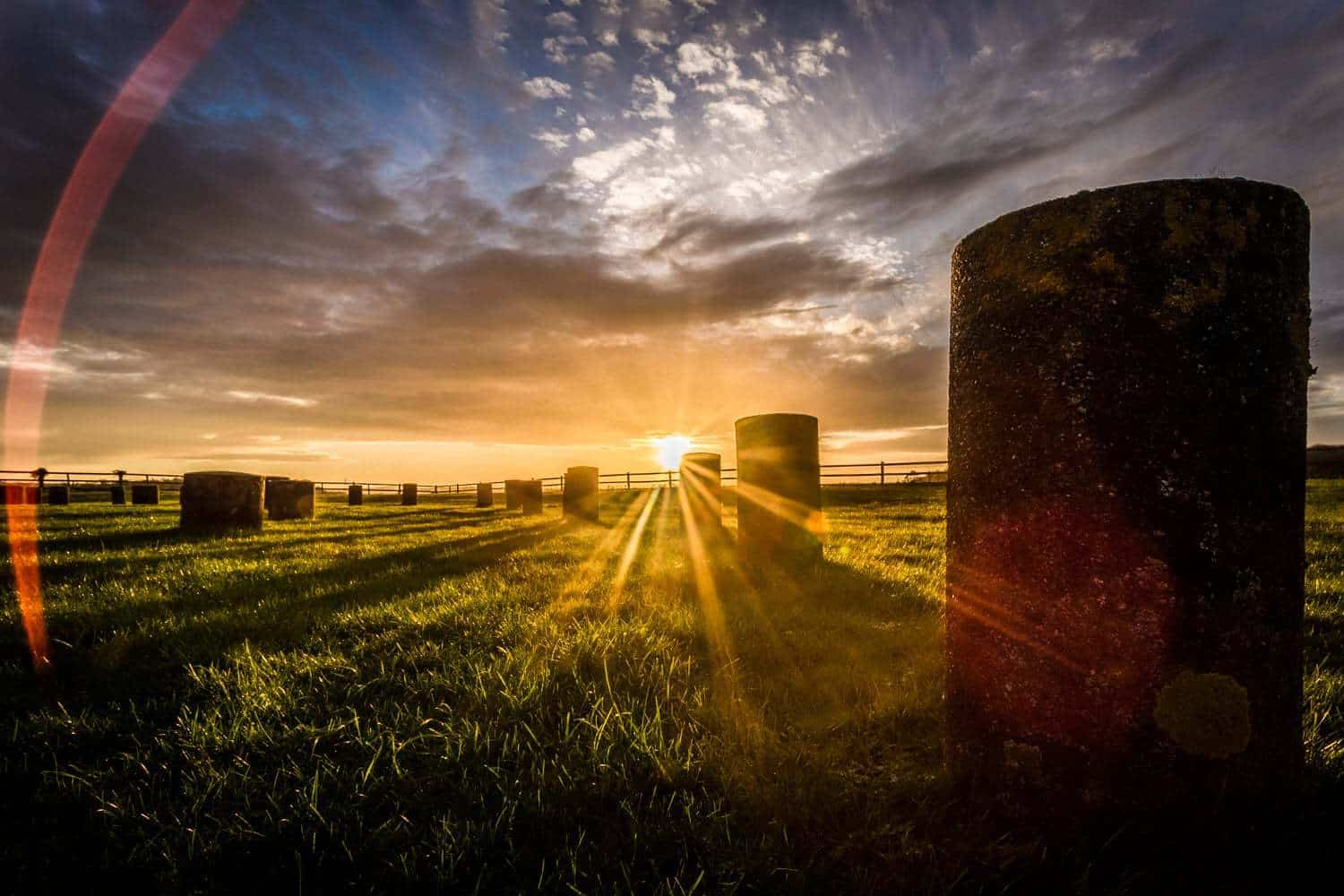 Another shot of the fantastic Woodhenge at sunset by me, Witlshire Photographer Rick
I have posted images taken at Woodhenge, Amesbury, Wiltshire, before.
I managed to revisit the site recently, quite literally on my way home, and luckily the sky was great. I was not after the same view of Woodhenge that I got before Christmas – I was after a different view.
Going back to places you have photographed before allows you to do this – I am very fortunate to live in Dorset and have so many great locations in surrounding counties such as Wiltshire and Hampshire.
It really is all about getting out there with your camera and having a go – finding great subjects and getting the best images you can.
For this shot I had to do something different.
Firstly, I put my camera (canon 6D) in AV mode and pushed the ISO to 800. I wanted to get that nice starburst effect, so had to stop my lens down to F22.
Next I got down on my knees, and in Live View mode focused on the stone immediately in front of me. And when that didn't work I turned off Live View and laid down on the floor, focusing conventionally.  I then turned off the auto-focus, and held my camera where I focussed it, and took this shot using Live View to help me guess where I should be pointing the camera.
The problem with shooting into the sun is that you can't see anything!
This was all done using my favourite combo of Canon 6D and 17-40mm F4L lens.
The shot was part of a bracketed sequence of 5 shots, in 2 shot increments. Processing in Lightroom was using HDR Merge of the 2 stop over and 2 stop under shots (I really must stop using the 5 bracketed sequence as it is clearly a waste of time as 3 is just fine).
Apart from one of my own pre-sets, a bit of dodging and burning and a bit of touching up in Photoshop that is it!
And the result? I love it of course.
So get out there, find a great subject, try some new angles and you never know what you might get.
Oh yes, before I go, a bit about Woodhenge.
According to the English Heritage website
"Woodhenge is an atmospheric Neolithic site close to Stonehenge. Probably built about 2300 BC, it was originally believed to be the remains of a large burial mound, surrounded by a bank and ditch almost completely destroyed by ploughing. Aerial photography detected rings of dark spots in a crop of wheat, and today concrete markers replace the six concentric rings of timber posts which are believed to have once supported a ring-shaped building. 
There is evidence that it was in use around 1800 BC.  It is possible that the banks and ditches were used for defensive purposes in addition to its ceremonial function. "
Find out more at the English Heritage website at
http://www.english-heritage.org.uk/visit/places/woodhenge/
I will probably post another image of Woodhenge tomorrow – such a great and accessible location. And I will update on the new harsh culling regime! I have told myself I am going to get down to 5-10 image sets (bracketed) and delete the rest. Good luck with that I say!
Thanks for reading my blog – please visit my website where you can find out lots about me and my photography work.
http://rickmcevoyphotography.co.uk/
I also have a new page where I will be posting more new images taken in Wiltshire, which you can see at
http://rickmcevoyphotography.co.uk/wiltshire-photographer/
#Wiltshire photographer
#Woodhenge
#English Heritage
#Wiltshire photographers
#Wiltshire photography
#photographer in Wiltshire
#photographer Wiltshire
#pictures of Wiltshire
#Wiltshire images
#Wiltshire photos
#Amesbury