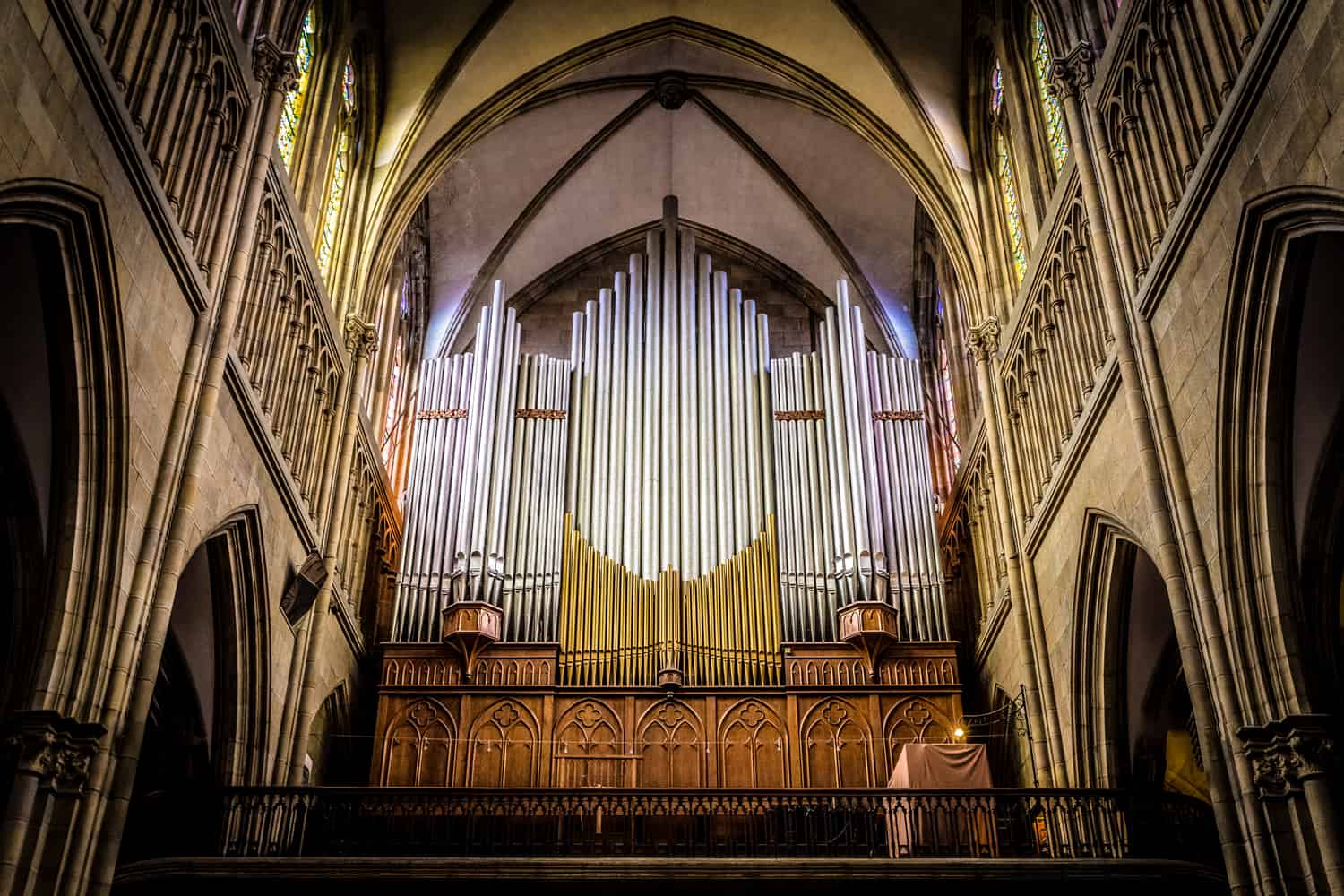 San Sebastian Cathedral, Spain
Stunning interior. I am an architectural photographer. I can't resist such stunning interiors.
And this shot was hand held. No tripod. Just me and by 6D with my trusty specialist interior photographer lens – my Canon 17-40mm F4 L. Why do I call it a specialist interior photographer lens?
Shooting interiors, I quite often find myself wedged in a corner, or holding my camera up to the ceiling and pointing down, holding my camera out of a window etc etc.
17mm on a full frame camera is wide. If you thing about it the widest tilt shift lens, specialist architectural photography kit if ever there was, has a 17mm focal length. The others being 24mm and 90mm. Never understood the 90mm one??
So 17mm is wide. And for the positions I use to get my shots I love the size and weight of the 17-40mm lens.
I find that being able to get into unusual positions to get different viewpoints outweighs the benefits of bigger, more expensive lenses. The images with the 17-40 are great, lovely and sharp. And I find myself using this great little lens all the time for architectural photography, and interior photography.
So this shot I took handheld. ISO was 3200. Quite high, but no evidence of grain. The 6D really is an amazing camera for architectural photography – so sharp, and again light and very easy to use. And if there is any noise in this image I can't see, and I have not even thought about noise reduction in Lightroom.
I say noise reduction – more like detail reduction as far as I am concerned.
At this ISO I could use a shutter speed of 1/80th of a second, F8, and the random focal length of 36mm.
No cropping required, and a bit of weekend fun in Lightroom and Photoshop – you have to play around with your images and try new things out. The effect you see is exactly what I was after here. I wanted rich colours, lots of detail and contrast between highlights and shadows, lights and darks.
Commercial work is one thing – personal work is the place to try out new things and possibly create and new look, feel or style?
Thank you for reading todays post, and please check back tomorrow at
www.rickmcevoyphotography.co..uk/blog
where you will be able to read my next post about something photography related
You can get in touch with me using my contact page which you can find at
http://rickmcevoyphotography.co.uk/contact/
with your photographic query, whatever it may be.
#architectural photographer
#architectural photography
#interior photographer
#interior photography
#San Sebastian Cathedral
#architectural photographer Bournemouth
#architectural photographer Poole
#architectural photographer Sandbanks
#architectural photographer Dorset
#architectural photographer Cornwall
#architectural photographer Devon
#architectural photographer Hampshire
#architectural photographer London
#architectural photographer Surrey
#architectural photographer Wiltshire
www.rickmcevoyphotography.co.uk