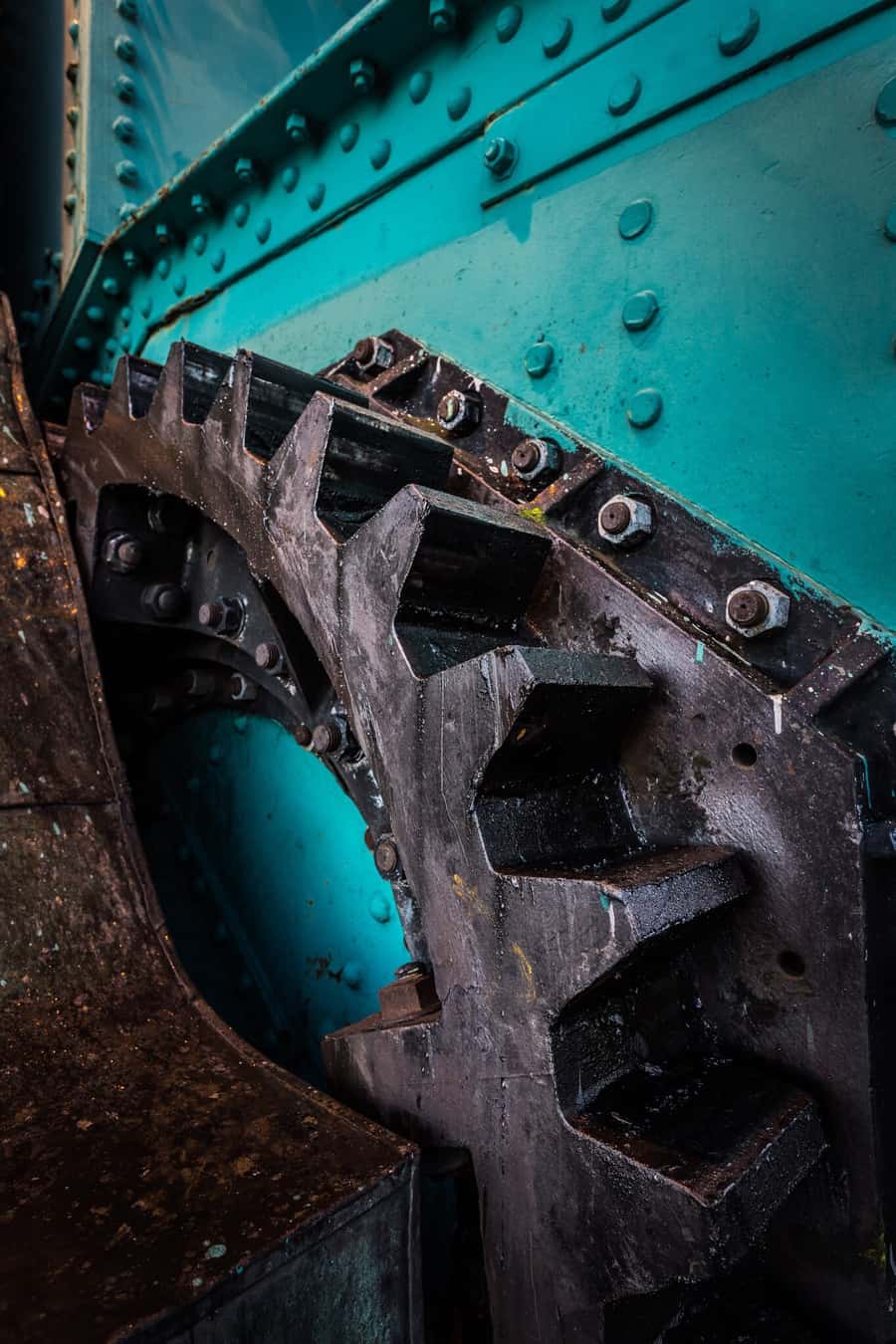 There are two lifting bridges in Poole, Dorset.
The Twin Sails Bridge, opened in 2012
And the old lifting Bridge, officially called the
Poole Bridge or Poole Lifting Bridge
opened in 1927. There have been bridges at this location since 1834.
The Twin Sails Bridge is the sleek new, glamorous cousin of the Poole Lifting Bridge, which is a much more functional bridge.
One cloudy day in December whilst looking for a sunrise that was not happening I decided to explore the old liftingbridge a bit more, and looked at the massive cogs on which the bridge lifts. None of your fancy hydraulics here.
This shot is of one of them.
Industrial photography is not just about big grand images showing the magnificent splendour of a structure – it is also about the details, the components, the bits that are an integral part of the structure and operation of the whole.
This shot was handheld, as I wanted to get in close, and is a single image from a bracketed sequence of five images. The HDR just did not work, so this is a single image edited in Lightroom.
Shot details – 1/6th second, F8, ISO 400, 17-40mm F4L Lens at 21mm.
I like this shot as it shows the detail in the cog – you can see the grease on the teeth – it is all about the large cog and that takes centre stage.
Touching on what I said yesterday, from all the images taken of the bridge I have kept two. The other one I will edit, just not got round to it.
Just two images out of 20, all 5 sequence brackets, 100 images in total, each 10-15 MB – it all stacks up storage wise!!
I will write separately about my Canon 6D – such a great full frame camera for architectural photography and interior design photography.
Thanks for reading this post, and I hope you like the new image of Poole Bridge.
Please visit my website at
www.rickmcevoyphotography.co.uk
Where you can find out more about me and my industrial photographer work in Bournemouth, Pole, Sandbanks, Dorset, Hampshire, Surrey, Wiltshire. London and now Cornwall
#industrial photographer
#industrial photography
#industrial photographers
#Poole Twin Sails Bridge
#Poole Lifting Bridge
#Poole Bridge
#Bournemouth
#Poole
#Sandbanks
#Dorset
#Hampshire
#Surrey
#Wiltshire
#London
#Cornwall