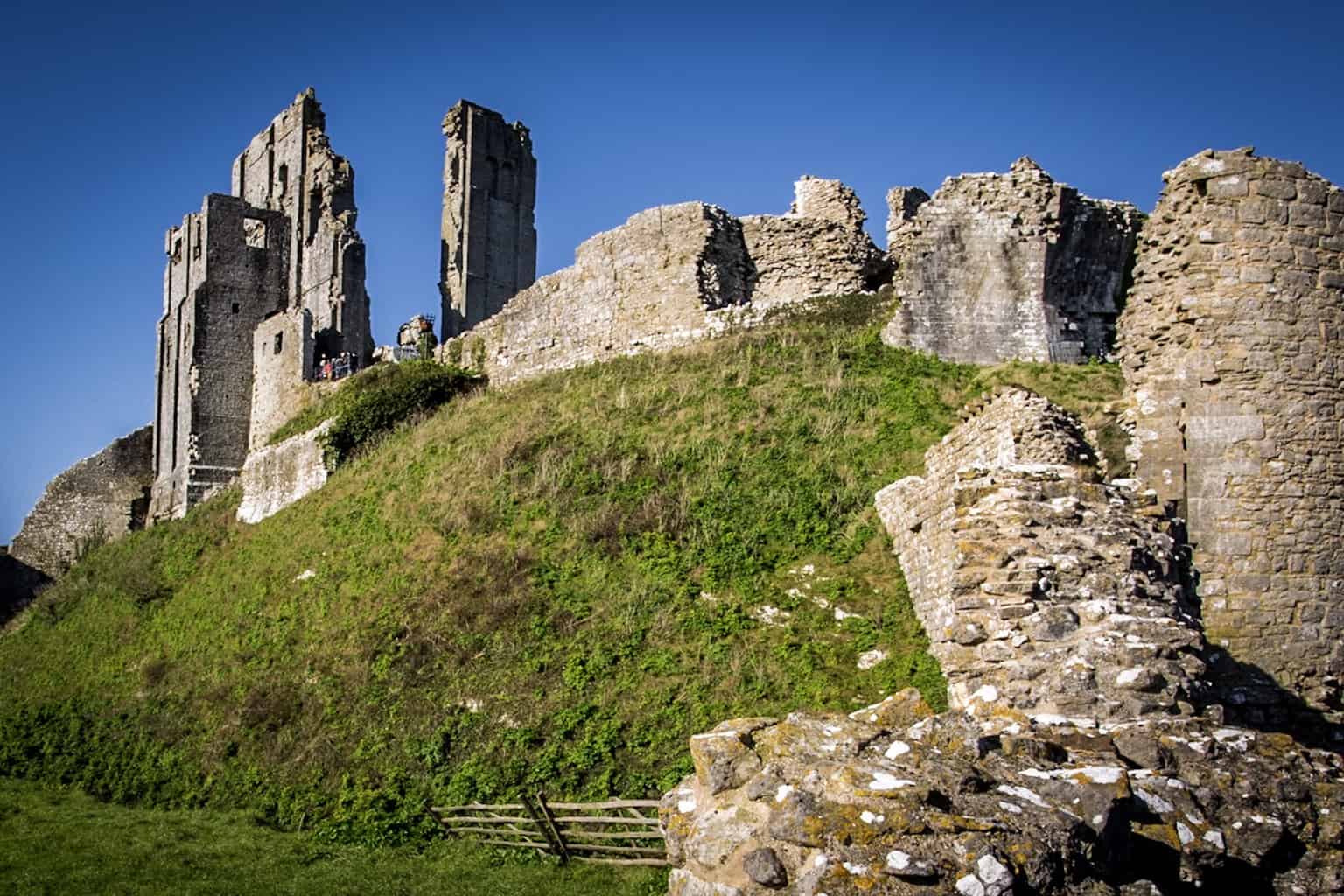 I like Corfe Castle. Such a stunning location. I can recommend going there on a quiet winters day mid week. If you are patient you can get the place almost to yourself. Just like in this image. Nearly….
There are people on the bridge up to the higher levels, but no one within close view. And I couldn't hear anything other than the wind whistling around my ears.
It was very very cold when I took this picture. But very quiet. And the air was so clear.
I like this picture of Corfe Castle because it is a different viewpoint. I have never photographed the castle from this angle before.
Quite a bit of correction to do in Lightroom for this image, mainly due to the angle I was taking the photograph at.
So that seems like a good place to start my edit.
Rather than begin with the crop I am going to start by getting everything nice and vertical, in the Transform Panel in Lightroom.
Sorry I forgot to say I am working on an HDR file here, produced from the under and over exposed images from my bracketed set of three images.
I tried Guided Upright but I just don't get on with this feature. In the end I settled on Vertical. This did just fine. Then I tweaked it a bit.
I am not after perfection here. This is not a time for perfect verticals. This is an ancient building.
Now for the crop. And a big crop it was. I just wanted the central part of the castle, not all the stuff around. And I did not need all that blue sky, nice as it is the crop works just as well with less blue.
Below is the original crop of the image. This is the scene I captured.
Now on with the processing in Lightroom. 
White balance I set with one click – Daylight was fine.
A few quick corrections in the basic panel.
HSL panel next, where I reduced the luminance of the blue in the sky and the yellow from the sunshine in the rocks.
Then I applied a vignette, and finished off with some detail.
And then stopped and thought – do I now like this image?
I am not sure. So I will leave it there and see how I feel in couple of days.
You don't always get the image you want. I wanted a new take on Corfe Castle.
Enough contemplating. I am doing it again. I will move on for now. Tomorrow the jetty is back.
Rick McEvoy Photography Blog
Monday 28th November 2016