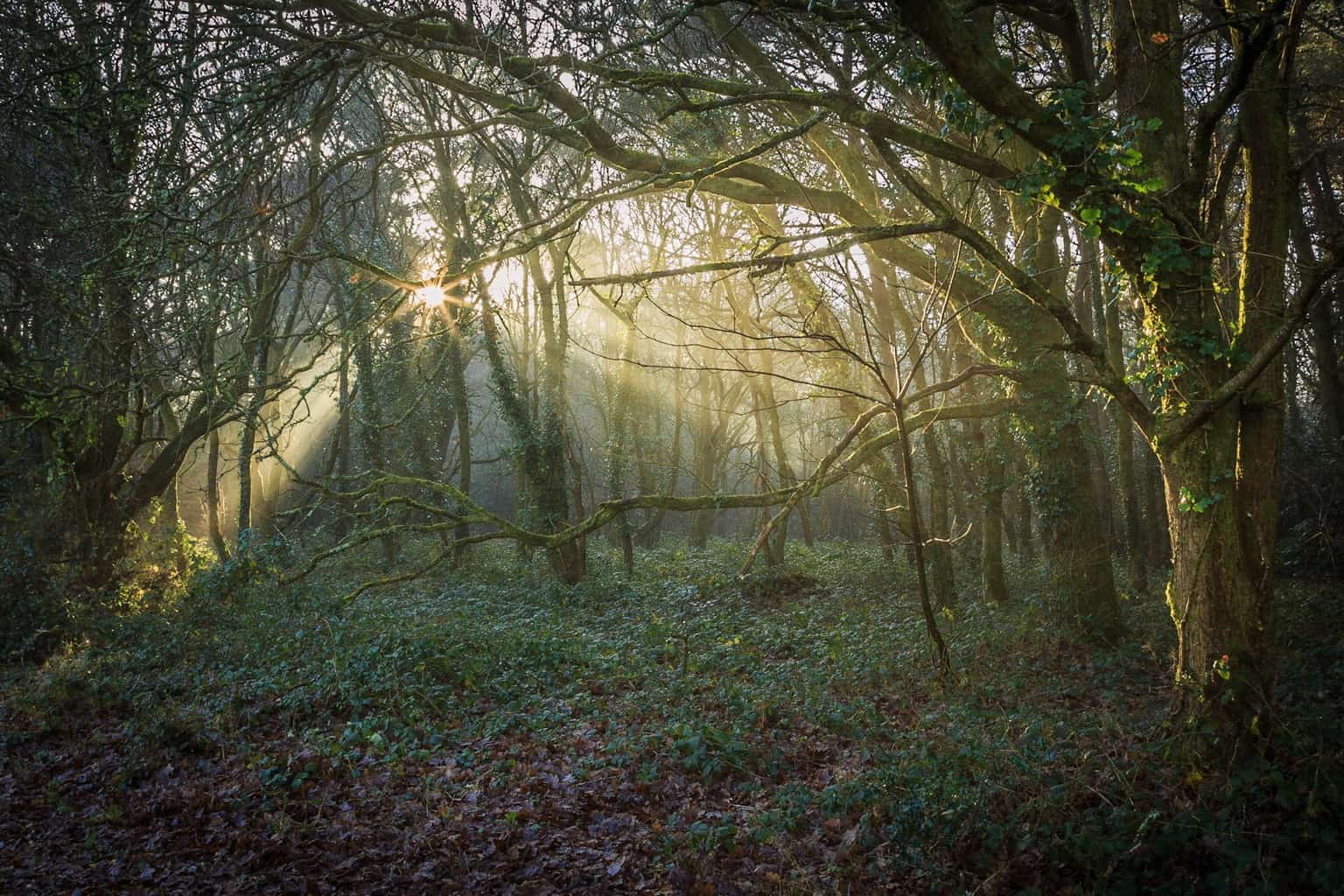 The second image taken at Delph Woods is actually the first shot, which shows the scene I was greeted with. I know, I got ahead of myself yesterday. This should have been the beginning of the story on my blog!
This will be the first image in the full article though.
The mist was very light, barely visible except where it was illuminated by the shafts of sunlight coming from the winter sun which was low in the sky, but very bright bursting through the trees.
This was what I was trying to capture – photography is after all defined in Wikipedia as follows
"The word "photography" was created from the Greek roots φωτός (phōtos), genitive of φῶς (phōs), "light" and γραφή (graphé) "representation by means of lines" or "drawing", together meaning "drawing with light"."
Drawing with light. Worth remembering!
Meanwhile back at the photo
It is the light I am interested in, and what it does. How it interacts with the landscape and the elements within the scene.
This is the story.
This image is a single image (not a bracketed HDR Merged shot) which I have included to show the scene. Actually the single image is better than the HDR Merged image. The light just did not look right in the HDR version so I am sticking with this edit.
This image has been processed in Lightroom with quite basic adjustments.
Global adjustments I have carried out in the Basic Panel, including a manual white balance as none of the presets worked.
Apart from this I have adjusted the saturation and luminance of the greens, yellows and oranges, and dodged and burned light and shadow.
Not that much then. A nice and easy gentle edit to begin this story, setting the scene. I did process this image first honest.
This is quite a subtle edit for a reason – the mist at this time was barely visible except where the sun was shining through, and had to be carefully processed to replicate the scene I remember (well I can remember this scene as it was only the other week!).
I remember the bright light against the tree on the right, and the starburst coming out of the sun (not down to the fact my contact lenses needed cleaning).
Come back to my blog soon for the next image in this series.
Rick McEvoy MCIOB, LBIPP
Friday 13th January 2017