Before I go on I should probably explain what I am writing about.
Lightroom has been updated.
This update has been released by Adobe through the Creative Cloud App. This is the biggest update to Lightroom in a long time.
There are now two versions of Lightroom for PC/ Mac users (this is not about Lightroom Mobile), called
Lightroom Classic CC (formerly Lightroom CC) – described by Adobe as "Desktop-focused editing, and
Lightroom CC – described by Adobe as "The cloud based photo service".
I am talking here about the desktop based version. Not sure what the cloud based version is all about, and not that bothered at the moment to be honest.
I am happy to have the stuff on my hard drive – I know where I am up to then.
There are enough cloud based complications in life for me – I just want stuff that works on my PC, accessing my hard drives just the way I have set them up.
The big question is this – is Lightroom Classic better than the previous version? Lightroom was slow and unresponsive, causing endless frustration. Still great software, it was just frustratingly slow at critical times.
Well – is Lightroom Classic?
A big resounding yes from me.
Why is it better?
So far, the improvements are all to do with the speed and performance.
These are the things I have managed to do.
Run 29 HDR Merges at once!
This means I could task Lightroom Classic to do all those HDR merges and go off and do something else. This is big news for me. I stopped at 29 as I got the message "Lightroom not responding" but I used to get this sometimes after just running three. I did not time how long this took, this is not scientific, but it did speed up my image processing massively.
This is something I do day in day out – the time saving this gives me is huge news for me and my productivity.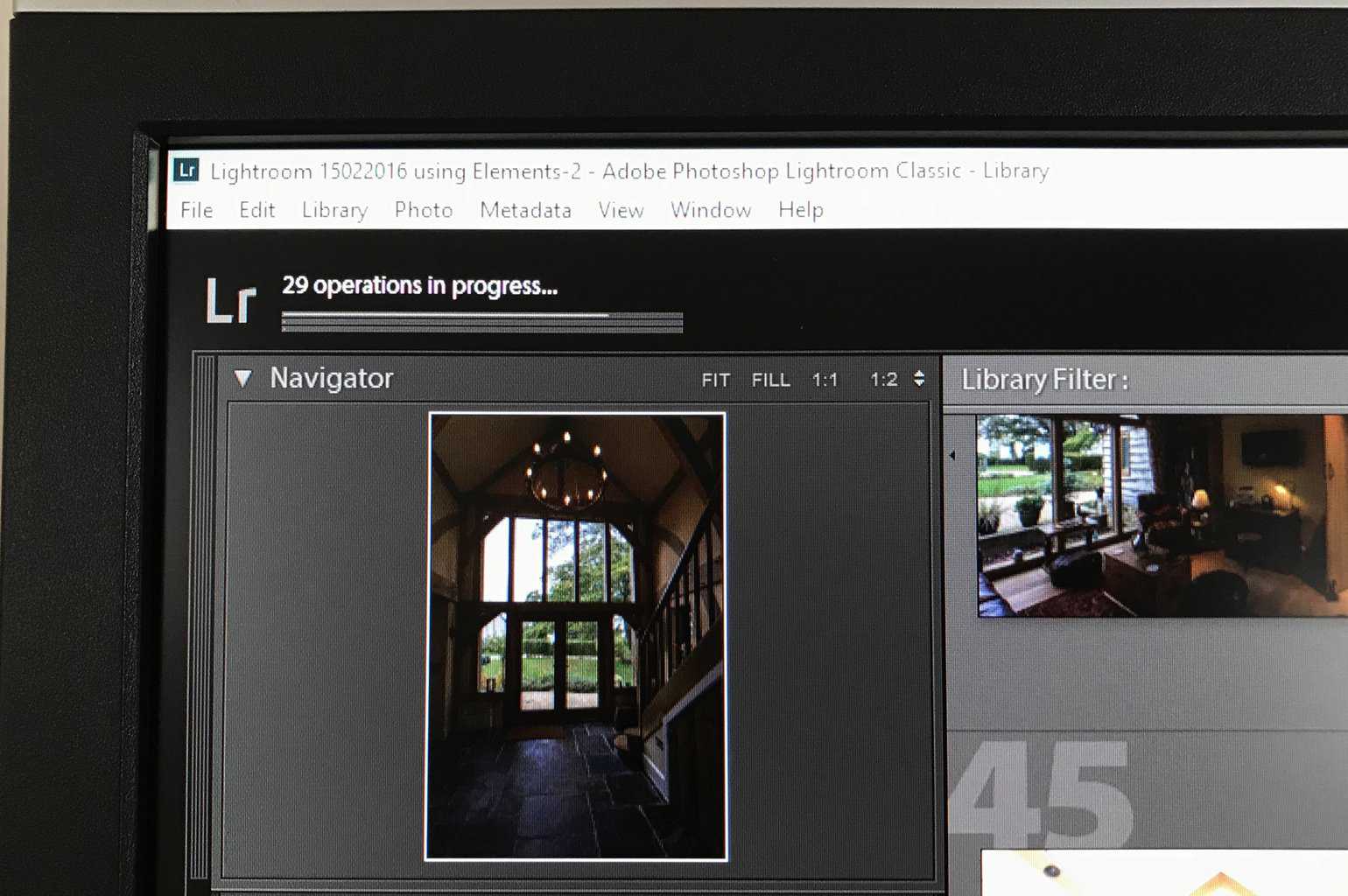 This picture of Lightroom in action shows just what I am talking about – 29 operations in progress. That is 29 HDR Merges one after the other. 
Speed seems to be much better generally.
Importing of images is the next thing I will try, later this week. There is a new feature to speed up the viewing of imported images which you have to set. Jim Harmer of Improve Photography described this better than I can in his post titled "What's New in Lightroom Classic CC?"
Under file handling you need to elect "Embedded and sidecar" – not the default setting but I will apply this as a default import setting so should only need to select this once.
And the next thing for me to try is one thing that I really hated in Lightroom, dust spot removal. It was so slow that I ended up going into Photoshop to do this, which was much quicker. I need to go through a set of images which I will do next, and see if this is better or if I need to go into Photoshop.
I did have a quick peep at this and it looked immediately much quicker.
So as an architectural photographer living in Lightroom the initial signs with this update are very very good. Huge speed improvement making it a pleasure to use again. I will provide an update once I have completed the current set of images I am working on, hopefully without having to go into Photoshop.
Not that I don't love Photoshop – it is just that if I can edit an image without having to to Photoshop it saves me time.
And all that we ask of Lightroom is that it has the speed to deliver the fantastic editing power it has.
Rick McEvoy Photography – Lightroom user