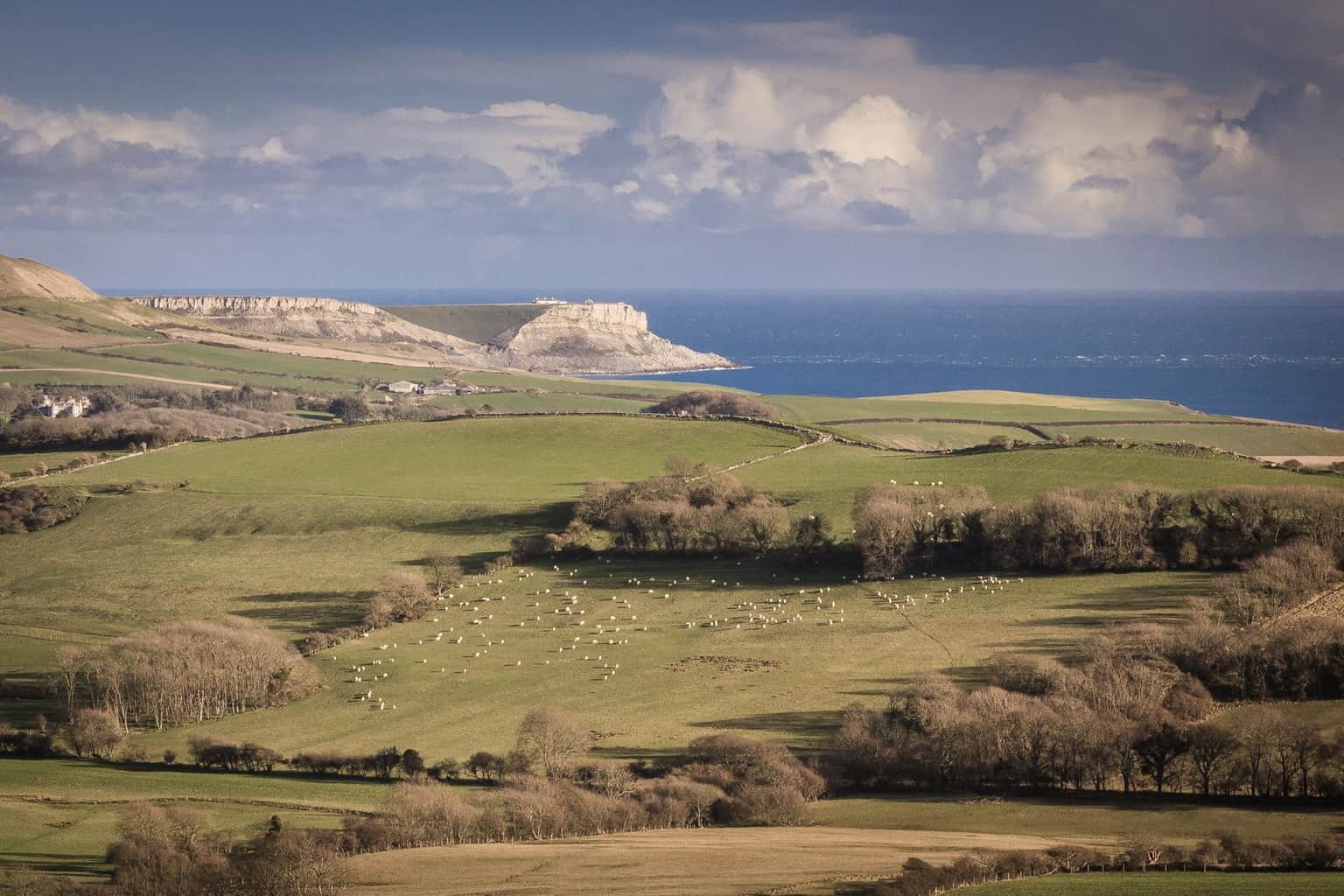 Another definite favourite picture of Dorset is this view looking towards Kimmeridge and the Dorset coast from somewhere on the road between East Lulworth and Steeple. A great view with nice clouds and good light. From the Purbecks you get great views towards the coast looking south, as well as great views to the north, east and west – it is such a special place.
If you look in the sea you can see some standing waves. This is Dancing Ledge, a really interesting spot if you like to dive off the Dorset Coast. There is a sudden drop here on the sea bed which needs to be known about before diving in this area. And the standing waves that you can often see there on the surface.
Another thing I like about this image is the herd of sheep in the middle ground, adding some agricultural charm to the overall scene.
This picture will never win any awards, but is a nice view, and one that lots of people see while driving through the Purbecks.
Not everyone has the chance to stop and take in the view, which is one of the jobs us photographers are here for!
The edit of this image I have just done has made a dramatic difference to this image which I captured and processed some time ago. This image now has had the full 2017 Lightroom processing – my style that is..
Oh yes and I have added the keywords and captions, and today have uploaded this newly edited image to my Dorset photographer web page.
What have I done differently in Lightroom?
Firstly, the crop was sound.
Something I like to do to images can be found in the last panel in the Develop Module in Lightroom, called Camera Calibration. I set the profile to Landscape, which gives richer colours. I just like the effect of this profile, which is now something I apply to images on import into Lightroom.
Apart from that I have updated the edit with things that I prefer that give a cleaner, crisper image. I have also finished off the image in Photoshop, cleaning up some minor annoyances.
Image number 2 done – now time to head over to Nik for a black and white edit which will appear tomorrow on my blog at 11am.
Rick McEvoy
Tuesday 21st March 2017