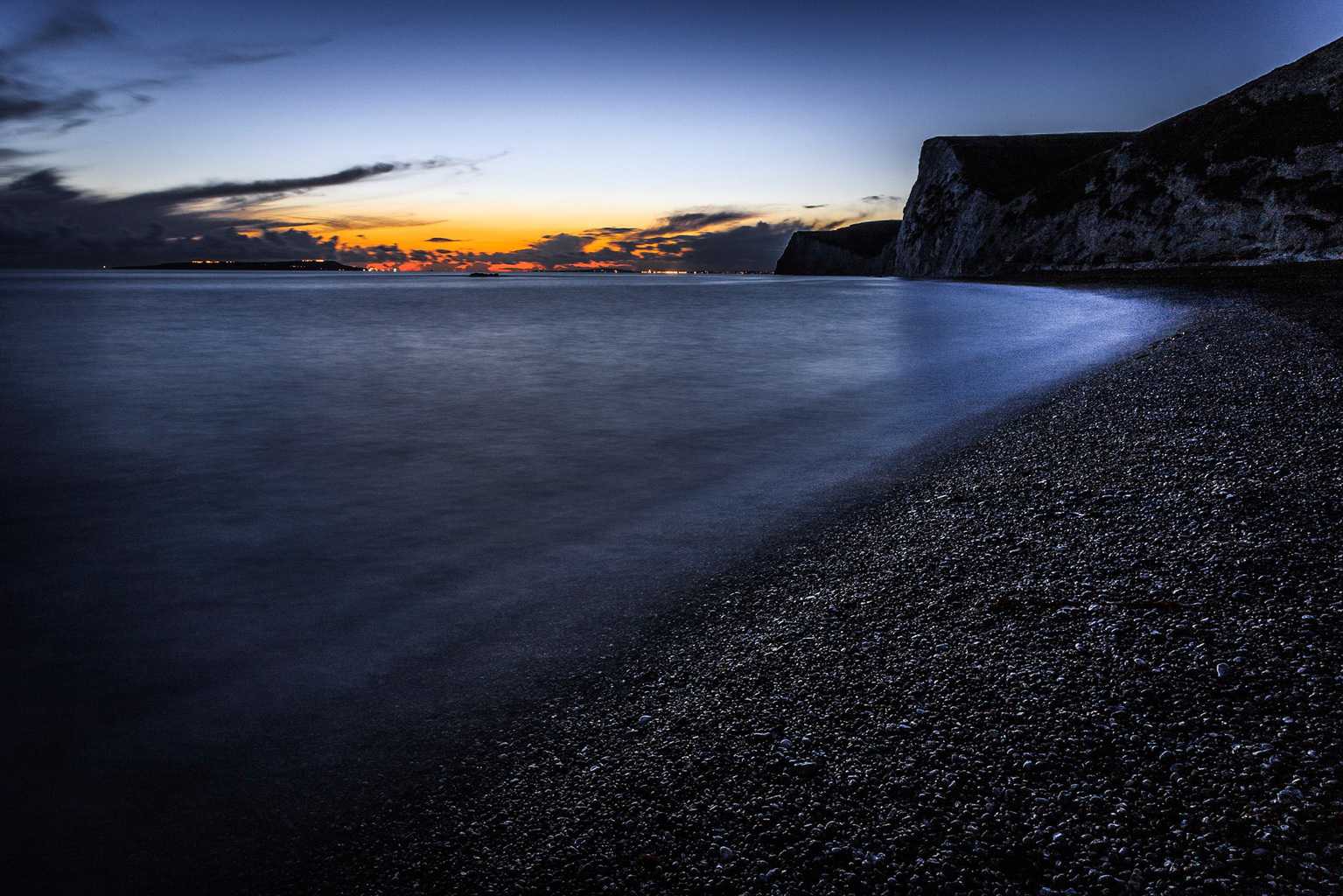 It's Monday morning again. This morning I am going to write a little bit about this picture taken on the beach right next to Durdle Door, but looking the other way towards Weymouth and Portland.
This is an old image, taken after sunset using my Canon 5D and Canon 17-40mm lens. The shot was taken at an aperture of F19, with a shutter speed of 30 seconds, using an ISO of 100.
This picture was taken long before I had my fantastic Lee Big Stopper filter, my trusty 10 stop neutral density filter.
I like the simplicity of this image. And the fact that even though it was taken a few years ago the composition works. This is a strong image and a good place for me to start my working week.
The long exposure gives that lovely flat water. You can just make out the lights in Weymouth and Portland on the horizon.
I also like the band of orange, which is the story of the last of the sunset going over the edge of the planet.
And I really like the sweeping line of the beach, taking you into the image and the cliffs of the Jurassic Coast.
All in all I really like this image.
Processing of this image was mainly done in Lightroom (see earlier post about getting Lightroom to actually work!).
It was quite basic processing to be honest, using the basic panel itself, and bit of work in the HSL panel. The main thing I had to correct was the colour, which had on overriding blue cast. This took a little time, but looks natural and correct to me now.
Whilst I might not calibrate my monitor as often as I should, I know it is pretty much right so the colour corrections I do are visual ones. Plus I check all images on my iPad Pro to make sure they work.
Having done these the global adjustments I added a graduated filter to lighten and sharpen the pebbles. After adding a quick vignette it was over to Photoshop for some cleaning up work, consisting of removing the big mark slap bang in the middle of the image, and getting rid of the odd annoying pebble.
And that is the colour version of the image done, ready to be added to my Dorset Photographer page.
I have decided I am going to replace all the re-edits of the images in one go. This way I won't forget the keywords, captions and titles in Lightroom.
Tomorrow I will post the black and white version of this picture of the Jurassic Coast.
Rick McEvoy Photography
Monday 27th March 2017