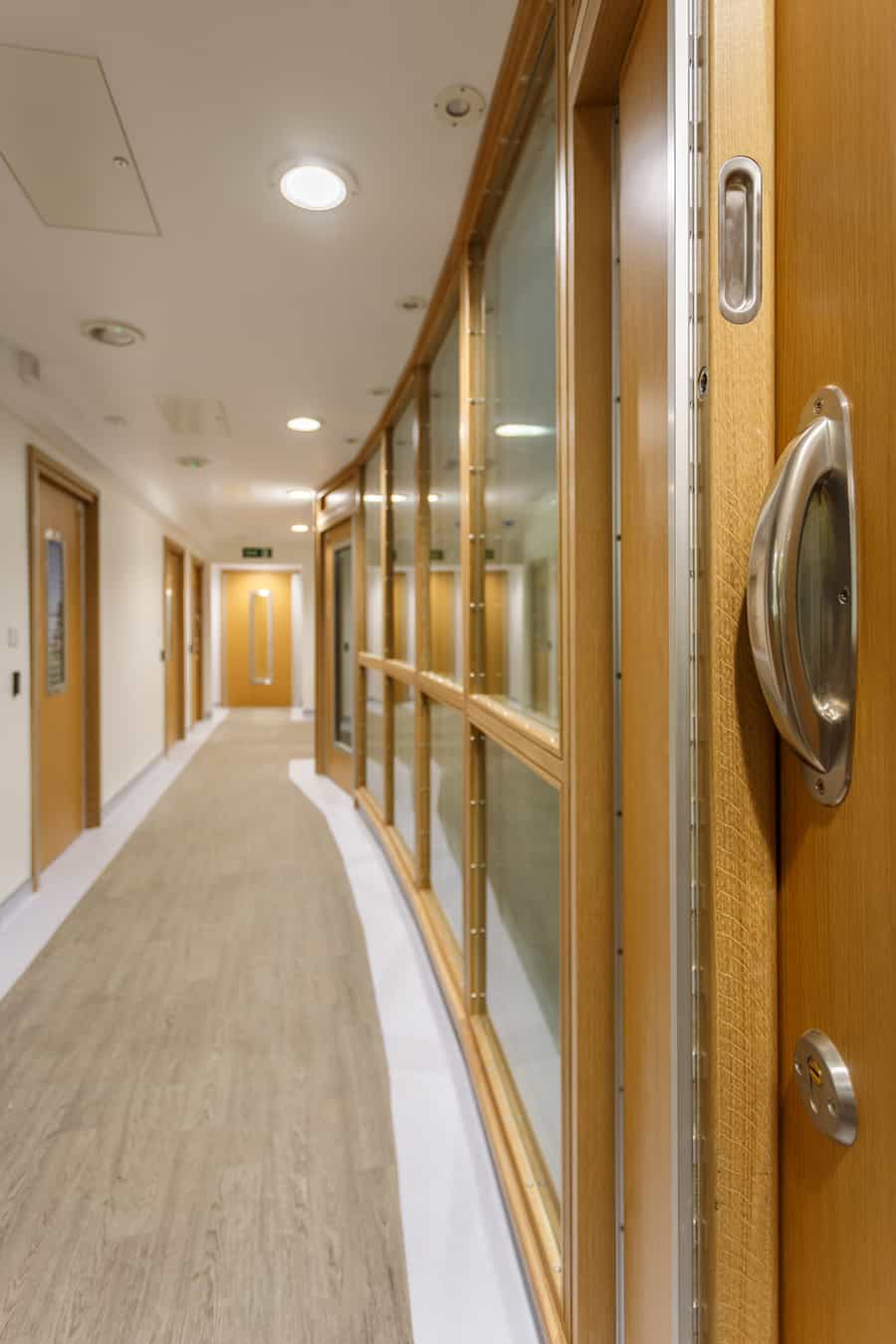 I recently photographed some specialist doors on a live construction site. This was a construction product shoot for the company Kingsway, "Experts in door sets and hardware for mental health".
Product shoots on live construction sites can be challenging, and always take longer than intended! The main contractor on this hospital extension was Brymor Construction.
I was commissioned by the manufacturer of these specialist door sets to photograph the doors just before completion of construction works, which was also immediately before the building went live. Once the refurbished building was handed over to the client access would not be possible. The time constraints at the end of a construction project often dictate what I can photograph and when I can photograph for the client.
The specialist doors produced and installed by the company had been installed in a refurbished wing of a hospital.
This is where my understanding of the construction processes helps, as I was fully prepared to go onto the live construction site and fully equipped. My photography equipment has been assembled so I cause minimal disruption to the site.
Over the course of this week I am going to describe how I took some of the images in this challenging environment, the equipment I used and some of the challenges I faced. I will also describe the image processing techniques I used in Lightroom and Photoshop to produce a consistent set of images.
If you have a specialist product being installed on a construction site that you require photographing please get in touch me either by phone, email or by using the contact form on my website.
To start with, this is one of my favourite pictures from this photography shoot on a construction site. It shows the detail of the handle on one of the specialist anti-ligature doors in the corridor. The detail shot is important to the company, and the composition places the door handle in the environment in which it will be used.
I will post some more pictures over the rest of the week.
Before I go – one point I would like to make is that being a professional photographer is not about photographing epic sunrises and sunsets, filling in the time in-between sat in cool cafes on your MacBook posting to social media.
No.
The reality is somewhat different.
Especially for me. I choose to photograph what I know best.
Construction sites.
Architecture.
Industrial settings.
Interiors of buildings.
Exteriors of buildings.
Construction products as they are built into a new building.
I have a lifetime of experience in the construction industry, which is a long time bearing in mind how old I am, which helps me when I am photographing products on construction sites.
I have a page of more general pictures of construction sites, and now a new page I am working on which is for my construction product photography images.
Tomorrow a behind the scenes kind of post.
Rick McEvoy Photography
Tuesday 7th March 2016