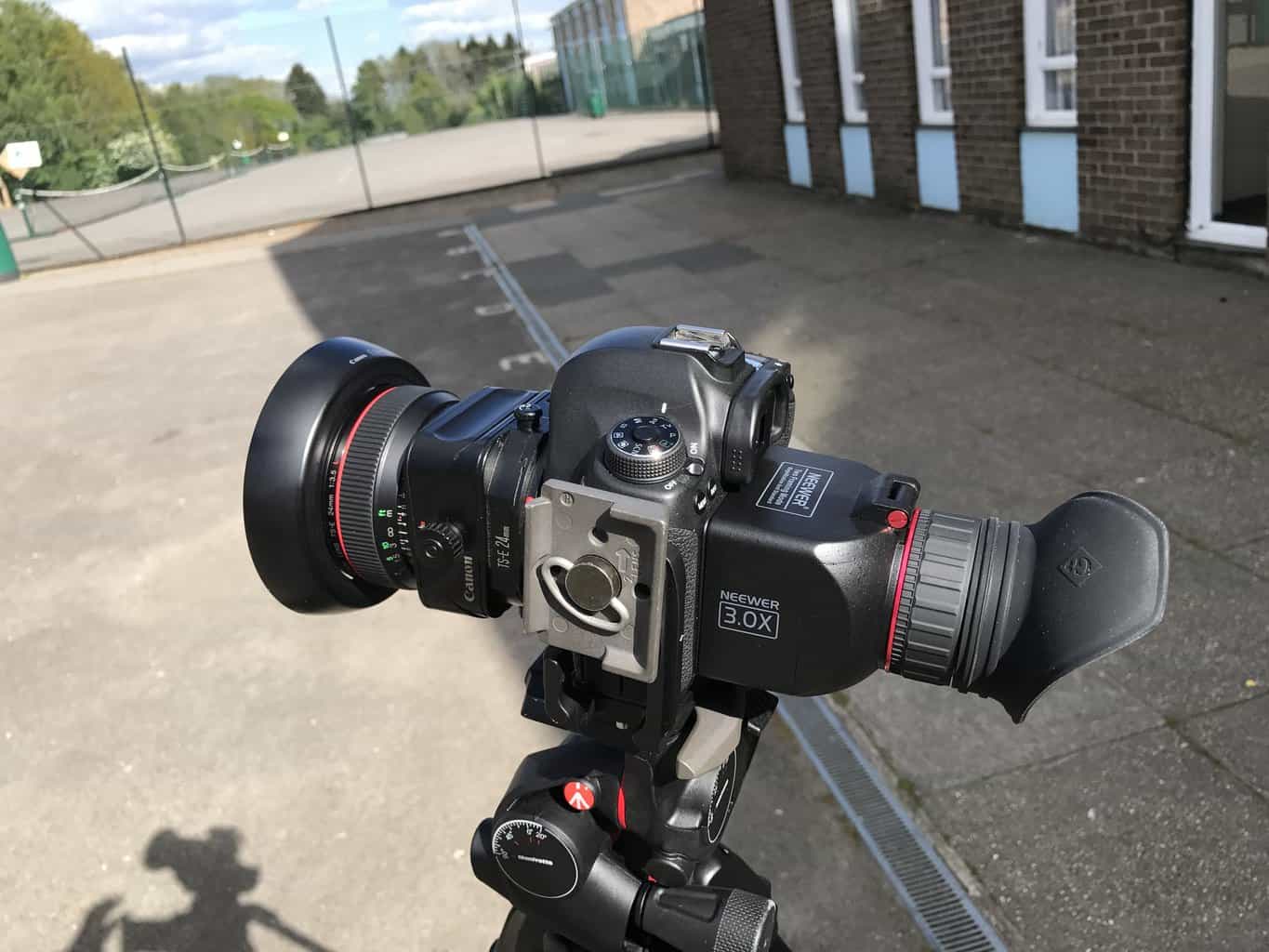 Yes this is what my camera looks like when I am photographing construction sites, architecture, interiors. And trees. This is one of my go to configurations. This picture was  taken on my iPhone 7 Plus at a site in Hampshire.
Canon 6D – currently available from Amazon for less than £1200 – an absolute bargain! This is my workhorse that captures all the images.
 Canon 24mm tilt shift lens – my go to lens for photographing buildings. 
Manfrotto 190 Go Tripod – nothing fancy, just a great, solid tripod that works.
Manfrotto geared tripod head – a crucial part of my kit, allowing me to precisely compose images. The geared head gives me fine adjustment in all three directions.
Sunway Foto L bracket – this is fixed to my camera, then the two plates below allow me to attach my camera to my tripod.
Manfrotto 200PL Quick Release plates – two of them so I can quickly go from landscape to portrait orientation.
Spudz lens cloth – normally I have one attached to my camera all the time.
Neewer foldable optical viewfinder – this is the other bit of kit that makes a huge difference, allowing me to precisely focus my tilt shift lens, whihc is manual focus. I need the viewer to enable me to compose precisely, focus and also to review images after taking them. I can this in any conditions, even bright sunlight.
I know it looks complicated but everything is there for a reason. And this one of the configurations you will see me with a lot of the time. 
Taken on my iPhone 7 Plus by the way. Which makes me smile. I have all this stuff added to my camera, making quite a bulky arrrangement, and then I have my phone, which is at the other end of the scale!
Bournemouth, Poole, Sandbanks, London. Cornwall, Devon, Dorset, Hampshire, Somerset, West Sussex, Wiltshire