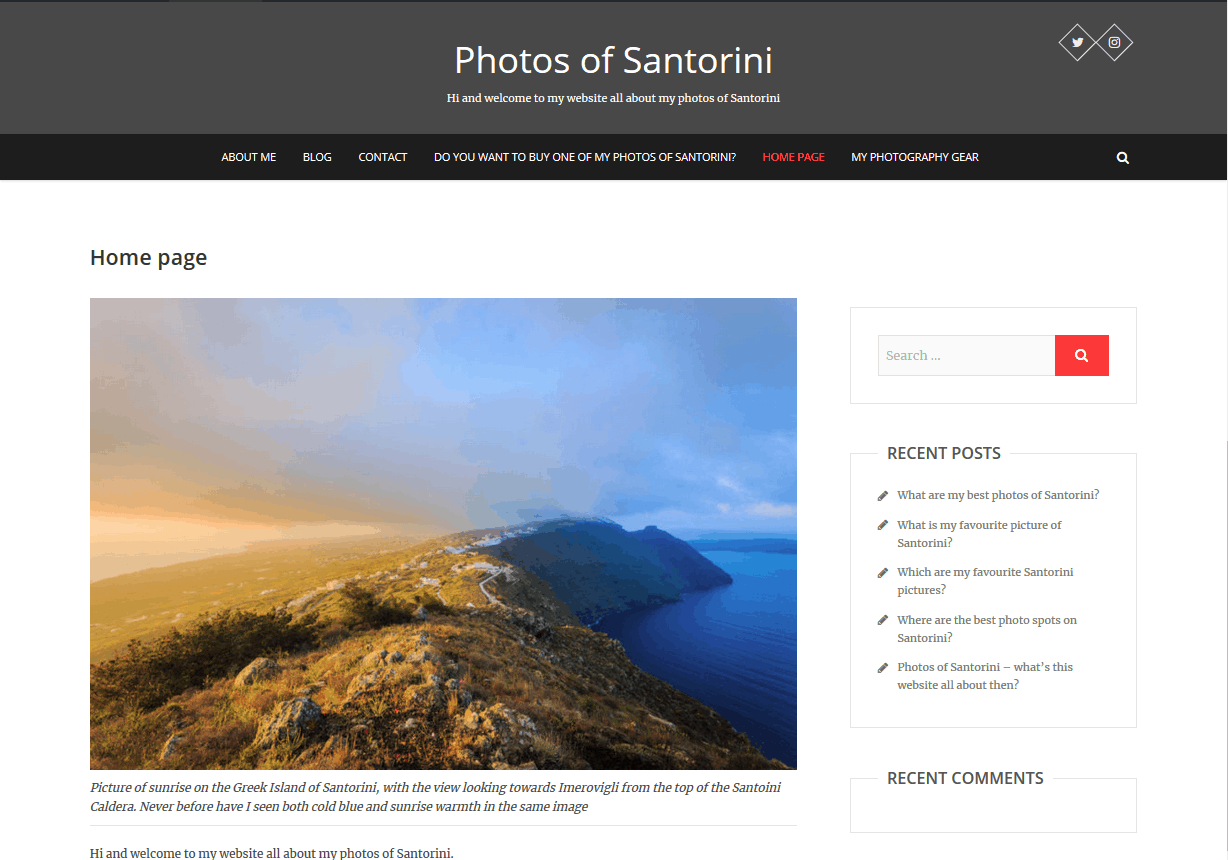 There are many websites which have lots of great photos taken on the wonderful Greek Island of Santorini.
But what is the best website for photos of Santorini? Well my brand new website Photos of Santorini of course! This is certainly the best website called with this name, and cunningly my website has that as it's URL.
I know – a grand statement but let's be honest – if I don't blow my own trumpet who will? And in time the search term "best website for photos of Santorini" will hopefully bring people right here to this post, which will take visitors over to my brand new website. This is all part of a plan!
My first travel photography website
This is my first bespoke travel photography website. I went to Santorini last April on a photography trip. And when I came back I went through my photos and had over 100 images that I would display on my website and feel comfortable selling commercially.
That was quite a remarkable return for a 5 day photography trip, so good was the location. That and the fact that I had five solid days taking photos.
My problem was this – what do I do with the photos?
This has been troubling me for some time now. I have all these photos, but what do I do with them? I seem to have taken lots of photos but never cracked what I do with them.
What about stock photography selling?
I have a few images on Adobe Stock, and had sold quite a few of these images. The problem is that the most I have got for an image is 25p. Yes 25p.
And I have not sold enough images to get to a big enough earning amount to actually get paid by Adobe.
The same happened with Shutterstock, with the same paltry financial return.
I therefore decided some time ago that stock photography is just not for me – there must be a better way.
I am not selling my work for a pittance.
I spent some time thinking about this, processing my chosen images and posting them on social media – I even had a Santorini Photos page on my website.
But none of this did anything – these things were not the answer.
So where did this idea come from?
I am not sure to be honest. I listen to various podcasts on photography, solo businesses, passive income and internet marketing. And cricket and football – I am not that sad thankfully.
And the one idea that kept coming back to me was a standalone website for my Santorini photos.
I had a lightbulb moment, and decided to go for it.
So I need to make my own website – how did I do that?
First thing was to buy a website domain. I settled on photosofsantorini.com, which I bought and registered and bought hosting for all for less that £50.
Buying the website was the kickstart I needed – I had something to work with.
What am I going to put on my website?
The original plan was 50 photos on 50 blog posts with some supporting pages, but this got reduced in the end to 20 blog posts and 1 very long post.
And that very long post is the one that hit the internet this afternoon. This website blog post is titled Santorini photography tips – this is what I have learned.
This is pretty much a summary of my experiences of going on a photography trip to Santorini, my version of events from start to finish. As I said this is a long post, and is designed to be a standalone post that will help anyone who is thinking of going on a photography trip anywhere in a foreign location, but especially of course to Santorini.
And having read this post and found it useful, hopefully people will check out the other pages on my website, and come back here to my main photography website.
What else is on this website?
There are 20 images on 20 blog posts where I tell the story about each image.
The headings I have used are as follows
Why do I like this photo so much? I start off describing why I like the particular photo on that post

How did I decide on this composition? This to me is one of the most important questions. I try to describe what I was thinking when I was coming up with the composition.

Where was the photo taken? Using the Maps Module in Lightroom I am able to show exactly where each photo was taken.

What time of day was the photo taken? Just the time the photo was taken. And some other relevant nonsense.

What photography gear did I use to get the shot? A list of the gear I used.

What camera settings did I use? Having listed the gear, I thought it only fair to share the camera settings used to get each image capture.

One interesting fact about the image. I have tried to come up with something interesting for each image, something that you would not know just by looking a the image.

Is there a behind the scenes video of this shoot? Not for every shot, which is a great shame. But there are some behind the scenes videos and some photos taken on my iPhone.

How did I process the image? This is a quick description of how I processed the image in Lightroom and Photoshop. I also share the settings in Lightroom by adding a screenshot from the Develop Module.

What could I have done to improve the image? Very important to me is to critique all my own work to see if there are things that I need to correct, and learn what I could have done better. It is good to look back on images after the event.

And what are my thoughts on this image? A general summary – does the image convey what I wanted it to convey? Is the photo a representation of that place and that time?

Enough of me – what do you think of this image? This is an interesting one – I have opened up this question to all visitors to my website – I can't wait to see what people think of my photos of Santorini.
Do I mind sharing this info for free? Of course not – I hope that people find this helpful
Why this structure
I wanted a structure within which to write each web page, trying to cover all the angles that would be of interest to photographers. I wanted a cons
istency across the pages too.
And let me tell you a secret – it is much easier to write stuff if you have a framework within which to write – 10 headings with circa 200 words per heading is a lot easier to write that 2000 words.
I also have some static pages on this website.
What other work do I need to do to this website?
Now all I have left to do is the boring stuff
Check the metadata.

Check the spelling.

Check the image metadata.

Add links where I want them.

Add my photo to each page (at the bottom). Just done that.

And internal links to other pages.

And finally index all the pages on Google.
A bit about WordPress websites
I should have said that this website has been created using the WordPress platform. I bought the domain using GoDaddy, and I am using Bluehost for the hosting.
All the photos are of course my own, and all the text has been written by me.
So this is quite literally all my own work, which makes me feel almost proud.
And at the time of writing I have not decided on the theme for the website – I have just gone with a free theme for now from which is called Pixgraphy – I have not got around to customising this yet.
This is all new to me of course.
How did I decide how long each post was going to be?
I aimed for a minimum of 1200 words. 1200 words is probably the shortest I want blog posts to be to get good rankings in Google. This is a bit of an experiment, which hopefully being so niche will produce the results I want.
The summary post is massive, and is based around the keyword that kept popping up when I was doing my research – Santorini photography tips.
I want this page to rank number one on Google for the search term Santorini Photography Tips – lets see what happens – this post went live today (at 3.20pm) so this is an exciting thing for me to monitor.
What is my website all about – who is it for?
This website is all about the photos and the content. Photos of Santorini is a very specific niche subject.
Santorini and my photos taken there.
That is what it is all about and nothing else.
This website is not a Travel Guide to Santorini – and I not pretending that it is at all.
Santorini and photography – this is all this website is all about.
For a very specific reason.
This is what I want to write about – these are my two favourite things to do – travel and photography. And my photos are unique to me – no one else has taken the photos I have taken in exactly the same way I did at exactly the same time.
And my words about my photography are also unique to me.
And that is the point – I have created a website which has to be unique as it is all my own work and I have never done this before.
What next with this website?
Wait. Wait for 4-6 months and see what happens. See if this is the beginning of my passive income, which will change my business model going forward.
If this is successful I will be looking to create more websites following this model.
And there is another website that I am going to work on next. This is my other travel photography website "Paxos Travel Guide", which should be completed by the end of December 2018.
This website is a bit more involved, and has a different structure and to be honest will take loads longer to create.
There are lots more pages, lots more content, and there is another big difference with this website. I went to Paxos knowing that I would be creating this website, so have taken lots more photos, behind the scenes stuff and also a daily journal.
This website will have probably double the amount of content that photos of Santorini has.
And once this is done I hope to know if this website is a success before I start on my next website which will be about the wonderful Greek Island of Rhodes.
This is part of the reason why I had to get my Photos of Santorini website out of the way – this is a smaller and every more niche website than Paxos Travel Guide. And I couldn't concentrate on the other website until I had finished my work on my Santorini photos website.
Summary – glad this is done finally.
Now that this website is done I am very very happy.
Let's hope that this website is a success, and that I c
an make a different kind of living with my travel photography. That is my plan.
I am looking forward to sitting back now all the hard work is done and seeing how this website performs.
There are over 30,000 words and lots of images spread across the pages of this website – I will write a review in the New Year about progress and Google results.
And what next? I need to get back to Paxos Travel Guide – two months of work with the completion of photos of Santorini done and there to inspire me.
Rick McEvoy ABIPP – photographer, writer, blogger, website creator