I know I said top 10 but I had a rethink – it is my blog after all!!!
What makes these my top 11 travel photos of 2019? Basically, they remind me the most of being there – they bring back that feeling and are the ones that make me wish I was back there right now, not sat here in cold grey England! Travel photography for me is all about making you want to be somewhere when you look at the photo.
So here is the second part of my post in which I describe how I created my Top 11 Travel Photos of 2018. This is images 6-11, all taken on the Greek Islands of Rhodes and Paxos. I posted these photos a couple of weeks ago, and here are the words behind the pictures.
Image number 6 of my Top 10 Travel Photos of 2018 – A person sat on a rock watching the sunrise in Rhodes.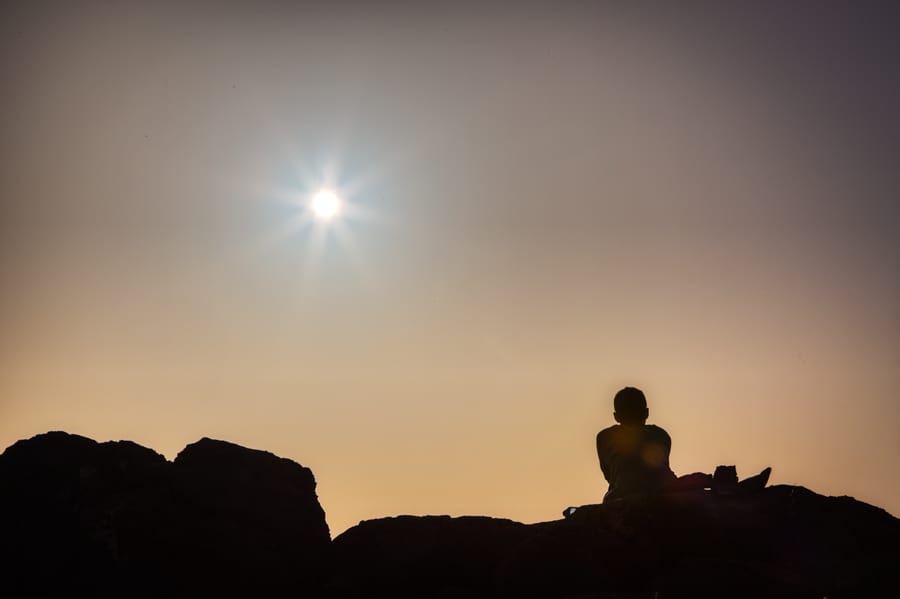 Sunrise comtemplation on the Greek Island of Rhodes
I didn't know this person was here. I had been up on the top of the hill happily photographing the sunrise thinking I was all alone up there. I have no doubt I was chuntering away and talking to myself throughout this process.
Having captured the photos that I wanted, and by now dying in the heat (ish) I was ready to climb back down to the car when I saw this person sat on top of the rocks. How long had they been there? I of course had no idea, but they must have been there since long before sunrise.
I took a quick photo and was off.
I had the awareness to change the aperture to F22 to get that starburst effect on the sun which is good, even when fading in the blistering early morning heat with nothing left to drink!
Now I know some people think that this (the star burst) is a cliché but that was what the sun looked like to me – a big bright shiny thing in the sky looking just like that.
This is three bracketed images processed using Aurora HDR 2019.
Camera settings
Canon 6D

Canon 24-105mm F4 L lens

Focal length 80mm

Manfrotto 055 tripod

Aperture F8

Shutter speed (first image) 1/1000th second

ISO 100
Image number 7 – photo of the lights from boats in Lakka Harbour before sunrise
Boats moored overnight in Lakka on the Greek Island of Paxos
I love this photo of the boats moored in the harbour in Lakka on the Greek Island of Paxos. Every morning I looked at the lights on the boats and thought that they would make a great shot, so this morning that is what I did. The conditions were dead calm which would be vital when taking the image.
I managed to get this photo taken before the sun had risen giving me two photo opportunities for once.
This photo is a single image, taken using my Canon 6D and Canon 24-105mm lens. I used my Manfrotto Pixi for this image capture – pretty impressive really – a 4 second log exposure with my Canon 6D and an L series lens on such a small tripod.
It was so dark I had to use an ISO of 1600 to get the shutter speed up to 4 seconds! And the reason the calm conditions were so important? On other mornings I witnessed the boats gently bobbing about in the water, so much so that they were actually blurred in the photos I took the first time.
This was the calmest day with the least amount of bobbing going on.
Camera settings
Canon 6D

Canon 24-105mm F4 L lens

Focal length 24mm

Manfrotto Pixi tripod

Aperture F8

Shutter speed 4 seconds

ISO 1600
Processing of this image was done in Lightroom only, with very little needing to be done to this single image.
Yes – 4 seconds using the Manfrotto Pixi – quite remarkable for something so small, lightweight and economical. And hardly designed for work such as this.
8 – Picture of a table in striking morning light in the small town of Lakka on the Greek Island of Paxos
Tables at sunrise in Lakka
This is something a bit different for me. This is almost street photography! I was on my way back from my epic filming using my iPhone with a pile of rocks – check out the video here. I turned the corner at the back of the Akis Oyster Bar restaurant to be greeted with this scene – bright directional light casting a most excellent shadow of a table onto the paving.
I just stopped, took three photos of this scene and kept on walking to the other side of the harbour.
This is another set of three bracketed images – the reason I do this is get the maximum dynamic range I can from a scene.
These images were merged together and processed in Lightroom.
Camera settings
"             Canon 6D
"             Canon 24-105mm F4 L lens
"             Focal length 24mm
"             Handheld
"             Aperture F8
"             Shutter speed (first image) 1/800th second
"             ISO 100 
9 – Sunrise picture of the boats moored in the harbour at Loggos on the Greek Island of Paxos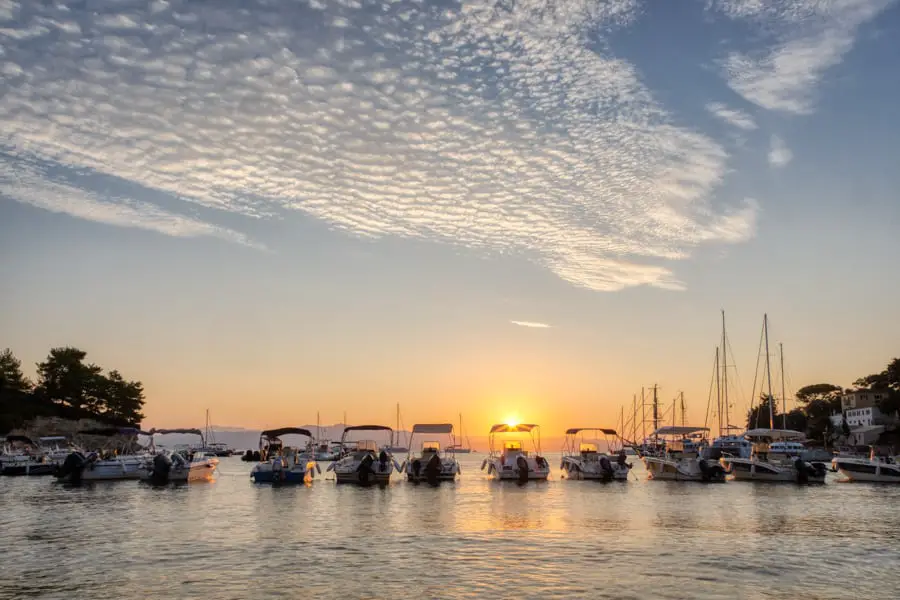 Sunrise in Loggos on the Greek Island of Paxos
Loving this shot – so many things that appeal to me in this scene.
Having scouted all the locations I wanted to photograph on Paxos, this was top of my list.
I walked around the harbour at Loggos and ascertained exactly where I needed to be to get this photo. I use a tool called The Photographers' Ephemeris which is a great tool once you get your head around it.
I walk around until I find a view that I like, and then fire up the app to find out exactly where the sun will be rising or setting. It is quite remarkable how accurate and useful these tools are – how did we ever manage without them?
A bit of walking around is normally required to get the perfect location, which is where this photo was taken from.
Sometimes I will photograph the location on my phone, so I have a quick visual reference of the location. For this I did not need to do that as it was dead easy for me to remember.
The other thing that the app tells me is the time that the sun is rising, so I know exactly where I need to be and also when I need to be there.
I get to a sunrise location a good hour before sunrise as some of the magic happens before the sun rises and I would hate to miss that.
So, this was a very easy shoot – I was there as I said a good hour before sunrise, and stayed until an hour after.
Camera settings
"             Canon 6D
"             Canon 24-105mm F4 L lens
"             Focal length 24mm
"             Manfrotto Pixi
"             Aperture F22
"             Shutter speed (first image) 1/10th second
"             ISO 100
10 – The number one attraction on Paxos – the magnificient Tripitos Arch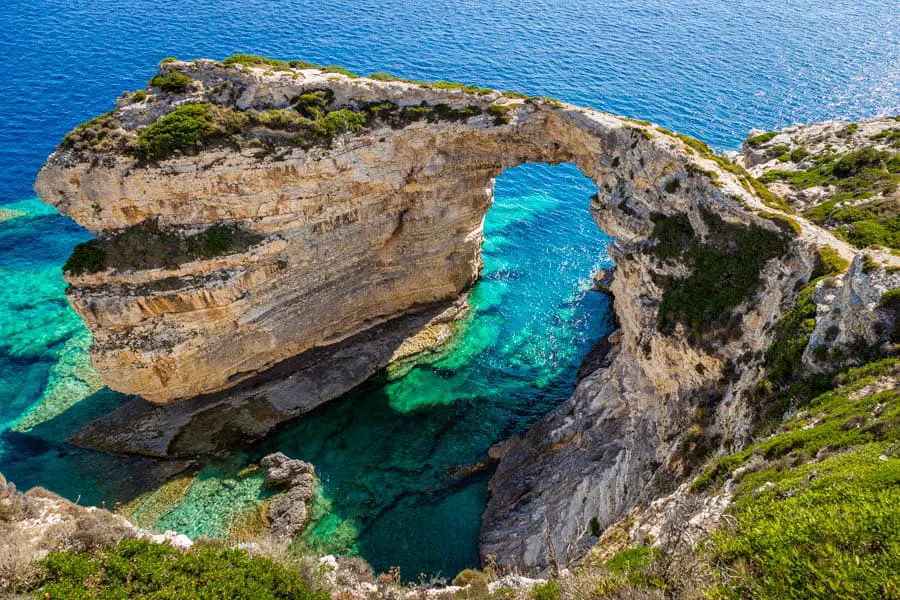 Tripitos Arch on the Greek Island of Paxos
Now this really was a stunning location. Probably my favourite tourist location on Paxos. A magnificent natural arch called the Tripitos Arch.
And to be completely honest the first time I tried to find it I failed. I missed a critical turn on the path, one without a sign. In my defence. I was close, but after a while gave up and went back to the hotel.
I looked at guidance offered on Trip Advisor and recognised where I had gone wrong. I should have taken a right turn down a path. Problem was that it was not signposted, and I had no data signal there.
A very thoughtful Trip Advisor contributor had already realised this problem and photographed the key places and added them to a review of this magnificent natural structure.
So, second time I found it just fine – I will write a dedicated post all about the number one attraction on Paxos (in my opinion) on my website Paxos Travel Guide.
I won't lie to you – it was a hot sweaty walk from the car but well worth it. And unusually for me I had actually got two bottles of water which were safely stowed in the side pockets of my Peak Design Everyday Backpack.
I photographed the arch, and the stunning views in all directions, but this is my favourite photo.
Camera settings
"             Canon 6D
"             Canon 24-105mm F4 L lens
"             Focal length 24mm
"             Handheld
"             Aperture F8
"             Shutter speed (first image) 1/80th second
"             ISO 100
Processing of the image was done using Aurora HDR – believe it or not this was a super quick edit!
11 – The fantastically located Anemogiannis Monument, Gaios, Paxos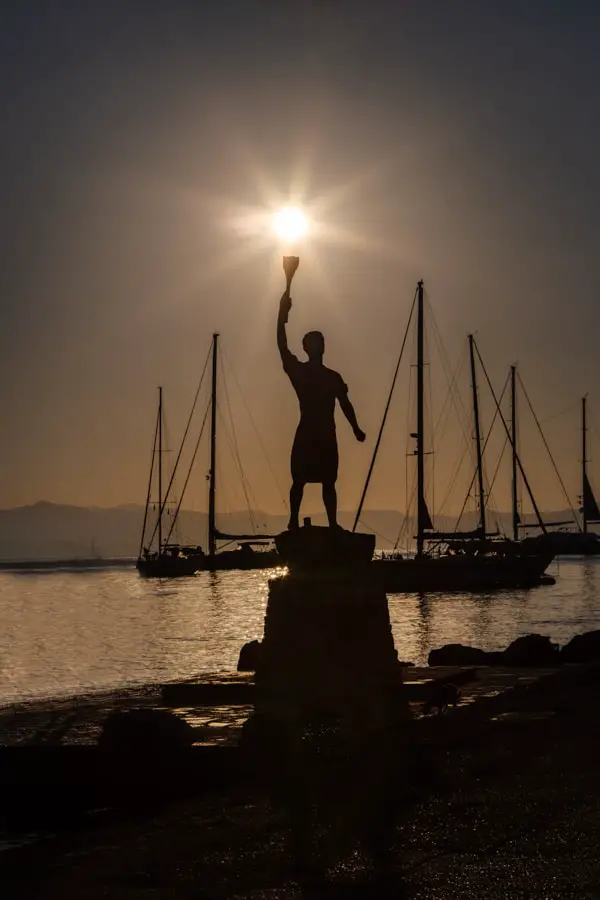 Anemogiannis Monument Gaios Paxos
 OK – the last image in my set of my top 11 travel photos of 2019. This is one of my favourite monuments, and nothing to do with the Olympics or Marathons or anything like that. You will have to wait until I have completed the post on Paxos Travel Guide to find out more about the Anemogiannis Monument.
If you walk down the wonderful front of the capital town of Paxos, Gaios, you will eventually get to this monument. It is at the opposite end from the ferries that bring all the day-trippers in.
I had finished photographing the sunrise from the hills above Gaios and went into the town and a walk along the waterfront looking for things to photograph in that wonderful directional sunlight.
I grabbed a quick coffee and walked to this monument.
There was a bit of a problem. Other people. Even at 6.50am there were people around. A couple were sat at the base of the monument, who thankfully moved when they saw me with my camera obviously trying to get a photo from a certain view.
Then a chap wandered into the scene completely oblivious to me, even though he walked right in front of me.
He stood right in my way, then sat down to the left. I removed him in Photoshop – I had no option – he wasn't going anywhere. Of course, when I drove away from Gaios he was gone, but that is the beauty of Photoshop when needed.
This is of course a very deliberate composition, with the sun sitting right on the top of the monument. I wanted the starburst effect, so used F22.
The difficulty with this shot was that I really could not see what I was looking at through the viewfinder, as the sun was so bright. I ended up using Live View to take this shot.
This is a single exposure image edited in Lightroom and then the chap removed using Photoshop.
 Camera settings
"             Canon 6D
"             Canon 24-105mm F4 L lens
"             Focal length 84mm
"             Handheld
"             Aperture F22
"             Shutter speed 1/4000th second
"             ISO 400
Not sure why I keep the ISO at 400 – 100 would have been fine. And had I been trying to bracket the exposure the second shot would have been at 1/16000th second – a bit beyond the capabilities of my Canon 6D!
My photography gear
As you will see I have not talked about much gear in these two posts. I travel light for my foreign trips, and only take the minimum gear, most of which will get used. There is no room for luxury items on my travel photography trips!
Everything has to fit in my Peak Design Everyday Backpack – if it doesn't I don't pack it.
You can see my full photography gear list on my photography gear page.
Summary
I hope that you have enjoyed reading a little bit about my Top 11 travel photos of 2019. I certainly enjoyed going through my travel photos and choosing 10, then 11 images to edit.
You can see more of my travel photography work on my travel photography portfolio page, and also on my new websites. Photos of Santorini is done and online to view, Paxos Travel Guide is very much work in progress.
And there will be other travel photography websites produced in 2019, as I ramp up my online presence.
Next week on my photography blog I am back to my core business of taking architectural photography images.
Rick McEvoy Photography – photographer, blogger, writer, website creator