In this post I want to tell you all about my photography podcast, why I do this, how I create it, all that good stuff.
In the Photography Explained Podcast I explain one photographic thing per episode in plain English in less than 10 minutes (ish) without the irrelevant details. I answer listeners questions, and I if O don't have any of these I come up with my own questions.
I explain things the way that I would like things explaining to me.
Who am I?
I am Rick McEvoy, a photographer, blogger, You Tuber, podcaster and photography educator based here in the UK. I am professionally qualified in both photography and construction, so it should be no surprise to you that I specialise in building photography.
And I have been doing this photography thing for many years.
Why did I create the Photography Explained Podcast?
Simple. I was looking for a photography podcast where things were explained, and couldn't find one. So I created one!
Yes, this is my first podcast, and I have had to learn everything completely from scratch. And now I am well in the groove with this I would love to create another podcast. Only time is stopping me from doing this.
I have loads of ideas, and there are things that I want to do with my podcast going forwards, so lots more good stuff for the future.
But the main thing, the main point is this – in my podcast I explain one photography thing per episode in plain English in less than 10 minutes without the irrelevant details.
Why 10 minutes?
Well 10 minutes was the plan, which limits the amount of detail that I can go into, and means that listeners know that they are not facing a long haul, detailed explanation. That is important. If you want to know everything about a specific photography thing you are in the wrong place.
But if you just want to know what you need to know and no more then you are definitely in the right place with me.
When I started my podcast I had no intention of editing the audio, in fact I did not know how to edit audio, nor did I know that I really needed to edit the audio!
So my plan was that it would take me 10 minutes to record an episode, upload it and I would be done.
But that is not how it actually worked out.
When did I know that I needed to edit the audio?
When I listened to an episode. There were sounds of me that were not good, breathing, mouth sounds, long pause, mistakes, that kind of thing.
So I started editing new episodes before publishing them, and once I had started to do that it was only a matter of time before I bit the bullet and edited very episode published.
That is all behind me now, and I have learned how to edit audio, which I now do to every episode.
But the episodes are longer than 10 minutes?
I know. This is how I deal with this. I explain the thing in less than 10 minutes, but there is more to my podcast. I explain the thing that I need to explain and then talk about it a bit more, meaning that I very rarely get an episode done in less than 10 minutes.
The other way is to just put it down to good old English irony. That does it for me.
And I do say in less than 10 minutes (ish) without the irrelevant details.
How long will episodes be in the future?
Well, I experimented with an episode that lasted more than 30 minutes, which is one of the more popular episodes that I have published.
15-20 minutes is what I am aiming for. I have to say that episodes are getting longer in part because I am getting more experienced at podcasting, but also because I really love doing this stuff.
The problem is time. It takes me about an hour to edit a 15 minute episode, so a longer episode = more editing time.
I would love to do much longer episodes, but will have to wait until I have a world beating podcast lasting less than 20 minutes!
How do I come up with the questions?
I have been practising, learning and doing photography for well over 30 years now. OK, over 40 years. Yes I am that old, but I did start when I was a teenager. So I have tons of experience in photography, and also my own way of looking at stuff.
So, I come up with questions which are a bit different. And when I write a new episode quite often another one, two or more new titles appear which I add to the spreadsheet I keep.
Of course the plan was that I answer questions that listeners sent to me, but so far there have only been a couple of those.
How do I put this all together?
I come up with a question, which is hopefully interesting to listeners, and also nicely optimised for search engines to help new people find my podcast.
Once I have a question I write a script in Word, which I take some good time over. I spell check it, and then read it out loud so it flows nicely.
And this is what I record, me reading the script. And I ad lib more and more as I improve, which I love to do. This is my favourite bit, and is something that I am going to do more and more of in the future.
And this script gets used to help the podcast and the website get found.
Where do I record my podcast?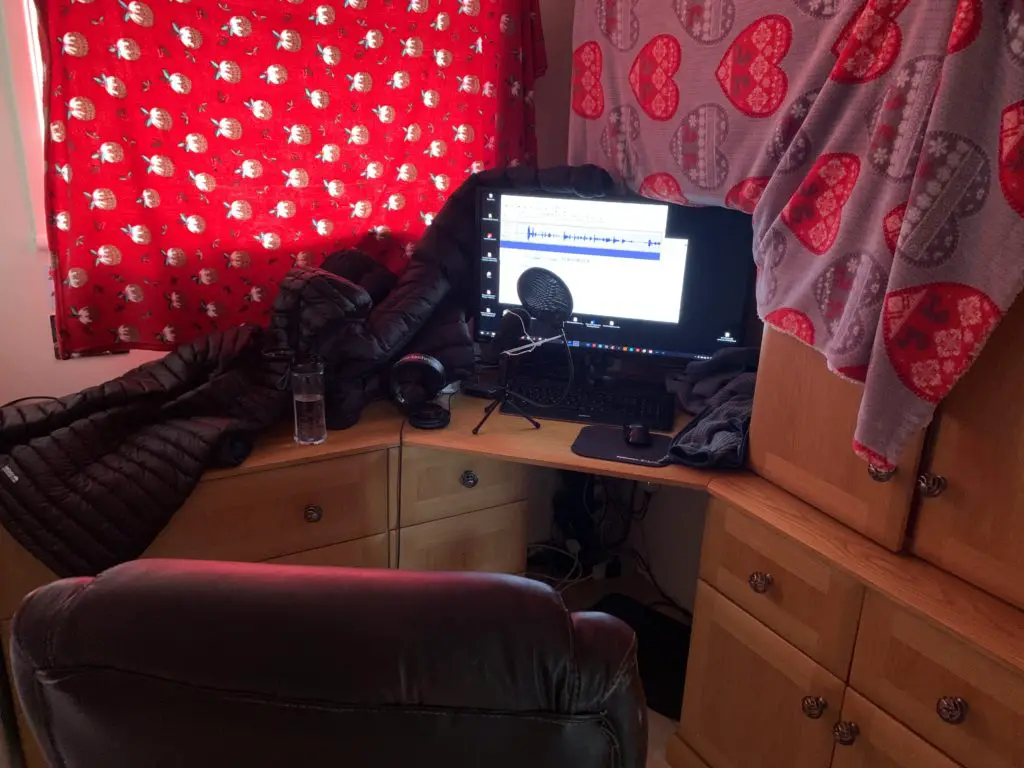 In my home office, that is where. And it works fine. Well apart from the noise from the neighbours gardeners, who seem to know when I am recording an episode…
What equipment do I have?
A microphone, headphones and my PC. That is all.
Yes all I have bought is my Samson 2QU microphone, which plugs into my PC, and my Audio technical headphones, which plug into my microphone. And that is it.
Apart from the soft furnishings, which I will get onto next. And gaffers tape.
How do I get decent audio quality?
I have been complimented on the audio quality that I create, which is great. This is a combination of the microphone, the fact that I have learned microphone technique, my preparation and soft furnishings. And I edit my podcast using the great audio editor, Audacity.
Yes, soft furnishings, in the form of 4 cushions and a fleece blanket. And some gaffers tape to hold stuff in place.
When I record my podcast I take 4 cushions and a fleece blanket from the lounge and place them strategically around me. These soft furnishings help me to get the sound that I do, deadening things and making me sound good.
See these things do not have to cost a lot. And I have had to learn all this myself.
How much does my podcast cost?
Well, the equipment cost me less than £100.
Have I made any money from my podcast?
Not yet no. This is part of a long term, get rich(ish) slowly project. I am building and growing this and other parts of my online world with regular, high quality, weekly content. This is very much a long term plan, and one that is growing slowly and steadily.
And my podcast is growing slowly but steadily.
How many downloads have I had?
Over 25,000 downloads of my small but perfectly formed podcast.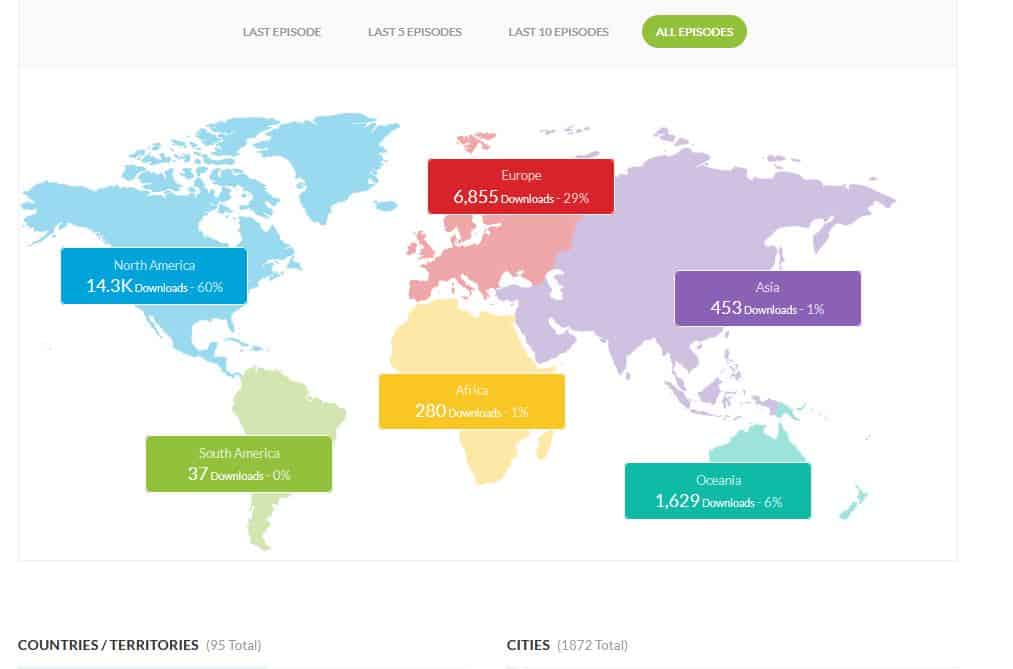 Where is my podcast downloaded in the world?
Well, my podcast has been downloaded in erm, 95 countries. Yes really…. 95 countries, which is pretty amazing.
How do I publish my podcast?
I write the script, record the episode, edit the audio and upload it to Buzzsprout. I add the script to the podcast episode on Buzzsprout, which helps it get found in podcast directories apparently.
Where is my podcast published?
Pretty much everywhere
And lots of other places. Basically all main podcast providers. This is what Buzzsprout do for me as part of my subscription.
What about the Photography Explained Podcast website?
I created a website for the podcast, the main bit of content being the episode scripts which I publish as blog posts.
And you can find out all about me and my podcast on the following pages
And there is my other website
Yes, this website that you are reading this post on is my main website where I normally talk about building photography.
The Photography Explained Podcast You Tube channel
My podcast has its own You Tube channel, which you can find here. I publish a 1-minute visual soundbite on this You Tube channel.
And social media?
I promote my podcast on these social media channels.
Twitter – @rickphoto
Instagram – Photography Explained Podcast
LinkedIn – Rick McEvoy Photography
Pinterest – Rick McEvoy Photography
TikTok – Rick McEvoy Photography
I only started sharing info on each episode on social media recently, so am catching up at the moment. Once I have promoted every episode I will get into a routine of promoting each new episode when published.
And once I get to this point I will be able to work on other stuff which is the future of my podcast.
Related viewing
Well I started recording myself recording podcast episodes for some reason, No I really do not know why I did this, but it is something that I have stuck with. You can watch the video for the last episode which I have published on my You Tube Channel.
And I am going to put a little bit more work into these videos which are going to be added to the paid section of my podcast which I am working on.
A paid section?
Yep, that's right. I am working on this now, and hope to have this in place January 2023. Yes there is a lot of work to be done, which has started and is very exciting for me.
How much will this cost?
I am still working on that. But I am not planning on charging to listen to regular podcast episodes.
And what will subscribers get?
Well the full length videos, and other good stuff that I am working on. And these videos will improve in quality now that I have decided what to do with them!
Ask me a question
Send me your photography question which I will add to the list, answer in an episode and give you a lovely shout out when I do.
I don't mind how you get in touch with me – email is fine – sales@rickmcevoyphotography.co.uk. And if you just want to say hi that is just fine.
Related reading
Well, that is all on the Photography Explained Podcast website.
I hope that you enjoy my podcast, and I look forward to hearing from you, if it is just to say hi.
Get a weekly email from me to you
Yep, if you want to receive an email from me every week then fill in the form on this page – there will be one somewhere. And in return I will send you a splendid Lightroom thing, and you will receive my thoughts straight to your inbox on a Friday afternoon. Which is nice.
OK – how can I find out more about this stuff?
Simple.
Get in touch with me – email me – sales@rickmcevoyphotography.co.uk
Check out my website Rick McEvoy Photography
Check out my splendid Photography Explained Podcast
Get in touch, ask me a question that I can answer on my blog or podcast, or just say hi – it would be great to hear from you.
Thanks for visiting my small but perfectly formed website, and I look forward to hearing from you.
Cheers from me Rick