As a specialist construction photographer I have been writing recently about construction photography on my blog. I have been providing practical advice to clients and photographers based on my lifetime of experience in both construction and photography. But there is something I want to know more about. Construction time lapse photography. What is this?
Construction time lapse photography is the process of creating a time lapse video typically 1-4 minutes long which shows the entire construction process from start to finish. This is done by taking still Images using from a fixed location at regular intervals which are magically stitched together to form a step by step video of the construction process.
A time lapse video is a fantastic marketing tool for construction companies in this video friendly era.
In this post I tell you all about time lapse photography and am delighted to be introducing an industry expert to give their answers to specific questions from me about this subject.
I will also post links to some great examples of time lapse photography on construction projects.
Who am I?
I am Rick McEvoy MCIOB, ABIPP. Yes I am professionally qualified in both photography and construction. It should be no surprise to you that I specialise in architectural and construction photography.
And no, I do not do construction time lapse photography. Not yet anyway. Having said that the more I learn about it the more I find it worryingly addictive to watch!
Enough about me
What is construction time lapse photography.
Construction time lapse photography as I said is the process of photographing a construction project from start to finish, taking thousands of photos which are put together to create a 1-4 minute (typically) video which shows the entire construction process from start to finish. You can watch the building literally appear starting with work in the ground to the finished building and the clearing of the site.
What exactly is a time lapse video?
A time lapse video is a video created from thousands of photos taken over a period of time from a single fixed viewpoint which are carefully put together to show the sequence of a building being built.
On major projects there will be more than one time lapse video created, using cameras in different locations with different views of the construction site.
Time lapse videos
Compress years of construction work into minutes
Compress many millions of pounds of expenditure into minutes
Compress years of peoples working lives into minutes
Quite remarkable when I put it like that!
What are time lapse videos used for?
Time lapse videos are excellent marketing tools for construction companies, architects, and developers.
Time lapse videos are a striking, moving visual record of the massive efforts of a huge team to create a physical legacy – a structure that will be around for many many, years and will provide a living, working or social environment for people that was not there before.
How does time lapse photography work?
A camera takes photos at regular intervals over the course of a construction project. Typically these are at intervals of 15-30 minutes each and every day of the project.
An intervalometer is attached to a conventional camera that takes the photos at pre-determined times. There are also cameras with all this clever stuff built in as well.
No its ok time lapse does mean some per person have to go back to the camera every 15 minutes to press the shutter button.
That would be rather tedious and rather expensive too!
What camera equipment is used?
Equipment used is either a DSLR, mirrorless camera, Go Pro (or similar) or a bespoke time lapse photography camera. You can even get time lapse cameras specifically for construction sites.
What about the weather?
Cameras are protected from the elements by weatherproof housings.
Where is the camera placed?
Well somewhere where you can see the whole of the completed building. Very important that. Imagine photographing a construction project for a couple of years only to find that the building grows beyond the field of view in the latter stages.
I would not like to be the one to have that conversation with a client!
And of course cameras have to be placed where they are accessible for maintenance etc, but not so accessible that someone can nick them!
How much does construction time lapse photography cost?
It varies. Of course it does. See below the answers from Dan on costs.
Can I do this myself?
Sure you can. I could do this. But I would need to buy some gear and learn how to stitch together thousands of videos.
Now as much as I would like to this is not for me.
What camera settings do I need to use?
OK – these are good general camera settings for construction time lapse photography.
ISO 100
Manual White Balance – I suggest daylight
F11
AV Mode
Manual focus – I would physically tape the lens once focussed – you cannot recover from 2 years of out of focus photos!
Turn off everything else that can change an image, such as image optimiser, auto clipping etc. They will complicate things and use up battery life.
Battery life
If you do not have a specialist time lapse camera you need to work out how often the batteries need changing. Or more likely how frequently you need to check the external power supply.
These days there are time lapse cameras that can sit there quite happily for a couple of months before they need some attention.
How do I get the final image sequence?
Using specialist software. And specialist knowledge. I am not going to go into this here, but you can get software that works with Lightroom, and bespoke time lapse video editing software.
Video editing is not something that I am too familiar with to be honest, which is one of the reasons why I do not do time lapse photography. Yet. As I write this I am finding this more nd more interesting!
If you have engaged a company to do this for you they will have editors who will take the tens (if not hundreds) of thousands of images and put them together to create a time lapse video.
Phew!
Remote live monitoring
You can use the time lapse feed to provide remote live monitoring and also a record of things happening on a site.
Now I had never thought about that.
And once your feed is connected to the internet you can access this feed anywhere in the world?
Now that must have a significant value with insurers. Insuring a construction site is not cheap, so having a 24 remote monitoring feed must get some kind of insurance discount?
Do I do time lapse photography?
No. I would love to but no. This is specialist work that requires specialist gear and specialist editing software.
I will stick to what I do and leave this specialist work to those fantastic specialist companies. I can just enjoy their great work when I have a spare hour or 7.
Who does time lapse photography?
Well I did some research, and made contact with Dan East, Business Development Manager at Siteeye Timelapse Films Limited, who very kindly responded to my email.
Here are my questions and his answers
1 – What cameras do you use?
We use a variety of Canon cameras. Ranging from 1300d's to 5Ds Mark III. These help us produce footage from 4K up to 8K as required but customer needs.
2 – What is the frequency of image capture?
For long term projects the minimum image capture rate is once every 10 minutes. We can increase the rate remotely up to and image every 10 seconds for major work on site for short periods.
3 – How many images do you take on a typical project?
If we say a typical project is 18 months with 1 camera them we would capture over 75,000 images. On a daily basis we generate over 50,000 images across all our projects. All of which are sent to our servers to allow the client to view the images for their project through an online portal.
4 – What software do you use to create the time lapse videos?
Our camera controlling software is written bespoke in-house which gives us full control over our cameras and backend systems. For editing we use various software products including Adobe and Final Cut.
5 – How much does this cost – round figures based on 6/ 12/ 24 month site phases will be fine.
Our projects range from 1 day to 10 years plus. Costs are based on the duration of the project as well as the number of cameras required. We believe in providing a service, so we don't charge for additional editing and camera moves. A typical 12 month project would cost around £4,000 (plus VAT). In comparison, 5 or 6 years ago the cost would have been closer to £12,000.
6 – Have you ever had cameras stolen/ damaged?
Over our 20 year history we have had a number of stolen cameras but not many. Cameras are normally installed in safe and secure areas which are hard to get to. Where we had issues with cameras filming internal fit outs we swapped our camera systems to use high end 4K IP cameras. The benefit here is that we have never had one stolen and the cameras are also much small when working in a confined space. We did lose one camera, years ago, which was on top of a tower block which was demolished by explosion. The camera came down and was found in the rubble of the tower after the explosion.
7 – How often do you have to check the cameras?
Our cameras are checked automatically every 10 minutes. We have a traffic light systems which flags cameras as amber, if we haven't heard from them for 10 minutes, and red, if we haven't heard from them for 30 minutes.
8 – What is the one thing that you want to do that you are not able to do at the moment.
We did discuss it internally and there we couldn't come up with anything that we want to do that we can't already do. We do all our R&D in house with our own programmers so. If we want to develop anything we do. We haven't get anything outstanding that we want to develop at the moment.
9 – Is there one thing that you can share with me that is not common knowledge?
We have been rolling out a new live streaming camera system to allow construction sites to film, record, and store footage for an entire project. This helps project teams monitor their projects as well as being a very useful tool when dealing with retrospective claims. Either from sub-contractors or individual H&S claims.
And here are a couple of time lapse videos created by Siteeye
WARNING – Do not click on these links if you are in a hurry – do this when you have time to spare. I ended up sat in my office for ages transfixed by these fantastic living records of construction.
Renaker Project in Manchester – Social Media Edit
And here is a photo of a site installation.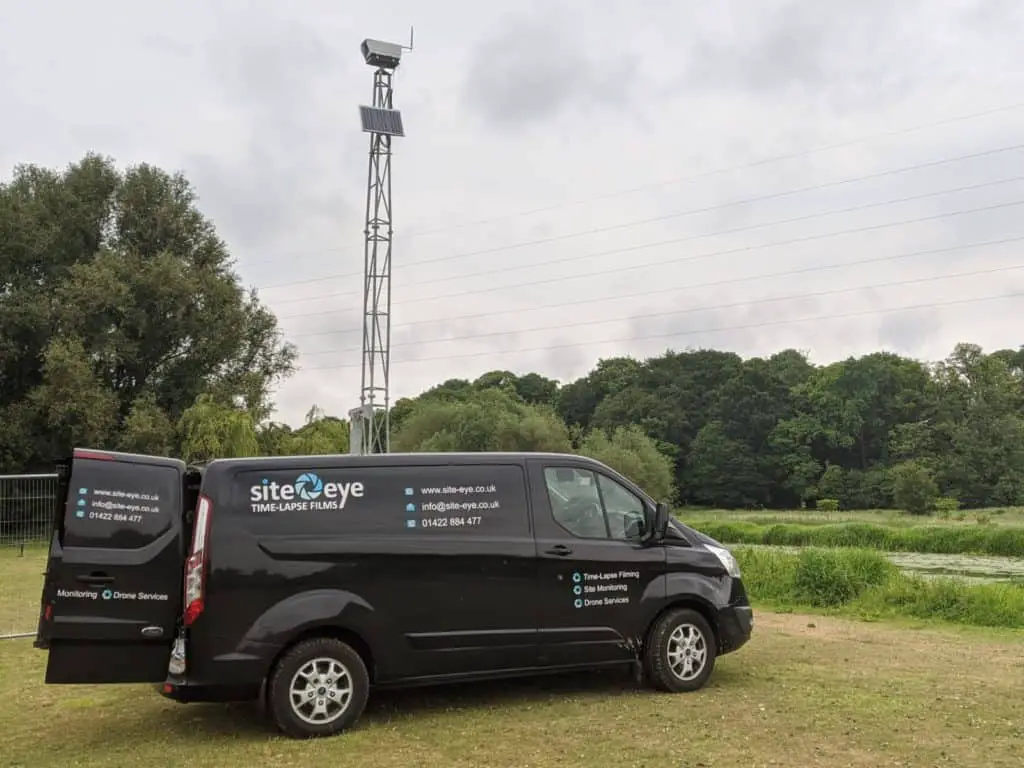 Thanks Dan for your time and highly informative answers, as well as for the links to the time lapse videos (which I love by the way).
Dan is from Siteeye Time Lapse Films
I wanted to share a few other time lapse videos that I have known about
Building a house start to finish
Swimming pool construction time lapse
Not bad eh?
Further reading
If you head over to my Construction Photographer page you can see a list of related posts as well as a bit of info about me, and some examples of my construction photography work.
OK that is me done – I so want to do this!
Next week on my photography blog? Well head back next week to find out (which is code for I don't know yet!).
Want my next post emailed straight to you? Subscribe to my blog by filling in the form to the right of this post and this will happen as if by magic!
Rick McEvoy Photography
#construction #timelapse #photography #constructiontimelapsephotography