I spend a lot of time working on my own travel and photography websites.
And in this post I will tell how I made my photography website super-fast for Google by using a new theme, getting rid of plug-ins I did not need and making my photo files smaller. And yes I do mean super-fast, getting scores in the 90-100 range according to Google for both desktop and mobile sites. I did this quickly and at no cost to myself!
And you can do the same, apart from the fact that you will have to pay for the theme I use.
And speed is a very important factor to Google, so is very important to all of us.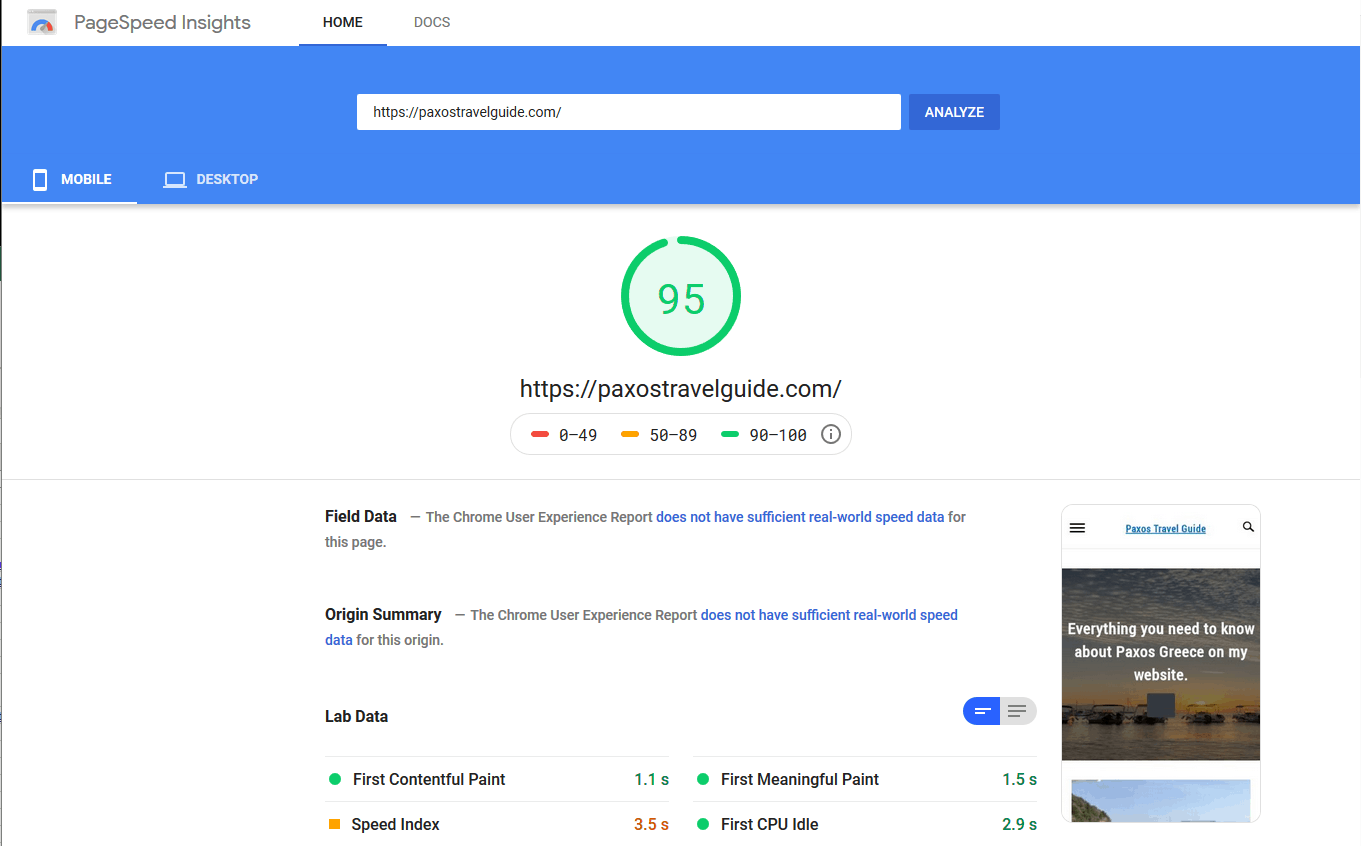 Is website speed important?
As good a place as any to start.
Yes website speed is important. It is one of the many ranking factors that Google uses to assess where your website appears in a search query.
In July 2018 Google announced that "People want to be able to find answers to their questions as fast as possible — studies show that people really care about the speed of a page. Although speed has been used in ranking for some time, that signal was focused on desktop searches. Today we're announcing that starting in July 2018, page speed will be a ranking factor for mobile searches."
And as Googles number one aim is to give people what they want then that is that.
It is important.
And think about this.
If you visit a website and it takes an age to load what do you do?
Move on very quickly. It is a harsh world out there, and people do not have time to wait for slow websites to load, so this is important to me, as I know that I would move on quite quickly if I came across a slow website.
How many websites do I have?
At the time of writing this blog post I have three websites.
What platform are my websites on?
Rick McEvoy Photography is on the Squarespace platform, the other two are on WordPress.
The reason for this is that I created Rick McEvoy Photography first, and I am quite frankly rubbish at this stuff. Squarespace is a template website which is easy for people like to me to use to build a lovely looking website.
I got into WordPress when I was writing for Improve Photography, which is built on the WordPress platform. I have learnt how to use WordPress and future websites will all be on this platform.
How do I know how fast my websites are?
Simple. Go to Page Speed Insights, https://developers.google.com/speed/pagespeed/insights/
This is a Google page with the heading "Make your web pages fast on all devices". That is a subtle hint if ever!
Just type in your URL and Google will tell how fast, or slow, your website is.
Google Page Speed Index gives you two scores, Mobile and Desktop.
Basically
0-49 is rubbish, and is coloured red.

50-89 is average and is coloured amber

90-100 is green so is very good!
I like the colours – even I can understand this!
How fast were my websites they before this work?
So my scores before doing anything
Rick McEvoy Photography
Photos of Santorini
Paxos Travel Guide
Now I have to say that the desktop score for my photography website is (sort of) ok, as my target market is very much desktop users, people in offices basically.
Not that I am going to ignore the very poor mobile speed of course, which is quite frankly shocking!
But for the other two sites I must target mobile as this is where I expect the majority of my traffic will be coming from.
Knowing all that what am I going to do to make my websites quicker?
I am fortunate to have what is pretty much an experimental website, Photos of Santorini. There is more work to do on this website, meaning that I can use it to test things.
These are the three things that I did to my website to make it a lot quicker.
Install a stupid quick WordPress theme – Acabado

Get rid of plug-ins that I do not need

Compress all my photos
Acabado – the super-fast WordPress theme
I am a subscriber to Income School, and the Project 24 way of creating niche websites.
They have just released a new WordPress theme all of their own with speed a big priority. Speed and simplicity of set up and use. If you are not a Project 24 member you will be able to but the theme once it is out of beta.
If you check out Photos of Santorini now you will see the basic version of this theme.
It is called Acabado.
Now I am not a fan of the name, mainly because I keep forgetting it! But that really is not important here.
It is fast, and easy to set up.
Once the theme was set up, which was easy even for an incompetent like me, there were two other things to do.
Turn off the plug-ins that I did not need.
Yep, plug-ins are the nemesis of page speed. Well they can be. So all bar three plug-ins were turned off.
The theme has all the stuff to help SEO etc built-in, so all that other stuff is not needed.
This is one of the reasons I like this theme so much – there is very little that I need to do.
For completeness the ones that are still active are
Amazon Affiliate Link Globalizer

Really Simple SSl

Short Pixel Optimizer. Which leads me nicely to the next point.
Make my photos smaller
My websites are photo heavy, well I am a photographer after all. So compressing the photos has a big impact on how fast my websites are.
I use Short Pixel Optimizer to compress my photos. It is dead easy and quick to use.
And this is the nuts and blots of what I did.
How long did this take?
For Photos of Santorini, I spent an hour doing the things above, and then no more than another hour tweaking bits around.
How fast is Photos of Santorini now?
This is the good bit – does this stuff really work?
Mobile 96 (was 63)

Desktop 95 (was 78)
Wow. That is right up there in the green. Amazing.
Yep – this stuff really does work.
And then Paxos Travel Guide
I repeated the process a few days later, happy that the theme was stable and produced what I wanted, and that I was confident in making the changes to my nearly completed travel website.
Which I was.
It took more time to get this website right, possibly because of the way it was structured. I would say a couple of hours more, which is nothing in the grand scheme of things.
And this website is important to me, so needed to work.
So I had to check all the links and make sure everything was logical as the Acabado theme is set up differently.
I had to add all my blog posts to a new page called Paxos Blog as the posts weren't appearing correctly. And it also gave me the opportunity to do some housekeeping and make some logical structural and content updates to my website.
And finally check that every link went where it should.
OK – How fast is Paxos Travel Guide?
Mobile 94 (was 53)

Desktop 97 (was 72)
Amazing. Super-fast (as I said at the beginning – I don't make this stuff up you know!
The fantastic new mobile experience
If you check out the websites on your phone then you will understand what I am about to say.
There are three tiles on the home page of each website. I am going to add a fourth.
These link to, well in the case of Photos of Santorini,
The Blog

Who Am I?

My photos of Santorini
On mobile the tiles work wonderfully well – I did not appreciate just how powerful these things can be.
So the new mobile experience on both of my websites is now fantastic. Super quick and really easy to navigate – I am absolutely delighted.
Has this affected search engine results pages?
This is going to be difficult to assess – there are so many factors that affect the rankings, but I will keep an eye on this.
But on a quick initial check they are certainly no worse!
And has the traffic to my websites increased?
Paxos Travel Guide is enjoying rapid growth at the moment, so I might never know. But I do know how long people are spending on my site, what pages they look at etc, so I will keep an eye on this as well.
Photos of Santorini is not finished yet as I said earlier, and the web traffic has been bumbling along at the same level, which is entirely what I expect. And then this week the traffic experienced a little nudge up. Of 80% more visitors.
Check out the Google Analytics screenshot here for Photos of Santorini.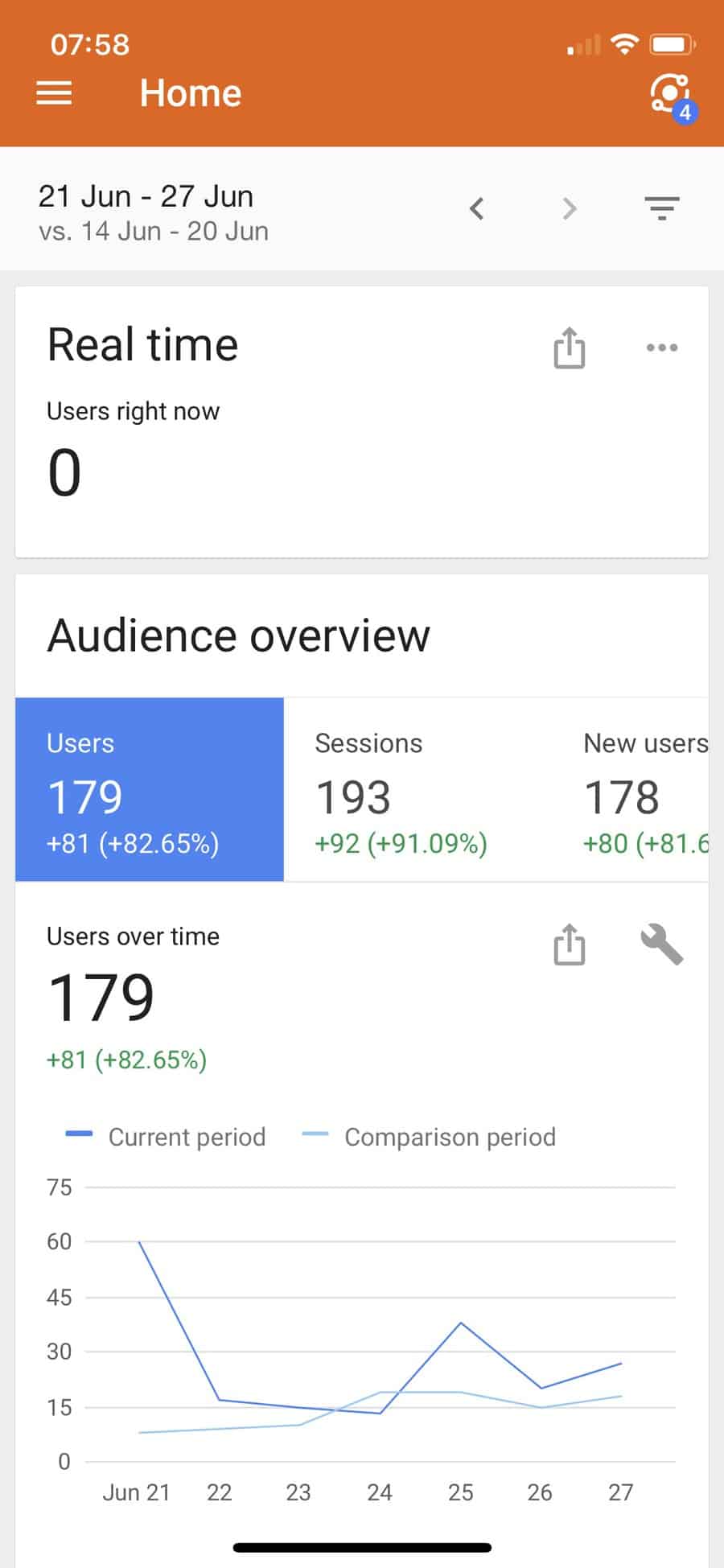 And here are the screenshots for my other websites for the same period.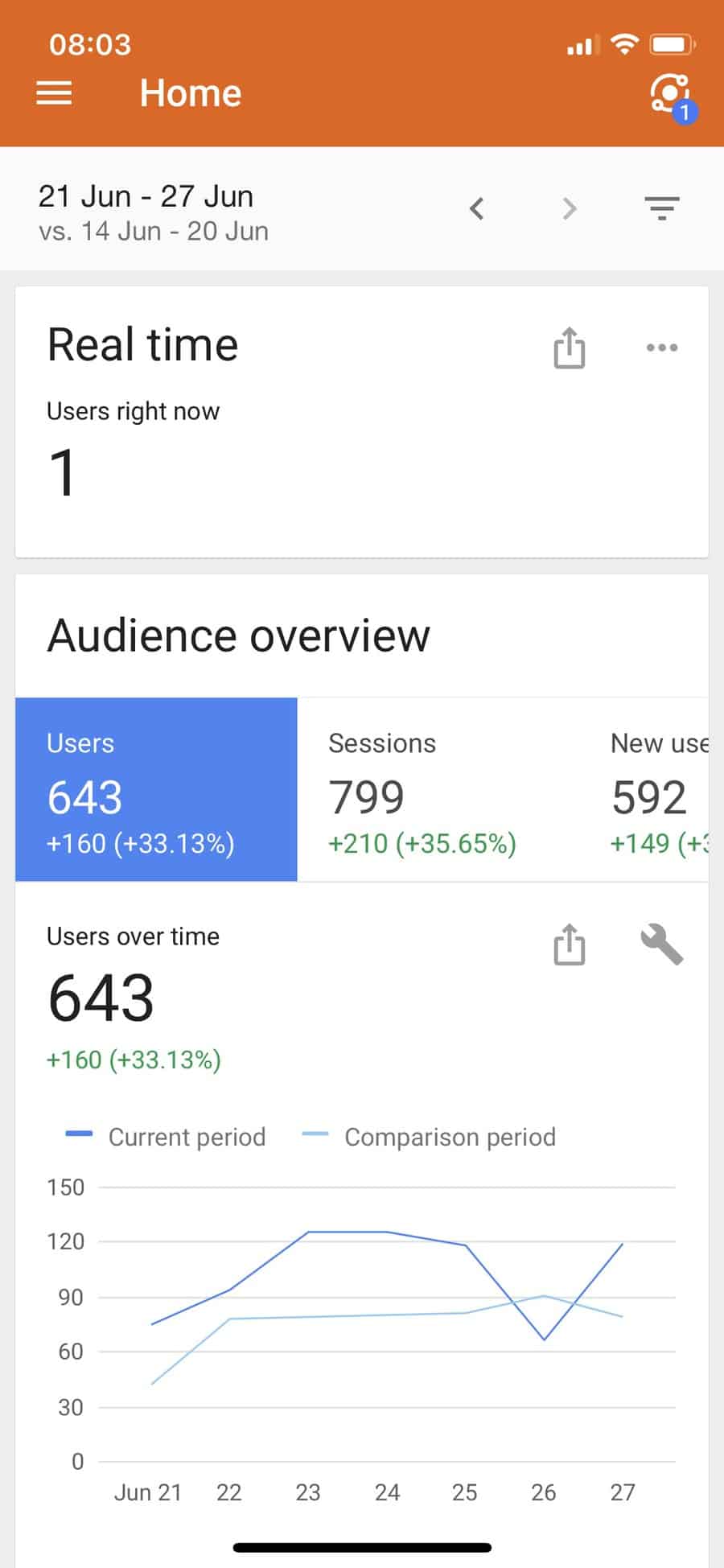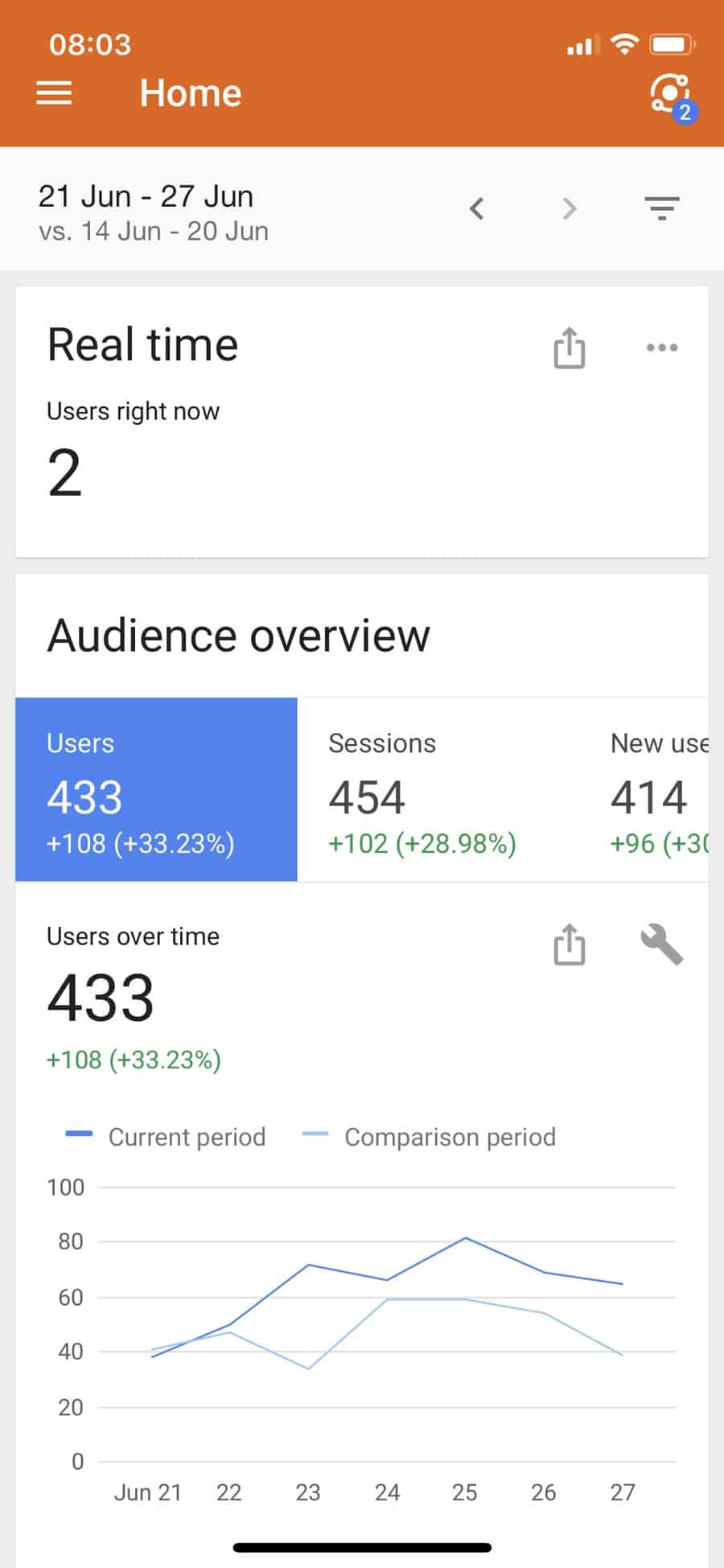 A quick word on web traffic
I am working incredibly hard to increase the organic traffic to my websites. This is a long-term investment in time and effort. One week is irrelevant in the scheme of things, but it was a noticeable discrepancy.
Don't you have to be a WordPress expert to do stuff like this?
I am rubbish at WordPress. Seriously rubbish. I bought a theme a year ago and did not have a clue what to do. I eventually got my money back. And then I bought another theme which I could not fathom out, which basically cost me about £80 for nothing.
So the fact that I was able complete Paxos Travel Guide in I would say 4 hours is truly remarkable. When I say complete I mean fully complete to the point where all I need to do now is create more blog posts.
Changing theme was a big job that I was dreading doing but I am sat here now so happy that this is done, and that I am loving the new layout and performance,
What about my Squarespace website?
So what next for Rick McEvoy Photography?
Let's remind ourselves of the numbers
Hmmmmmm.
Not good.
The problem is that there is a lot more work to get this website first onto WordPress from Squarespace, and then to apply the theme and make sure everything works.
I am going to do it – I just need to plan this and make sure that I have time available to do this properly.
There is a lot of content and this website is my business after all, so time spent now on planning is absolutely essential.
A word on hosting
I use Bluehost for my hosting. I have registered with another company who provide the fastest web service.
I won't say who they are, as they have done nothing wrong, but I am staying with Bluehost.
Bluehost provide fantastic customer support through online chat, which is the only way I want to get help on my websites as this all the work is done at my PC.
I have become an affiliate for Bluehost – if you want to use them for your hosting and you click here then you will be taken to their website via my affiliate link and I will get a commission if you buy anything.
How do I track the performance of my websites?
The last thing I want to cover in this post is how I track progress with my websites.
Google Analytics
This is the thing that I use the most and is the base data that is used for anything and everything – this is the actual data recorded by Google so if you do not have Google Analytics installed so this right now!
I use the web-based version and also the App on my iPhone – both are fantastic in their own ways.
A word of warning though – Google Analytics can be highly addictive. Especially the real time reporting of how many visitors are on your website at that immediate moment in time!
SEO Edge
And to see how a keyword is doing I add it to an iPhone App called SEO Edge which is excellent. I have one keyword in a blog post title, and when I publish that post I add the keyword to the App and check on it weekly.
I also use YouTube Studio on my iPhone and iPad, which is Google Analytics for YouTube.
It is well worth using these excellent free tools from Google, as they are the people that we are trying to please with our online content, so people find what we are writing and talking about.
If you study these Google tools you will see what Google is recording, and what is important which is of course of interest.
And for the future
Getting Rick McEvoy Photography onto WordPress and onto the superfast Acabado theme is the next job.
Once I have done that I will provide an update on my photography blog.
I have a couple more posts to do for Paxos Travel Guide, and once they are done all I have left to do now is edit and upload all the photos to make this website complete. And then sit back and wait.
While I am waiting I have more work to do on photos of Santorini to get it to the same state as Paxos Travel Guide.
And after that who knows?
I will continue to add regular content to all my websites including weekly posts to my photography blog. And there will be more websites in the future no doubt.
Summary
Apologies for the change from what I said I would be writing about. This was such a significant thing that I have done to two of my websites that I wanted to tell everyone all about it as it was happening.
Oh yes before I forget the video will be published tomorrow that accompanies this post, which you can view on my YouTube Channel.
Please subscribe to my blog which should be back more to photography next week, although you never know what is going to happen between now and then!
Rick McEvoy ABIPP – Photographer, blogger, website creator