Welcome back to my story about a holiday in Parga.
I thought about the title of this post. Parga Greece Reviews – Part 2 of 3 – this works for me. After all, I am writing an in-depth review of Parga, telling you what it is really like holidaying in Parga. So this actually is a review of Parga. OK lets get back into it.
Whats in this post?
Part 2 includes the day of the trip from Parga to Paxos and Antipaxos and me doing some actual photography!
Now where was I?
This is where last week's post ended. We were leaving Stefanos Taverna being serenaded by loud reggae music. We had to investigate.
Mike's Bar
Mike's Bar was the culprit. As you walk out of the lower level of Stefanos you walk through Mike's Bar to get out!
So lets have another drink we thought.
Now I need to say here that we are pretty lightweight when it comes to nights out – we are not used to it anymore so anything after dinner is a big adventure to us!!
Our big night out
The music was ace. We had a great hour getting our favourite music on, drinking and dancing. We asked Mike for our favourite songs, and he ended up letting us select the songs on YouTube, as we were the only ones dancing.
And when I say drinking I mean 2 beers each – bottles of Mythos that is.
Two small bottles of beer at that.
The walk back to the hotel was a bit of a trauma but we made it back in one piece!
Day 4 – 15th August
Alarm set for 7, it is our wedding anniversary! We exchanged cards and laughed about the night before, such a good time with my best mate.
Breakfast in Parga
We got the morning shuttle bus from the hotel to the bus station in Parga. Well I say bus station it is a sign on the road!
Very rustic and most excellent.
We walked down to the front ending up in a very nice café bar called The Old Garden, where we had a cooked breakfast and a freshly squeezed orange juice – 22 euros was good value for a café overlooking the town beach, which was filling up rapidly as we ate.
And this is what it looked like.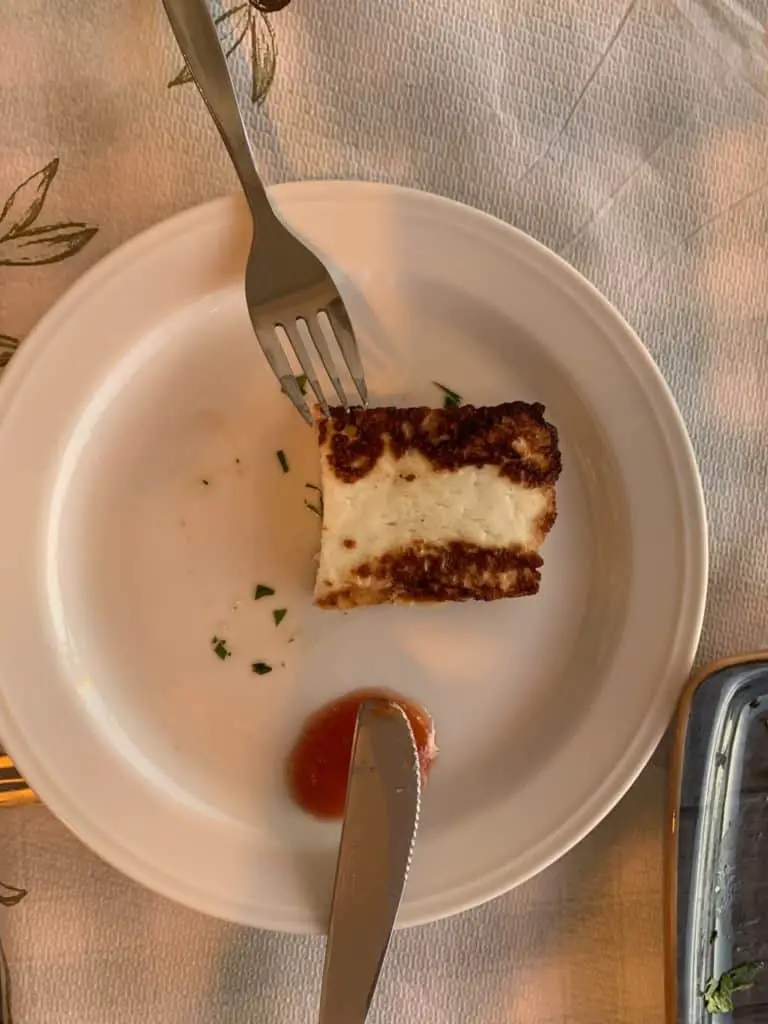 And this is the view from our table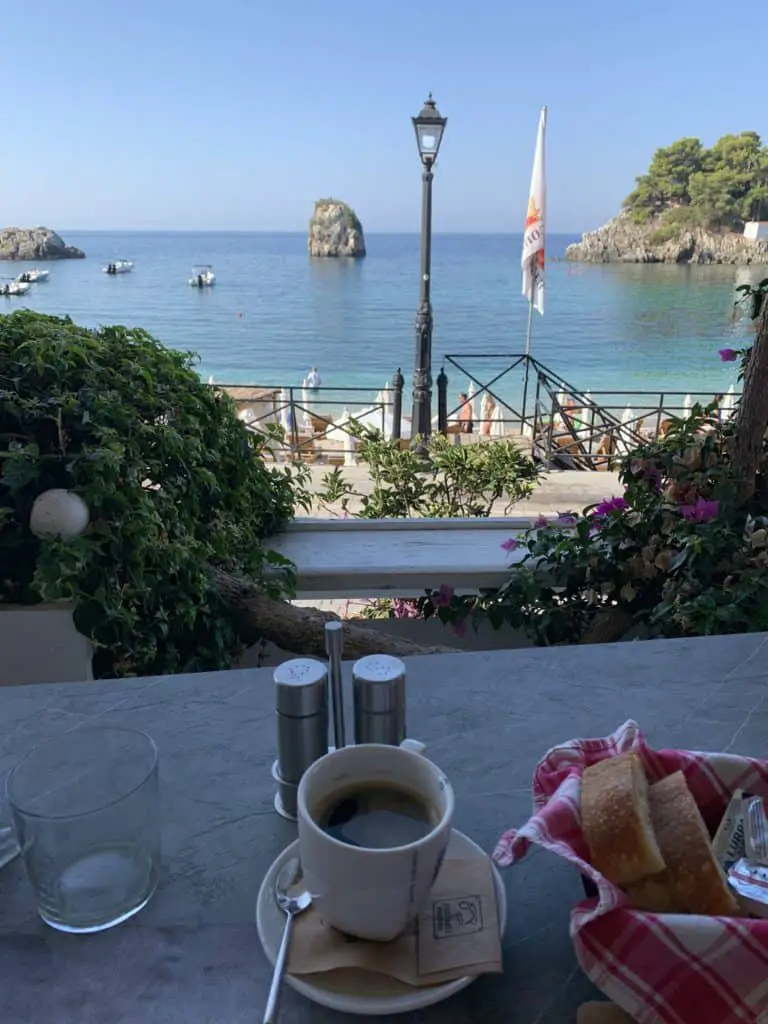 There was also a constant procession of people walking over to the jetty to get their day trip boats. Ok I know there is no one in this photo!
Booking excursions to Paxos and Antipaxos
After breakfast we had a lovely walk around the far side of Parga, ending up at the TUI office where we booked excursions to Corfu Town and also Antipaxos and Paxos.
Yes we are doing the reverse of previous trips, which should be good.
I cannot wait to get back to Gaios to spend a couple of hours there – I have unfinished business with Paxos, and also things to attend to for my website Paxos Travel Guide.
For the map showing the TUI office check out last week's post Parga Holidays – What Is Parga Really Like?
Shopping then back to the hotel
After that we got some shopping (wine, beer and water) and got a taxi back to the hotel – again this is 5 euros from the taxi rank in a lovely air-conditioned Mercedes.
This is the very nice wine that we enjoyed, for sale for 5 euros 50 cents.
Yes the supermarket have their own wine!!
Hot on the balcony
It is very windy today; I am writing this on my balcony not melting but worried that my drink might blow off the table! And all the time I can see Antipaxos and Paxos shimmering in the late afternoon sunshine – lovely sights they both are.
Back down into Parga
For the map showing the TUI office check out last week's post Parga Holidays – What Is Parga Really Like?.
We walk down to the old town of Parga, walking past a restaurant that every night is packed – we must give that a go. We go for the restaurant called Romantica, which is another restaurant with a balcony sticking out of the face of the cliffs giving magnificent views of Valtos Beach and the surrounding hills as the sun sets in the background.
An evening at Romantica
We share a lovely bottle of wine and enjoy a grilled halloumi starter. Mains are oven baked spaghetti carbonara for me, while Nickie has grilled prawns with vegetables.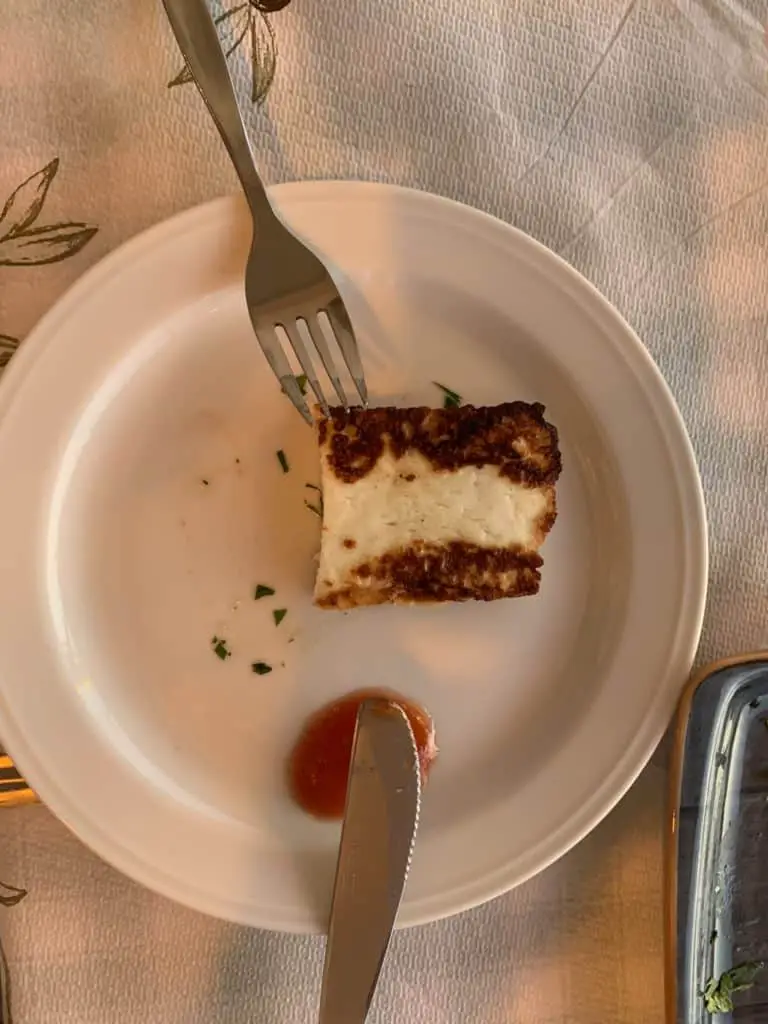 Our cunning plan
This time we order the starters and hold back on ordering the mains – we find that there is a tendency to get your main course before you have finished starters, spoiling the relaxing experience we crave and making things awkward.
This works a treat – when the starters come we order the mains. Starters accompanied with lovely bread that is.
Bread
Which makes me think – we have had some truly wonderful bread with our meals which is good, tonight being no exception.
A very nice meal in a nice restaurant with lovely views. Meal cost 49 euros.
A word about Trip Advisor
I am noticing that the Trip Advisor reviews are of limited help -places that are fantastic when you read the reviews are often average – Trip Advisor is after all an independent collection of individual views all lumped together to give an overall rating.
Back up the hill to the Alea Resort
We walk back up the hill melting as we go and have a night cap before turning in.
The bedroom is boiling so we go to sleep on the sofa bed filling the living room, and then have to find the blankets in the night to keep warm. I did check but the bedroom still is not cool enough to sleep in until the morning, which is not good.
Day 5 – 16th August
We surface at 7am ish. Well I don't, I had a very disrupted nights sleep. So I slob in bed a bit longer and Nickie heads off up to the pool.
Pool etiquette – or the complete lack of it
I arrive at the pool to the joyous sound of the person sat next to me having a face time call on the next sun lounger – why do people do that?
I had a few phone calls today and found a quiet corner way from everyone else. I should have stayed where I was and it them on speaker phone – that is what everyone else seems to do!
But politeness always gets the better of me. How typically English!
The close proximity to inconsiderate strangers on the fixed to the floor sun loungers is beginning to gnaw away at me.
No breakfast
We decide not to have the buffet breakfast and hang on till the pool bar service starts at 11.30am, having a cheese and bacon toastie and cheese and ham omelette – both with chips!
Very nice all the same!
An afternoon by the pool reading and dozing.
It is not as hot today thankfully – still hot but we are back to the more regular temperatures this time of year.
Late lunch
We have a late lunch, a very nice Greek pizza, keeping two slices for snacks for later.
Back on the balcony writing
I find myself back on the balcony at 6 writing my days thoughts in the still hot but no so melting temperature, with a hot wind too keep me company. I have to tell you that I am wearing my darkest Oakley sunglasses, and can barely see the screen so I am pretty much typing as though my eyes are closed!
As long as I get the main points down I will be just fine.
Tonight we are getting the courtesy bus down to Parga Bus Station. I must get a photo of this tonight before I forget!
And photograph it I did! – here it is.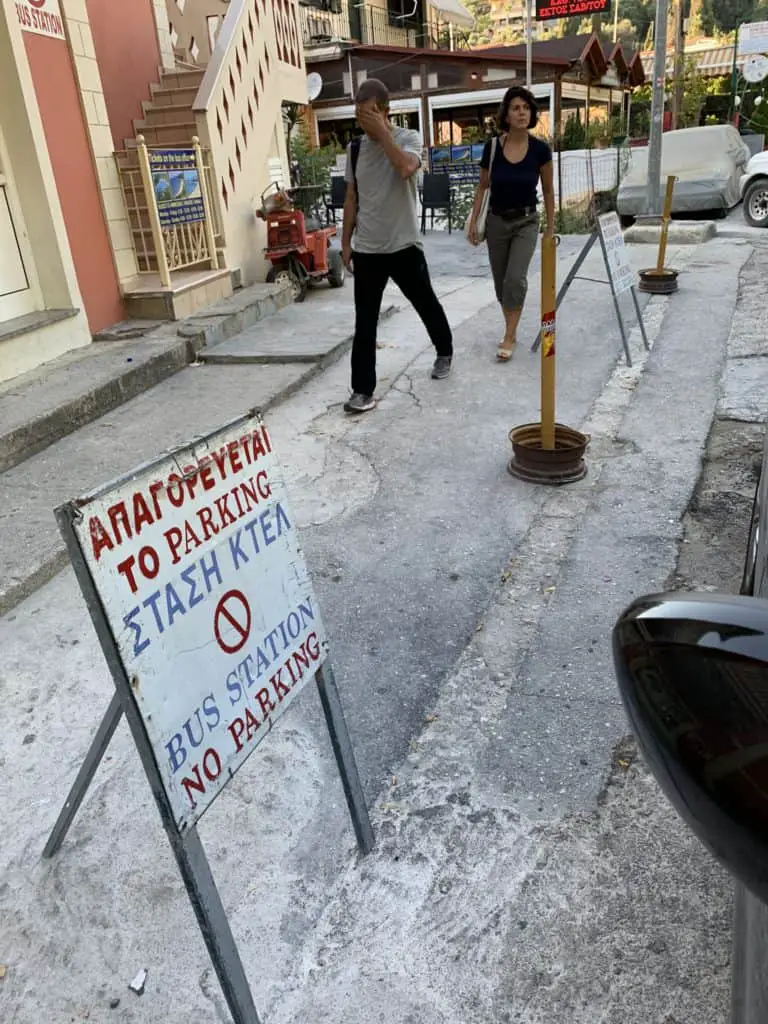 Why is that man hiding?
Time for an Italian – when in Greece after all!
We have a drink and then go to Delizi, the number one rated restaurant in Parga according to Trip Advisor.
We are thankfully not disappointed.
Delizi – The number one restaurant in Paxos
The wine is excellent, if a little strong at 14.5%. But very nice. Not cheap either, but we like to treat ourselves.
Service is very friendly, and the food is excellent.
For starters we share a baked feta in honey – it is good to try the same thing at different places!
And for the mains I have a very, very nice spaghetti carbonara, and Nickie has pasta with shrimps.
So how was Delizi?
An excellent evening with lovely service and the bill with tip came to 75 euros.
And we are given a complimentary dessert, pitta bread with chocolate and squirty cream no less!
We head back to the taxi rank and that is another day over.
Day 6 – 17th August
Today is the trip to Antipaxos and Paxos. I have been looking forward to this for a long time now. Check out my website Paxos Travel Guide to find out all that you need to know about Paxos! And also for the full blog post about this day trip called What Is A Day Trip From Parga To Paxos Really Like? – this is the brief version of the day.
Captain Hook 2
The boat we are booked on is Captain Hook 2, which leaves Parga at 10am. We get there nice and early with breakfast bought at the bakers.
First stop Antipaxos
The fully loaded boat leaves Parga bang on 10am, and our first stop is Voutoumi Beach on Antipaxos for a one-hour swim stop. And when I say fully loaded I really mean it – this trip sells out!
I end up jumping in the water – the masses in the water are all in one place leaving the front of the boat and the deeper water all for me!
I take my iPhone with me in my waterproof case and have a go a bit of underwater videography.
This is a 360 video from the sea showing Antipaxos and the Captain Hook 2.
And this is a video showing the view from the rocks I swam to
This all I got that was fit to publish on my Paxos Travel Guide YouTube channel!
The famous Blue Cave of Paxos
The captain takes the boat into the cave, and everyone applauds. The water is lovely crystal clear aquamarine blue.
All rather stunning.
And then there is a 45-minute swim stop, which we could have done without to be honest.
Tripitos Arch
We sail back past the Tripitos Arch which none else notices, and then head into Gaios. Here is the video of this on my Paxos Travel Guide You Tube Channel.
You can find out all about the Tripitos Arch on the post I wrote all about it.
Gaios
And finally we return to Gaios on my favourite Greek Island Paxos
We moor just after the port. Here is the video of us approaching and arriving in Gaios again courtesy of my Paxos Travel Guide You Tube Channel.
We know were we are going, and quickly get a seat at the manic grill house at the back of the tiny but lovely Church Analipsi. Chicken gyros is 3.50 euros – great value even if the restaurant is a maniacal whirlwind of people going in an out.
We go to our favourite jewellers, and then buy t-shirts before I go off to shoot some videos for Paxos Travel Guide.
We have a drink on the waterfront in the shade, I have a large Mythos and Nickie has a very nice Mojito.
Much too soon it is time to get back to the boat leaving Paxos at 5.15 back to Parga.
Back in Parga
And here is a video of us arriving in Parga Greece by boat – this is what it all looks like!!! And very lovely it is too!
Back to the hotel
We arrive back at 6.30pm, wind swept and sun battered and not a little sweaty, then have to battle through the crowds and get a taxi back to the hotel with essential shopping.
We share the taxi with a very nice Norwegian couple who are staying at our hotel.
We left the shopping on the boat!!
We get back to the hotel and realise we have left our shopping on the boat. That is 130 euros worth of clothes no less.
I put my walking shoes on and head straight back down to the town – I made it to the jetty in Parga in 15 minutes, which is not bad going for an old man!
Nickie has in the meantime had the most innovative idea of phoning Delizi and asking if they could get our bag off the boat for us!
We speak on the way down and I collect the bag from Delizi, reserving a table for the next evening.
Back up the hill
I walk back to the hotel – 21 minutes to get back. Well it is uphill all the way!
Back down to Parga – again!
A quick change and then we walk down to the Old Town of Parga where we have a very different menu to enjoy – the restaurant is just up from Sakis and is called XX.
We share for a starter, and for the mains I have Mongolian Beef and Nickie enjoys a prawn dish which is very nice.
We make the short walk down to Mikes Bar for a couple of beers before heading back to the hotel tired but having had an excellent day.
Day 8 – 18th August
After a busy day out today we are at the pool for the day taking it easy.
And after the drama of leaving the bag on the boat we have to return to Delizi to say thank you to the very nice chap who retrieved our shopping for us.
Doing nothing
After a lazy morning we have brunch at the hotel, which consists of a club sandwich (with fries). This makes it easy to justify afternoon snacks at 2pm, a very nice Greek Pizza.
Both accompanied by Corfu Town Beer of course.
Back down to Parga for the evening
After a quiet afternoon we walk back into Parga, having a drink at Geoker (12 euros for a beer and a Mojito) before returning to Delizi for our 8pm table.
Dinner at Delizi
We have the same wine as the other night, just as lovely, and for starters I go rogue. I have the mushroom fricassee, and Nickie has the bruschetta. All very nice, and after the starters we are full.
And for our main courses?
For our main courses I go for the pappardelle with beef (or buff which is what I actually typed in that blinding heat!). Nickie has shrimps with pasta.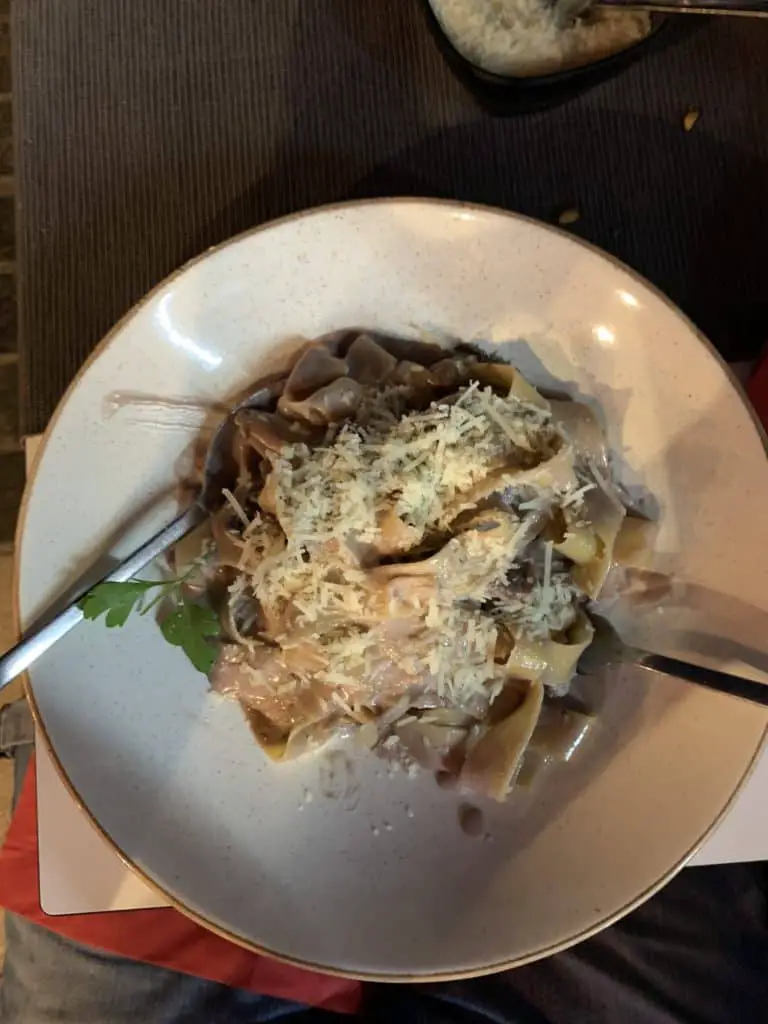 Pappardelle with beef at Delizi
Can't eat the dessert!
We are unable to eat the complimentary dessert, but happily pay the bill – 75 euros (again?) with tip before heading back to the carnage which is the taxi rank.
The taxi rank in Parga
The taxi rank is quite literally chaos any time I have been there. People seem to love driving into this small dead end, which is not really big enough for the taxis to turn around in. Once in the dead end they either
Stop looking confused

Just sit there waiting for someone

Struggle to turn round

Block taxis who beep their horns
They add to the problem that the taxis have to do a three-point turn avoiding the numerous tourists seemingly oblivious to the taxis.
Getting out of Parga
There is also the recurring theme of the queue to get out of town, where every night we have to wai for the cars queuing to get into the car park, turning left from the right hand lane (of course) blocking the road.
Which reminds me as I sit here writing this – why do the taxi drivers not turn left up the hill – that takes us straight back to the hotel after all?
Day 9 – 19th August
We head down to the beach in the morning and have a change of mind so go back to the hotel.
No beach today!
We get the water taxi from Valtos Beach to Parga. 5 euros for 2 which is pretty good I have to say, and then call in at the bakers and get some lovely food. A croissant for breakfast, and some very nice smoked turkey and cheese salad sandwiches, one on a bagel and one on a baguette. And a cinnamon doughnut.
This we got from a bakers right in the centre of Parga, for the princely sum of 7.80 euros!
Taxi time
We get a taxi back to what is a very quiet swimming pool area pool as lots of people have gone home today. A nice quiet day by the pool reading and dozing before our return to the old town for dinner this evening is just what we needed.
Learning how to use my camera
In the afternoon I get out my book about how to use the Olympus OM-D EM5 Mk2 – yes it is time to go out and take some photos and there are things that I want to learn about my excellent camera.
OK – enough about the camera
After a lazy afternoon we return to our room, shower and brave the melting evening heat again.
Dinner in the Old Town
We walk down to the old town and have a drink in the very nice Hotel Avra with a stunning view of Parga from the cliffs above. It is just down the steps from the castle overlooking all of Parga from on high.
One beer and one mojito later we are done and ready to eat.
Dinner at Sakis
We walk back up the hill to Sakis where we manage to get a table nestled quietly in a corner. A quiet if not level corner it has to be said!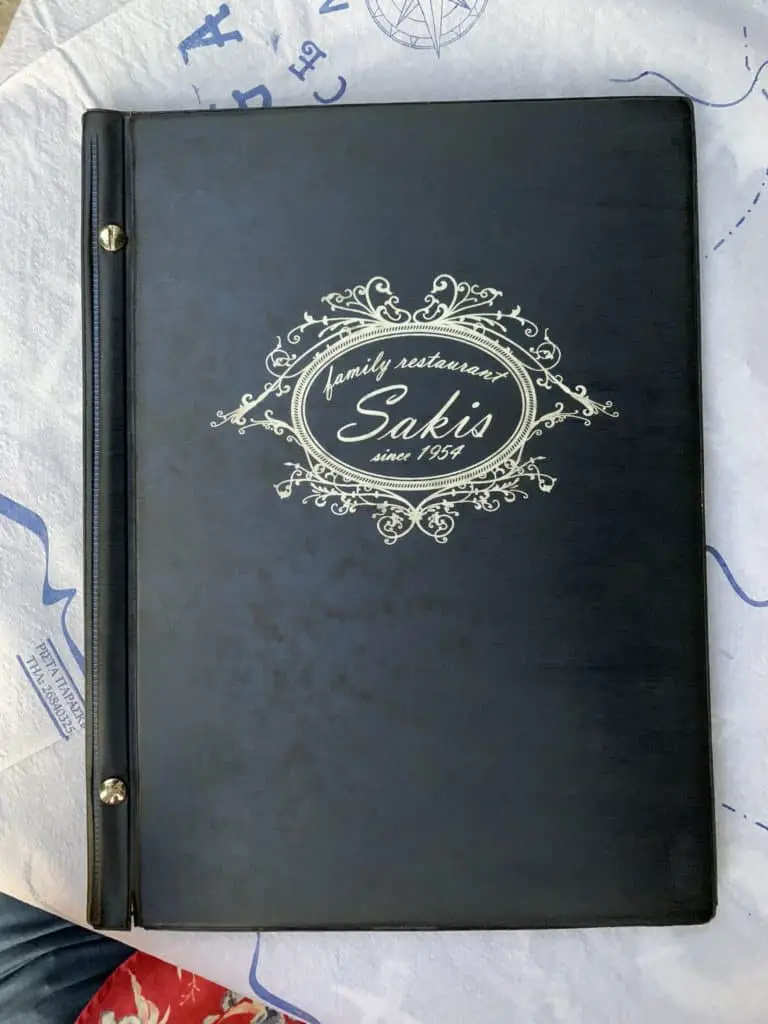 What to do in a queue?
Now this place really is popular – there are people queuing for tables.
A very sweet touch is that they give people in the queue an Ouzo to ease the pain of standing in that evening heat waiting to be seated – we timed it just right this time!
Wine time
We have a carafe of red wine and share the Sakis Special starter, feta cheese and peppers and onions cooked nicely. Very nice indeed.
And now for the main courses
Mains are sausages in a sauce for me and Nickie chooses meatballs. The waiter gives us the wrong meals and it is so dark where we are sat we have to use the torches on our phones to work out that we have each other's dishes!
Both mains are nice and we depart nicely full, helped by a basket of lovely bread. And the bill for this little lot? 27 euros no less!!
Mike's Bar revisited
We are very tired but decide quite illogically to go to Mikes Bar for a couple of beers and to enjoy some music – All I Want Is You by U2 is tonight's dance!
After leaving Mikes we have the hideous uphill walk back to the hotel.
No air con tonight
We make it back and get to sleep with fresh air for a change – still took me a while to get off though. Not before packing my bag for a sunrise shoot in the morning – yes I am going for it.
I set my alarm for 5am. I want to be down for sunrise in Parga, and also to get all the buildings lit up at night.
I have spent a week looking at the location and know exactly what I am after – planning is always good.
Plus I know my camera a bit better after a bit of research today.
Day 10 – 20th August
You can read the full story of my sunrise shoot in the blog post Photographing Sunrise In Parga With My Olympus OM-D EM5 Mk 2.
Here are the highlights.
5AM on holiday!
My alarm goes off at 5am. I put it on snooze. I make it up at 5.45; having spent some time debating do I really want to do this? Not really is the answer, but I force myself out of bed.
I get so much material from a sunrise shoot and have been looking forward to this – once I am up it is not that bad.
The moon is out so I get down to the front quickly.
My photography gear
I sit down on the jetty and assemble my gear in the moonlight. This is all I am using
Olympus OM-D EM5 Mk 2

Olympus 12-40mm F2.8 Pro Lens

Three Legged Thing Universal L Bracket

Three legged thing Corey tripod.
That is it – I do not need anything else. This gives me all the tools I need.
I even take the time to connect my camera to my iPhone again – the missing piece in how I am going to take the photos is that.
What do I want to photograph?
This morning I am after two shots – the first one is in the post mentioned above. The second one – well you will have to wait and see!
But this is what part of the scene looked like.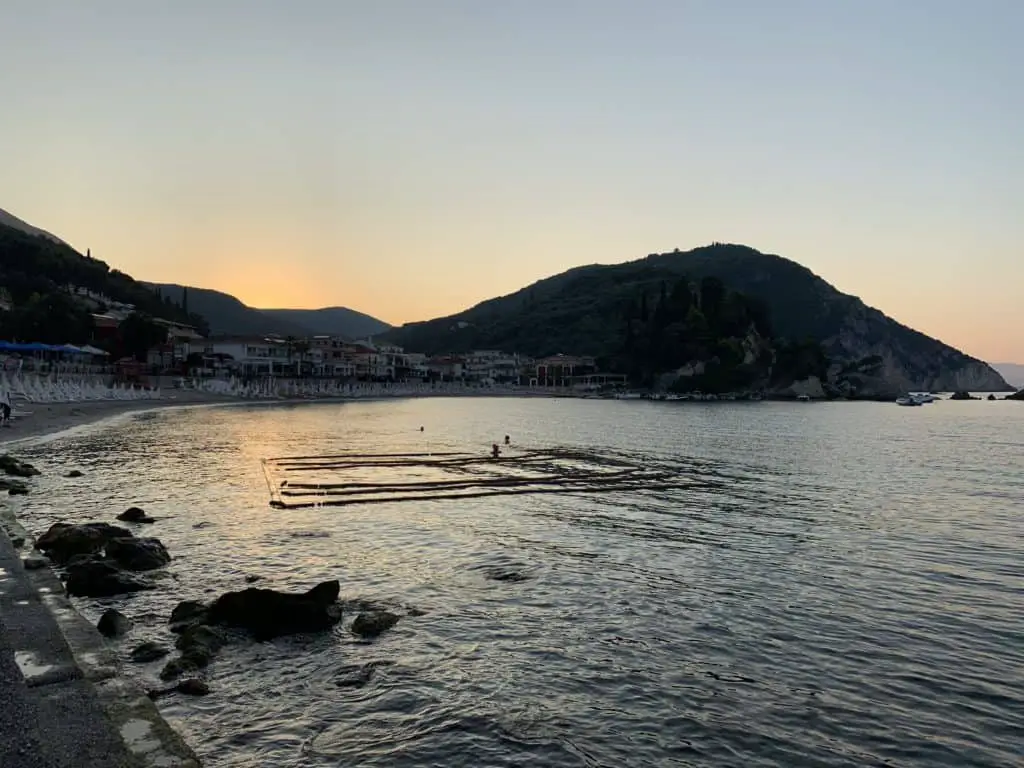 Things they don't tell you in photography school!
There were a few things that I had to contend with.
Well there were a lot of delivery vans around.

Bins being emptied.

The odd drunk.

Bins being washed out with the arisings flowing around me and my tripod feet, which was nice.

Sunrise swimmers – two ladies turned up and stood in the sea chatting slap bang in the middle of my composition!

The bloke on the yellow boat – right in the way of my headline photo.

And the odd drunk.

And where the sun rises – not where I wanted it I can tell you!
All good in the end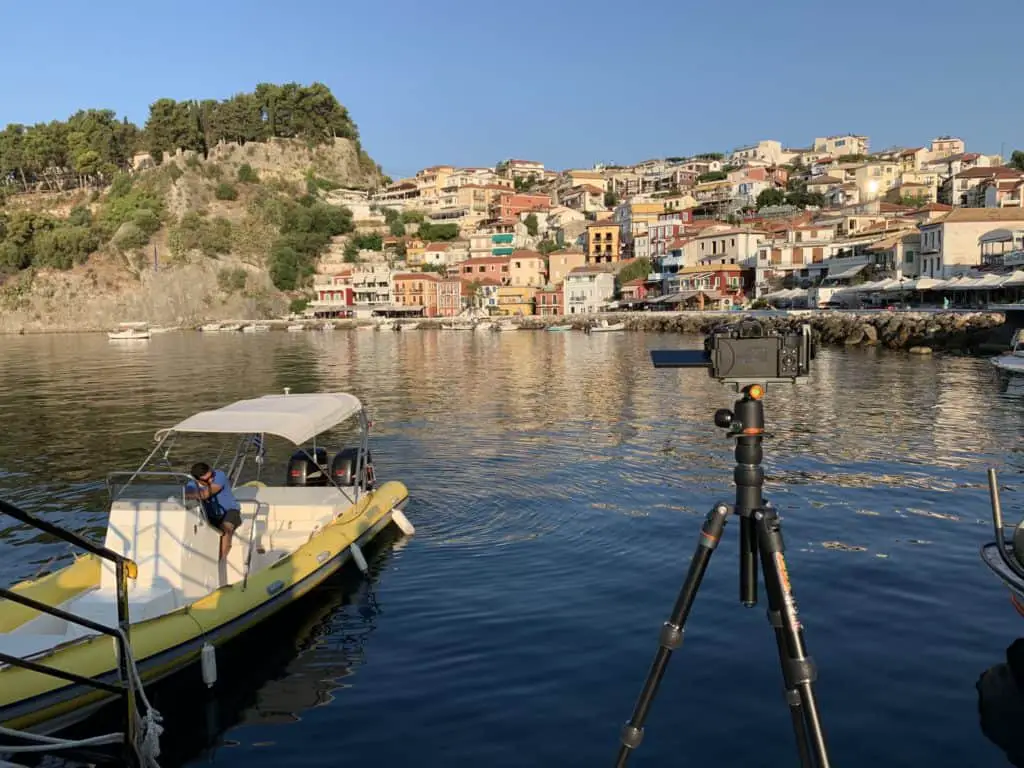 Photos done
I met up with Nickie and we headed back to the hotel for a day by the pool.
This is how I can get up so early on holiday – I have a cheeky beer and catch up on sleep so everyone is happy!
An afternoon by the pool
Lunch was a club sandwich and a beer then back to the pool to read/ doze/ sunbathe
After a hectic afternoon it is time to return to the room for me to sit on the balcony and melt writing this whilst enjoying a Mythos.
When in Greece eat Chinese
Tonight we are going to have something different for dinner – Asian/ Chinese at Shanghai.
We have pre-dinner drinks at the Rock Bar, a pint for me and a Mojito for N, and then we walk along the front to the end under the castle.
Don't sit where we did
We get a table at the front, which is nice at first. You know those menus in display outside restaurants? Theirs is right next to your table, so we spend the evening with strangers standing right next to us, which was, erm nice. Not.
The crispy duck starter was not great, but the hot Asian beef main was excellent, with egg-fried rice. We found a nice bottle of wine to go with it. Nickie tried the noodles as well, but I declined as these days I have textural issues with Chinese restaurant noodles.
With the bottle of the wine the meal cost 49 euros.
Back to the taxi rank carnage
We walked back to the taxi rank – we thought it had got quieter this week, but it was absolutely heaving this evening. We made it to the taxi rank for more cars driving into the dead end and then trying to reverse back out onto the busy main road.
Quite a chaotic scene and a constant frustration for the taxi drivers.
Back at the room we crash straight away.
Thats it apart from the video
I nearly forgot – I have recorded a video which you can watch on my You Tube channel imaginatively titled What is Parga in Greece really like? FInd out in this splendid video!
Next week
And that is part 2 done. Check out part 3 in this blog post Parga TUI Package Holidays – Part 3 of 3.
Rick McEvoy – travel photographer, writer and website creator.
#parga #greece #pargagreece #rickmcevoyphotography #travelphotography #travelphotographer #travelblogger #travelwriter