Hi all. I have recently visited Parga on the Greek mainland for a well-deserved break.
Whilst I was there I got to do my favourite thing – photographing the sunrise. So this post is quite simply about photographing the sunrise in Parga with my Olympus OM-D EM5 Mk2. I will tell you what it is like photographing the sunrise in Parga, and how I got on with my new Olympus OM-D EM5 Mk 2.
And I will talk about my favourite photo, which is the only photo that I have edited so far. The photo that I wanted to get.
And here it is!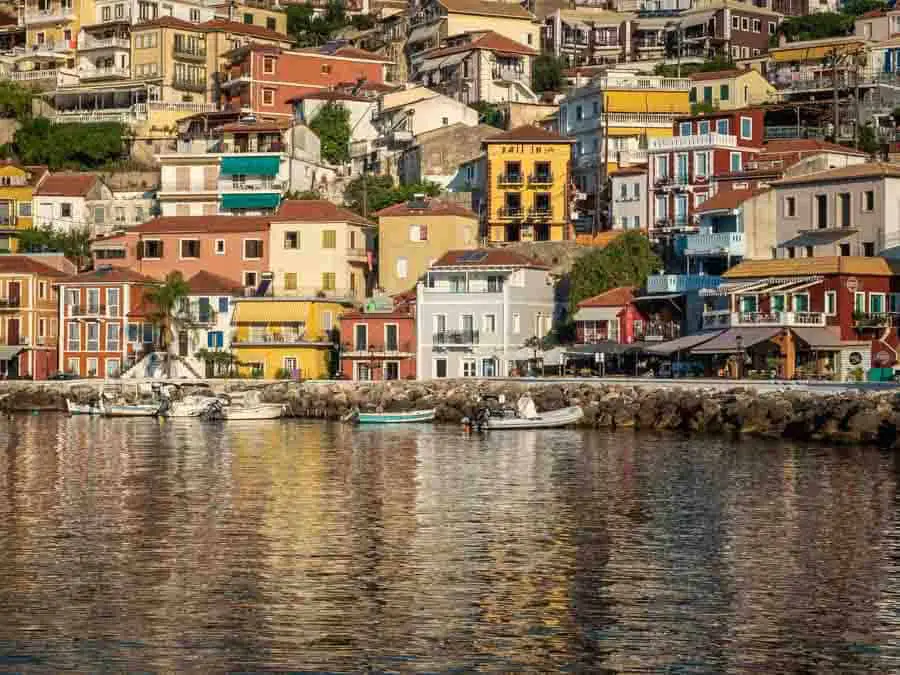 And there's more!
I recorded a video live in Parga where I talk about what it was like photographing the sunrise. I will add a link to this video on my YouTube channel later in this post.
And there is my usual video which accompanies this blog post which is also on my YouTube channel.
Who am I?
For those of you who don't know me I am Rick McEvoy, a photographer, writer, blogger and website creator. As well as this website I have a website called Paxos Travel Guide, and another website called Photos of Santorini.
The content of these websites should be self-explanatory!
As well as my love of travel and photography, back in the good old UK I specialise in architectural photography. Well the photographing of buildings at any stage in their life cycle.
That is enough about me – check out my website if you want to find out more, but I suggest you read this post first! Here is a link to my travel photography portfolio.
Where is Parga?
Parga is here on mainland Greece, across the Ionian Sea from my beloved Paxos and Antipaxos. Check out my other website Paxos Travel Guide to find out all about these two wonderful Greek Islands.
Here is Parga on a map – X marks the spot!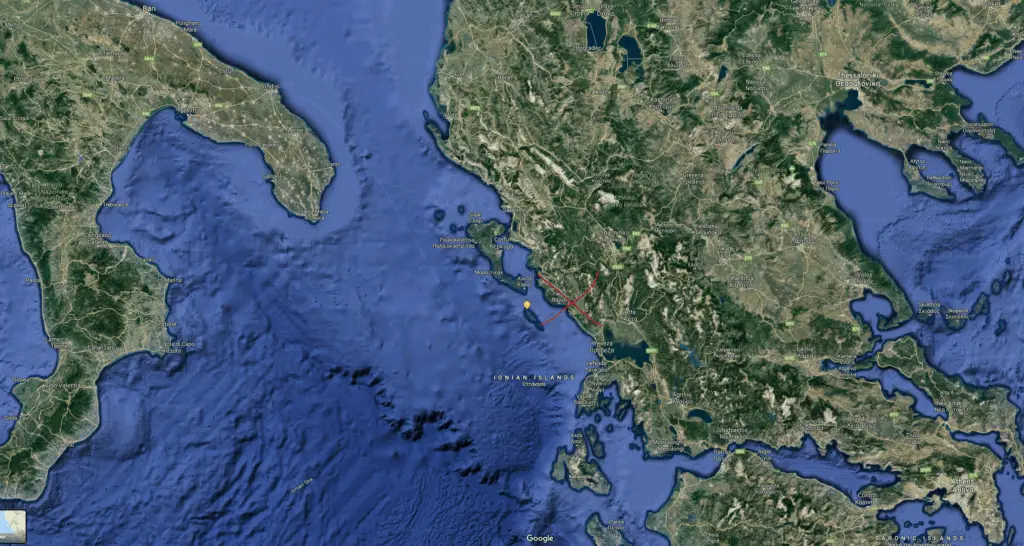 Have I been there before?
Yes. On a holiday to Corfu we went on a TUI excursion from our hotel to Parga and Paxos. That was our introduction to Paxos. This led to two holidays in Paxos and a fortnight in Parga, with a day trip to Gaios.
That excursion has a lot to answer for!
Where did I take the photo?
Here is the exact location that I took the photo featured on this blog post. I have not worked out how to use the get-tagging feature on the Olympus App yet, so am relying on the locational data from my iPhone.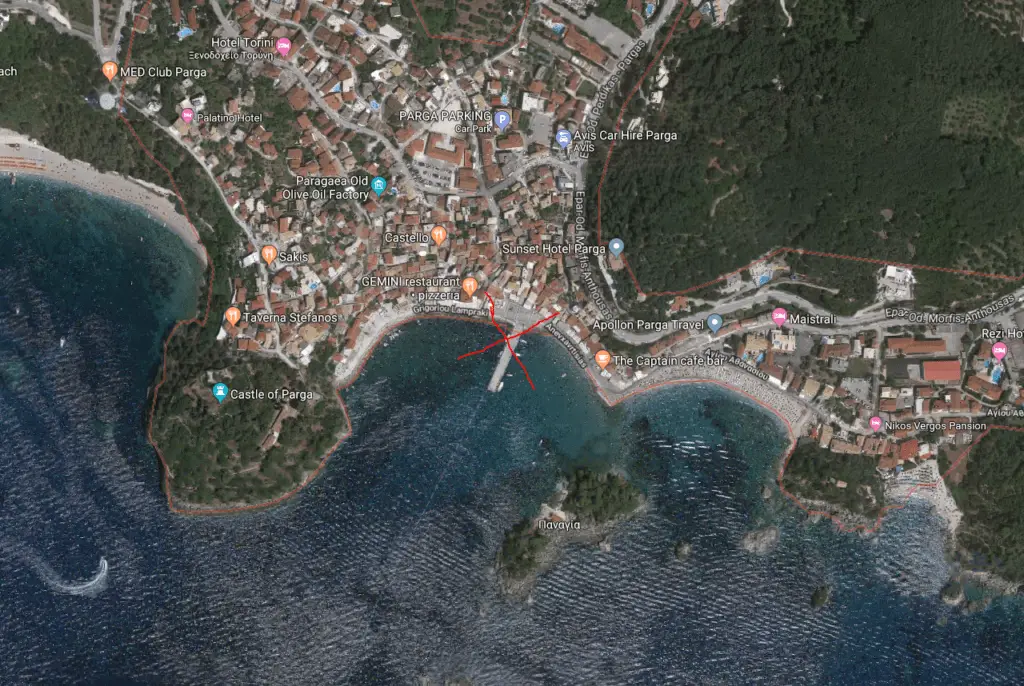 I know – its such a struggle these days!
Basically this photo was taken from the main jetty in Parga, the one that the boats pick up and drop off all those eager holidaymakers from.
What time did I have to get up?
Early. This is the extract from my journal. Yes I write a daily journal on holiday!
"My alarm goes off at 5am. I put it on snooze. I make it up at 5.45, having spent some time debating do I really want to do this?
Not really is the answer, but I force myself out of bed. I get so much material from a sunrise shoot and have been looking forward to this – once I am up it is not that bad.
Honest.
I put on my Salomon walking shoes which I have promised myself I am going to replace when I get home -the soles are worn out now (and there is a hole in the side), and head off into the darkness, kissing Nickie goodbye before I leave the room."
Once I am out of the room that is that – I do not have a spare key.
What is it like on holiday at that time?
Warm and quiet. "The moon is out so I get down to the front quickly. I told myself that I would not take any photos on the way down to the waterfront but can't resist taking a photo of Valtos Beach and the bay in the darkness illuminated by the moon. My photos are rubbish as I am rushing things, so I abandon that and get back to my plan, cursing myself for allowing me to get distracted.
I have decided on the two shots I want and need to get them before I do anything else.
I get down to the front to join all the early morning activity, passing a bar that is open on my way down.
People still out at this time?? Well I guess I am a bit old for that now ha."
What gear was I using?
(Please be aware that the links below are Amazon Affiliate links – if you buy something having clicked one of these links then I get a small commission).
ricmcepho-21
Three legged thing Corey tripod and Air Neo ball head
Three Legged Thing Universal L Bracket
That is it – I do not need anything else. This is all I need.
I sit down on the jetty and assemble my gear on a bench in the moonlight.
I even take the time to connect my camera to my iPhone again – the missing piece in how I am going to take the photos is that.
What camera features was I using?
I decided to trial the high res feature on the EM5 Mk 2.
What was I trying to capture?
Well I wanted the famous Venetian styled buildings of Parga illuminated by the sunrise. Not a sunrise shot per se, but a shot taken at sunrise.
And rather than capture the whole scene I went for this tighter composition.
Later on in the day the sun obviously gets higher in the sky and the buildings are in shadow long before sunrise, so this is the best time of day to get this photo.
This is the photo that I wanted the most, from my first sight of Parga on that day trip from Corfu three years ago.
And I love the effect of the water, which the camera has done taking the eight exposures. More on this later.
What time was this photo taken?
About 8.30. Long after sunrise. I write more about the trials and tribulations of travel photography and photographing the sunrise later on in this post.
But this was the moment when all the buildings in the scene were illuminated by the sun, the shadows to the right still present as the sun rises above the hills behind.
What camera settings did I use?
This is a single image capture using the high-resolution feature on the Olympus OM-D EM5 Mk 2.
The camera takes eight pictures, moving the sensor very slightly for each shot. The camera then puts the images together, creating a 40 mega pixel image!
Cool eh!
More on this in future posts – I don't want to get down in the tecchie weeds in this post!
So the camera settings were
Shutter Speed – 1/640th second

Aperture F8

ISO200

Focal length 30mm

Aperture priority mode
The exposure was assessed using the wonderful EVF – Electronic Viewfinder – I love the fact that I can assess live the changes exposure compensation makes to a composition.
I focussed using the touch screen about a third into the scene.
All I needed to do then was hit the shutter button on my phone. I used the Olympus Share WiFi app as a remote release for my camera, to make extra sure that there was no movement of the camera.
I had also preset the delay to four seconds to allow the camera to settle down and minimise movement.
Small margins that can make a big difference.
And then I was done!
A bit about high resolution mode on the Olympus OM-D EM5 Mk 2
This is a single JPEG image created by the camera. I did not know that I had to tell the camera if I wanted a RAW file as well – I worked that out during this morning shoot. I had forgotten to change that setting!
With the camera in high res mode the image stabilisation is automatically switched off which is a great little feature.
What processing have I done to get this image?
Basic processing in Lightroom only to be honest, taking me a couple of minutes tops!
This is what I want – great high resolution images that I can process quickly.
What problems did I encounter?
Not problems, but things that I had not thought about until I got down to the waterfront.
Firstly, there were a lot of delivery vans around.
And a lot of bins being emptied.
Well they have to do this sometime don't they! And this is when they do it as I found out!.
Oh yes, and earlier, before the sun rose, I was on the steps on the outside of the waterfront harbour wall. That was when someone started washing out wagons – the water was flowing around me and the feet of my tripod which was nice!
And there were the inevitable sunrise swimmers, two old ladies who turned up, waded out about 10 feet and stood in the sea chatting slap bang in the middle of my composition!
A word about Parga at sunrise
Because of the topography of Parga these buildings did not all see sunlight until about 8.30.
I returned the next morning as I wanted to take photos using the high-resolution feature and get RAW files as well as JPEG.
So the next morning I returned, and this is when the yellow boat appeared. I was stood on the harbour wall with my camera sat on my tripod waiting for the boat to go – it must have been pretty obvious what I was doing, and my body language must have oozed "can you get out of the way please I am trying to take a photo".
There is a single gap between the moored boots which gives me two shots, one of the buildings of Parga including the castle, and a close up of the buildings with their colours reflected off the water.
But the yellow boat was there in the gap, hanging about.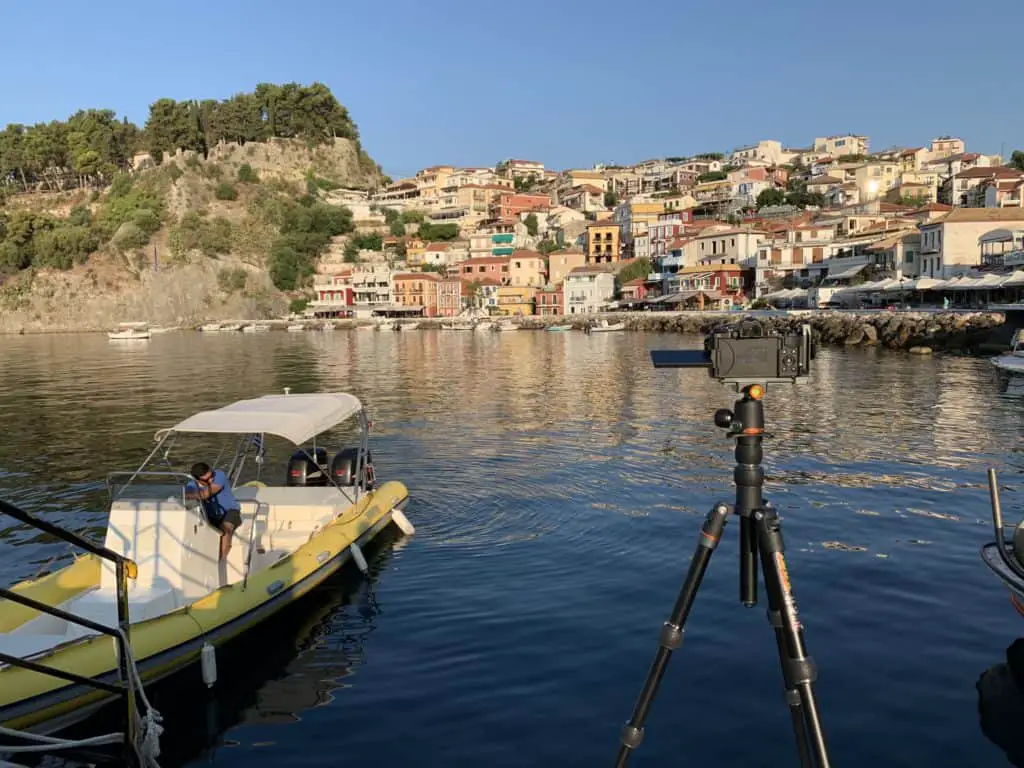 20 minutes later another man appeared and walked down the steps giving the man driving the boat a carrier bag with supplies in – he dutifully went away again, but for more supplies as it turned out.
The bloke driving the boat kept looking at me but was not for moving, so I just had to wait. Another 5 minutes and the other man reappeared with more supplies and thankfully this time got on the boat, and off it went. I waited another two minutes for the wake to settle and got the photos I was after.
How was the sunrise shoot in Parga? Lessons learned.
Well to be honest it did not start well. I was not as well prepared and more out of practice than I would have liked to be. So I sat myself down and got everything sorted, like the Wi-Fi.
I had words with myself.
I have to remember that I have not spent anywhere near enough time with my new camera, and this was me getting back into it.
But once I had taken 10 minutes to get everything how I wanted it the camera was an absolute joy to use.
What to I think about the OlympusOM-D EM5 Mk 2 now?
I like it more than before I went to Parga, which is of course good.
There are so many things that I like about this camera, but these are my standouts of this morning.
The fully articulated screen.
This was just excellent, especially once I had fitted the Three Legged Thing L Bracket the wrong way round so is did not conflict with the screen. It worked just fine then, just the other way round.
And the screen is so bright and clear that I used it for most of my compositions, and I could even review images properly being able to see them on the screen, and read the data on the screen.
Remarkable with my ageing old eyes!
The EVF
The EVF is a truly wonderful thing – I still freak out at being able to look at an image that I have taken through the viewfinder, so bright, sharp and clear.
The Wi-Fi
I have had bad experiences with Wi-Fi and cameras, but with a bit of time and practise I was absolutely loving it, getting around the issues I had with HDR and high res modes and the self timer.
I got very quickly into a very productive and enjoyable groove using the App on my iPhone.
HDR Mode
There is a button on the top of the camera that I press to go into and out of HDR mode – very very helpful and useful.
I will assign another button to High Res and then I will be good to go. Well I say that – I haven't found a way of being able to do that yet. A question for my contact at Olympus.
The Olympus 12-40mm F2.8 Pro lens
I love the sharpness of the 12-40mm F 2.8 lens. I love using this lens, it is a joyous piece of equipment.
The Three Legged Thing Corey with ball head.
I have used this tripod to record videos for my YouTube channel. I have not used it that much in anger, and have not taken to it to be honest. Until today that is – I have never used a ball head all the time before and have been using other tripods for so long all it needed was for me to use it.
The combined weight
The camera and tripod form a wonderfully compact and lightweight combination which I loved carrying around and using.
My Peak Design Everyday Backpack
Still great after many many uses and even better with the smaller gear in.
So all in all, after a bad and grumpy start an excellent sunrise shoot.
How to keep up to date with what I am doing
I already mentioned my other websites, Photos of Santorini and Paxos Travel Guide. The only thing I wanted to add here is that you can subscribe to my photography blog from my home page, and also subscribe to my You Tube Channels which are
And you can follow me on Pinterest where I have a few different boards showing a selection of my stuff as well as other people's photos.
And there are also two videos that accompanies this post
Photographing Sunrise In Parga With My Olympus OM-D EM5 Mk2
On location in Parga talking about photographing sunrise with my Olympus OM-D EM5 Mk2
which you can watch on my You Tube channel
And next week on my blog?
Next week I am going to publish something completely different for me, a travel blog post all about our holiday to Parga. I have not tried this before so let's see how this goes.
And after that I am going to get stuck into the photos I took on Parga. I am looking to get 12 photos for a new page on my website called, erm Parga. It will go with the other web pages that I have featuring photos from my travels.
As well as publishing my favourite photos of Parga (taken by me) I am also going to have a go at processing photos Luminar.
And this will take me nicely into October, which is going to be Luminar Month – a month dedicated to me learning how to use Luminar, which I am excited about.
Rick McEvoy ABIPP – Photographer, blogger, writer, website creator