Whilst gear is important to us photographers, I have reduced the amount of gear I take on trips and shoots.
So in this post I am going to tell you what the 21 photography gear essentials are that matter the most to me. These are the majority of things that I pack in my camera bag along with my cameras and lenses of course. And apart from these things I don't pack much more these days – less is most definitely more as far as I am concerned.
Before I go on – who am I?
I am an architectural and travel photographer. I live in Dorset on the South Coast of England and am a regular foreign traveller.
Cameras and lenses
I have two camera systems. They are a full frame Canon 6D DSLR and a micro four thirds Olympus EM5 Mk2.
I use my Canon gear for my architectural photography, and my Olympus gear for my travel photography. Ok sometimes I use my Olympus gear for my architectural photography but that is a different story.
On an architectural shoot I take my Canon 6D and lenses and have my Olympus gear for back-up (in a separate bag in the car).
And when I am travelling I take an Olympus EM10 Mk 2 as back-up to my EM5 Mk 2.
To date I have not had a camera fail on me, but I always have a back up and enough lenses that if one fails I have a back-up.
I am also excluding my camera bag from this, as I assume that you have a camera bag.
I have two regular bags, a Peak Design Everyday Backpack and a Lowepro Magnum 400.
Ok enough about that – let's get into those 21 photography gear essentials that matter the most to me.
Affiliate Links
One more thing – the links in this blog post are affiliate links – if you click on one of these links and buy something I get a commission. You don't pay any more though.
So if you do that then I thank you very much!
1 – Tripod
Number 1 for a reason. On an architectural shoot I take every photo on a tripod. The only exceptions to this are when I cannot physically use my tripod due to space or locational constraints, or my camera is on one of the flowing.
My Platypod

My painter's pole
See below for more on these goodies.
I also take the majority of travel photos using a tripod or other support. Sure I take handheld photos but that is more walking around stuff.
I am going to get even more specific on my architectural photography gear in next weeks post. I currently have three tripods
Which is my favourite? It depends on lots of things. They are all my favourites for different reasons in different ways.
2 – L Bracket
What is an L Bracket? It is an L shaped bracket that fits in the tripod screw socket on the bottom of your camera. You attach whatever fittings you use to attach your camera to your tripod to the bracket, one on the bottom and one on the side.
And then you can attach you camera to your tripod in either landscape of portrait orientation, and quickly swap from one to the other and back,
Why is this important?
Simple – once I have come up with my composition I can change the orientation of the camera without losing the tripod positioning.
I use this all the time on my architectural shoots and find this piece of kit invaluable.
And they are not expensive. I bought a Three Legged Thing Universal L Bracket for my Olympus EM5 Mk2 and realised last week that this fits on my Canon 6D too, although I have to work out how to put this on my Manfrotto tripod heads, which use a quick release plate.
The Three Legged Thing Universal L Bracket costs £45 from Amazon.
3 – Loupe Viewer
The particular one that I use you cannot get anymore. This is what it looks like on my Canon 6D.
Basically it is a device that magnifies your camera LCD screen, and also prevents sunlight stop you looking at the screen. It is a magnifying cover for your LCD screen.
This viewer by Neewer is a cheaper version of the Hoodman Outdoor Loupe, available from Amazon for less that £140, which I am about to buy.
I use my viewer all the time, giving me a much better view of the composition using the not so great LCD screen on my Canon 6D.
I find I need one less with my Olympus EM5 Mk 2, which has a brighter and movable screen. The screen on my Canon 6D is of course fixed (and rather small and not so bright).
4 – Grey Card
Simple things I like. The great card is not actually a card. The Lastolite Ezybalance grey card is a collapsible card (not made of card) giving an 18% grey. It replaces the good old fashioned grey card, which was a piece of card – hence the name!
I take a photo with this in, and then take the photos without it. If the lighting changes then I take another photo and carry on. When I am talking about the lighting changing I literally mean the lighting changing, normally in my case when I go to another room with different light fittings.
This could also be the sun of course, but the dominant lighting in my architectural photography is the lights in a room.
And when I am processing my images in Lightroom I click on the grey card using the eye dropper tool white balance tool and voila – white balance done (95% of the time.
You can get the grey card that I use, the Lastolite Ezybalance Grey Card for £22 from Amazon.
I use this on every shoot. I said 95% of the time. Sometimes I need to be more precise. And that is what I have bought the next item for.
5 – Passport Colour checker
I have used this a couple of times, but really need to install the software and learn how to use it properly. This is the industry standard colour checker, and comes with a Lightroom plug-in.
And after writing this I am going to learn how to use it properly!!
Not cheap, but very useful – just over £100 for the Passport Colour Checker on Amazon.
6 – Hurricane Blower
I use this to blow dust from the sensor chamber and also of the surface of lenses. And anything else I need to blow dust off.
I don't clean my sensor, I just do this. I get my sensor cleaned professionally at the Photography Show and other trade shows where someone who knows that they are doing is.
A simple, essential piece of maintenance kit that costs less than a tenner from Amazon.
7 – Pec Pads
The only cleaning pads that I use for the precious front and rear elements of my lenses. They come in packs of 100 and also double as padding when I am travelling to protect my precious gear!
Current price on Amazon is £17.99 for a pack of one hundred.
8 – Eclipse leans cleaning solution
I use this cleaning solution with the Pec Pads. I clean the front and rear elements of my lenses with them, and then, here's a top tip, I clean the rest of my cameras with the same pads, starting with the LCD screen and viewfinder and cleaning all of the camera body.
I buy Eclipse Lens Cleaning Solution in the large bottles from Amazon, currently going for £22.21.
9 – Spare batteries
I have three spare batteries for my Canon 6D, and 3 spare batteries for my Olympus EM5 Mk 2, and also for my EM10 Mk2.
I have never had a situation where I have needed more batteries.
Apart from the time I forgot to pack the spares for my Canon 6D once, but I got away with that (by amongst other things turning off the GPS after the first photo).
I use camera manufacturers batteries but have third party spares as back ups. I have to say here that the camera manufacturers do not recommend third party batteries, so please be careful, but I have never had a problem.
Third party Canon 6D battery – circa £25 for two
Olympus EM5 battery – circa £50
Olympus EM5 Third party battery bu Duracell – circa £25
Olympus EM10 battery – circa £50
Olympus EM10 Third party battery by Duracell – circa £15.
10 – Spare memory cards
Very important. I use 16GB and 32GB memory cards, Sure you can get much bigger cards, but I prefer to use smaller cards and swap them after a days use on a trip. On architectural shoots I will normally only use one card.
I have used Lexar cards in the past, but that company has changed ownership, so I am back with Sandisk
Sandisk Extreme 16GB SD card – circa £12
Sandisk Extreme 32GB SD card – circa £10!!
11 – Memory card holders
I have three cases for my SD cards. Memory cards are very important, and in my opinion need looking after.
I don't want to tempt fate, but I have never had a memory card failure. Maybe I have been lucky, maybe it is because I am so protective of them,
I store blank cards in one of these yellow cases.
I put a card after a days shoot in another similar case, but this one is red.
So I know which cards are available to use and which have precious images on them. The red case lives on the hotel room safe. And both are waterproof.
And when I get home I import the images into Lightroom and do my usual backups, and then place the used memory cards in a third case. This is asoft case – any case will do to be honest.
Once a month I do a copy of everything to a separate hard drive which is stored somewhere else. Only then do I delete the photos from the memory cards.
Look after you cards, and you will not have a problem.
SD card holder – yellow – less than a tenner!
12 – Photographers Ephemeris App
Yes an App. I use this to find out when and where the sun will rise/ set and also the direction of the sun in relation to a building.
The App looks horrendous but when you get your head round it it is dead useful.
Well worth a tenner from the App Store, also available on Android.
And now available in 3D for £11.99. I didn't know that so have just bought is. And my it is quick and super cool!
13 – Platypod
What is a Platypod? It is a flat metal plate that you can attach to the tripod thread on the bottom of your camera.
Having done that you can place you camera on the floor, a shelf, a jetty, a car bonnet. Anywhere really.
It is great for getting low shots which offer a different perspective which my clients love.
I have the Platypod Ultra (£50) and also bought the Multi Accessory kit (£29) both currently available from Amazon.
14 – Manfrotto Pixi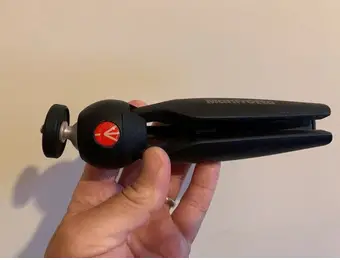 As well as the Platypod I always carry a Manfrotto Pixi with me. I can take photos using my Canon 6D, Olympus EM5 and I can also put my iPhone on it to record stuff, mainly me taking photos.
A steal at £30 for the new version on Amazon – this mini tripod screws directly into the tripod screw on the bottom of most cameras.
15 – DJI Osmo Mobile
I love using my DJI Osmo Mobile to take videos on location.
The Osmo Mobile is a gimbal which helps you to take super smooth, almost cinematic videos.
I am going to be doing more video as this is the future. Check out my You Tube channel for examples of videos taken with this wonderful device.
This is definitely a piece of kit that I am going to be using more and more in the future to get super smooth videos as I walk though locations.
And the next thing for me to try with it is using the gimbal with a microphone attached, which has taken a while to work out.
Available from Amazon for £120.
16 – Rode Video Mic Me
I use this for the weekly videos recorded in my office, and also on location. The mic plugs straight into my iPhone and gives me much better sound quality.
And not too expensive at £70 from Amazon.
17 – The thing to put my phone on a tripod
This is it. A simple bit of kit that means I can record my weekly videos that you can find on my You Tube channel simply by attaching my iPhone to my Manfrotto Pixi using this fitting.
This is mine.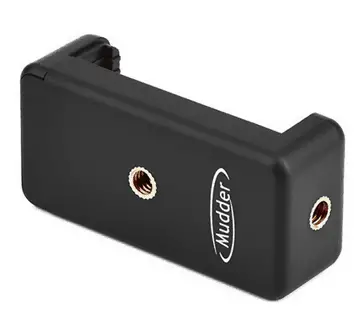 18 Painter's pole
Yes really. Here is me using my Canon 6D on my painter's pole. The pole itself you can get from DIY stores, the clever bit is the bit that screws on the end of the pole that has a screw that screws into the tripod socket.
Using wi-if and the Canon Connect App I can view the scene from up high on my iPhone and take photos remotely.
Adaptor for the pole – the clever bit – £20
And some non-photography essentials
19 – Headphones
Apple Air Pods. Wonderful things that help long days and time spent waiting pass quickly. One of the things I love about these headphones is that you can just use one, either left or right, so you are not disconnected from the outside world.
And you are always able to take phone calls hands free without breaking stride.
So dead handy and with me wherever I go.
Apple Air Pods are not cheap but worth the expense – currently £120 from Amazon.
20 – My Red Hat
This is my red hat. I have a number of them. I like red hats, and they are great for two things.
1 – I can be seen from far away.
2 – Red is distinctive in photos, especially landscape photos.
So yes my red hats are a thing!
21 – Notebook
Yes I am old-fashioned. I carry a notebook and pen with me everywhere I go. Sure I can take notes on my phone, but I still use a good old fashioned paper notebook where I scribble any thoughts that pop into my head.
I use the A7 (very small) Ted Baker Notebook, £17.00 on Amazon (or cheaper elsewhere like John Lewis in the never ending sales!).
And one more thing – my iPhone
I mentioned the Photographers Ephemeris. There are many other uses of my iPhone
1 – Behind the scenes photos
2 – Test shots
3 – To show clients previous works (using Lightroom Mobile).
4 – As a torch
5 – As a remote release
4 – For my music
5 – GPS locations
Video
Once I have recorded the video for this blog post I will update this section and provide a link to the video. For now why not check out my You Tube channel where this is lots other stuff.
Summary
These are 95% of the things that you can find in my camera bag. These are my photography gear essentials, things that I would not like to be without on any shoot.
I also hope that you have found this post interesting, helpful and that I have introduced you to some new photography stuff that will help you.
Rick McEvoy ABIPP
#photographygear #photographygeressentials #photography