In this post I will be reviewing what has happened with my photography business in 2018. It is important to review what worked and what did not work, what I did and did not like. What went well and what went not so well.
Following the review of my 2018 photography business goals and objectives I will be in a position to set new goals and objectives for 2019, learning lessons from the year just gone.
I like setting business goals and objectives – they give me structure and focus. And more importantly they give me things that I can look back on to see how they went, and also allow me to change and adapt to the constantly evolving and changing world that we find ourselves in.
About Rick McEvoy Photography
For those of you who don't know me where have you been?
Seriously, I am a freelance photographer, writer, blogger and website creator. This nicely describes the range of photography work that I do.
I am based in Dorset on the south coast of England, and I specialise in photographing buildings and nice places.
No people, kids, animals or other things that are either alive or move, just buildings and their surrounding environments.
I also provide construction project management consultancy services as an aside.
But basically my businesses are just me. I know I shouldn't start a sentence with the word but, but I am not writing a book here – I am just capturing what is in my head.
So it is just me.
And this is why it is so important that I review my business activities on a regular basis – with it just being me it is very easy to go down a route that is not working for me as there is no one else to point things out to me!
And where will this review of my photography business goals and objectives take me?
To the plan for 2019 of course! This is scheduled to be published on my photography blog on Monday 7th January – back at work and back in business.
What am I going to write about for the rest of the year?
Not much. I am going to publish my top 10 images of 2018 over the next two weeks – this gives me a chance to have a good old look at the photos I have taken over the year, and pick my 10 personal favourite photos of 2018 which I can edit at my leisure.
I am after all a photographer, and my photos are what define me. My photos and how I see the world. Thankfully there is only one me!
Of course we all see the world in our own unique ways, so this is not a big grand statement when I say that my photos are unique – they are unique to me.
And when you add my writing I hope that I stand out in a crowded marketplace.
What were my 10 photography business goals for 2018?
I will go through these one by one, commenting on each one and seeing what happened, and what did not happen!
I first published my 2018 photography business targets on 3rd February 2018. I know – a late start!!!!
I have already written most of my photography business goals and objectives for 2019, I just need to refine these and the blog post in which I will publish them on 7th January 2019.
These are already being worked to, which is clearly already a big improvement on 2018.
This is also a clear demonstration that I am viewing things differently, and that I am working in more focussed commercial areas, continuing with the good stuff that I have been working on and ditching the things that are not of use to me.
Reviews over the course of the year
My plan was to publish quarterly reviews of my photography business goals and objectives. All that happened was that they were published in February 2018, and I wrote one review in August 2018 on my photography blog, which you can read here.
OK – without any more waffle here are my 10 photography business goals and objectives for 2018.
Objective number 1 – "Stock photography"
"The average UK salary is £27,600, which equates to £2,300 per month. I want my stock photography to achieve 50% of this monthly level of income by the end of 2018, and 100% by the end of 2019.
Is this achievable?
I'm not sure, but there is one thing I can guarantee – I will not achieve this if I don't try.
I made about £2 through Adobe Stock in 2017! And cannot tell you how great it was to get an email saying I had sold an image, even if it was for 53p!!
That is very ambitious aim number one."
OK – that was target number one.
But not any more. I have binned this target completely. Earning 53p for an image was the final nail in the coffin for this target.
I have removed myself from all the stock sites I am on.
The only thing that I am going to stick with in 2019 is uploading 4K videos to Adobe Stock, which can earn decent money.
Apart from that stock photography is dead to me!
No there must be a better way to make money from photography, and I believe this is niche websites.
I will talk about this more in my post on 7th January 2019, but this is what I have done to date.
My first niche website – Photos of Santorini. This is complete and on the web and sat there hopefully getting Google's' attention.
This is a light version of the next website I am now working on which is titled Paxos Travel Guide.
As I said more of the future works and business targets on 7th January 2019.
Stock photography – it is with regret that you are fired – it is just me and my own websites from now on.
I know – I managed to sneak in a Lord (Alan) Sugar quote from The Apprentice there!
I do not want to sell images for a pittance. In fact I will go further than that – I will not sell images for a pittance. I am worth more than that.
Lord Sugar would agree I'm sure.
And funnily enough I am getting more enquiries via my website from people wanting to buy prints from me, that and take photos to order which is good.
Objective number 2 – " Commercial sponsorship"
"I want to have one commercial sponsor by the end of 2018. One company, a manufacturer of a product I use and value, whom I can work with promoting their products and at the same time my use of their products.
Another challenging target!"
This is another target that has evolved over the year. I have made contact with a number of suppliers, and have formed four commercial partnerships in the last three months.
I am an affiliate with the following companies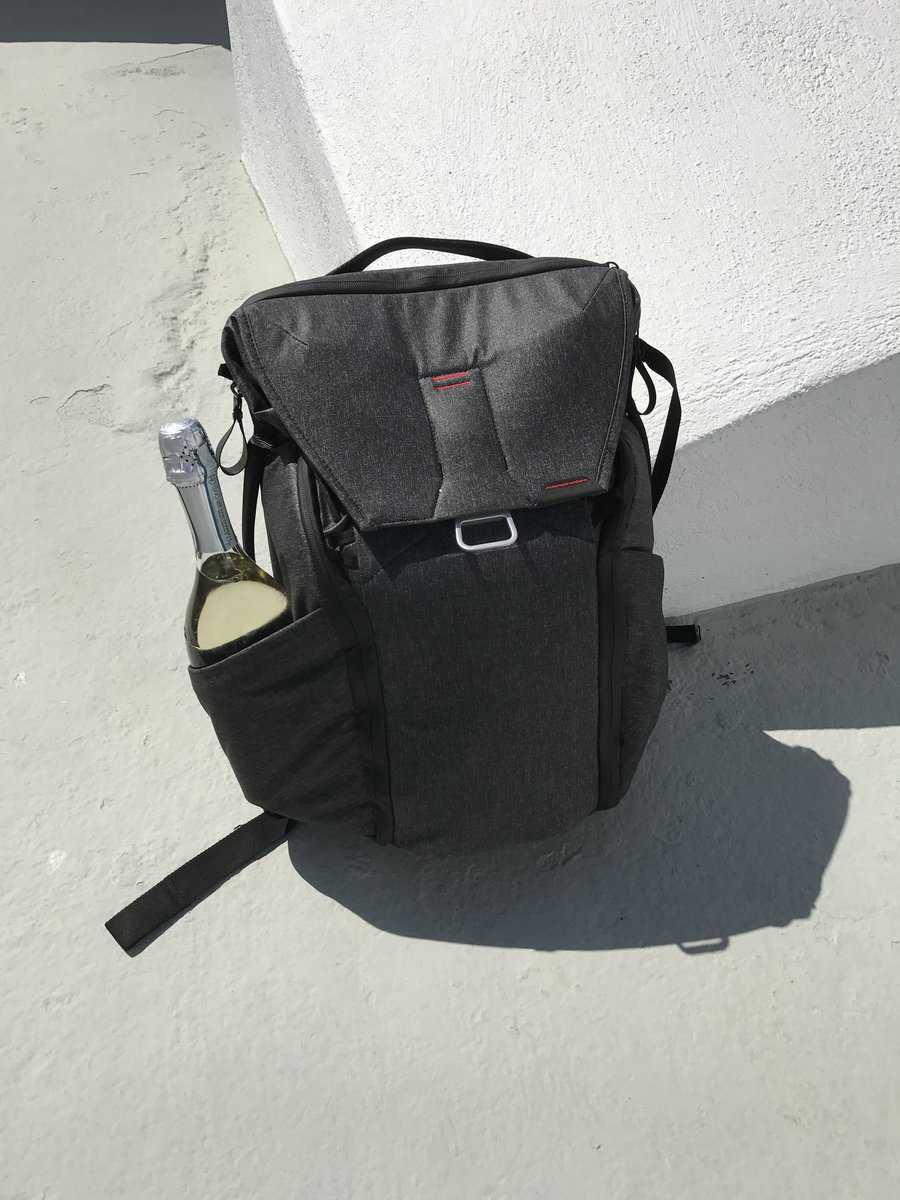 Peak Design
I am a user of their bags, and have featured them in quite a few articles on Improve Photography and also lots of my own blog posts. I have photographed my Peak Design Everyday Backpack in numerous locations around the world, and look forward to taking my camera bag to new and exciting places in 2019.
Here it is with a bottle of Prosecco leaned against one of those wonderful white buildings of Santorini.
You can buy any Peak Design product through my affiliate link and I will get a small commission.
Skylum
I am also an affiliate with Skylum. Skylum made contact with me after reading one of my articles on Improve Photography, and then gave me one to one tuition over the Internet on not only Aurora HDR but also Luminar. I now have an affiliate link that you can use to buy any of their products and I get a small commission.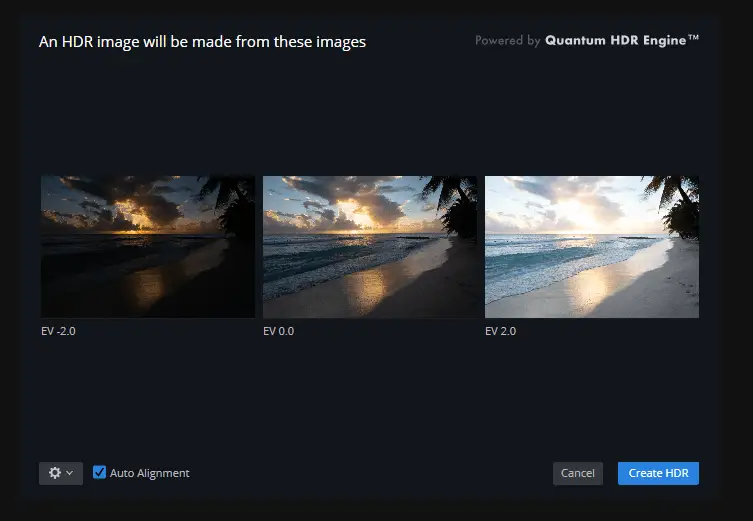 Editing Photos of Barbados with Aurora HDR by Skylum
Even better add the code MCEVOY at checkout and you get up to £10 of your purchase, depending what it is.
This was my first personalised discount code and very cool at that.
Excire Search Pro for Lightroom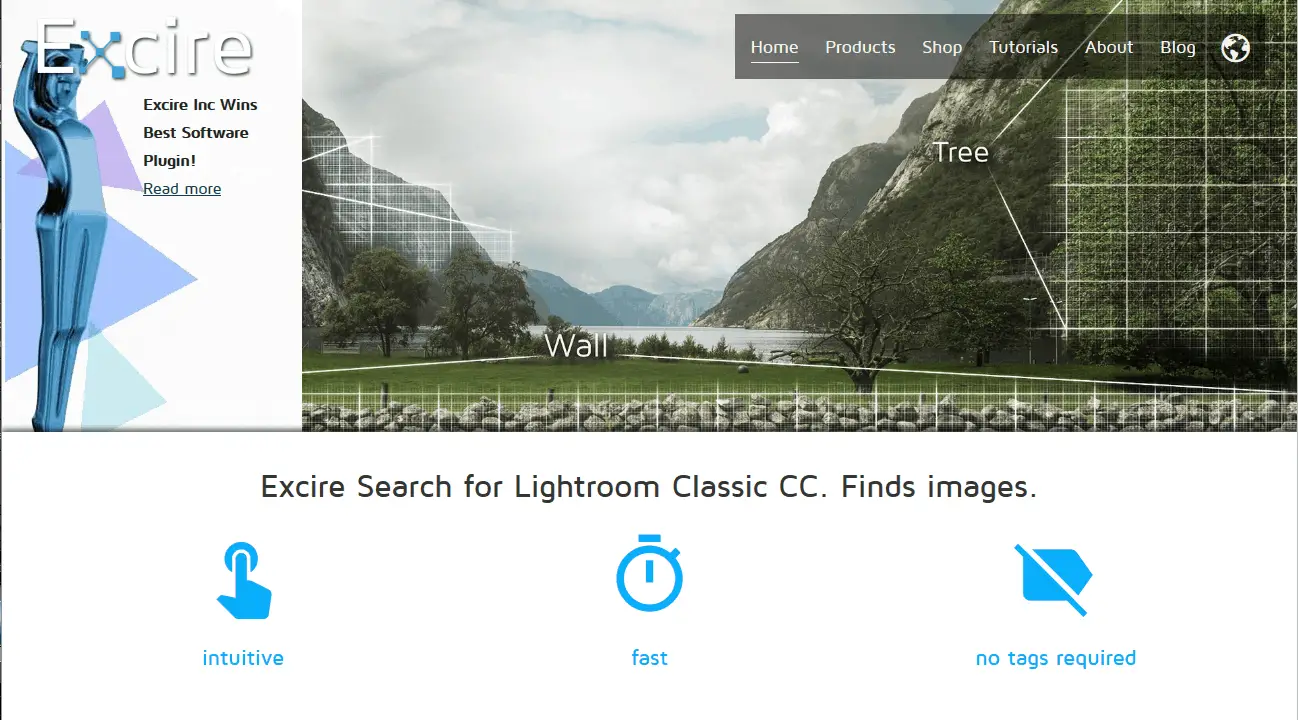 Excire Search contacted me about writing and reviewing their Lightroom plugin Excire Search Pro. And this is what I did. I wrote about this software on Improve Photography, and also a few posts on my own photography blog.
Again, if you by Excire Search or Excire search Pro using my affiliate link I get a small commission.
Tailwind
Tailwind is an App that schedules posts to Pinterest. I paid for a years subscription, and have ended up making contact and am writing a review about my experiences with Tailwind which will be published on Improve Photography. I will also write about Tailwind on my photography blog.
The affiliate thing is going through whilst I write this.
Amazon Associates
I also have affiliate links on Amazon to the products that I use, which you can find on my gear page. To date I have earned 54p from Amazon! Which is still more that I got from Adobe Stock for the sale of that most excellent photo!
About these links.
If you buy products from any of these suppliers using my affiliate links I get a commission. You do not pay any more by using these links.
Summary
I am waiting on responses from a number of companies, and late in 2018 secured the four commercial partnerships that I wrote about above.
This was very exciting news for me, and has helped change my direction into a more commercial one with an emphasis on commercial partners and new products.
And also this has resulted in a change in my mindset and how I write – all good stuff I have to say.
And one final word – this work that I have done now is all work that will bear fruits in the future.
Objective number 3 – "Freelance writing"
"I already have one freelance writing contract, on the excellent Improve Photography website. I really enjoy this work, as well of course as the massive exposure. Writing for Improve Photography has made me change how I write, and what I write about.
Both in a positive way.
I want one more freelance writing commitment in 2018. Just one."
Other things have taken over.
My photography blog now consists of a weekly post, a much longer and more in-depth post that will hopefully add significant value to readers and also help me develop the traffic to my website.
I have also managed to maintain my fortnightly article production on Improve Photography throughout the year, which has been good.
And with the other things planned for 2019 there is no spare time for any more writing in 2019 other than that associated with the commercial partners mentioned above. These partnerships have already produced more writing commitments about the products which is so great.
Objective number 4 – "Website"
I have spent a lot of time and effort on my website in 2016 and 2017. In 2018 I am going to do very little to my website other than the following.
Image refresh – 2 pages per month.
Home page – an update on the text and images.
Travel photographer page – this needs to be produced in February 2018. You will find one image on there at the moment – a photo of Santorini.
And there is the outcome of all this work. By the end of 2018 I want to achieve 1000 visitors per month to my website. I was averaging just over 300 visitors per month before I started my writing on the Improve Photography website in late October 2017."
Well my whole Internet world has changed since this target was set!
My URL
First thing that has happened is my URL has changed from
http://www.rickmcevoyphotography.co.uk
To
https://rickmcevoyphotography.com
Much more global, secure and shorter.
This has had a short-term negative impact on my web traffic, but I hope that the long-term benefits make this worthwhile. Photography is after all a global thing.
My photography blog
My photography blog has changed from daily posts just because I thought that I needed to do this to weekly posts, which are much longer with more specific and deliberate content.
These two things combined will not have an impact until sometime in 2019, so patience is the key. All the work done to date as investment in my photography business future.
As to web traffic, I am less bothered about that right now for the reasons stated above. I am watching my Google rankings for keywords returning to where they were some time ago.
So my Google target of 1000 visitors per month by the end of the year is put back to some time in 2019. But in 2019 I am aiming for much more than 1000 visitors per month.
Changes in my website content
I have significantly changed the content of my website, making it simpler and more logical to navigate, with less pages, and also smaller images.
My other websites
I now have three websites, with a fourth planned for 2019
Photos of Santorini is now a thing – a completed website bedding in with Google and hopefully producing positive results by May 2019.
Paxos Travel Guide is the website that I hope to complete by the end of February 2019, which will sit there until August/ September before I see any tangible growth and result.
Rhodes Travel Guide needs to be created and content produced. Completion of this website is planned for June 2019.
And that is websites for now. I am going to wait and see what comes of these websites before embarking n any more new websites.
Apart from Photos of Barbados – a very recent addition with the exact name to be decided once I have worked this out, which will have 25 images processed using automated image processing in Aurora HDR along with minimal additional content.
Like this.
Absolut Watering Hole, St Lawrence Gap, Barbados.jpg
This website will be a trial website that I can learn things on without losing lots of hours of work.
Objective number 5 "Website"
I want one source of income achieved solely from my website. This will of course be directly related to the number of visitors to my website, to the value my website has on the World Wide Web."
See 4 above again!
Objective number 6 – "YouTube"
"I want to have achieved 10,000 views by the end of 2018. 10,000 views triggers more possibilities in YouTube, which I want to get to. And hopefully the quality of my videos will improve over the course of the year to the point where I am able to produce videos for commercial clients that they want to buy."
Slow going. I have not been consistent enough with this, manly due to time constraints.
But this target remains, and I will try to work on this on a monthly basis in 2019.
At the time of writing this post I have managed to get 3081 views.
Objective number 7 – "Portfolio"
"I want a high quality printed portfolio of 30 prints for
Architectural photography

Landscape photography

Travel photography
Interchangeable in a lovely high quality folio holder.
Actual high quality prints that I can present at meetings."
My last update was this
"Done. Sort of. I have a set of 40 architectural photography prints in a very expensive box. "
I did not get the landscape and travel folios done, and will not be getting them done.
This target will drop off now.
Not much more to say on this one. I can't see what I would do with a travel photography printed portfolio – a travel photography website makes much more sense.
Objective number 8 "Qualifications"
"I want to achieve my ABIPP in 2018. I never submitted my portfolio in 2016 as I was not happy with it, even though my BIPP mentor was happy with it. There is a lesson there in just going for things that I have definitely learnt."
Done. I will include an extract from the June 2018 press release again
"Local Photographer Gains International Qualification with BIPP
Rick McEvoy ABIPP is a specialist architectural, construction and industrial photographer based in Dorset, who has recently achieved his Associateship (ABIPP) in Commercial Photography.
Rick joined the BIPP in 2013, gaining his Licentiateship in Commercial Photography in 2014.  As well as commercial work, Rick is an independent writer on the Improve Photography website, has a daily photography blog, and has been published in a variety of publications in the UK and further afield. He also produces fine art prints that are for sale on his website.
Rick is a keen travel photographer, with examples of his work featuring on his website, with lots of new plans being worked on for 2018.
His portfolio submission consisted of 40 architectural photography images, 20 interior images and 20 exterior images.  All bar one of the images were from commercial commissions carried out for architects and property owners.
You can view Rick's complete portfolio at www.rickmcevoyphotography.co.uk/portfolio
When we asked Rick how he felt about achieving his Associateship, he said: "I feel honoured, proud and I don't mind saying relieved that I was successful in achieving my Associateship. It has taken me a couple of years to get together a portfolio that I was happy with. I am pretty much self-taught."
To see more of Rick's work please visit – rickmcevoyphotography.com"
##Ends##
"Notes to Editors:
Contact: Jack Goward, 01296 642020, jack@bipp.com
The British Institute of Professional Photography (BIPP) is an internationally recognised qualifying organisation with over 100 years of experience in qualifying and supporting photographers. The core aims of BIPP are to qualify and support professional photographers, through a network of meetings, awards, training and benefits.
The BIPP is a not for profit body, run by photographers for photographers.
The BIPP has been fighting for and protecting photographers' rights since 1901.
The BIPP has over 2,800 members worldwide covering all disciplines of photography.
Rick McEvoy ABIPP, sales@rickmcevoyphotography.co.uk , rickmcevoyphotography.com"
Enough said! All done. And I am still smiling about this all this time later!
Target achieved. And no plans for any more qualifications in 2019.
Rick McEvoy ABIPP
What I do need to remember to do though is update all the references to LBIPP to ABIPP everywhere, and update the BIPP logos.
Objective number 9 – "Travel photography work"
"I want to achieve one commercial photography booking overseas in 2018."
It is interesting that the travel photography thing was growing in my mind 12 months ago and has now evolved into something I had not even thought of.
This is another target that has changed and will not be going into my 2019 photography business targets – I have other plans, which I have already mentioned.
It would of course have been nice to have been commissioned to travel somewhere abroad to take some photos, but I am finding myself working less on commissions and more on creating content for my various websites.
Objective number 10 – "One shop to sell my photos"
"Last one. I want my work in an actual shop being sold to actual people. I will get my portfolios done and get out there and see who wants to sell my work."
Not done. And I am not going to progress this one. Another target bites the dust!
Summary
A lot has changed over the course of 2018. And changed in quite a dramatic way.
The main things to change were
Websites
I am so glad I decided
to do Photos of Santorini. This is a model for future travel photography websites. Deciding to get on and do it was one of the best things I did in 2018. It is there now and in creating this website I learned lots.
Paxos Travel Guide is a bit of a bigger animal, and a model for a more in depth and more commercially viable website.
And a website that needs a lot of time and effort to create – this is why I decided to just get the Santorini website done and published.
Photography Blog
I changed to weekly posts from daily posts in October. 3 months in and I am glad that I did this. I have produced much higher quality, and much more informative blog posts. And I have escaped the clutches of that nasty perceived need for daily blog posts, which did not in the end get me anywhere.
Commercial partners
Four affiliate partnerships is great news for me, and a sign that I am heading in the right direction.
And what about 2019?
Check out my blog post on 7th January 2019 which will be titled "How to make money from photography – my goals and objectives"
I am hoping that 2019 will be my breakthrough year where things that I have been working hard on come to fruition and give me the things I am looking for. I have an ultimate end point here, which I will conclude my 7th January post with.
Any questions?
If you have any questions please get in touch and I will gladly answer them. I hope that you found this post interesting, and that you might get some inspiration for ways to make money from your photography in 2019.
Rick McEvoy ABIPP – Photographer, blogger, writer, website creator