Last week I wrote how to choose the photos for my new travel photography portfolio.
And here it is. Yes, here are the 12 photos in my brand new travel photography portfolio. In this post I will tell you how I put these 12 images together to create my new travel photography portfolio. I will explain why I added each image, and why I think that this collection of 12 images together represent me and my travel photography right now. I will write a bit about each of the photos which I will of course include in this post.
No technical stuff in this post, just me talking about 12 photos taken by me. Ok a bit of tech stuff but not too much I promise.
I want my photos to make you want to be there – that is what travel photography is all about to me.
Who am I?
I am Rick McEvoy ABIPP. I specialise in architectural photography, landscape photography and of course travel photography.
I have two other websites at the moment
Photos of Santorini, which is a travel photography website about me and my photos of Santorini. And that is all! Check it out I it is really quite good, and I am proud of this website.
And then there is Paxos Travel Guide, which is a personal guide to the wonderful Greek Island of Paxos.
Clearly travel photography is a big thing to me!
Why am I doing this now?
Having spent three months working on my website, I am spending some quality time on my photos. And my travel photography portfolio is important to me.
The work on my website dominated my time and quite frankly bored me, so working on photos for my new website is a real treat for me.
What is wrong with my old portfolio?
I wanted to update my travel portfolio as the images do not work as a set, and do not represent where I am right now as a photographer. Basically I did not think that it was good enough.
And now I have a shiny new website I want shiny new portfolio pages!
What did I write about the other week?
Check out the blog post My next Travel Photography Portfolio – How To Choose the Photos, where I wrote a post about photography portfolios. This information applies not only to travel photography but all types of photography.
How did I pick these 12 images?
This was the difficult bit. I wrote about this last week, where I published the 54 shortlisted photos for my travel photography portfolio.
The post was called Choose the Photos for my new Travel Photography Portfolio.
These 54 images are sat in a Lightroom Collection and need to be narrowed down to 12 images.
Basically I added and took away images until I had a set of 12 images that worked for me. It took me a good hour before I got to a set of 12 photos that I am happy with.
I decided not to go with one image from one of 12 locations. I decided to go with images which each spoke individually not only about photography, but also travel as an experience.
It's ok – that is as deep as I get!!
So here are those photos, with a bit about each image, and why they were chosen for my portfolio.
OK?
Happy feet on holiday in the Maldives!
Talking of travel experiences. That is why there is the photo of mine and Mrs M's feet in the Maldives. Travel is to me very much a shared experience with my best mate, and this is what we love to do.
This is a personal photo, but one that hopefully tells a story of two people together on a beach somewhere sharing a special private, sandy moment.
Travel is a personal shared experience for us.
Sunrise contemplation on the Greek Island of Rhodes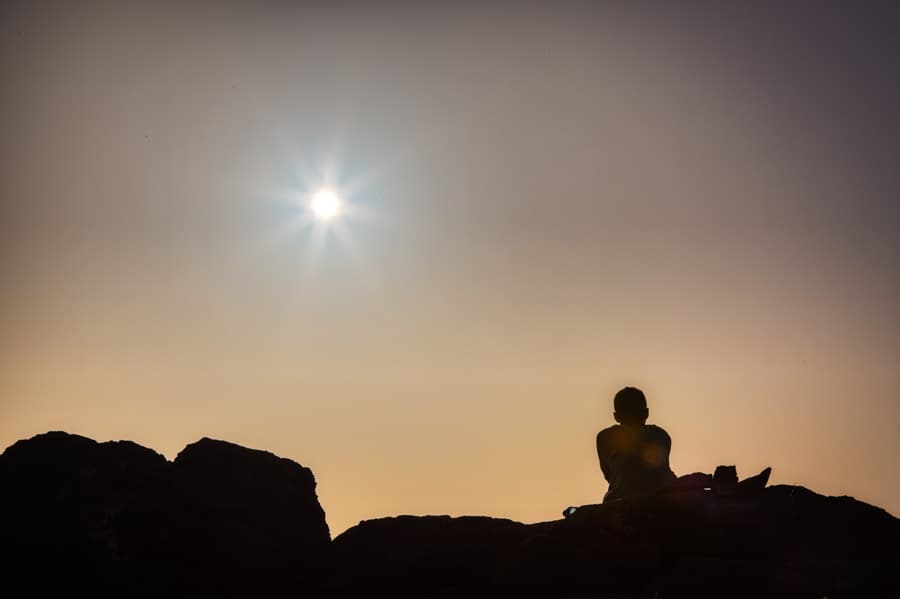 I do not know who this person is, I noticed them as I was photographing the sunrise. I love this image as it is about a person in a moment on holiday.
I was photographing the sunrise from the Prophet Elias Church on the hills overlooking Pefkos and Lindos on the wonderful Greek Island of Rhodes.
Obviously the sun had risen some time ago when I spotted this lone person sat on a rock on tops of the cliffs.
A wonderful private moment that I am delighted to have captured without disturbing the person in the shot.
Travel is a about private moments too, unique moments which can only happen in the place where you are at the time you are there.
The old and new buildings of Athens Greece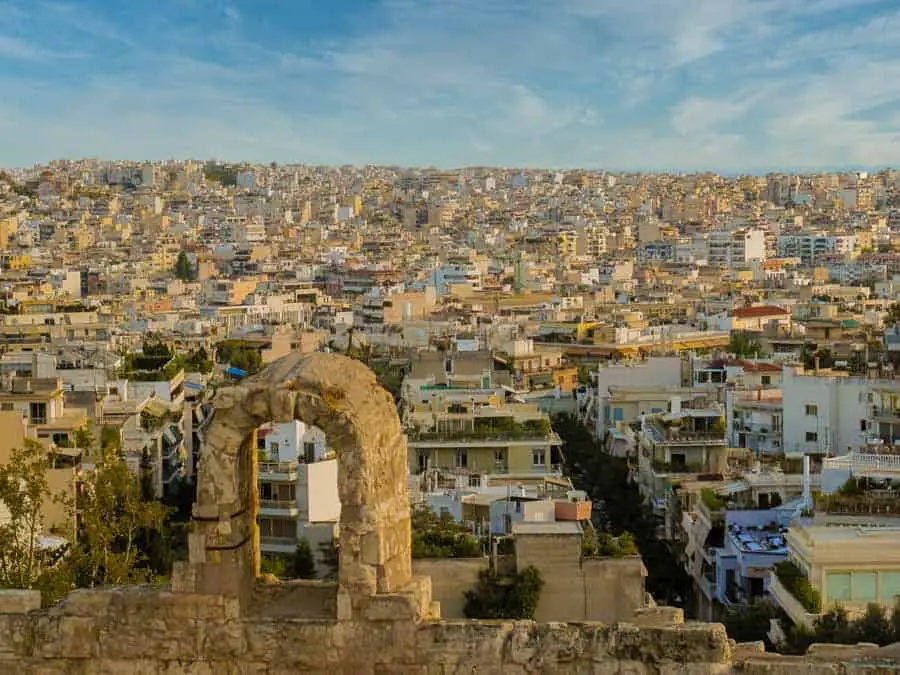 Big sweeping panoramic views of cities, cityscapes – they are travel photos right?
Well yes of course they are, but I wanted to contrast the old and the new to add a different context to an image, which is why I included the photo taken in Athens, with an ancient wall framing the modern, endless urban sprawl.
And all of that illuminated by the lovely, warm, vibrant colours of the magnificent Greek capital city.
Parga lit up just before sunrise photographed from Parga Castle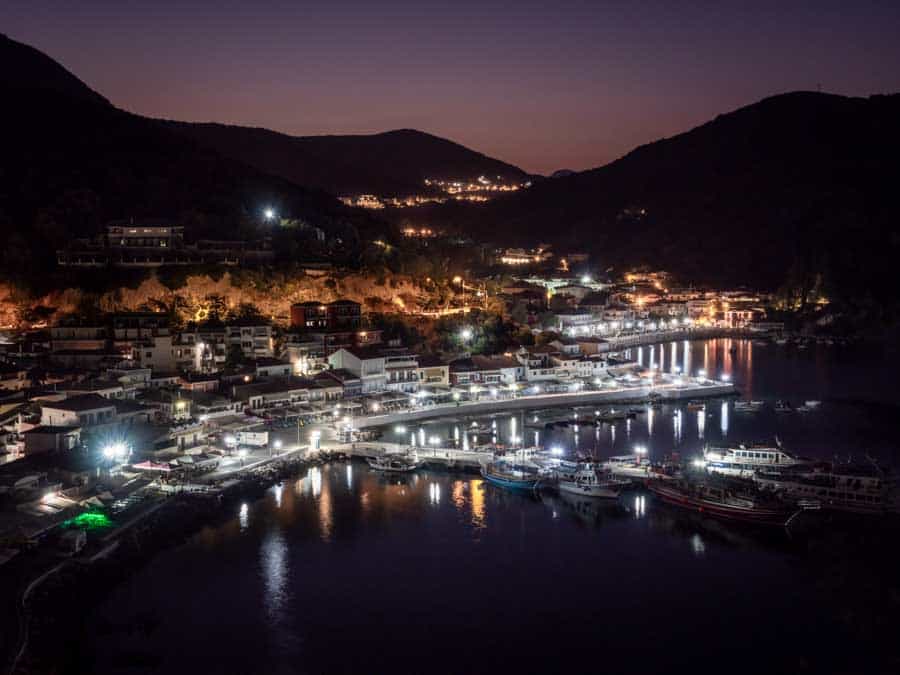 I have included this photo of Parga at night, which I captured very early one morning on my way down to photograph the sunrise.
This is an unusual view of Parga, famous for the Venetian style buildings rising up from the waterfront. Sure I got photos of these wonderful buildings but preferred instead to include a different view of Parga, looking down from above at night.
Anyone can take the iconic photo of the buildings as they come into Parga on a boat from elsewhere – not everyone can get the night photo that I have posted though.
As well as my eye for composition I also want to display my skills as a photographer – this was not an easy photo to capture technically, and processing took some work too.
Road sign in the Atacama Desert in Chile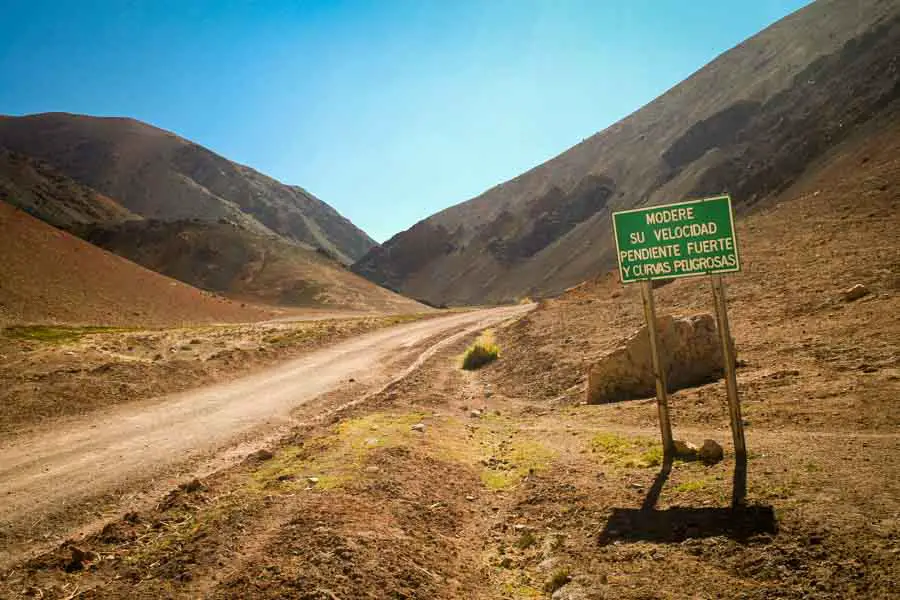 This is a dangerous, remote road in the Atacama desert in Chile. I do not know the translation of this sign but get the idea. Chile is a big country with lots of very remote places like this one.
And this photo was taken with a Cano 350D and kit lens – my first DSLR (after making the move from film) so it has sentimental value to me as well!
An unusual image and certainly not your ever day "road trip" photo.
And I will come back to this point in the summary.
Kommandoo Island in the wonderful Maldives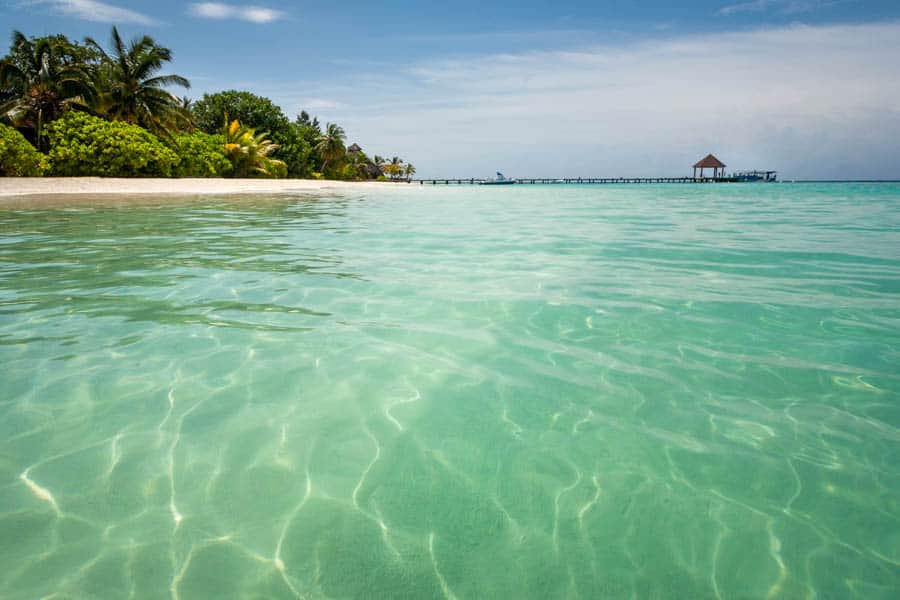 I walked out into the sea with my Canon 5D to get this photo. I wanted to get a view looking back to the island but was drawn to the jetty when a boat pulled in and some people got off the boat. Such is the quality of the Canon 5D (Mk 1 as well) that you can zoom in and see the skipper bending down to tie the boat to the jetty.
This photo is all about the sea, the beach and the sky, and those people on the jetty.
Brightness, warmth and lovely natural colours from somewhere distant.
Sandanks in Dorset viewed from the ferry to France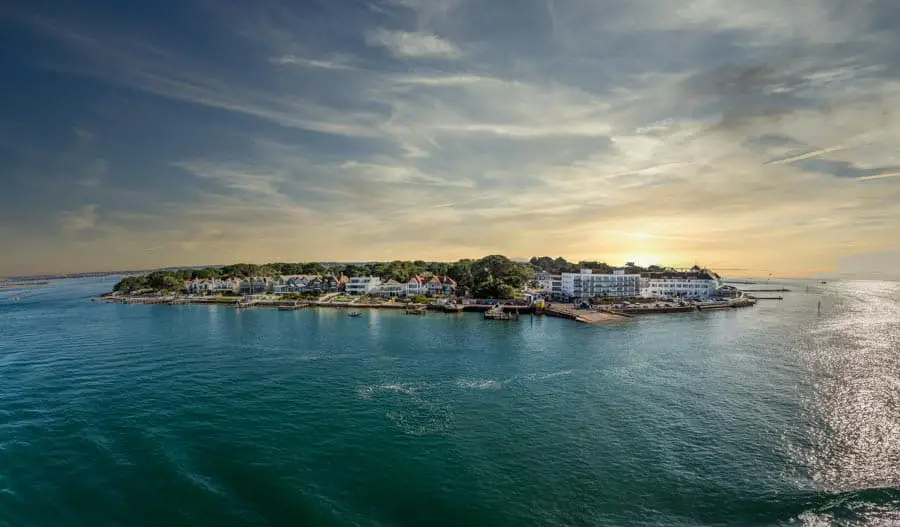 We have all seen photos of Sandbanks, but not that many from the Barfleur!
I captured this photo as we were sailing out of Poole to Cherbourg for the day, getting a stunning image of Sandbanks unlike anything I have ever captured before. Sure there will be lots of other photos taken from this view but not getting this much detail or that wonderful sky which was on that day only!
Iconic view of a Santorini windmill at sunrise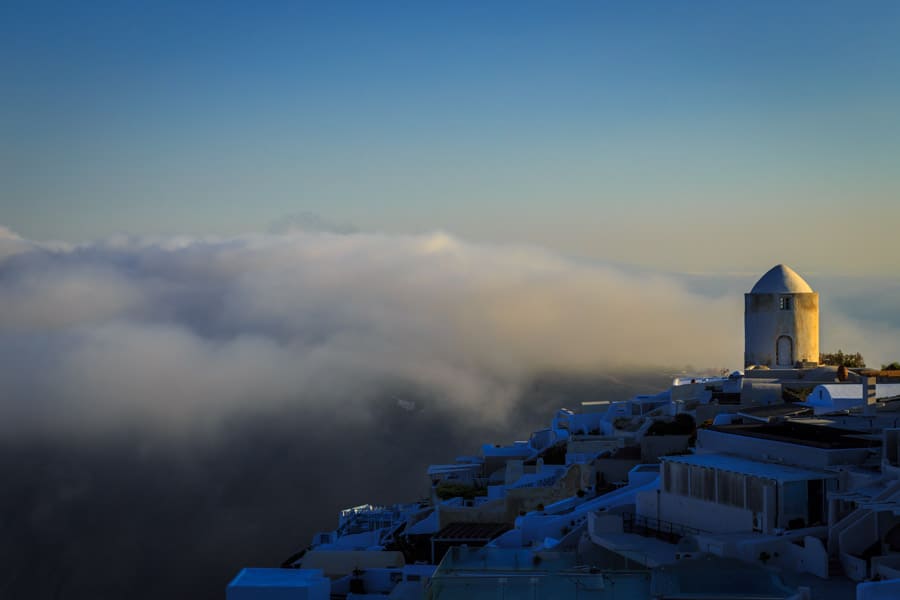 I have a website which has photos of Santorini. But this one of my favourites. I have the iconic windmill, illuminated by the sun rising to the east, combined with the mysterious clouds at low level being blown over the caldera.
This was a truly moment morning on Santorini and one that I am delighted to be able to share with you all.
This is one of my favourite photos if Santorini – you can see the 98 other photos on this website Photos of Santorini.
Palm leaf sand and sea in Barbados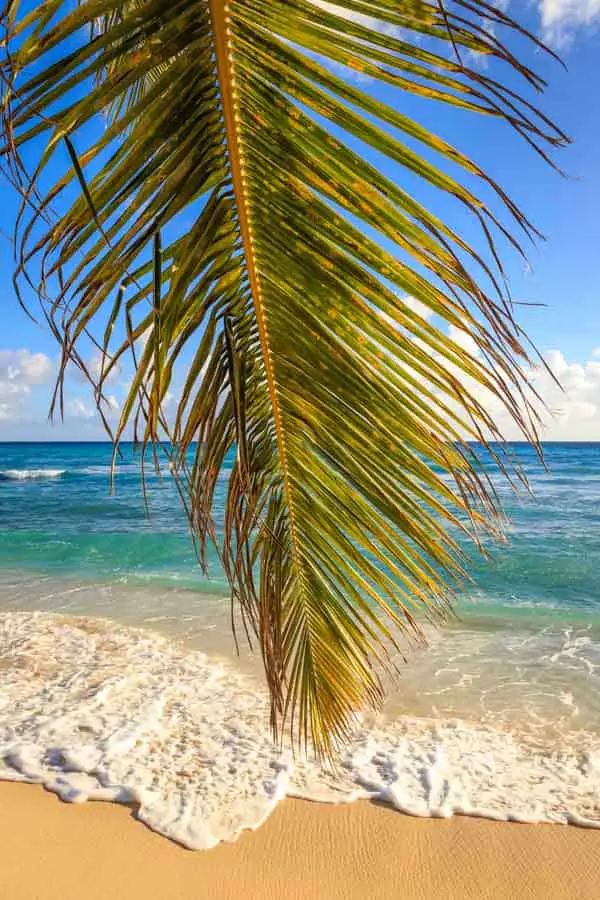 A close up of a palm tree leaf with that lovely sun, sea and sky. A very minimalist picture that tells the story of a Barbados beach nicely.
Sometimes less is more, which is the case with this photo. Sure it could have been taken anywhere but that does not matter – it is what the image represents to you as the viewer that matters.
Palm leaf, sun, sea and sand = being in a nice place somewhere!
Sunrise in the streets of Altea Spain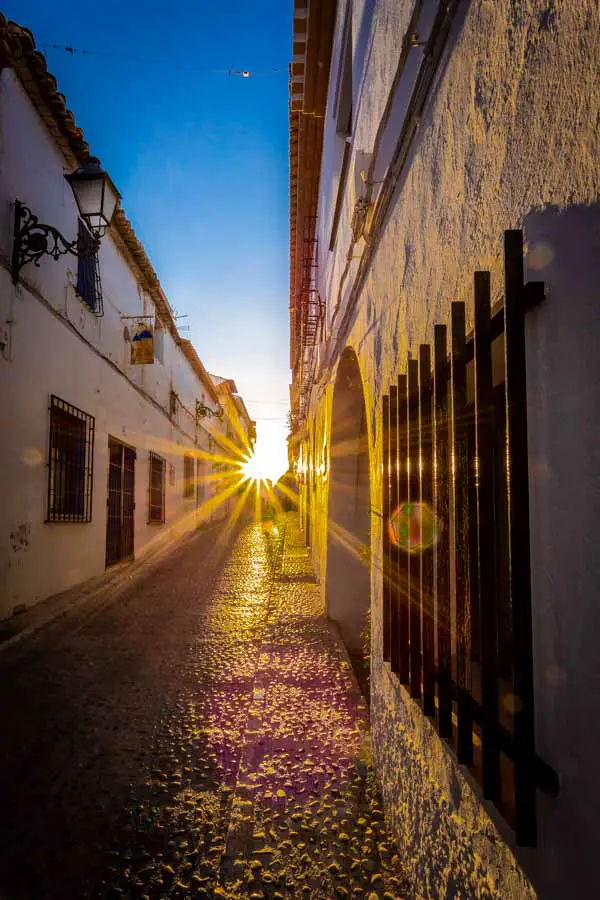 A burst of sunlight in the old part of the wonderful Spanish town of Altea.
I was meant to be photographing the famous church on the hill at sunrise but stopped on the way. I was on this wonderful street, and correctly guessed that the sun would be rising right where it was.
So I got myself set up and took this photo which I really love. This could be any old town anywhere in Europe – that is part of what I love about this photo.
And I also love the fact that there was no one else there – just me on that long street – just me in that moment.
Sunrise in Loggos on the Greek Island of Paxos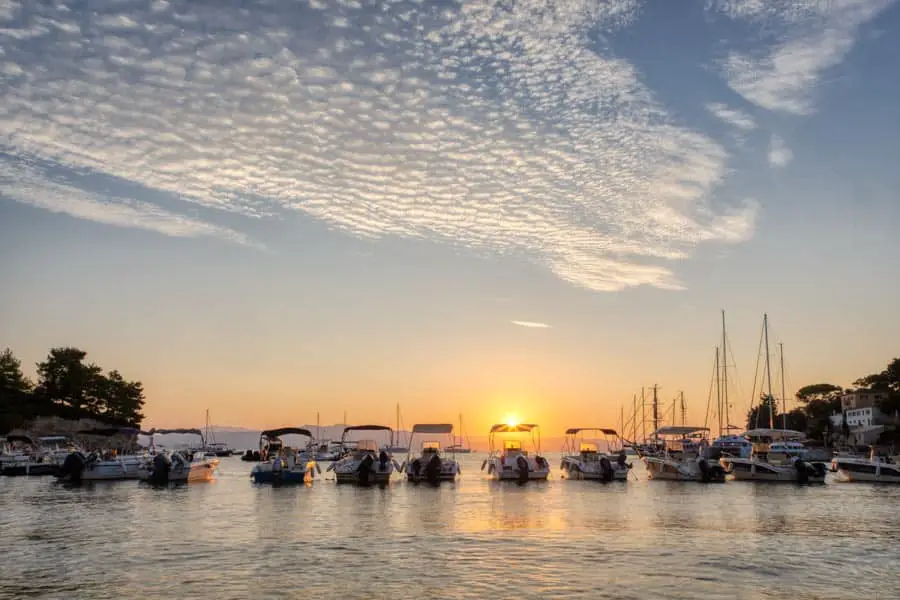 A photo that features on my Paxos Travel Guide website is this photo of one of my favourite places on Paxos, Loggos. You can see the sun rising over the Greek mainland some 28km away.
I knew exactly where I was going to take this photo from as I have got to know the island very well from a few visits. And getting to know an island makes me much better equipped to convey a location the best that I can.
The reason I like this photo so much is the very unusual clouds, very unusual for a Paxos sunrise that is. These clouds really add to the scene which is normally cloudless. These lovely clouds give the photo an extra something.
I look at this photo and I could be there right now.
Scooter at sunrise in Lindos on the Greek Island of Rhodes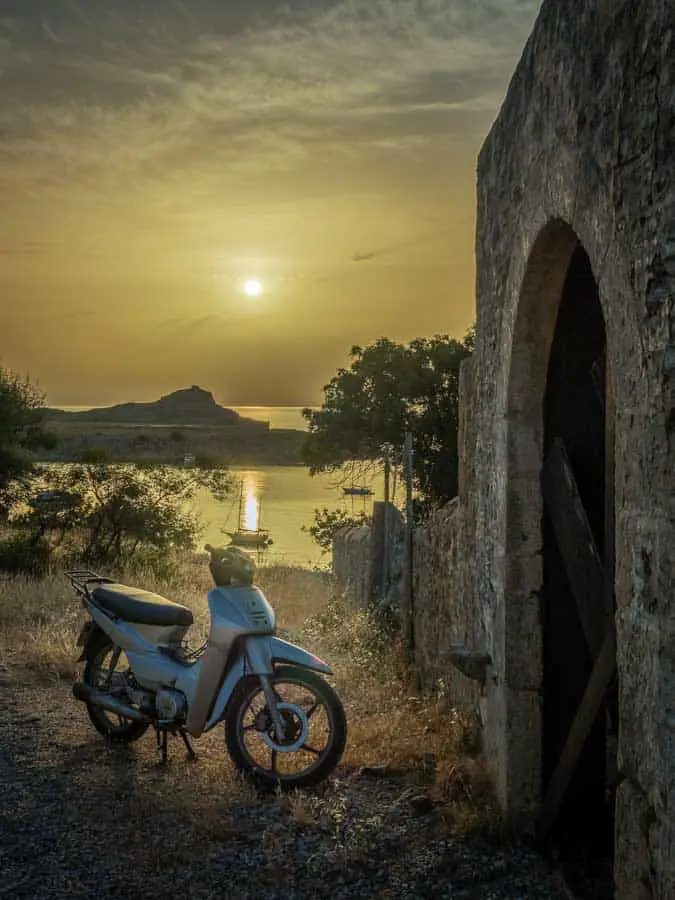 Not long after sun rise I came across this scene as I was exploring the hills above the main beach in Lindos. Yes a photo of Lindos without the stunning Acropolis of Rhodes in it!
The scooter gave this photo an interesting foreground subject, and the composition works nicely with the arch of the building and the reflection of the sun just above the scooter.
I have taken many hundreds of photos of Lindos, and this is one of my favourites.
No iconic images
I wanted the images that I include in my travel photography portfolio to be interesting and different. That is why there are no photos of the Acropolis of Rhodes, the Eiffel Tower or an iconic London landmark.
Sure there is a Santorini windmill, and a palm leaf, but these photos are my take on the places that I have been to and photographed. Each and every one of these photos means something to me.
People in photos
There are two photos with people in. Or parts of people! This is unusual for me as I usually don't include people in my photos.
For my travel photography portfolio I wanted a human element, which I have done by the inclusion of the photos of us with our feet and the unknown person watching the rising sun.
Buildings in photos
What about photos of buildings? There are a few photos with buildings, not taken necessarily from an architectural stance but more about buildings and the locations they are in and indeed make.
Sunrises and sunsets
These are a big part of my travel photography. I think that photographers set themselves apart from others by getting up stupidly early and getting out there to capture these wonderful moments that most people do not see.
I consider myself very fortunate to have witnessed so many amazing starts to a new day, reward for being bothered to get out there myself (without waking Mrs M of course!).
One more thing, sorry.
These images were taken with a variety of cameras.
Canon EOS 350D with kit lens
Canon 5D
Canon 6D
Canon Powershot GX11
Olympus EM5 Mk 2
Blimey – quite a collection, and you can't tell which was taken with which camera. Not important here but a point worth making.
Your camera does not matter, it is what you do with it.
Related reading
Well there is lots of travel photography stuff on my blog and in my website.
Here are links to the recent posts about selecting my new travel photography portfolio.
My next Travel Photography Portfolio – How To Choose the Photos
And here are some blog posts related to travel photography
Photographing Sunrise In Parga With My Olympus OM-D EM5
Is The Olympus OMD EM5 Mk2 The Best Travel Photography Camera?
Minimalist Travel Photography Gear – This Is What I Use
And don't of course forget my two websites
And
Summary
I hope that you have enjoyed this blog post, and also the photos in my new travel photography portfolio.
Next week on my photography blog – who knows?
I might spend a week playing around and edit some new photos – well why not?
Rick McEvoy Photography
#travel #photography #portfolio #travelphotography #travelphotographyportfolio #photographyportfolio
Travel photography, travel photographer