As it is the holiday season I thought I would post something different. A not so serious post about photographing the sunrise whilst on holiday in Paxos Greece.
(The Problems With) Photographing The Sunrise In Paxos Greece were many and varied, including
I forgot to prep the outdoor furniture
Towels hanging on the line!
My sunrise app not working
A cat taking a shine to my tripod
Ants climbing up my tripod
Automatic pool lights ruined everything
A bus drove past as I was taking the main shot
Starting recording a video where I wanted to take photos from
My iPhone memory being full
I know, hardly the end of the world but these things really did happen on a very recent sunrise photo shoot on the wonderful Greek Island of Paxos.
Lets go through them one by one – there are lessons in this tale for all of us, especially me!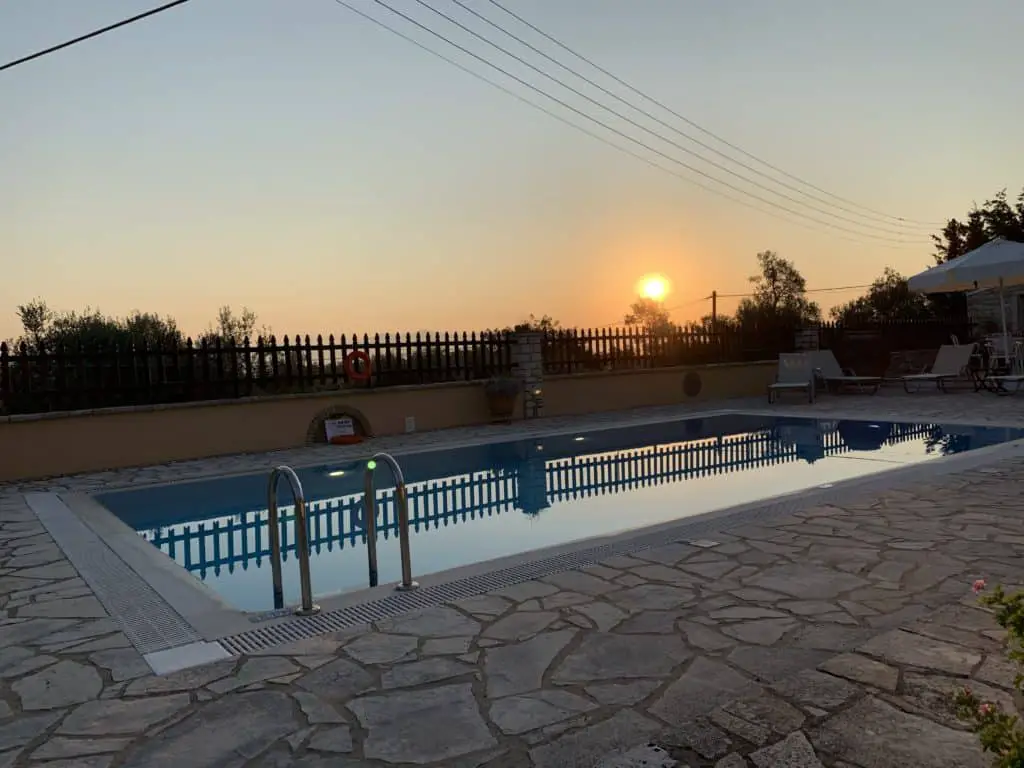 Where is Paxos?
Paxos is a small Greek Island which can be found to the south of Corfu. You can fly to Corfu and get a ferry to Paxos. You can also get to Paxos on ferries from mainland Greece.
You cannot fly to Paxos – there is no airport on this lovely island.
If you want to know more about Paxos check out my website Paxos Travel Guide.
Getting up way too early
I wake up 5am. It is dark outside. Sunrise is not for a couple of hours.
A couple of hours!!!!
What am I going to do?
Oh well at least I am up in plenty of time so nothing can go wrong….
I forgot to prep the outdoor furniture
The sun loungers are all over the place. They are meant to be foreground interest for the sunrise shot including the pool. Sun loungers, table, chairs – all over the place!
It looks a right mess.
I pick up each one carefully and place where I want it. This takes a long time as I cannot make a sound as my wife is a asleep in the bedroom overlooking the pool.
And this is an incredibly quiet place. Sound travels hear and the crickets are still asleep so they won't help me!
Towels hanging on the line!
Agghhh – the washing line is full of towels and pool wear which had dried but are now damp, and in the way of my shot.
More work.
And of course when I am done I will have to hang this lot back on the line.
Wet chairs
Ok – that is all sorted. I have still have time to relax and get my gear set up. I sit down on one of the chairs on the balcony and it is soaking wet!
I have literally a saturated wet bum.
And all the towels and clothing that was on the washing line is still damp of course.
I sneak into the bedroom and find some more shorts (good job I have been reading a Jason Bourne book!).
I get away with that too.
But where did all that water come from??
Surely nothing else can go wrong?
Setting up my gear
I set up my gear, the Olympus EM5Mk 2 with Olympus 12-40mm F2.8 Zuiko lens securely mounted via a universal L bracket on my Three Legged Thing Corey tripod.
This is a ninja like activity for me, done in seconds. Even stood up in the dark that is!
And my iPhone is attached to a holder placed on my Platypod to allow me to video the sunrise.
Why do still say video by the way? Or is it just me?
My sunrise app not working
Now where is the sun going to rise?
I turn on The Photographers Ephemeris App, and try to track the sun rise location. I move around the pool area but the line that moved yesterday is static.
Hmmm. Not good. Oh well I have a pretty good idea from yesterday where the sun will appear to it should be fine.
(It turns out there was a setting I had inadvertently changed stopping the line moving – my fault and not the Apps).
A cat taking a shine to my tripod
OK – I am good to go. Until a cat appears out of nowhere. I have never seen this cat before and guess what – it appears to like my tripod. Of all things why the only thing in the entire grounds that I do not want a rogue, moving live third party near to.
I shooh (is that how you spell that word?) the cat away but it keeps coming back…..
Great.
Ants climbing up my tripod
I manage to convince the cat to not come back (humanely I have to say). And then I noticed the ants climbing up my tripod.
Why?
We have had issues with ants in the kitchen – they can detect any form of food not cleared away and instantly descend on it.
But why climb my tripod?
Is my camera made of cheese or something?
Do I have a blob of Greek honey on my lens?
I brush them off best I can and get on with it.
Automatic pool lights ruined everything
Just as I am composing my pre-sunrise shot the pool lights come on virtually blinding me and changing everything in the photo.
I cannot turn them off so have to change my shot to accommodate this.
And of course my point of focus and the exposure settings.
A bus drove past as I was taking the main shot
Yes a bus. Would you believe it. A bus with lights on at pretty much pool level and clearly visible through the hit and miss fencing.
Anything else would have been obscured by the height of the retaining wall but not a bus coming round the bend with its lights on.
Starting recording a video where I wanted to take photos from
I set up my iPhone to record the sunrise, hit record and then realised that this was where I wanted to take photos from.
Another change of plan. I should call this post "The art of bad planning!".
A full memory card
Yes the memory card on my Olympus was full. Thankfully I had a spare on hand – see I got that right!
My iPhone memory being full
Hmmmm. I go to check the 45 minute video of the sun rising over the Greek mainland to find that my phone is not recording. I hit record again to be told that the memory is full. I got 20 minutes of darkness.
A quick deletion of stuff and I get a couple of short videos but not the one I was really after, that lovely long recording of pre-sunrise darkness transforming into a spectacular sunrise.
No – I did not get that.
But I got some nice photos, one of when I have shared in this post taken on my iPhone.
Ants on my keyboard
Writing this post and guess what (well I think you already know) – ants swarming over the table and my keyboard.
Yes after haunting me that morning they are back to finish me off!
Turns out there was some food under the table that they were transporting to their nest wherever that might be.
Lessons learned
If you are going to be foolhardy enough to get up stupidly early on holiday to photograph the sunrise then prepare everything the evening before, preferably before you have had a drink.
Which in my case would be around 11:30am!!
Not my fault really
All my problems were down to lack of preparation. Well apart from the things that I did not know about, namely
Cat
A cat appearing out of nowhere for the first time in 10 days taking a shine to my tripod.
That is hardly my fault is it?
Bus
I did not know that the bus ran that early. At least I think it was a bus.
Summary
I know, small things but the serious point to all of this is this is that preparation is so important if you are working professionally as a photographer.
Where did we stay?
We stayed at the Villa Afroditi in Magazia, which has wonderful view of sunrise and mainland Greece across those deep blue waters of the Ionian Sea.
You can go to Paxos with TUI like we did – if you use my affiliate link when you book your holiday I do get a commission for which I will be very grateful
Rick McEvoy Photography