We love Greece, and we love exploring new places. We also love going back to places that we like.
So in this post I will tell what a day trip from Parga to Corfu Town is like, and how to get the best out of what is a long but very enjoyable day, including top tips for the boat! I will tell you what I think are the best things to do between arriving at 11am and getting back on the ferry back at 4pm, and how to make the most of this time.
Where does the ferry go from?
Here is a map showing where the ferry picks you up from, at the end of the main jetty in Parga. X marks the spot.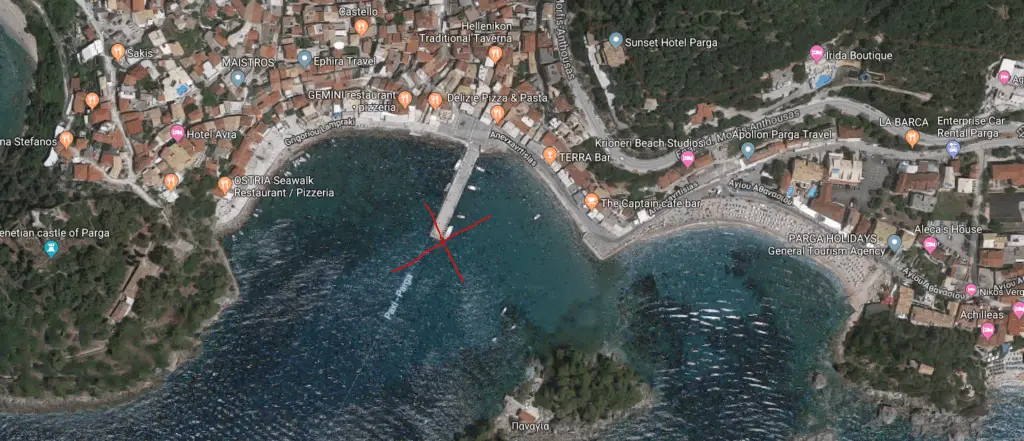 Who did we book the trip with?
We booked the trip with TUI at their office in Parga, which is in the centre of the town. It is within Synthesis Travel by the way – here it is on the map (roughly).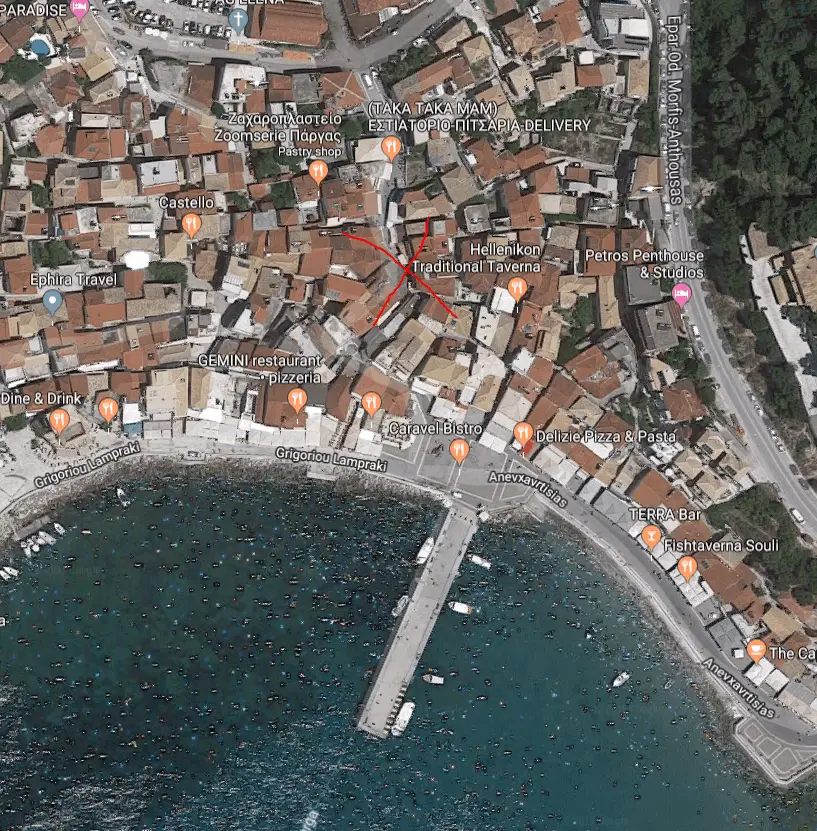 And I am now a TUI Affiliate so if you book anything using my affiliate link I get a small, as of yet unknown commission.
At the time we went on this holiday we were paying customers by the way.
How much does it cost?
€45 each return. Which I think is quite a lot, especially considering that the trip to Antipaxos, the Blue Caves and Gaios in Paxos cost €20, with two swim stops included.
Still, it is quite a way to travel, taking 2 ½ hours each way.
So maybe it is not expensive, more like the trip from Parga to Antipaxos and Paxos is a complete bargain!
Which boat did we travel on?
This boat. It is actually a ferry.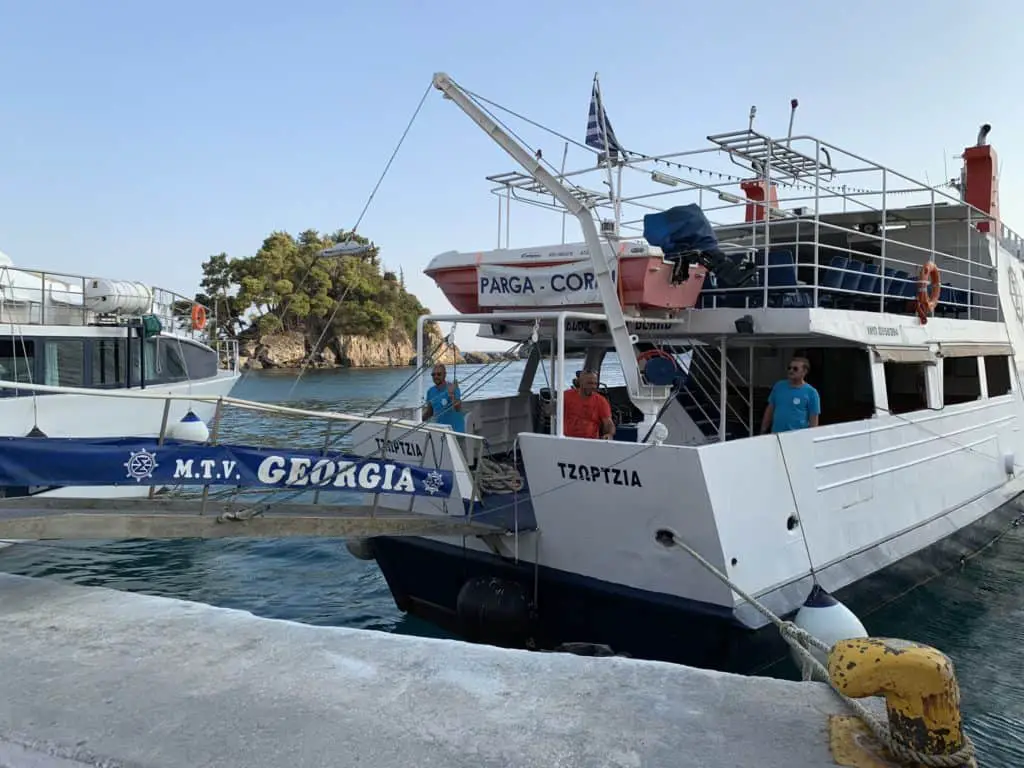 What time does the boat leave?
8.30am, returning to the jetty in Parga at 6.30pm. Yes, that is five hours on a boat in a day. You need to think about that if you are not keen on boats!
What time do you need to get there?
Well this is the queue at 8.05am.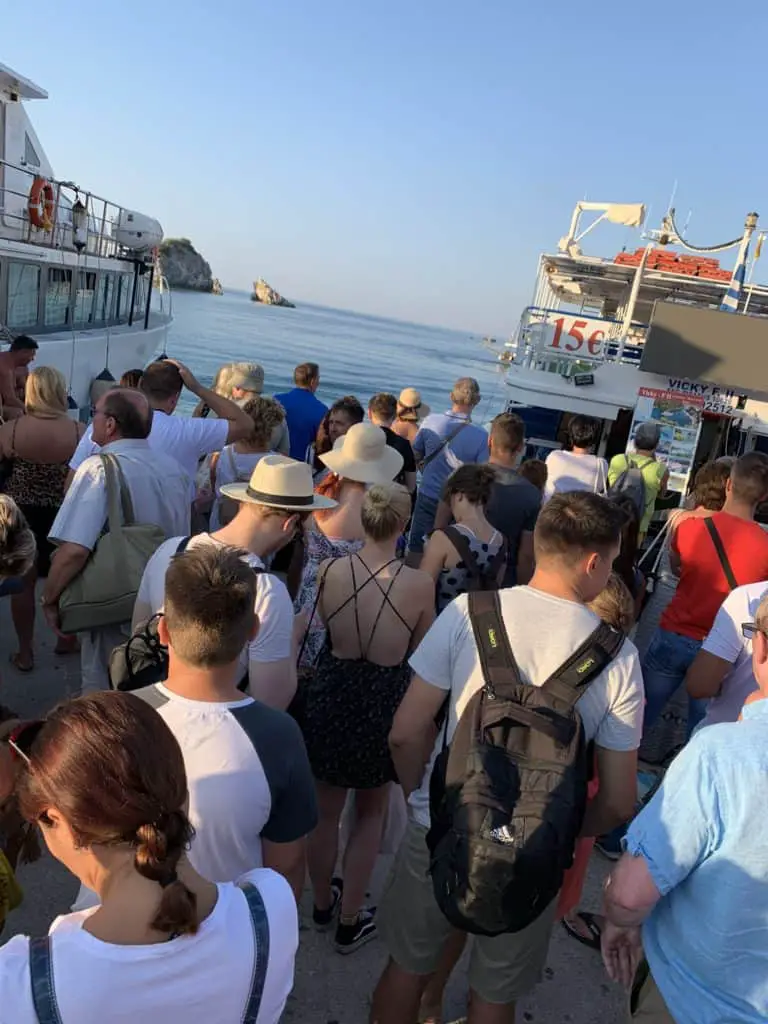 Not great. Basically the end of the jetty is filled with people, some with manners some without. It is just a case of shuffling forwards in the crowd until you get to the front.
Hardly the most pleasant experience, so the earlier you get there the better.
I would get there at 7.45 with breakfast and sit at the front if I were doing this trip again.
What's on the boat?
Toilets, a bar, two sundecks, and two air-conditioned lounges, one on each level. All facilities I have to say in very good order for a boat, which is good.
Is it easy to get around the boat?
Yes apart from people sitting on the stairs the circulation space is not too bad. Why do people insist on  doing that, and then looking inconvenienced when you try to get past them?
Where are the best places to sit on the boat?
It depends what you like.
Secret Sunbathing seats
The secret seats are at the at the front. Small deckchairs on the upper front deck. There is no sign to this area, which I noticed through the window of the upper internal lounge by chance.
You are in shade for a lot of the time though, due to the location of the morning sun and the direction the boat is travelling.
There are also seats at the back, but this was a bit crowded for me going out. On the way back it was nowhere near as full though, I guess people had had enough of the sun for the day.
But the plastic seats do get a bit sweaty!
Air-conditioned space
There are two lounges, which were both rather noisy being filled by the chatter of large groups of holidaymakers.
So this is the story of the day
Alarm 6.30
We have a cuppa, then a quick coffee, then walk down to Parga. We bought breakfast from the bakers consisting of croissants, coffee and a sausage roll (Greek style). This little lot cost 8 euros which is good.
Getting on the boat
I mentioned this earlier, but I will say it again – get there early to avoid disappointment!!
On the boat
We sat on the secret deckchairs on the upper front deck. And this was an experience I have to say.
To start with the deckchairs are in rows secured quite sensibly with ropes. They are small deckchairs, sized for medium sized children, certainly not adults like me!
And this is such a secret place it is about 10% full as we leave Parga.
People on the boat
There are some interesting people on the boat. There is a family of three. The daughter cannot sit still, and goes through at least three costume changes on the way there.
The Dad seems more than happy chucking his rubbish onto the deckchair behind him. I am so incensed I have to clear up.
But Mum seems fine!
And then there are the two blokes wearing very tight shorts who decide to stand right in front of us.
And all the people who climb the stairs and stand right at the front blocking the view for those of us sat there.
I'm cold!
For the first time I am cold in Parga. That is apart from when I fell asleep right under the draught from the air-con on full blast that is!
Sat in the shade with the wind from the sea I am feeling a tad chilly, which is rather bizarre!
Don't sit at the back of the boat
Another top tip – do not sit at the very back of the boat on the lower deck. Why not? That is where people smoke. If you smoke then sit there. I do not smoke and the smell was rather off–putting as we waited at the back of the boat as it at arrived in the port so we could get off nice and quick – we had places to go after all!
And for all the folk sat/ stood at the very back of the boat you are moved a good3 metres inside the boat to give the crew space to do their work so bear this in mind!
Our return visit to Corfu
At 11.00 we arrive at the new port of Corfu. We know it well, and know exactly where we are going.
Top tip – if you do not know where you are going, and do not want to walk into Corfu Town, walk out to the front of Sette Venti, go to the roundabout and wait for a taxi – this is where they drop people off for the ferries so you should not wait too long.
Walking into Corfu.
If you are happy to walk into Corfu Town you can be at the Liston in 20 minutes. This is a great place for a drink and watch the world go by.
What is the Liston?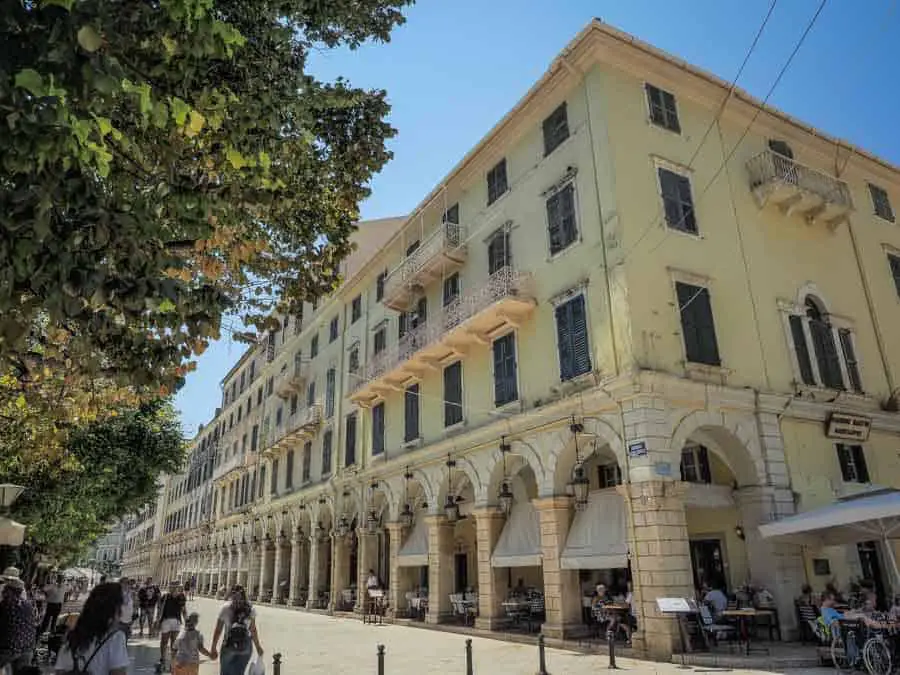 The Liston is a famous meeting point in Corfu Town. The Liston is actually a pedestrianized street with a lovely building, which is an excellent example of the architecture of the time, being constructed during the French rule of Corfu in 1807.
The building contains bars and cafes on the ground floor with apartments above.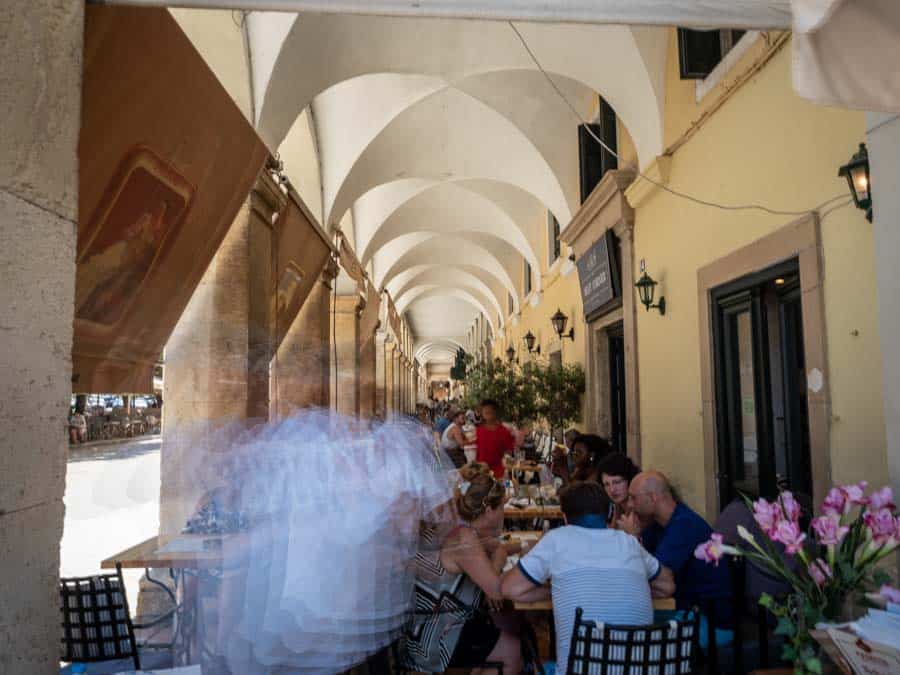 It overlooks the Corfu cricket ground to the front, and to the rear is the start of the shopping district of Corfu.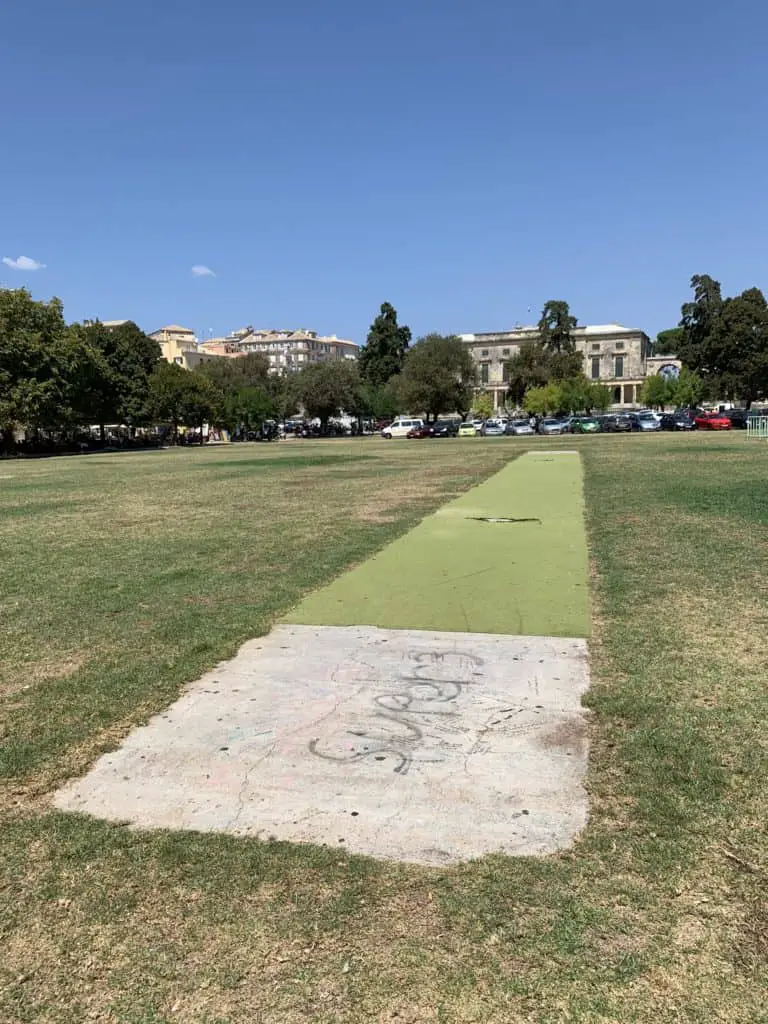 The cricket wicket in Corfu Town
So a great place to start a day visit to Corfu town.
Time for a beer
We have a lovely chilled beer, large for me, small for Nickie. 9 euros including crisps, which is not bad considering the location.
And I am not going to lie to you – I was a sweaty mess sat there after that 20-minute walk in the baking lunchtime heat.
Wear Sunscreen
I have my factor 30 in my backpack. I do not apply any. Why? I have no idea. SO we walk around the shops, which today appear to be endless, and do not sell anything that we are looking for.
Lunchtime
We lunch at McDonalds. I know. But it did make a change from what we have been eating for well over a eek now. And it is nice and cool in that air-conditioned environment.
Top tip – keep your receipt for your meal, as it has a code on it, which you need to access the toilets which are upstairs.
I didn't to my cost!
We eat our food on a large communal benched area, with a teenager sat next to us eating each fry one at a time incredibly slowly.
And staring at our food…..
Time to split up (for an hour)
Nickie goes of shopping. I go off to take some photos.
I start with the Old Venetian Fortress. I ask if I can go to the middle of the bridge and take a photo without paying at the barrier – the nice man lets me do just that.
All done with gestures and pointing to my camera which is miraculous if you think about it!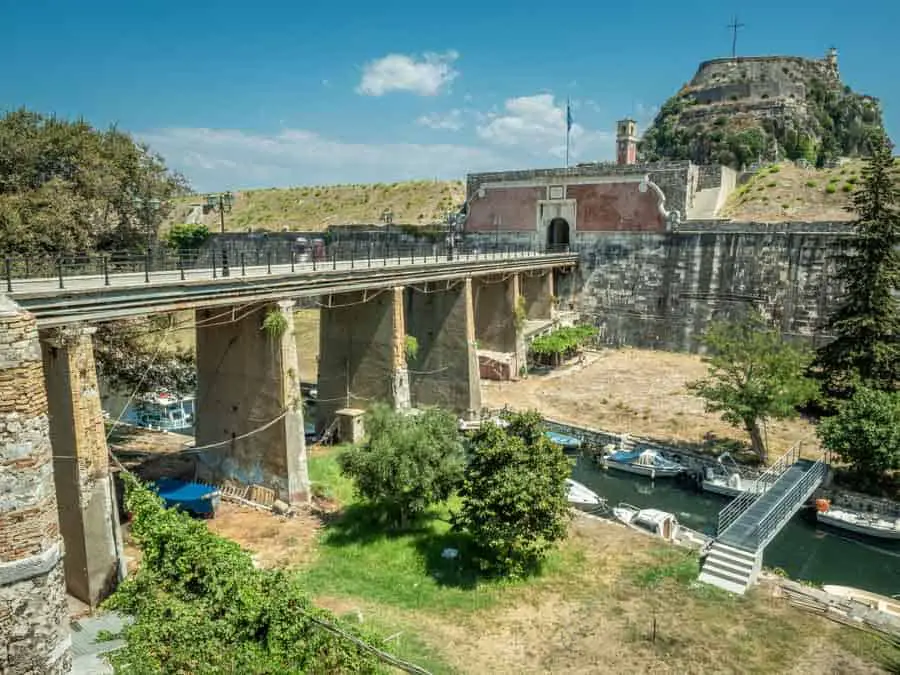 I get the photos I want then move on to my next destination
The cricket pitch
Yes there is a cricket pith in Corfu Town, which you can find in between The Liston and the Old Venetian Fortress.
Here is my Olympus OM-D EM5 Mk 2 with 12-40mm lens on the cricket pitch in Corfu Town!
On location with the Olympus OM-D EM5 Mk 2
I sit at the end of the wicket and listen to the cricket in England. I photograph the wicket and send a photo and some witty words to BBC sport in a bid to gate crash the Live Text commentary.
Without success.
Architectural photography with the Olympus OM-D EM5 Mk 2
Next stop is the Museum of Asian Art of Corfu, which I have photographed before. I wanted to have a go at architectural photography with my micro four-thirds camera, the Olympus OM-D EM5 Mk 2.
Here is one of the photos I took. I enjoyed playing around with Jpeg, RAW, HDR and high-resolution shots.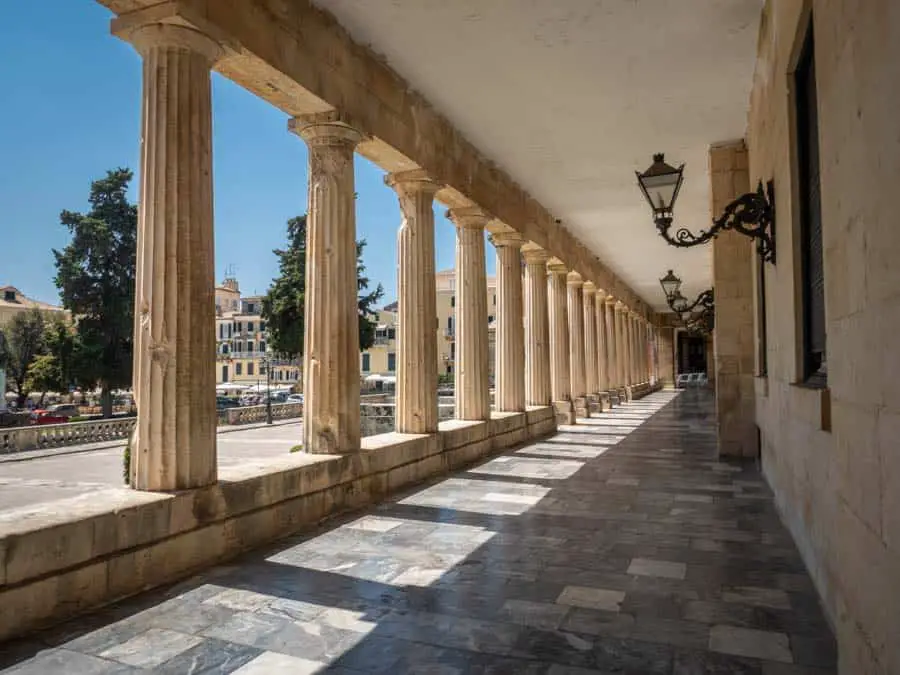 Not bad eh? Part of my experimentation in architectural photography using the micro four thirds Olympus OM-D EM5 Mk 2 with 12-40mm lens
The problem with people
People don't seem bothered if I am taking a photo. They happily look at me and then stand just where they are, in my shot. I am used to waiting these days, which is hat I do patiently. There was the 20 minutes waiting for the yellow boat to move when I was trying to take a photo in Parga – this is the post where I write about photographing the sunrise in Parga.
Reunited with wifey
One hour later we meet in the shopping area. I managed to find Nickie who was down near the port end of the shops.
We have not got anything other than a key fob, which is not a good return for a day trip to Corfu, now is it?
Time for a pint
We decide to give up on the shopping and have a beer instead. It is at this moment that I decide to put the sun cream on my head in the toilet at the bar. Obviously putting sun cream on in a hot unventilated toilet is far from ideal, and I came out looking a sweaty mess with cream all over my head – not a good look!!
Walking back to the ferry
We find some lovely shops on the way back to the port. There is a ceramic shop with a very nice chap sat there happily playing his guitar (one of 5 guitars on display no less). We buy two very nice tea lights holders, which he has made, which cost us 20 euros.
And also a leather shop where I spend all my time under the air conditioning!
Water!
Still struggling with the heat we get a bottle of water from the Shell station we pass for a paltry 1-euro.
Ferry timetables
When we get back to the port I need to get timetables for ferries to Paxos from Corfu and also from elsewhere for my Paxos Travel Guide website.
Back at Sette Venti
We don't stop at Sette Vento this time – we go straight to the boat and get in the queue. I am at the front of the queue, not that it matters, until a lady very un-subtly pushes in in front of me. Like I said not important – rather baffling if anything!
This is what Sette Venti looks like from the boat by the way.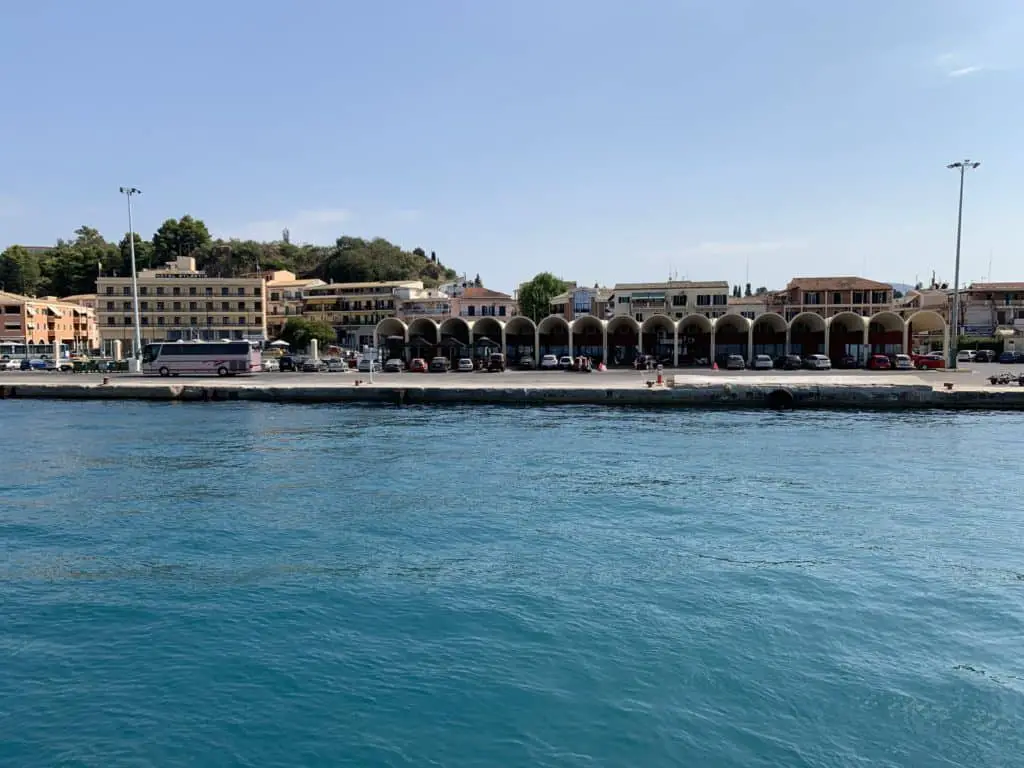 Sette Venti viewed from the boat
We have to wait a while to get on the boat, stood there in that blistering heat. Me – not Nickie – like a true gent I queue while she sits in the sun.
And then it is time to get on the ferry.
Back on the ferry from Corfu to Parga
This time we choose the upper deck seats at the back. There is loads of room as presumably people have had enough sun for one day.
But not us!
No – we share a couple of beers (3 euros for a cold can of Mythos) on the way back and watch Paxos and Antipaxos over to the right.
Other people
We are the only Brits again. It is rather strange.
There is a lady sat at the back of the boat who talked pretty much talked for the 2-½ hours of the return sailing.
I could not identify her nationality but she could speak!
She was creating lots of laughter amongst her fellow passengers – I would have loved to have been able to listen in as it sounded very funny.
What's it like on those plastic seats?
In a word – sweaty.
But wait – the sun goes behind a cloud. We have a three-minute respite from that blistering afternoon Greek sunshine.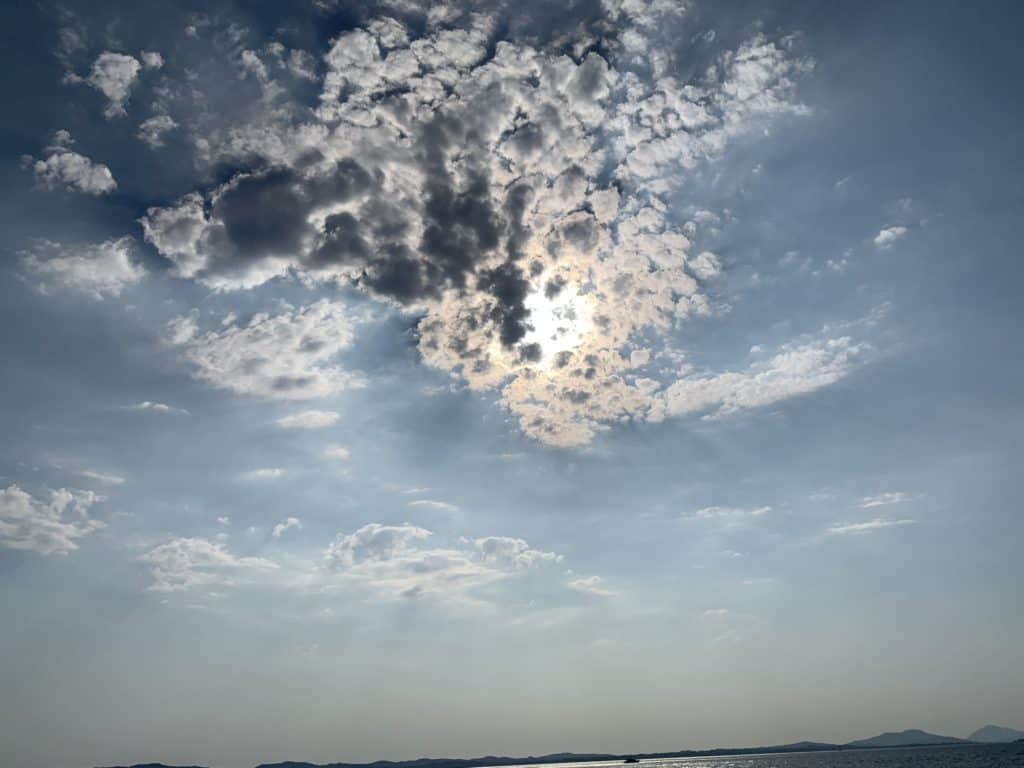 And the clouds are gone!
And what is it like inside?
Full of tired people. Packed. We are better off where we are.
Our return to Parga
For our return I want to video Parga from the boat, so I spend the last 20 minutes in what I consider to be he best seat on the boat – the one at the very front of the boat.
I get there to find the costume change girl sat there, but thankfully she moves so I grab the small wooden seat and prepare my phone for a video f the arrival into Parga.
And I also shoot the sea as we travel over it – here is a 5-minute video on my You Tube Channel.
And here is our arrival back in Parga, courtesy of Paxos Travel Guide.
This is what it looks like arriving back in Parga on the ferry from Corfu
And it is here where I work out that you can take stills whilst shooting video on the iPhone XS – the shutter button goes white when you are filming video – just press that and voila!
I found this out by mistake by the way.
And then we are back on dry land on mainland Greece.
Here are my top 10 things to do in Corfu on a day trip
Liston for a drink

Old Venetian Fort

Temple

Asian Museum

Church in centre

Lie on the cricket pitch

Shopping

Explore the side streets off the side streets

Get away from the crowds

McDonalds
Yes really. It is the only McDonalds for miles and miles, and as bad as it sounds a familiar burger makes a welcome change from all that lovely Greek and Italian food. Plus McDonalds in Corfu has decent air conditioning. Don't throw away your till receipt though as I did, as this has the code for the toilet on it.
And this McDonalds is just up from the Liston so you will probably be in the vicinity anyway.
Shopping
My Top 7 Shopping Things from Corfu Town
Belts

Shoes

Flip-flops

Leather bags

T-shirts

Ceramics

Olive oil

Burgers!
Summary
I hope that you have enjoyed reading about my experiences of Parga – next week I will be writing about my favourite photos of Parga, which I am looking forward very much to working on. Yes after that series of travel posts it is back to photography!
Rick McEvoy – photographer, writer, website creator.