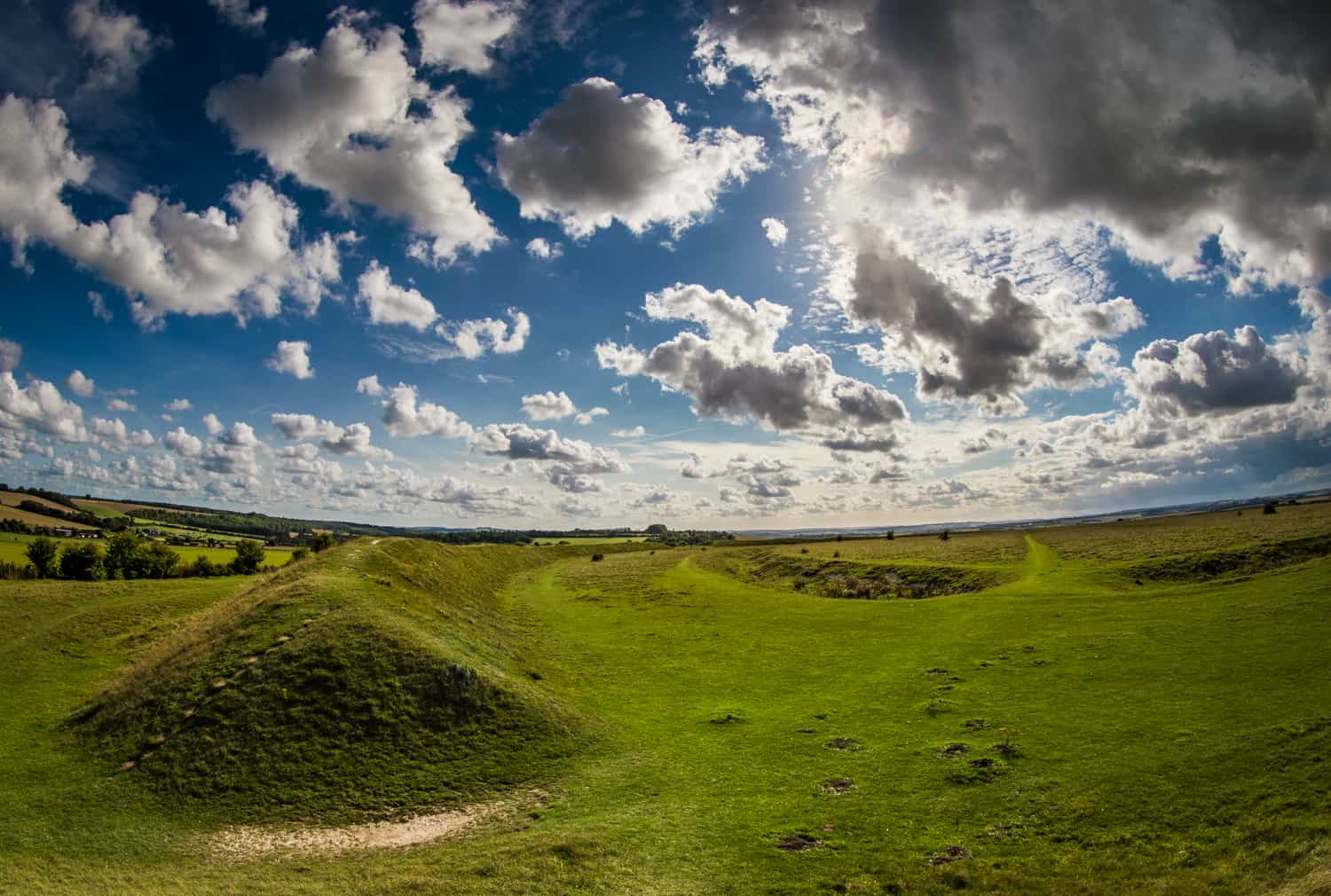 This is a great and different location to visit.
Figsbury Ring
Check out the National Trust website for all the information about this Neolithic and Iron Age site at
http://www.nationaltrust.org.uk/figsbury-ring
This shot was taken as I was trialling my new 70-200 F4L lens, having got rid of my 100-400mm lens which i rarely used, and has also been superseded by a newer model anyway.
So a great location to trial a telephoto zoom lens then? Yes of course. There are some landscape photogrpahers out there who use telephoto more than wide.
I'm not one of them!
I love my wide views.
I tried out the telephoto lens, but all I got was rubbish, which I have just deleted from my hard drive.
Digression point – rather than clogging up your hard drive why not get rid of what you don't want at the time of import? I have just learned this lesson, and now just keep what I want to edit – if I am not going to edit it why keep it? I am going through a folder a day in Lightroom getting rid of unawanted stuff, and am applying this culling technique going forward to make my life easier, and put less pressure on my hard drives.
So I have just the wide stuff. Including this beauty.
I wanted to show thew shape of the structure, and of course the fantastic, typically English, cloude sky.
This is an HDR merge of two out of three bracketed shots, all taken at ISO 100 at F18, 15mm focal length on my Canon 8-15mm F4L Lens.
Digression point 2 – the other fisheye lens stuff I took was also rubbish. Circular fisheye is fine once in a while, but gets quickly overdone.
All taken on my trusty Canon 6D, whcic is proving to be ongoing brilliant and a joy to work with.
Thanks for reading this post.
Please visit my less dynamic than my blog website where you can find out lots more about me and my photography work.
http://rickmcevoyphotography.co.uk/
I also have a new Wiltshire Photographer page where I will be adding this photograph of Figsbury Ring taken in Wiltshire, which you can see at
http://rickmcevoyphotography.co.uk/wiltshire-photographer/
#Wiltshire photographer
#Wiltshire photographers
#Wiltshire photography
#photographer in Wiltshire
#photographer Wiltshire
#pictures of Wiltshire
#Wiltshire images
#Wiltshire photos
#Figsbury Ring
#National Trust