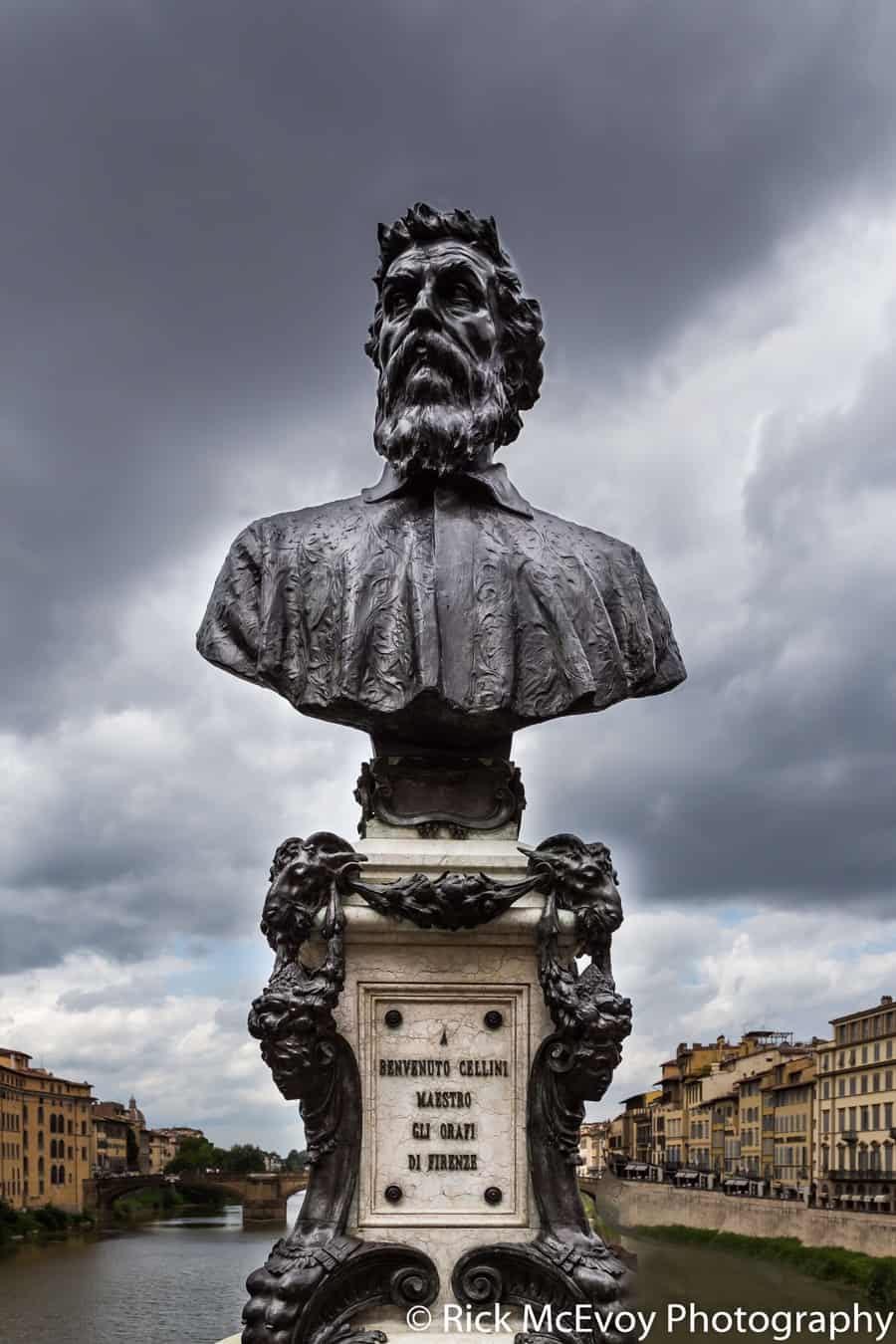 Statue of Benvenuto Cellini, Ponte Vecchio, Florence
This shot is of the fantastic bust of the Florentine Goldsmith, Benvenuto Cellini. Cellini lived between 1500 and 1571, and is the most famous Florentine goldsmith. The bust was placed on the Ponte Vecchio Bridge in 1901.
Cellini's most famous work is the statue of Perseus with the Head of Medusa (Perseo con la testa di Medusa), which is in the Loggia dei Lanzi. He also famously wrote an autobiography, The Life (Vita di Benvenuto di Maestro Giovanni Cellini fiorentino, scritta, per lui medesimo, in Firenze), as well as producing numerous gold works of art.
This sculpture is located on what is probably the world's most famous ancient bridge, Ponte Vecchio, making it such an amazing sight.
I love the fact that such a statue as this has been placed on such a special bridge.
I have tried to do justice to this work of art in my photograph, not taken on the best of days it has to be said. If you have never been to Ponte Vecchio it is hard to imagine the feeling of this ancient bridge, with buildings either side crammed full of tourists browsing the jewellery stores which can be found on either side of the bridge.
I had to wait a while to take this shot, as endless people wanted their photo taken in front of the statue. I am sure most of these people had no idea who Cellini was, they just wanted their photo taken next to a nice sculpture on a bridge! As soon as I had taken the shot more people appeared to surround the statue with foreign voices and bright t-shirts.
The photo was taken one hot August afternoon, with dramatic clouds adding to the feel of the end result which I absolutely love.
I shot from a low angle to give Cellini the prominence he deserves, and isolate the bust from the rest of the scene around.
Technical information
Camera – Canon EOS 6D
Lens – 24-105mm F4L
Focal length used – 24mm
Shutter – 1/640th second
Aperture – F8
ISO – 200
Image taken in RAW format
Thank you for reading my post, which I hope you found interesting and maybe even a little entertaining! To discuss anything photography related just call or email me, or send a message to me though my website contact form – I really don't mind how and I would be delighted to hear from you.
To find out more about the professional photography services I provide please visit my website at www.rickmcevoyphotography.co.uk.
If you would like to subscribe to my weekly blog round up and monthly photography articles, I will send you free of charge my "Top 5 Photography Tips" article as a small thank you.
And finally a little about me
I am an architectural photographer based in Bournemouth, Poole, Sandbanks, Dorset and Hampshire. I specialise in high quality photography and providing a high quality service.