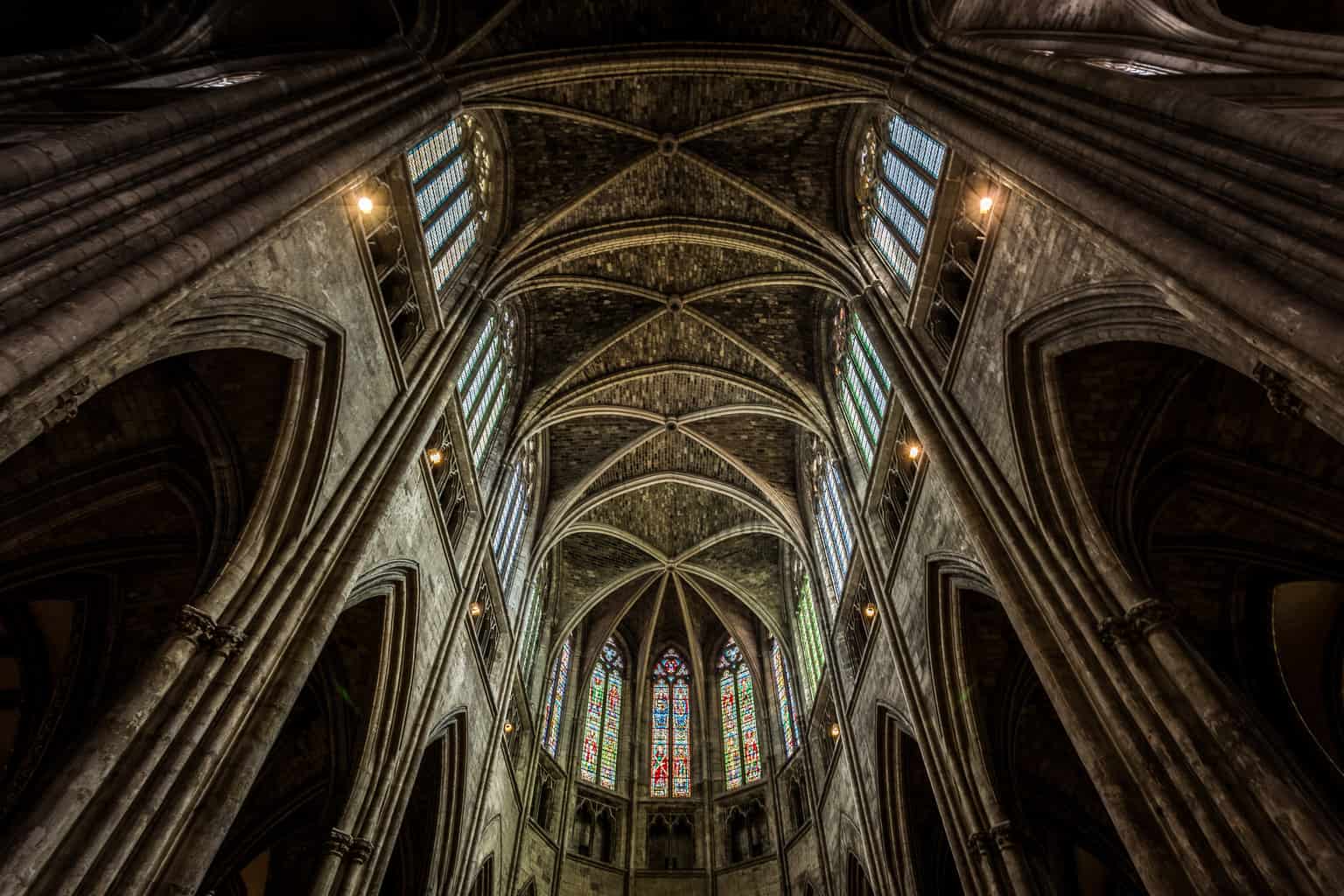 This is a shot taken on a recent trip to France. I was trying to convey the sheer scale of the spectacular interior of the Cathedral. THis really is a spectacular building, and I was excited to see if I could do it justice with my camera.
Obviously the cathedral was full of people, so I used the age old trick of pointing my camera up above the people. This might not be technically correct but achieved the result I wanted in spectacular fashion. I wanted to capture the scale and depth of the interior, and wanted the stained glass windows to feature.
There is an obvious technical challenge here – capturing the dynamic range.
This is the original, straight out of camera shot.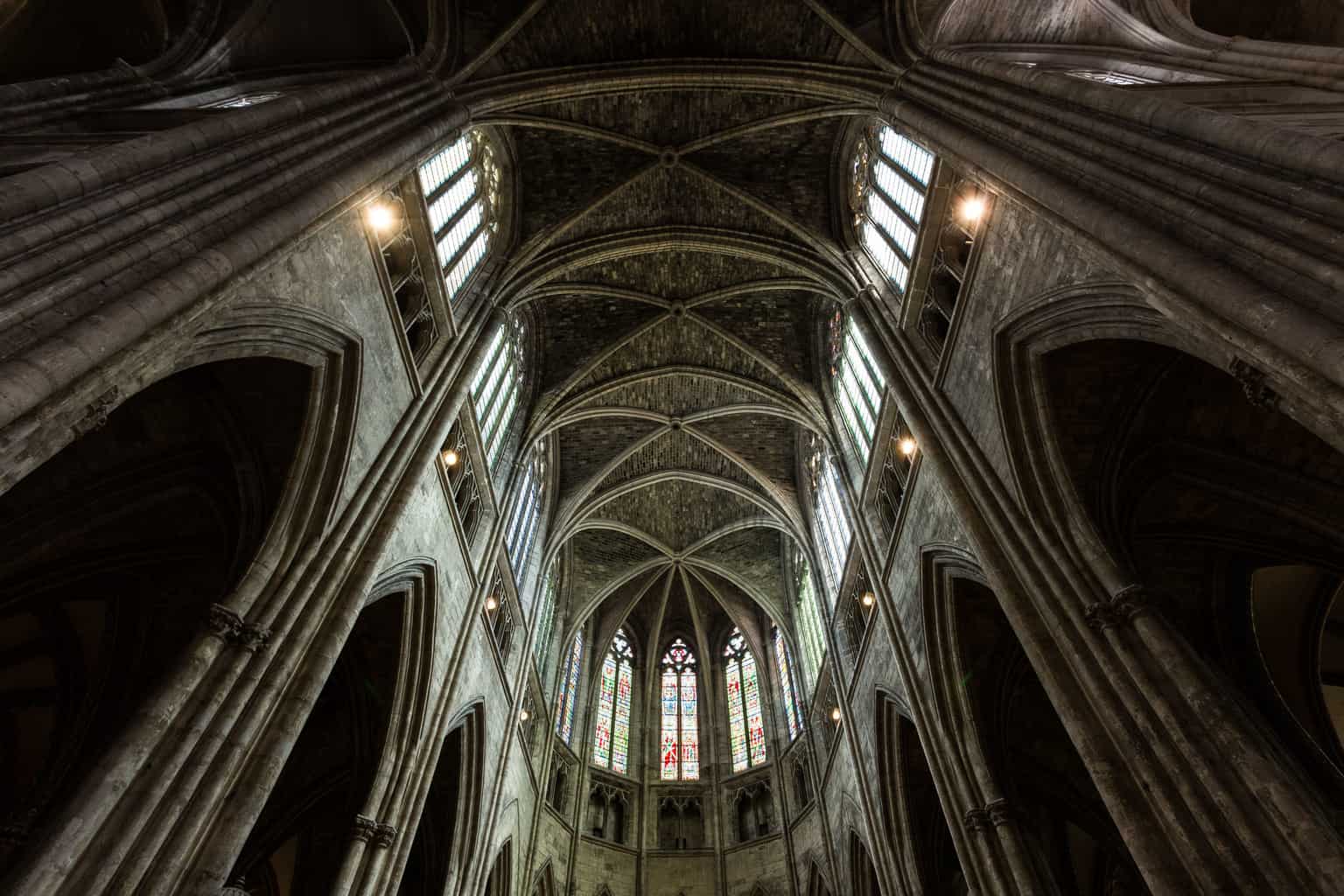 Not bad to be honest.
This was taken using the following settings on my Canon 6D.
1/20th second at F8, handheld
ISO1000
17mm focal length on my Canon 17-40mm F4L lens
Image taken in RAW format, aperture set to F8 in AV mode.
So the issue is capturing the highlights in the windows, as well as the detail in the masonry in the shadows. I knew that the single image would not do this.
No camera can record in one shot all that the amazing human eye can see.
I took three bracketed exposures, handheld, with the ISO pushed to 1000. I could have pushed the ISO much much further on the 6D, but I tried this and was happy with the sharpness of the images (when reviewed on my tiny camera screen).
I had to stand a while waiting for people to stop walking by and bumping in (not their fault – I was the idiot wanting to stand completely sill in the middle of a cathedral!), as I was on the limit of handholding.
So image 1 was taken at 1/20th second at F8.
Image 2 was taken at 1/80th second at F8.
Image 3 was taken at 1/5th second at F8.
Image 3 was at/ beyond the limit of hand holding.
To take the shots I tucked my elbows into my body, and used the Manfrotto Pixie tripod as a handle. There was no way I could place the tripod on the ground so I had to do the best I could. I took a deep breath in, then slowly breathed out and took the three shots one after another.
I took lots of shots inside the Cathedral, but only one bracketed set of this view. When doing my initial edit (image selections) this one jumped out at me.
Is it technically perfect? No.
It would have been sharper if I had set up my big tripod and used a cable release, but this was not a possibility. I could remove the lights on the balcony, but I have not as they were there. So the result I was going to get hand held was always going to be better than not trying!
The image conveys what I remember feeling at the time, which is all I ever want to do, so I am delighted with the final edited image.
I love this shot.
Oh yes so what did I do in Lightroom? After the HDR merge, using auto tone (I forgot to use deghosting), I adjusted the following sliders.
Contrast – +36
Highlights – 100
Shadows – +70
Whites -15
Blacks – -15
Clarity – +71
Vibrance – +14
Dodging (lightening) the dark shadow areas slightly.
Burning (darkening) the stained glass windows slightly.
And that is it. The shadows, highlights, whites and blacks are all default setting from the HDR merge, so I have only adjusted the contrast, clarity and vibrance, and done a bit of old fashioned dodging and burning! Oh yes and some minor cropping.
I am an architectural photographer living and working in Dorset.
Go to my website at www.rickmcevoyphotography.co.uk to find out more about me and how you can get in touch with me.
Subscribe to my Blog and I will send you my top 10 photography tips free.
Thanks for reading, and look out for my next post.