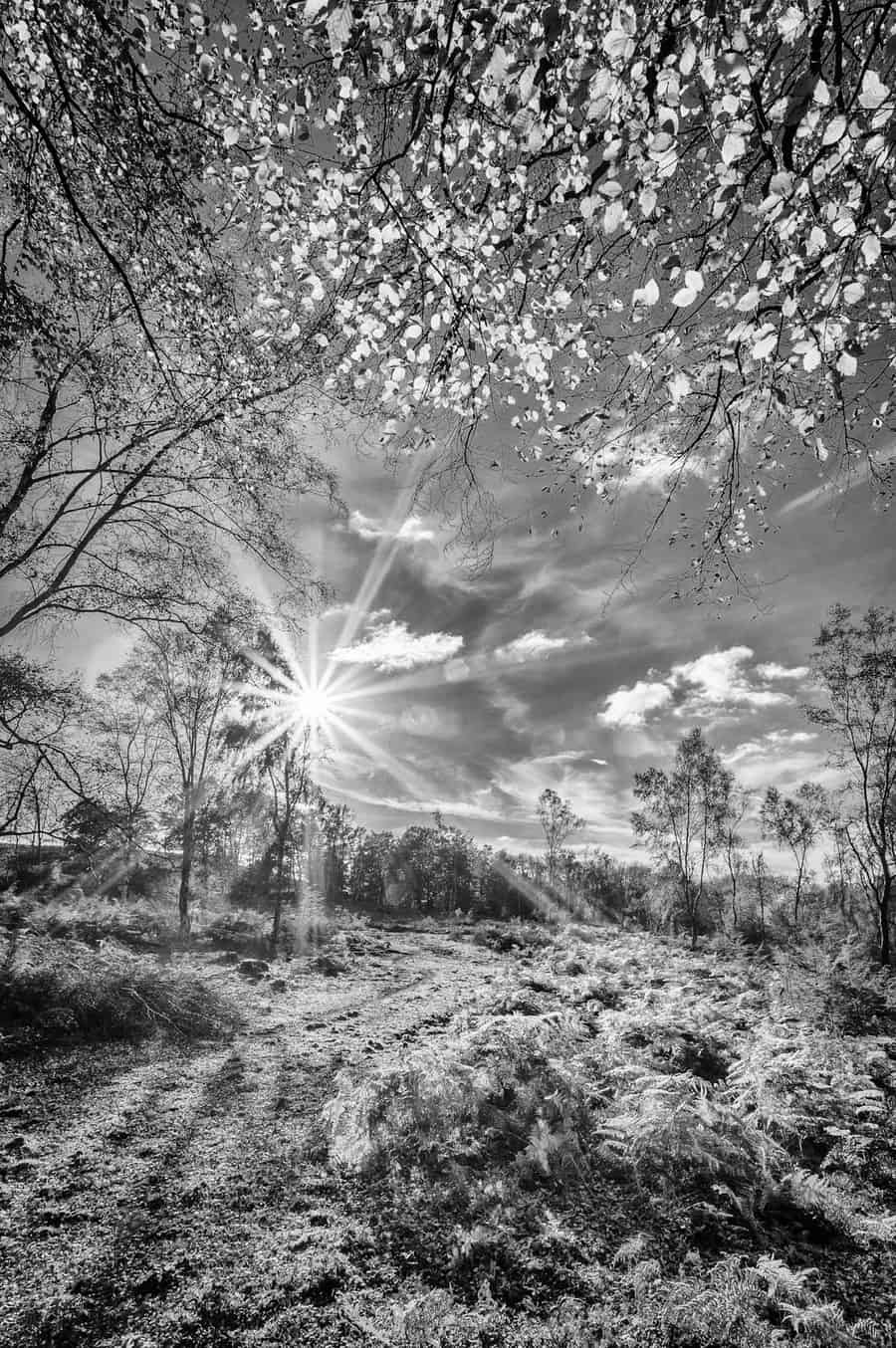 The New Forest – the starburst sunshine picture in black and white – more new landscape photography in Hampshire
I love the colour version of this image. And I really like this black and white picture. I like the feel of this image.
I am delighted with the outcome of this image, and am proud to be able to produce such work.
I hope you all like this image.
However.
I am not going to talk in this post about the processing in Lightroom and Nik Silver Efex Pro. Instead I am going to talk (well when I say talk I of course mean write, but I write how I talk anyway – you know what I mean!) about something completely different.
Finding my own style of black and white landscape photography
Oh no I hear you all groan.
Where did that come from?
Well this is where I am coming from.
I have been looking at my black and white imagery. And there is a style emerging. I am enjoying my black and white experimentation, but have decided today that I need to settle on a style. And that got me thinking.
How do I do that?
This is how I think I might do this.
I have produced a lot of black and white architectural photography work. And also lots of black and white interior photography work.
But what I want to do is produce a consistent style of black and white landscape photography.
Consistent style being the key words here.
No key words. Not keywords. That is an altogether more boring subject!
I have produced a number of different styles of landscape images, and have decided I am going to try the following to a selection of images.
Bright, light, airy, dreamy.
Dark and moody.
Texture, detail and contrast.
I think three different styles will be enough.
I am going to pick my 10 favourite landscape images, covering the widest possible variety of subjects, and will produce three images. For consistency I will produce new edits of the images in Lightroom, using similar settings and styles on each of the 10 images. I will approach my new friends, cropping and removing things, in a similarly consistent way.
And yes, I know, I have found something new to do. What am I thinking??
Since I had this thought, I have been looking at the content of my blog, and have added this idea to my planned list of contents. I will be producing this new range of monthly content in January, including the monthly development of this idea. I am still going to do this, it will just take longer and be incorporated into my blog posting strategy for 2017.
Back to today's image finally. I might not have said this before, but I really love this picture.
Rick McEvoy Photography Blog
Wednesday 23rd November 2016