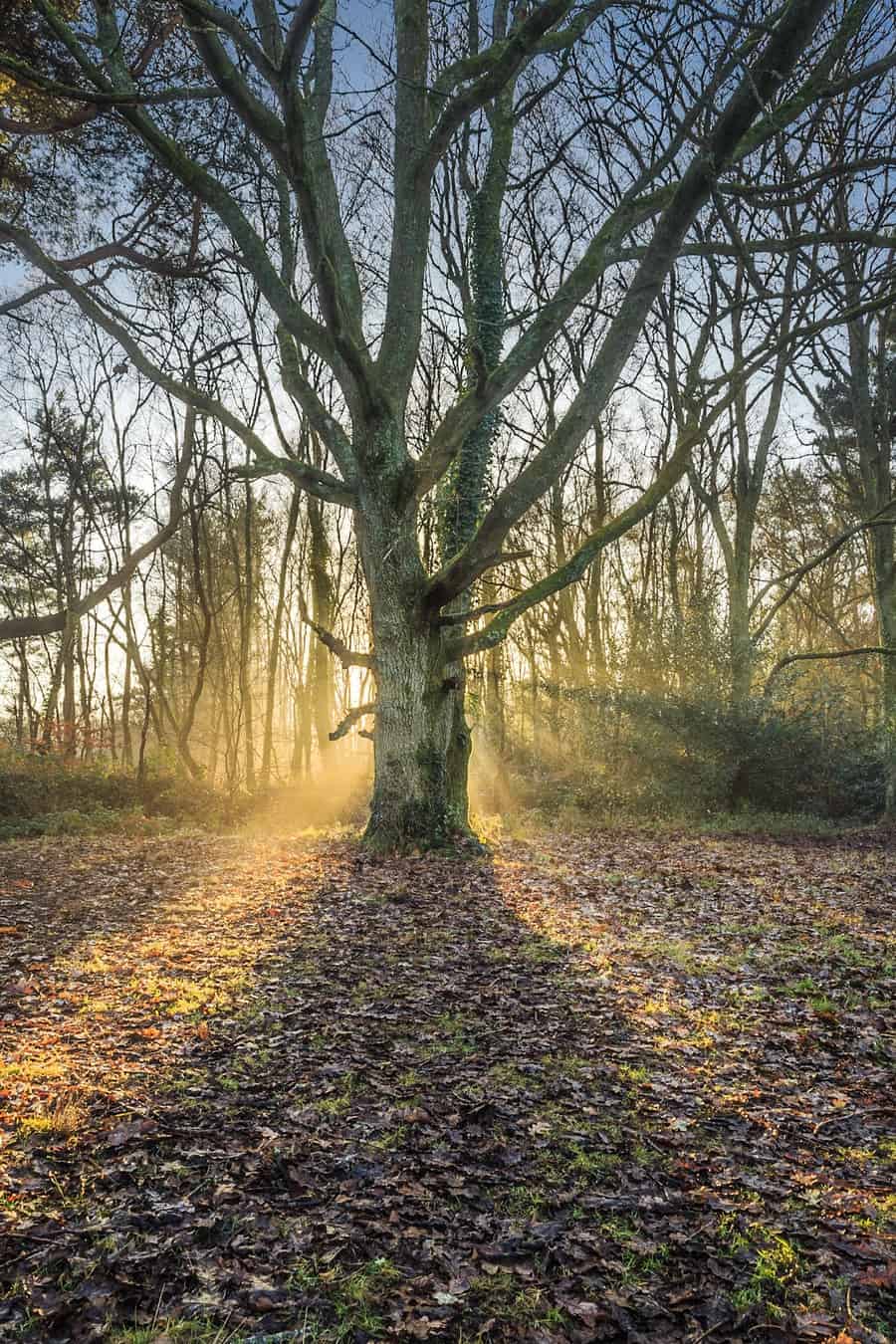 And now for something different that I completely love. This picture of the tree with the sun shining all around it.
I am going to spend some quality time on this image once I have completed and published the whole story of my afternoon taking photographs in Delph Woods.
This image is another HDR Merge of two images, the two stop over exposed and the two stop under exposed images. I don't bother using the correctly exposed image – believe it or not it does not make any difference!
All the processing was done in Lightroom for this image.
Again the story of this picture is the light. The sun glowing on the very gentle mist, obviously completely blocked by the tree.
For this picture my Canon 6D was placed very low to the ground, my camera mounted on my Manfrotto Tripod.
I wanted to get low down so I was looking up straight to where the light was coming from. Dead centre. This was a deliberate compositional choice – I wanted an image without the starburst sun in it. This effect can get a bit much if overdone, so this low viewpoint with the sun shaded by the tree was just what I wanted to capture.
And to be completely honest what I remember from being there. At the time I walked towards this tree this is what made me stop and look.
And once I had my tripod legs spread-eagled out on the ground that was when two very nice ladies with dogs appeared, asking me lots of questions.
It is not unusual for people to ask me what I am doing. I know, I am standing still in the freezing cold with a camera sat on top of a tripod, but still people ask. Anyway, these two ladies after some minutes talking asked if they could walk on. They were waiting for me. Funnily enough I was waiting for them to walk no and not be in my shot!
I said in my last post, I had an idea for a crop. And a crop is what I am going to do to this image.
And having just looked at this image again I have an idea for a crop.
Rick McEvoy MCIOB, LBIPP
Saturday 14th January 2017