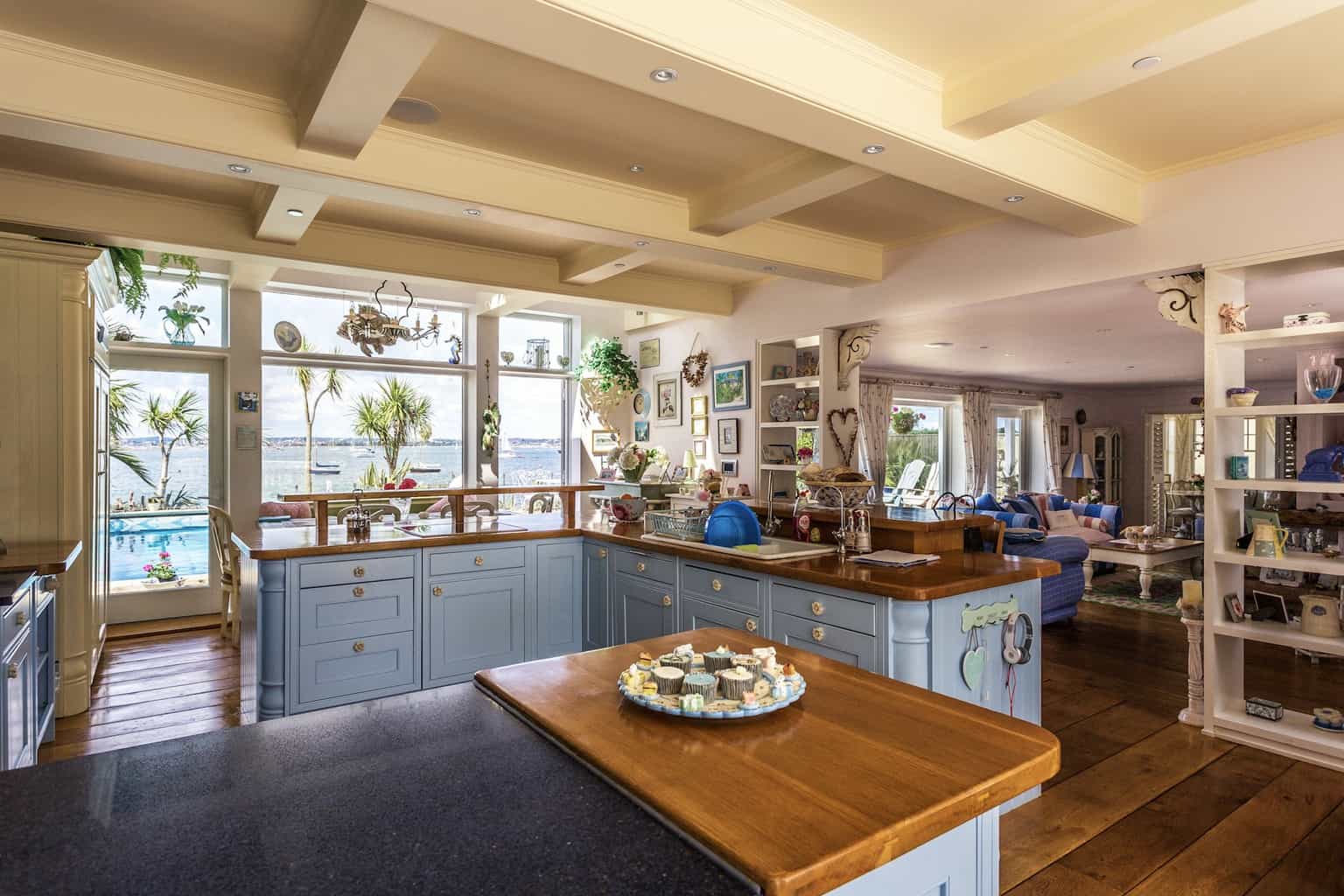 I know. This is the kitchen. The kitchen of a spectacular house in Sandbanks.
On my interior photographer I explain one thing;
"This is a picture of a stunning private residence with sea views from the kitchen. Well all the rear of the house really. This picture was all about the view and the bright open spaces in the kitchen and adjoining rooms.
One skill as an interior photographer is to represent a space in best way to suit the purpose of the shoot. This picture was taken as part of a shoot to produce a portfolio for the sale of the property.
I took the picture on a day when it was not actually sunny, but wanted the room to look warm as though it was taken on a sunny day. To do this I used a special filter to warm up the scene, giving the impression of warmth from the sun even though it was a cloudy day. This is acceptable image manipulation – I am just representing the space in the best way I can without changing anything.
Such adjustments to images need to look natural and realistic – quite often it is subtle changes that make the difference."
It is important to me to represent interior spaces the best way I can.
I also have a page dedicated to my work as a photographer in Sandbanks. Sandbanks is a great place, and not far from where I live in Poole. I am very fortunate to have such a place on my doorstep, with all those fantastic and ever changing houses.
As well as the houses there is a great beach and one of my favourite hotels, the Sandbanks Hotel, which is going to be redeveloped in the near future.
If you have not been to Sandbanks it is worth a look – the ever changing ultra modern buildings, and of course you can drive through and get the chain ferry onwards into the lovely Dorset countryside.
Rick McEvoy Photography – Interior Photographer in Sandbanks
Rick McEvoy Photography – Bournemouth, Poole, Sandbanks, London, Cornwall, Devon, Dorset, Hampshire, Somerset, Wiltshire