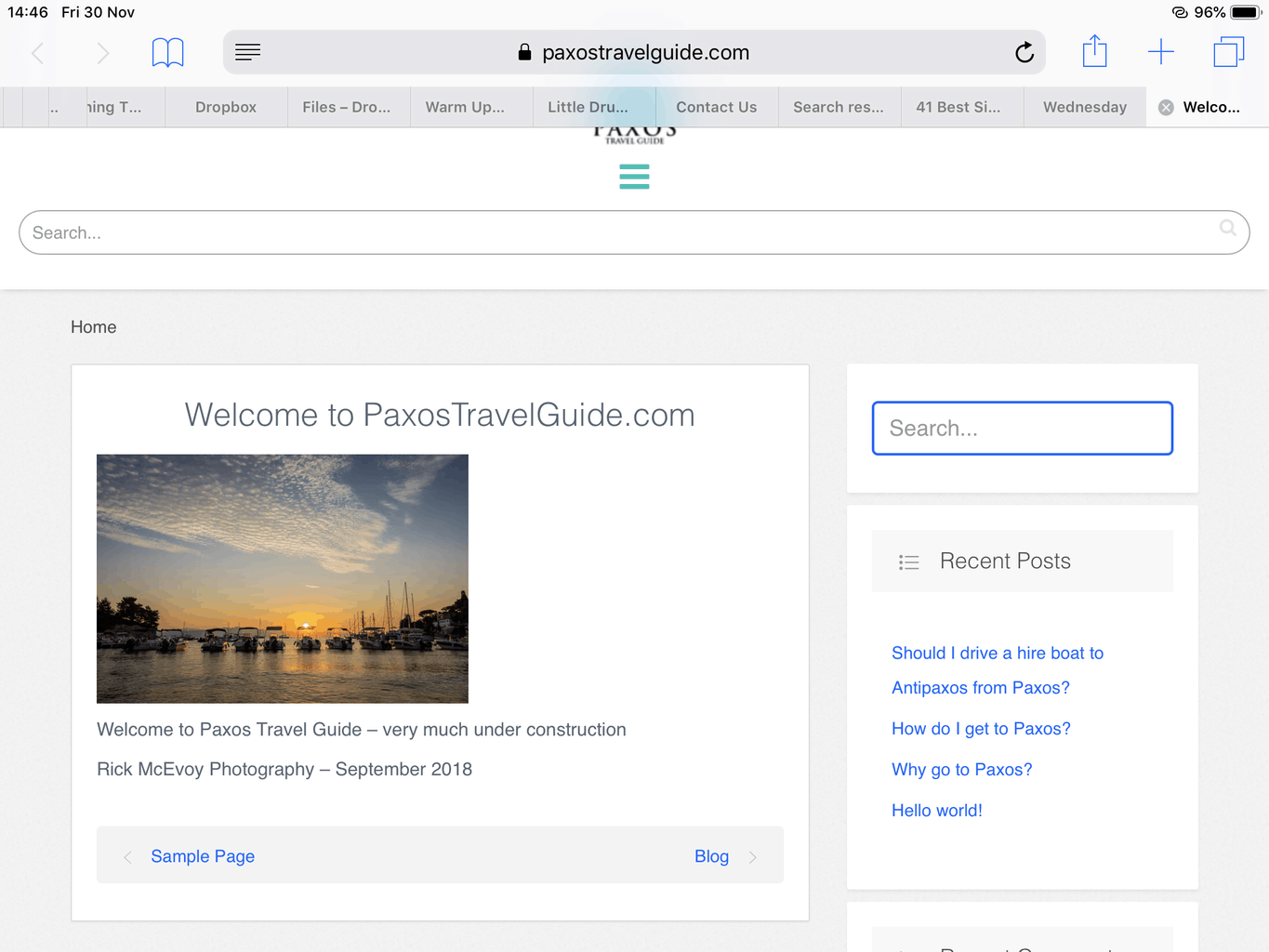 After a break of a couple of months it is back to my second travel photography website Paxos Travel Guide.
Photos of Santorini was all about taking photos on this wonderful Greek Island. Paxos Travel Guide is more of a travel website. On this website I tell you everything that you need to know before you go to Paxos. And there are lots of lovely photos of course.
In this blog post I will explain what this website is all about, what I have done, what I need to and also why I am creating another website.
Why all these websites?
I want to work in a different way, and use my unique talents to make money in the way I want to.
What are my unique talents then?
My photography
I am comfortable saying that I am pretty good at photography. Now granted I am not the best photographer in the world, I am not even the best photographer in my family, but I can get by making money doing my photography.
My personality
Not sure if this is a talent but my personality is certainly unique to me!
My writing
In the last couple of years my writing has progressed really well. This is in part due to the practise and intent with which I have worked on my writing day in day out.
My love of travel
My wife and I love to travel – that is our thing. Going to new places together.
So put all these things together and travel photography websites sound like a great idea to me.
But how will I make any money?
Basically I need to get visitors to my website in large enough volumes to make my website commercially attractive to advertisers.
I also need the content on my website to be good enough to rank highly on Google, and for people to want to read all the content and then share it.
Not much pressure then!
Photos of Santorini
This website is now complete – well as complete as it is going to be. This is a light version of what Paxos Travel Guide will become. I am considering this website to be a trial of a format that I can use to quickly produce other such websites – I have plenty of photos after all.
WordPress Themes
I have struggled with this. I have tried numerous themes without success. I bought one and found it completely unworkable and baffling to use – so much so that I fought hard for a refund.
I had settled on the Divi Themes, which I bought on Black Friday at a discounted price. I did plenty of research to make sure I was happy with the themes, and then waited for the Black Friday sale.
And this is how I do Black Friday – I wait to buy things I was going to buy anyway and get them on the day at a discounted price.
My plan was to use Divi for 12 months on all my websites, which would be great for me as I have three websites now and more in plan and I only want to have to learn one WordPress Theme.
My first go did not go too well, and I had to get Bluehost to restore my Photos of Santorini website from a backup.
For now I have decided to stick with the free theme and create a brand new website which will be my Divi theme playground.
I think in the IT world they call these things sandpits.
Trial website number 2
I have not decided what this URL will be, but this is something I will think about and research between now and Christmas, when I will get some down time to play with themes.
It will be based around the Rhodes Travel Guide subject though.
That will give me the time to come up with a layout of my own that I am happy with, that I can play with as and when I have the time, without of course deleting a major part of the content live!
My trial web site for content
It turns out Photos of Santorini has become a trial site for lots of things, which has been really good as I am in a better place to progress Paxos Travel Guide, and now have some template type stuff that I can use on other websites going forwards.
I am even thinking of moving my main website to WordPress now, which should help with SEO. I have put that on hold after the first go with Divi though.
I have a spread sheet and Evernote list where I have recorded what I did to the Photos of Santorini website which I will follow for the rest of the creation of content for the Paxos website.
What have I done on the website so far?
Created the website with the URL https://paxostravelguide.com
Bought a logo for the website
Written three blog posts
Should I drive a hire boat to Antipaxos from Paxos?
What do I need to do to complete my new website?
First I need the titles of the remaining posts sorting

Then I need to produce the planned 30 posts and static pages.

Choose and edit the images for the pages and image galleries

Add all the images

Come up with an image gallery

And then do the back of house boring stuff, metadata, links etc.
What is the back of house stuff?
Remove the dates from the blog post URLs (looking at the URLs above).

Sort Google search console

Sort www. or not www.

Add internal links

Add titles and descriptions/ snippets
Once all that is done promote the website
 And then
Wait 5 months and see what happens.
Yes 5 months. 
What is the most important job?
The single most important job is to come up with great titles, with great keywords. I need these posts all to rank at number 1 (if possible) on Google for that search term.
And the key to this is the keywords in the title and how I write about them. That is the thing I am going to spend time on. Everything follows on from this.
How do I know what I need to do?
Well I have signed up to Project 24, which you can find on the Income School website. The idea of Project 24 is to replace your income with a passive income from niche websites within 24 months.
Now if you are thinking that this is just another online get rich quick thing then I have to tell you something.
This is the brainchild of Jim Harmer, the creator of Improve Photography. I am a writer on Improve Photography, and have now produced over 30 articles for that website.
I know Jim, and trust his opinions and advice.
It was Jim who suggested I get a .com web URL, which makes perfect sense for what I am trying to achieve.
So this is where I am getting my info and advice. Project 24 and the community of good folk there.
And this is why I am rather vague about some of the stuff I am doing with my websites – we are after all paying for the guidance and tuition.
It would be wrong for me to publish everything I have learned as we as members of Project 24 have paid for this info, and it is part of the income to the website for Jim and his business partner Ricky.
I will write about the stuff that is published on my website and available for all to see, but there is stuff that I will not be writing about.
OK – back to my next website.
When will it be done?
I am hoping the end of December 2018, but realistically think it will be the end of January 2019. I just don't see myself getting that volume of work produced in December, which we are already in.
Why I am doing this?
Why am I putting myself through all this pain? As I said above, to hopefully create a passive income that replaces the need to earn money from my photography and consultancy work.
That is the plan. My ultimate dream is time freedom and money freedom.
Do I like doing this stuff?
Sure I do. I am really enjoying watching the search rankings for the keywords on photosofsantorini.com developing.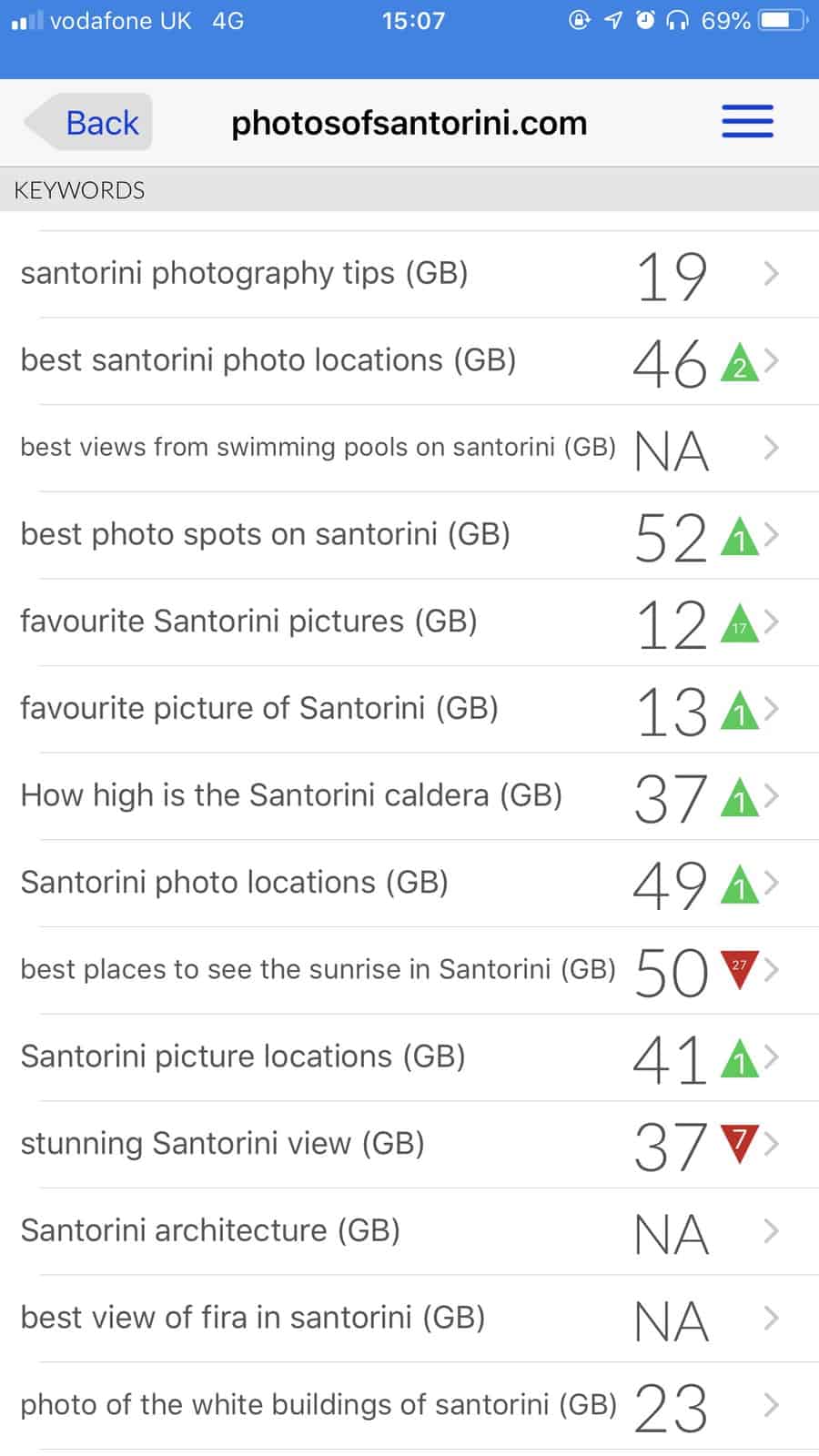 I have created this website all by myself, with all my own words and photos. 
And I love travel and if I could find some way of travel photography and travel websites providing my income I will be very very happy.
What else do I have to do?
I have to juggle my time with the production of my weekly blog posts and fortnightly articles on Improve Photography.
This is in addition to earning a living.
So I better shut up and get back to work on Paxos Travel Guide
What next after Paxos Travel Guide?
Rhodes Travel Guide. That is one that I am going to work on in May, when we return there.
Between the end of January and then I am going to focus on other stuff. I need to give the various websites time to bed in with Google and hopefully perform well enough to earn me some money.
And then I should really stop and see what happens with these websites.
Although I did have an idea the other day…
Enough about all that – what about Paxos?
I need to remember that my website Paxos Travel Guide is just that – a travel guide to help people planning on going to the wonderful Greek Island of Paxos.
It is not a photography website.
It is a travel website with photographs taken by me – that is the edge that I hope will help with the success of my website. My writing combined with my photos.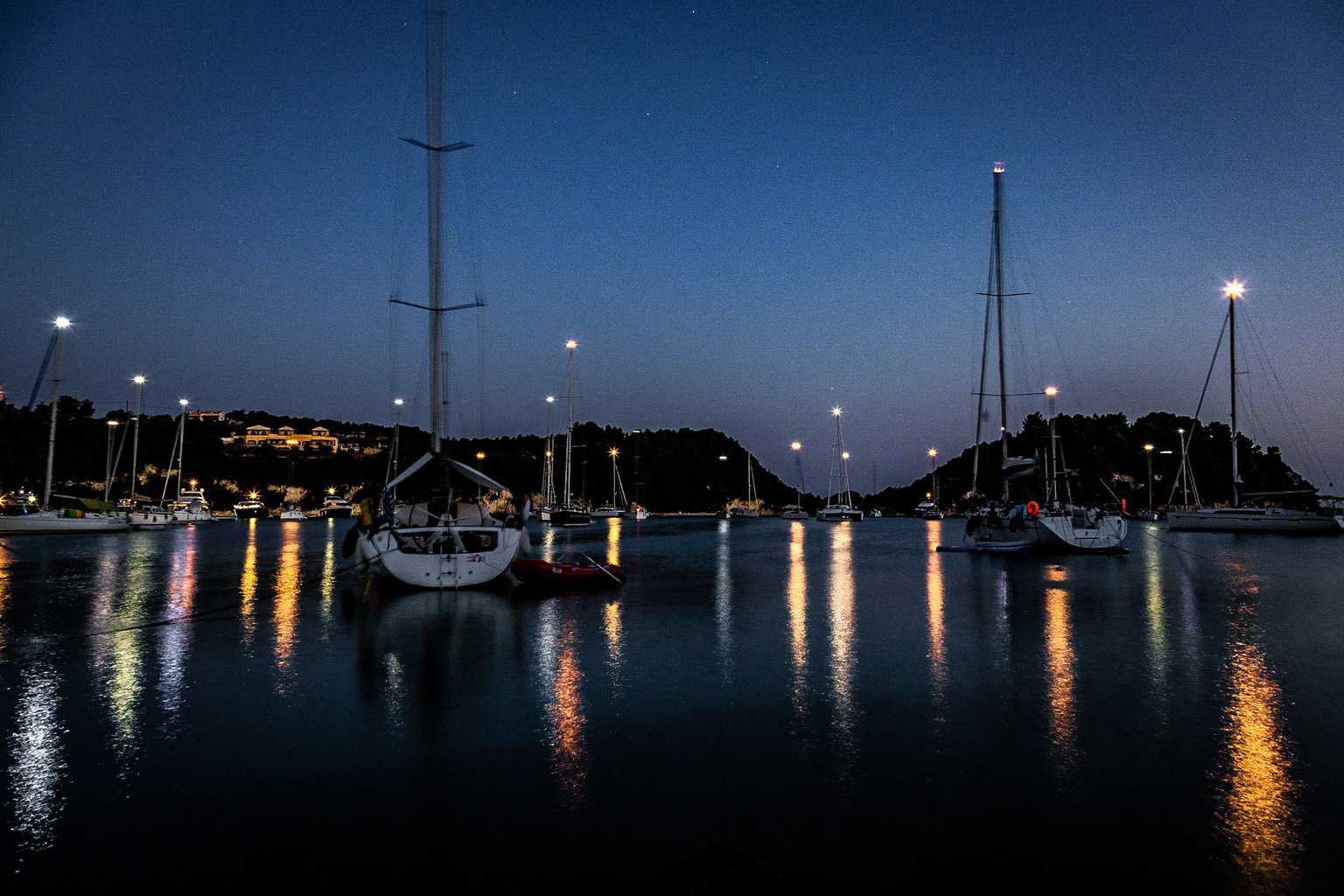 I need to convey what it is like to experience going on a holiday to Paxos.
I want visitors to my website to be able to make an informed decision about going to Paxos or not.
What will I write about?
Getting to Paxos and getting home again

Eating and drinking in Paxos

Places to go in Paxos

Things to do

The weather

Being in Paxos

What it is really like holidaying in Paxos

My holiday journal
On our last holiday to Paxos I wrote a daily journal. I sat on my iPad on the balcony in our room, or at a table by the pool at Hotel Bastas and wrote over 20,000 words, which are to be form, a large part of the content.
What other material do I have for this website?
Well over a thousand videos and photos, captured using both my Canon 6D and iPhone 7 Plus.
And I have the locations of everywhere I went and photographed.
I will have to keep reminding myself that this is a travel website with photos!
Back to the Greek Island of Paxos
Paxos is a wonderful Greek Island. It is very small, very picturesque. Paxos is very popular with British and Italian tourists, and is also frequented by Greeks from elsewhere in this vast country.
I have been to and photographed most of Paxos, and the neighbouring island of Antipaxos.
All I need to do now is do justice in my new website to the Greek Island of Paxos, and hopefully make it good enough to be of interest and help to people, and of course to the search engines at Google.
Summary
That is enough talking about this website, although it is good to revisit what I have done, what I have learned from the creation of Photos of Santorini and how I plan the production of the rest of this website to best serve me in the future.
Off to work I go.
2 months to get this website done, and the clock has started ticking.
Pop back to my blog for frequent updates, and of course please checkout the website which will be updated live as and when there is new content.
Rick McEvoy Photography – Paxos Travel Guide