Luminar 4 will be released on November 18th 2019. And I cannot wait. Why? Let me tell you why in this post.
What are the 9 new features I am looking forward to using? They are AI Sky Replacement, AI Structure, AI Enhance, Smart contrast, Luminosity and Colour Denoise, Detail enhancer and the new interface. That is 7 new features, but I will add to this list saving time with automation and getting new looks at the click of a button, as well as just having something shiny and new!
Yes I am excited for Luminar 4 and the new things it has to offer.
Full disclosure
Before I go on I have to say that I am a Skylum Affiliate. If you buy Luminar 4 or any other Skylum product using my affiliate link I get a commission.
And if you do that then thank you.
This is my Skylum affiliate link.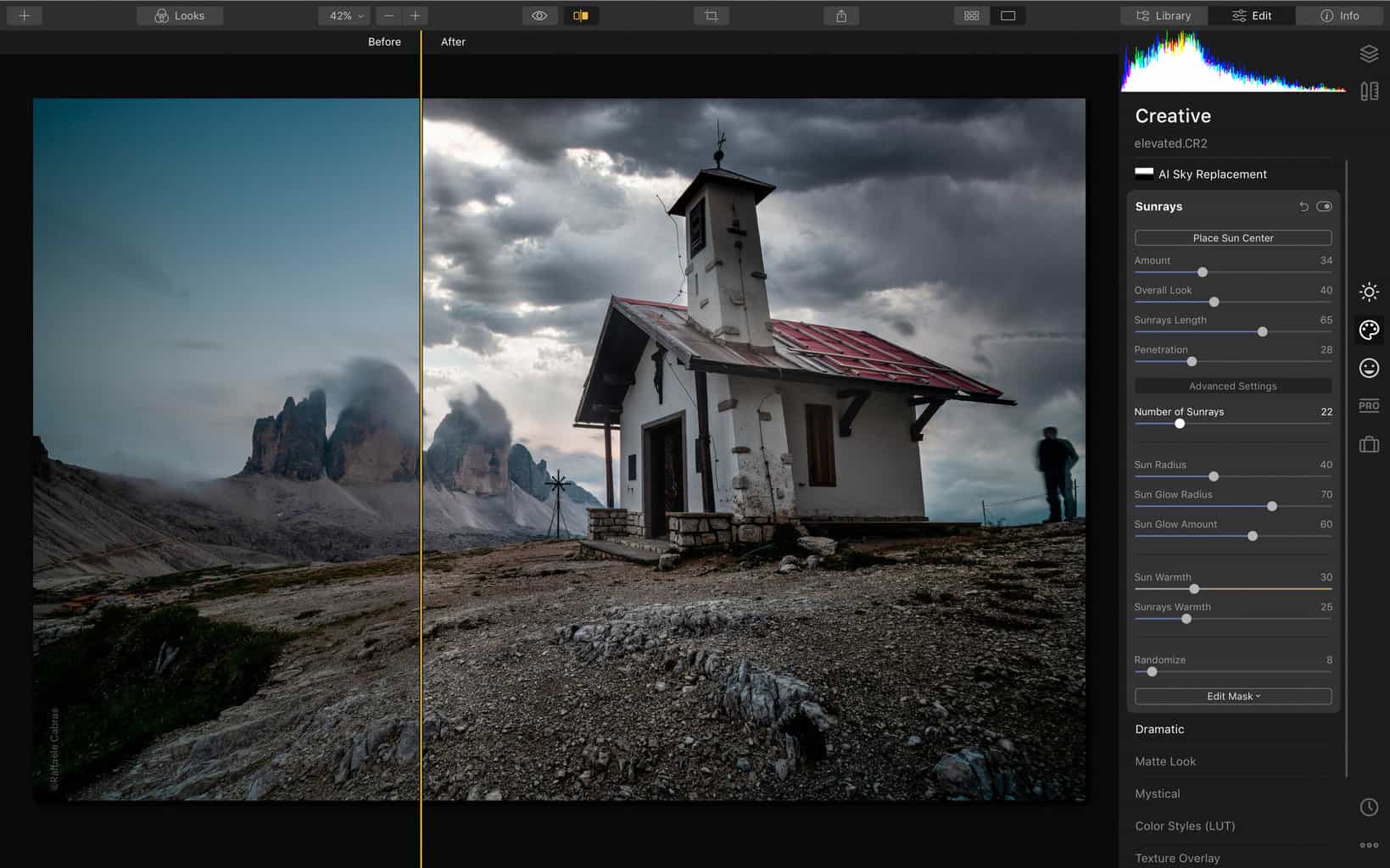 How have I got Luminar 4?
Yes I have a beta version of Luminar 4 which I am testing. I have signed an NDA so am not able to publish any photos yet, but I am allowed to write and talk about what I am looking forward to using in advance of the general release on November 18 2019.
And to practise of course and get some photos ready for release date.
I have not paid for the beta version of Luminar 4 either.
OK – that is that done – lets get stuck into the good stuff – the 9 New Luminar 4 Features I am looking forward to using (ok some of them I am already playing with!).
1 AI Sky Replacement
I have written about this before. To find out lots more about this fantastic tool check out the blog post I wrote last week called Luminar 4 and AI Sky Replacement are nearly with us!
The way this works is truly remarkable. There is no masking required – it selects the sky and nothing else. That is the AI bit, which is like I say truly remarkable.
And it then does a bit of relighting of the scene.
And you can tweak the results so have control over the end result.
I won't go on about this again other than to say two things.
Firstly. if you thought this was a gimmick then in my opinion you are wrong. When I say you I mean all of us of course. I was not expecting it to work as well as it does if I am being completely honest but having tried it on a variety of photos I can say that it is truly remarkable, and more importantly something that I will use in my commercial photography work.
No masking has to be good. And no layers (I have written in the past about my lack of understanding of layers!).
The other thing I would like to say is to all those people who are calling this out for making fake photos is this – this is nothing new. People have been replacing the sky for years, along with lots of other stuff, using Photoshop. It just takes longer to do.
No this is just the same thing but done using AI – maybe that is what people do not like.
If I am photographing a building I only have that one day to do it, so if the weather is rubbish I have to do something after the event. And do my clients care if I have swapped the sky?
No of course they don't.
If you don't like this that is fine – everyone is entitled to their opinion. But I do – it works fantastically well to give super quick completely realistic results.
2 AI Structure
Let me quote from the Skylum website what this is.
"Boosting details with traditional Clarity and Structure tools often make parts of a photo look horrible. Luminar 4 automatically identifies objects (including people and faces, clouds, water, buildings and more) and improves them in an intelligent, content-aware way."
Erm blimey. This sounds quite scary. This is a super intelligent clarity tool that analyses the photo and does stuff to it to make it look better.
Sounds scary but the best thing I can do is give this a try and show you the results.
3 AI Enhance
I will give this a go for quick editing of photos for my travel websites, Photos of Santorini and Paxos Travel Guide. I have lots of photos taken with my iPhone and DLSR that just need a quick boost and posting on my websites, so this might be just the tool for that.
And you never know more going forwards?
There are two parts to this – Accent AI and Sky Enhancer AI. Check out the example on the Skylum website – this is quite scary as well!
4 Smart contrast
Sounds fun! And is also quite scary. This is what Skylum say.
"Smart Contrast
Comparing to regular contrast, Smart Contrast is more careful and sophisticated. It preserves both colours and details for more realistic detailed photo."
Again check out the example on the Skylum page (I am not allowed to publish my own examples yet).
5 Luminosity and Colour Denoise
As regular readers will know I have been experimenting with Olympus micro four thirds cameras. Micro four thirds cameras have smaller sensors, which are more susceptible to noise. I have just had to use Photoshop to reduce the noise in some very dark photos, so this is something else that I need help with.
I am going to put Luminar head to head with Lightroom on some of my night photography photos taken with my Olympus OM-D EM5 Mk2. And thinking about it also with some night-time iPhone photos – lets see of Luminar can rescue these digital snow-storms better than Lightroom can.
6 Detail enhancer
This tool is in the filters. Again let me quote from the Skylum website.
"The Details Enhancer filter helps you create dramatic photos and brings crystal-clear sharpness to your images. Enhance the sharpness of your small, medium and large details selectively. Protect your highlights so that you don't lose details in bright areas of your photo."
Again this sounds perfectly logical, useful and a tool that I would use on all my images.
I hate the sharpening tool in Photoshop, so am looking forward to trying this out too! Detail and sharpening are things that I have not given enough time to in the past, so it is time now to fix that problem!
7 New interface
Always a good thing – as long as it is better! The interface on Luminar 4 is very different from Luminar 3. I bought Luminar 3 and had a play with it and have to say I liked it a lot without learning how to use it properly.
I found out about the stuff coming up in Luminar 4 and knowing that the interface was going to be different put Luminar 3 to one side.
And yes the interface is very different, and in a good way too!
8 Saving time and getting new looks
Saving time – that is a biggy for me. I am not sure how much automation and AI time saving stuff I am going to benefit from, but the opportunity excites.
This is something that will evolve over time as I get more and more familiar with Luminar 4.
9 A new way of working
I have been using Lightroom since version 1.0 in 2007.
And now there is a new way of working which quite frankly excites me a lot.
I have never got on with Photoshop. Part of this is because of Lightroom. When I started editing digital photos Lightroom had just been released, so I jumped straight into Lightroom. I have never needed Photoshop for anything other than getting rid of stuff and the odd specific tool such as noise reduction.
Anything else?
I am sure that there will be lots more good stuff in Luminar 4 – these are the stand-out features that make me want to use Luminar 4. When I say use I mean use properly, which starts with learning how to use it properly.
I am even looking forward to learning some new stuff and getting different results from a variety of photos in my catalogue.
What about Lightroom?
All my photos are in a single Lightroom catalogue. And that is where they are staying. I am using Luminar as a Lightroom plug-in.
Therefore I can continue to do my commercial work in Lightroom (and Photoshop if required) and then go to Luminar to change the sky. And save the photo back to Lightroom
So all is good there and Luminar 4 is adding to the tools in my workflow without compromising on my current commercial work.
Nothing to lose and everything to gain!
I expect that Luminar 4 is going to be used to finish off photos processed in Lightroom to start with, and that over time I will do more and more in Luminar.
And the photos for Paxos Travel Guide are going to be processed just using Luminar 4 – that is my big experiment!
Photo editing is exciting again!
I have not been excited about photo editing for a long time now. I have to say that Lightroom has been a fantastic tool for me for over 10 years now, and I will stick with it for now. Luminar 4 excited me though!
When is Luminar 4 being released?
Pre order Luminar 4 starts right now, and you can get your copy using my affiliate link here.
The general release of Luminar 4 is the 18th November 2019. As a Skylum Affiliate I have been fortunate enough to be able to trial the Beta version of Luminar 4.
And what do I think of this AI stuff?
If you check out the examples on the Skylum website they are quite remarkable. This is very much a new way of doing things, and a big jump forward from Photolemur, which was Skylums' one-click photo editing software.
Sure some people will not like this, but I for one and excited to be trying a new way of working and making the best use of the fantastic technologies at our disposal.
This is very much the way things are going. With my Olympus OM-D EM5 Mk 2 the camera does some very clever stuff in-camera to create different things, so this for me is just the beginning of the future in image processing.
And Adobe use AI in Lightroom let's not forget.
We can either embrace the future or resist it – I am embracing it whole heartedly and ask you to join me in trying out all this craziness!
Check out the video
Yes I have recorded another video which you can view on my Rick McEvoy Photography You Tube Channel. Here I talk about the stuff I have written about. The way my brain works in talking after writing this I have come up with some further thoughts which you can hear in this entirely average video.
The video I posted last week got a remarkable number of views by the way – here is a link to that as well – Luminar 4 and AI Sky Replacement are nearly with us!
Summary
Now that I have written two posts about Luminar 4 I am going to concentrate on the sky replacement for the next post about Luminar 4 which will coincide with the full release on 18th November – I just need to work out the time difference!
Here is my affiliate link again – if you buy Luminar 4 using this link I get a small commission. And if you do that I would like to thank you.
Don't forget there is a 30 day money back guarantee so if you do not like it you have nothing to lose other than the time you spend playing with it.
Next week on my photography blog? Who knows!!
Rick McEvoy Photography – Photographer, writer, beta tester of Luminar 4
#luminar4 #luminar4skyreplacment #luminar4aiskyreplacement #skyreplacement #aiskyreplacement