I have just returned from a two-week holiday to Parga Greece.
This first post is titled Parga Holidays – What Is Parga Really Like? Having spent two weeks there I can tell you that Parga is a great place to visit if you like a lively resort full of bustling streets with all sorts of lovely shops, bars and restaurants. Parga is also great base from which to explore places both on the mainland and in the Ionian Sea.
This is a series of three posts which will appear on my photography blog.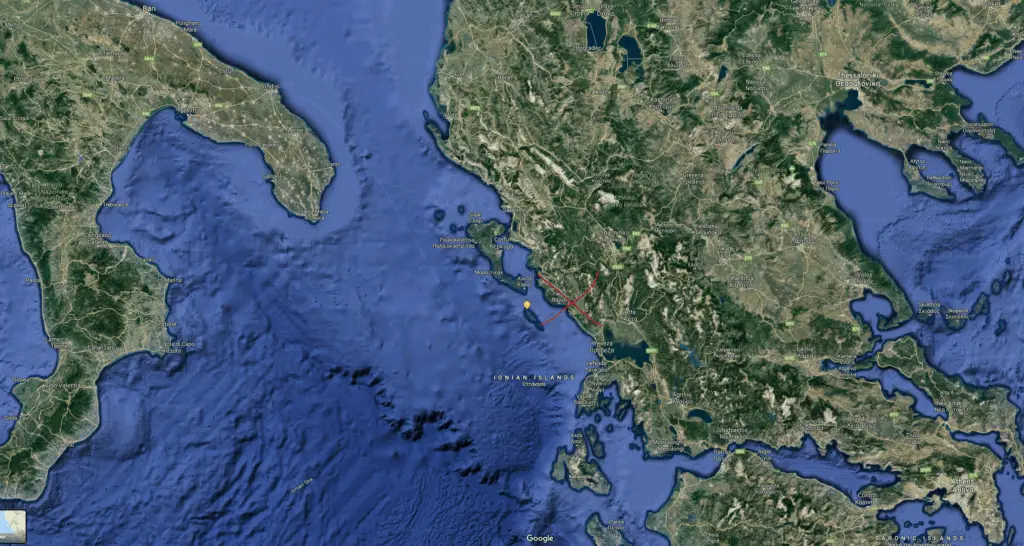 Who am I?
I am Rick McEvoy, and I am a photographer, writer and website creator and lover of travelling with my wife and best friend Nickie. Mrs M. Or M for short!
About my holiday journal.
I wrote a daily journal, which you can read in these posts pretty much as I wrote it. All I have done is corrected grammar and spellings.
I wrote this journal every day on my iPad sat on the hotel balcony having a cooling Mythos or a nice Mojito.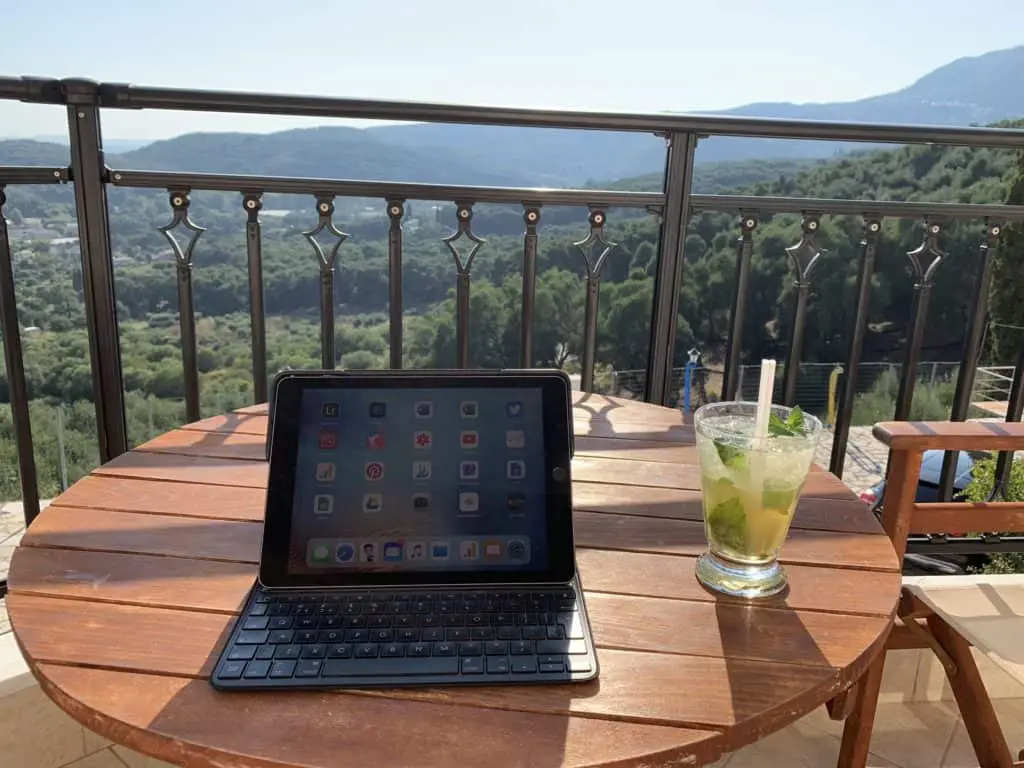 Here we go then – Sunday 11th August – getting there
Get up at 6am, drive to Gatwick, drop the car off, check in and get on our Titan Airlines plane.
Problem number 1. Our luggage was over our paltry 20kg allowance. Now my camera gear might be small these days but some stuff I took weighed quite a bit. My book "Mastering the Olympus OM-D EM5 Mk 2 is surprisingly heavy"! (.8 kgs would you believe).
Our persistent but polite pleas to not have to pay £75 for three extra kilos (each) pays off – we end up just dropping the bags off and go on our way without having to pay any extra. Our charm offensive was a complete success!
Security is busy – the collection of stuff in my camera bag often gets me stopped by security. I think it is the combination of the iPad, tripod, cameras lenses and camera batteries.
Those straight metal tubes cannot look good on an x-ray, especially next to blank spots which are my camera batteries!
The lounge at Gatwick
The lounge is good. I enjoy a few small glasses of beer and some snacks. We shop separately, I just get a few things to read including the inevitable newspaper that I always buy for a holiday but never get round to reading!
I should have said, we get 6 lounge passes a year with our Barclays Bank account so that is why we are in relative luxury. Not that we are trying to get away from the masses in the madness that is Gatwick South!
Lets get on the plane!
We walk from the lounge the usual long walk to the outreaches of Gatwick – just a 15 minute walk for this flight!
And now it is time to get on the plane.
We get on the plane and sit in our extra legroom seats. Very nice they are. We have three TUI staff in front of us, who are there to assist the Titan crew and ensure we receive the full TUI experience which to be fair we do.
Plane – we are all good to go but the airport are not ready for us.
So we wait on the plane for about 40 minutes, and then before we know it we are taxiing to the runway. Whilst I am trying to turn off the WiFi on my iPad I am told off for having my table down and my iPad on!
No problems with the flight and we get to Parga just fine.
Parga Airport
Parga Preveza airport is a new airport sandwiched between two bodies of water – check it out on this Google map extract!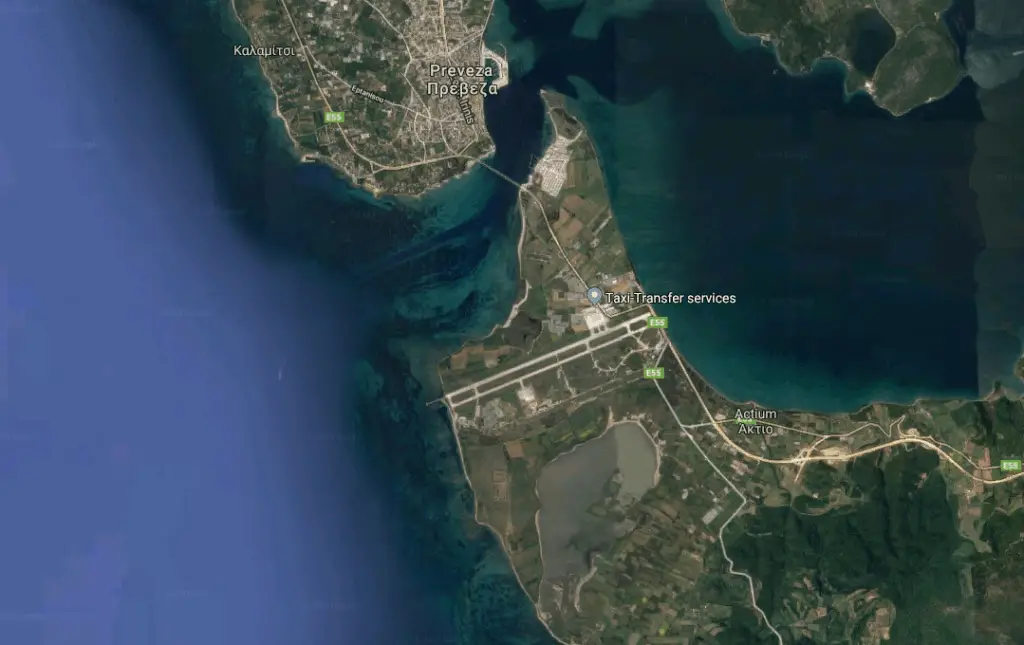 I know!
It is a nice slick transition from the plane to our coach through the very modern airport. We get out of the airport to be greeted by that melting heat!
The coach transfer takes too long, although we are treated to the sun very slowly sitting in front of us, and when we get to the coast there is Antipaxos and just to the north Paxos. Reunited with my favourite places is a good feeling.
Drop offs
Drop offs seem to take forever, including one drop off where the rep had to escort the guests down a hill!
We get to the hotel and check in. Our room is boiling hot and there are issues with it.
We unpack
And then go to the bar for milk and Metaxa. Not to have together of course!
A very uncomfortable night later and it is 9am local time. We seem to have an issue with the air con.
Day 2 – 12th August
We drink tea and brave the heat, and boy it is hot.
We go to the welcome meeting at the hotel across the road. Our rep is 10 minutes late which is not good. Nickie has toast with OJ for breakfast. I have a diet Coke.
After that we walk into Parga to get supplies.
Walking into Parga
Our hotel is called the Alea Resort. It is on a hill. We knew that when we booked it.
We walk the long way down to Parga missing the steps that we needed to take, walking down the twisting turning road.
We get to the front fine if not a little hot and sweaty. I just put the clothes on I travelled in yesterday which went straight in the wash when we got back.
Beer'o'clock
Time for a lovely beer on the front at the bar Geoker, which served excellent snacks of cheese, bread stick and olives. 9.50 euros for two beers and snacks which was absolutely fine and very nice indeed.
Here is my first photo of a pint!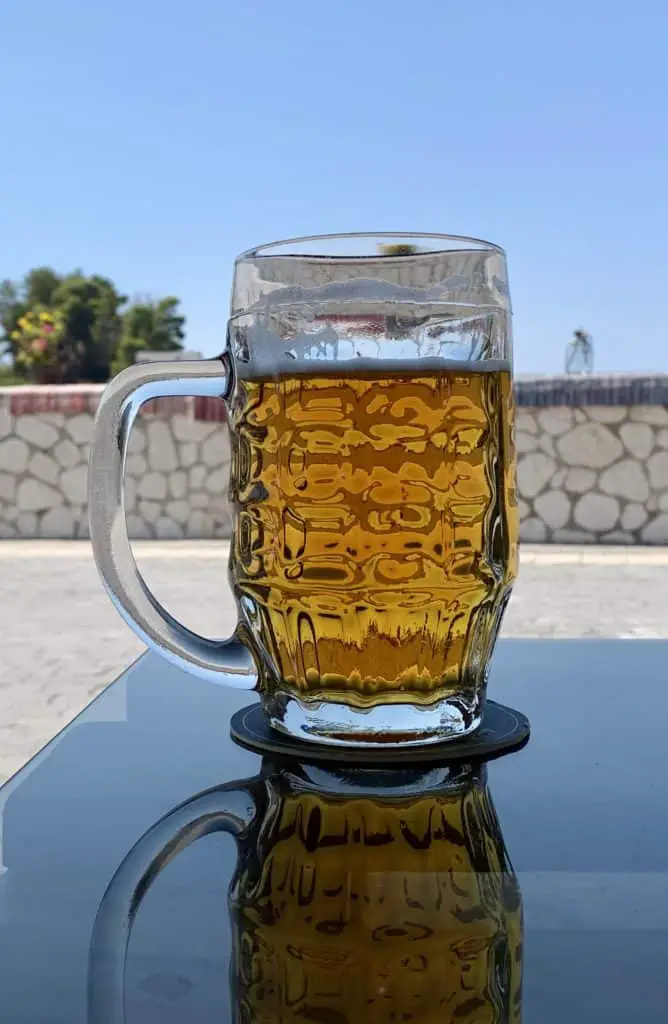 We sat on a table at the front of the bar, and noticed how people had a tendency to virtually walk into us, even with that very wide frontage path to walk on. Quite bizarre.
The supermarket
There is a supermarket across the road from the taxi rank. It is called Dallas Supermarket. They seem to have everything that we need, and the prices are not too bad.
Holiday essentials are wine, beer, water and snacks. Well we are on holiday!
Taxis in Parga
And then after a 2- minute wait for a taxi and an argument with an English group who insisted on telling us where the queue was even though the were clearly at the taxi rank sign and they were not it was back to the hotel. After the taxi driver cleaned down the leather seats with a leather and water that is!
Pool time
We drop the stuff back at the hotel and then it is finally off to the pool. We find two sun loungers in a corner and I collapse into a rapid sleep. The afternoon is spent dozing, before a 4.30 livener at the bar with a v nice club sandwich. We are not leaving the hotel today, so are disappointed to find out that the hotel is not operating a full menu so we have a small selection from the snack menu – this is ok for one evening.
Time to start writing
Back to the room at 6 which is where I start writing this, on the balcony with a mojito and my favourite afternoon sun.
I showed you my offce earlier.
And this is the view.

From the balcony I can see (the end of) Valtos Beach, the Ionian Sea, Antipaxos and Paxos, the forest and the Ali Pasha Castle on the hill to the right.
Not bad eh?
Is it hot in the evening?
Yes. 6.30pm local time is meltingly hot even with the strong breeze our hillside location gives us.
Time to go out
After showers it is off out for food. We decided we did not want the snack menu at the hotel so have to find somewhere else.
We walk down to the Med Club Parga, which has stunning views of the castle on the left and Valtos Beach to the right. This very stylish restaurant is built on the side of the hill and has stunning views courtesy of the curved construction and glass forming the outside walls.
This is a photo I took with my iPhone!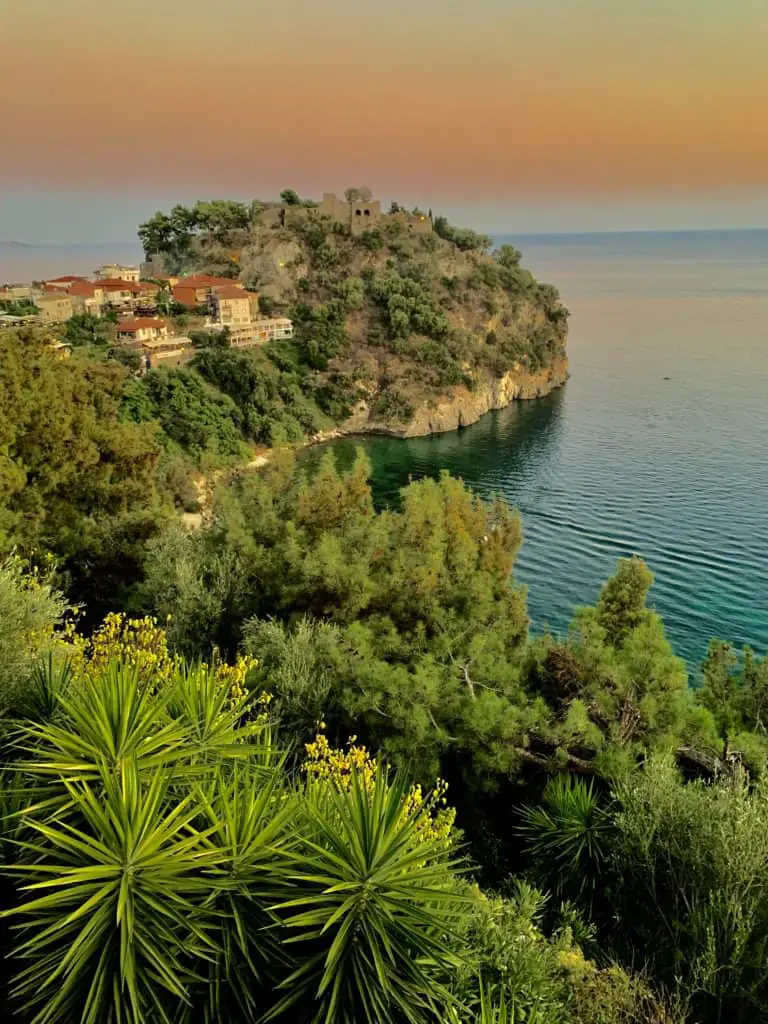 Med Club Parga
Service is excellent. We have baked feta cheese with honey to start, followed by sea bass with shrimps and linguini Bolognese. The food is all good and with drinks, wine, beer and water and a complimentary dessert this bill is 50 euros. Check out their website here.
Walking back to the hotel
Then we have a walk up the hill back to the Alea which caused cold showers before waiting for the air con to kick in and get some sleep.
Day 3 – August 13
The air con was much better tonight and we got a decent nights sleep, surfacing at 8am ish.
I say 8am ish as it turned out my watch was about 45 minutes behind actual time. This we did not realise until some time in the morning. No wonder I was so relaxed about the 10am breakfast deadline – I was nearly in another time zone!
Breakfast
We had breakfast at the hotel this morning, better than yesterday when we managed to get to about 4:30 without having anything of substance.
It was a buffet breakfast, lovely coffee and help yourself sausage, bacon and eggs. Although it was all a bit cold (ironic in this heat) it was all good.
Cold beans
Yes cold baked beans.
We did query this to be told that is how people eat them!
It turns out that the Alea does not get many British guests staying, so this preference or misunderstanding comes from the majority of the guests being Italian or Scandinavian?
I don't know.
The very nice waitress assured us that she would get the chef to warm beans for us if we wanted. Breakfast is 10 euros each.
Where are the food photos?
Still no photos of food – I am not into the swing of this properly yet!
And so it is time for the sun loungers.
We have found a spot in the corner.
About the sun loungers!
The sun loungers are fixed to the floor which is news to us! Lets see how this works.
It is of course hot. When I say it is hot I mean it is hotter than we expect it to be in Greece in August.
Back to our day at the pool.
This morning the pool area is nice and quiet so not a problem.
We get chatting to an English couple in the pool, and agree that showers without hooks is a bit odd! So it is to the Parga equivalent of B&Q later to see if we can get some clever hooks for the shower. Not a problem for me hair washing as I don't have any, but Mrs M would appreciate the shower being fixed to the wall.
Time for a beer.
A lazy morning ends with a beer at the pool bar. It is Corfu Beer here, not the usual Mythos. It is a bit hoppier than Mythos but nice all the same. Getting a bit too close to the craft beer end of things for me but like I say I will adapt!
Here is a part drunk pint (well half litre).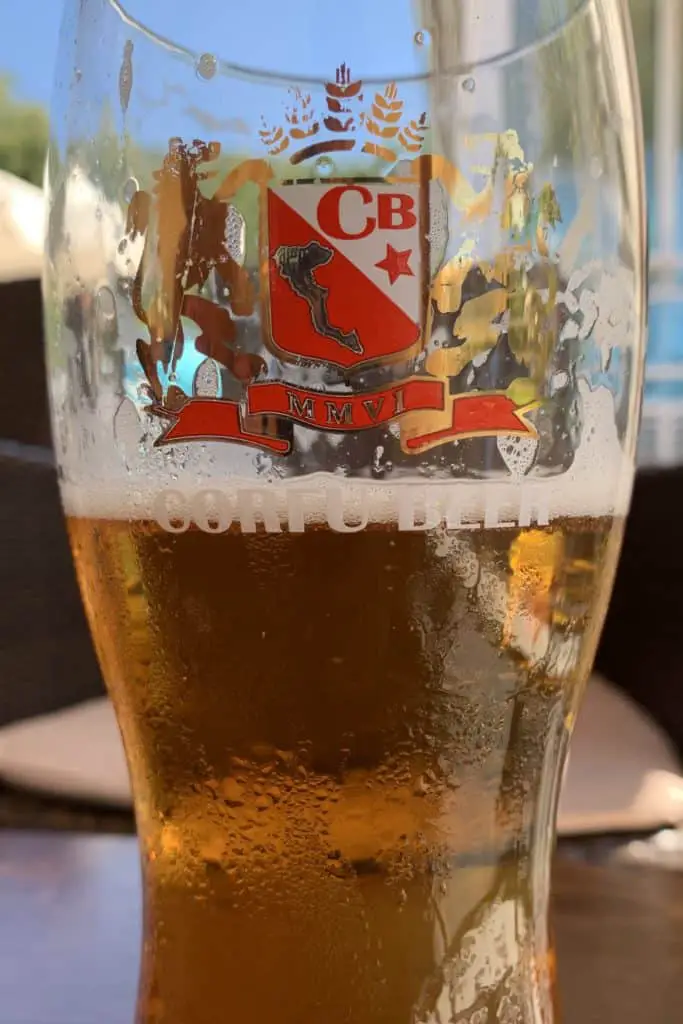 Lunchtime
Another hour and then it is time for lunch, which is a beer each accompanied by a salad and tuna sandwich. 22 euros 50 cents for this lot which was very nice
And then back to the pool for an afternoon of reading, dozing and dipping into the pool to cool down.
Sundowners
Ok it's a bit early for sundowners, more like late afternoon drinks.
5pm arrives suddenly – Nickie goes for a Mojito and I have a beer. 12 euros for these. It gets a bit lively around the pool so we head back to the room – Nickie to cool down and me to melt on the balcony writing this drinking a can of Mythos.
That's better!
Tonight we are going to Parga for some nice food by the seafront – I am ready for my first Stifado of this holiday.
An evening in Parga
We walked down to Parga just as the sun was dropping over the hills to the west giving some welcome respite from the strong direct sunlight.
Rather than walking the long way this time we went past the Med Bar and keep going down the hill finding the steps we were looking for. Stunning views to the right of Valtos Beach and all the lovely bars, restaurants and hotels nestled on the hillside.
Parga Old Town
We walked through the old town which was very stunning – completely charming and packed full of places to discover. As we have to walk through here to get to the centre of Parga plenty of opportunities to dine here, so we walk on.
Finding a restaurant from Trip Advisor
We were on a mission tonight so we kept walking down to the waterfront. We were looking for a restaurant called Nikola's Greek Taverna– we walked past it the other day on the way in down the long winding road.
Unfortunately we were not sure where it was!
Google Maps was a bit hit and miss but we found it in the end, about five minutes walk up from the taxi rank on the way back (the long way) to the hotel.
Nikola's Greek Taverna
We were welcomed by Nikola. Nickie explained that her name was Nicola, to which he replied that his grandfather (the chef as it turns out) was also called Nikola!
I said hi I'm Rick!
We had feta cheese with honey again, followed by my beloved Stifado for me and a very nice moussaka which Nickie enjoyed. We had a beer and half a carafe of wine.
It was quiet, but the food was authentic and lovely, with Nikola giving just enough attention.
Then we came to pay – he did not take cards and we did not have enough cash (ridiculous I know) so Nikola insisted that we pay the next day, which was very nice of him. We did offer to go back to the cash machine but he charmingly insisted that we come back tomorrow to pay.
And the bill? 29 euros would you believe – excellent value for excellent food and drinks.
Nikola ordered us a taxi and we went back to the hotel for Metaxa and cold showers.
The taxi toom some time to arrive, much to his frustration!
Day 4 August 14
Today we are going to Valtos Beach. We set alarms for 7am, but turned them off after a not great nights sleep again. We wake up at 10am.
Bugger!
Not to worry – a quick cuppa, a quick coffee and we walked down to the beach later than planned.
We decided to get some brunch first, which we had at the Yacht Club Snack Bar and Café
We had a beer each to start with – here is mine!
Accompanied by a club sandwich which we shared, which was very nice. And here that is.
And 12 euros for the lot which was excellent.
Next we found some sun loungers, paid the 10 euros and sat down.
Valtos Beach
Valtos Beach is a popular beach – yes that is code for busy, with all the usual activities like bat and ball (do adults actually play this at home??) and music from a distant bar giving the soundtrack to the day.
The sea was lovely, cool at first but that is just cos I am pathetic at getting into the sea. I will update that to refreshing, which is what it was. Very clear and very nice water.
We bought a lilo from the shop next to the restaurant, which they eventually blew up for us. Apart from the bits that they did not inflate!
7 euros at a shop on the beach is good value.
We returned to our sun loungers and had a very nice afternoon there, cooling down when required and taking it nice and easy reading.
Ammos Beach Bar
We went to the Ammos Beach Bar for snacks, which were a beer each (small for Nickie large for me) which was Mythos this time, and shared a falafel wrap and cheese and bacon and chips (my choice).
The Falafel was in a wrap with coleslaw and was excellent. 22 euros for a very nice lunch on the beach was very good value for money.
The excellent water taxi service
After a bit more relaxing we wandered over to where the water taxis are (I thought). An English couple told us we had to wait on the left hand side, even though there was a boat to the right filling up with people. They also asked us what colour tickets we had.
I had no idea what they were talking about!
The boat arrived, so I climbed up the jetty with the pink lilo on one hand and my yellow bag in the other and got us two tickets back to the town of Parga.
A very nice short boat transfer and well worth the 2.50 euros each – this is the water taxi from Valtos Beach to the main jetty in Parga.
Bank problems
We got off and went to the cash machine to finally get some cash. Unfortunately in all the hustle and bustle we got the cash but Nickies card was swallowed by the cash machine (a quick thank you to Barclays Bank for the very efficient dealing with this through the app).
Paying the bill
Nickie waited at the taxi rank and I went up to the restaurant and found Nikola who I think remembered me from the night before, and paid our bill with tip.
I shook hands with him and walked back down the hill to the taxi rank.
This is the restaurant right on the road down into the centre of Parga.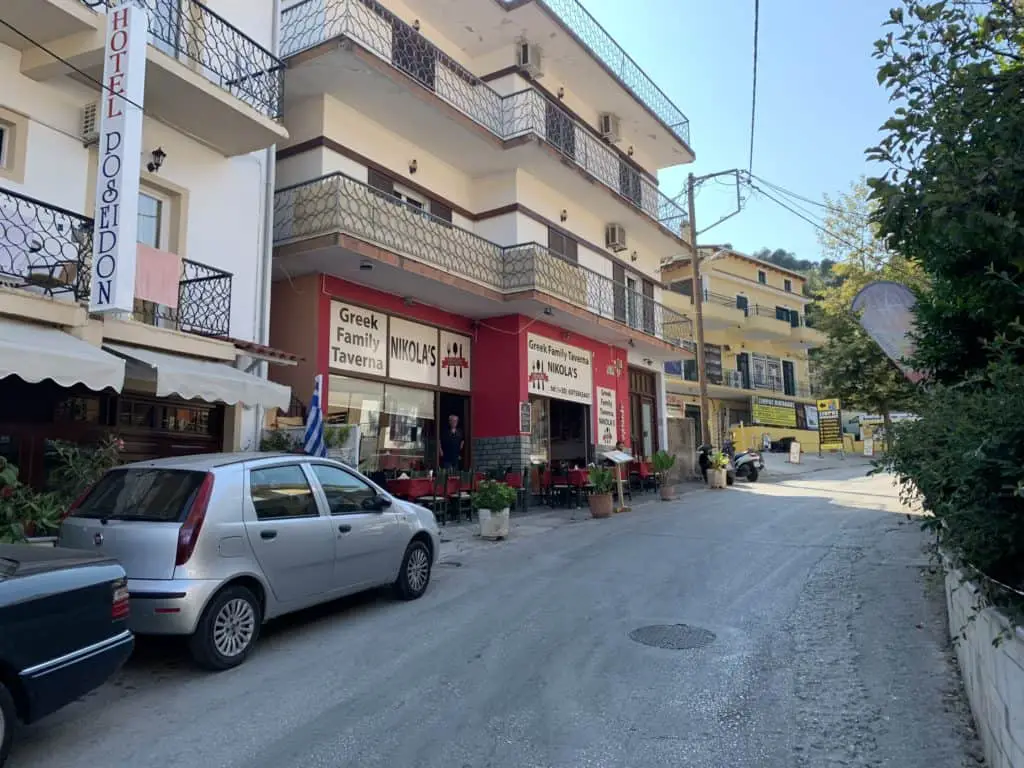 I returned and a taxi appeared which we shared with a Norwegian couple stopping just up the road from us.
How much is a taxi in Parga?
To the Alea Resort from the taxi rank in the centre of Parga is 5 euros, an absolute bargain with those hills in that heat.
Back to the room for a relax in the air con before I go out on the balcony to write this.
Dinner at Taverna Stefanos
Showered and time to walk down to the old town, which we are very much looking forward to.
We ended up eating at Taverna Stefanos. This restaurant has a magnificent view overlooking Valtos Beach. We got a table downstairs, which had an ouzo each for us sat on the table which was nice.
This is the view taken with my iPhone.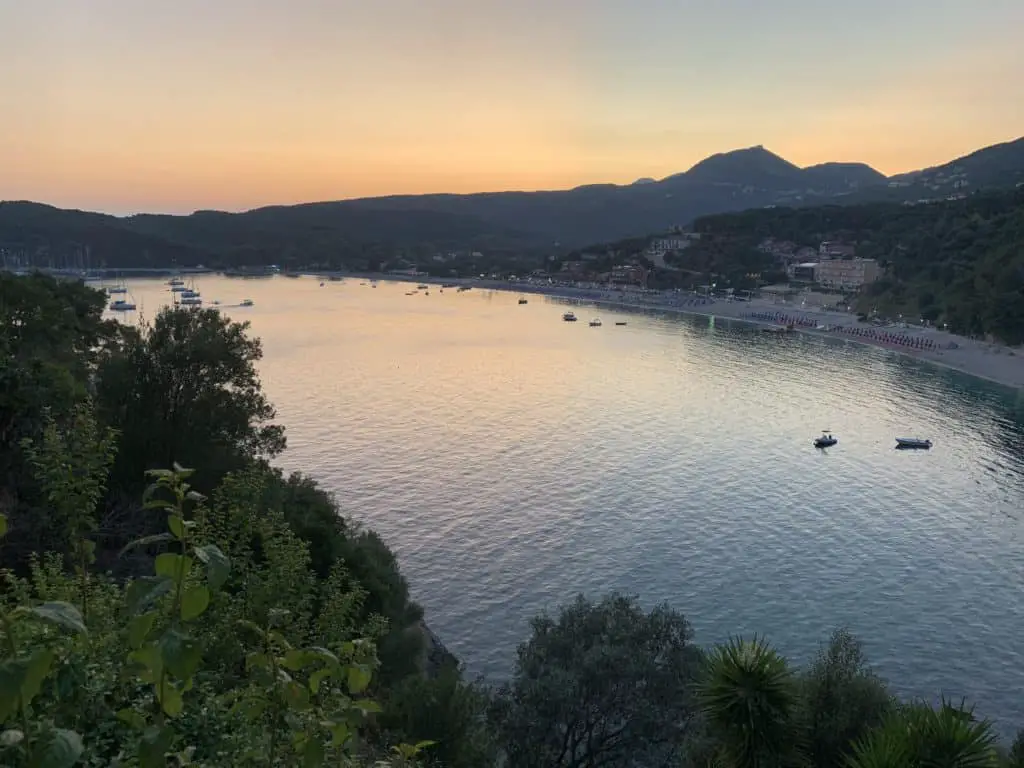 We sat down and ordered some red wine which was very nice. The waiter was very nice and informative, telling us that the red wine would be better in 40 minutes. I told that we would not be!
Starters were prawn saganaki which we shared, which was the best prawn saganaki certainly that I have ever had. This was accompanied with some lovely bread and garlic butter.
The mains unfortunately were not so stellar. I ordered lamb kleftiko, which was served in an oven dish with a crusty top. This was not to my liking unfortunately. Nickie ordered the Chicken Caesar Salad, which came with a big load of mayo on top. This dish was not good, which we sent back. They accepted that we did not have to pay for this, so we left disappointed. The bill for this was 49 euros (without the salad).
Where is that reggae music from???
Find out in part 2 next week on my blog in the post titled Parga Greece Reviews – Part 2 of 3.
And here is the video of Parga
I recorded a video of me walking from the front up to the taxi rank, which you can view on the Rick McEvoy Photography YouTube Channel here.
Summary
I hope that you have found this post about holidaying in Parga interesting. I know that this is not photography related but I will touch on that in parts 2 and 3. And I have included lots of photos from my travels!
I have been wanting to do some travel writing for a while now, so lets see how this is received.
And if you are enjoying my travel writing why not check out my website Paxos Travel Guide – I loved the place so much I made a website all about it!
Rick McEvoy