This is the last in this series of three posts about a holiday in Parga Greece.
In this post I will tell you what a Parga TUI package holiday is like, based on my very recent experiences. I describe the last days of our holiday, and our experiences of getting home. I will conclude with a summary of the good and bad points of our TUI holiday.
Before I go on, here are the two previous posts that I have written.
Parga Holidays – What Is Parga Really Like?
Parga Greece Reviews – Part 2 of 3
Back to the holiday
For those of you who have not read the first two posts I need to explain a few things.
We go on holiday to have a break from our responsibilities.

We drink a little often – it might seem like we have a drink with every occasion and meal, but it is normally just the one!

Our holidays are very important to us.
Day 11 – 21st August.
This is the day that nothing happened!
11am!!!! I set the alarm for 7am, hit snooze, made a cuppa and then went back to sleep. We both dragged ourselves out of bed at 11am!!
Relaxation has finally hit us on day 11.
Well I did do a sunrise shoot the day before which would have contributed to my tiredness,
So it is time for a quick cuppa then up to the pool to doze and read.
Lunch at the hotel
Today we had a cheeseburger and Caesar salad for lunch. Well call it brunch. This was accompanied by our usual small and large beers – we are still on the draft Corfu Town Beer.
This is my pint! (Or half a litre).
Busy doing nothing
After lunch we had a concerted dozing/ reading/ dipping in the pool to cool down session. It is quiet by the pool today. The shouting woman with the small child appears to have gone home, along with the large family who have only one volume.
But the sun lounger stealers are still here.
Cultural differences
Whilst the pool area is quiet you can still see the cultural differences between English, Greek, Italian, Danish, Swedish and Norwegians. We appear to be more like the Scandinavian folk than the other nationalities which I find interesting.
But we all seem to find a beer before noon acceptable on holiday ha!
So it was time for an afternoon refresher before heading back to the room
Melting on the balcony again
As I said this really was the day where nothing at all happened.
And as I write this on the balcony I am still exhausted – maybe holiday relaxation took a while to reach me this time.
Dinner tonight
Tonight we are going to the place next to Shanghai for dinner.
And tomorrow we have an early start for our Corfu Town day trip, so probably not a bad thing that we had a resting day today.
Toros Contemporary Greek restaurant
Yeay – back in a Greek restaurant.
Now I have to be honest here, my writing got a bit muddled on the tired day. I had to rely on the backup of the photos taken with my iPhone to tell me that we did not eat in the hotel as I thought, but that we actually went to Toros down on the waterfront.
Here is the menu.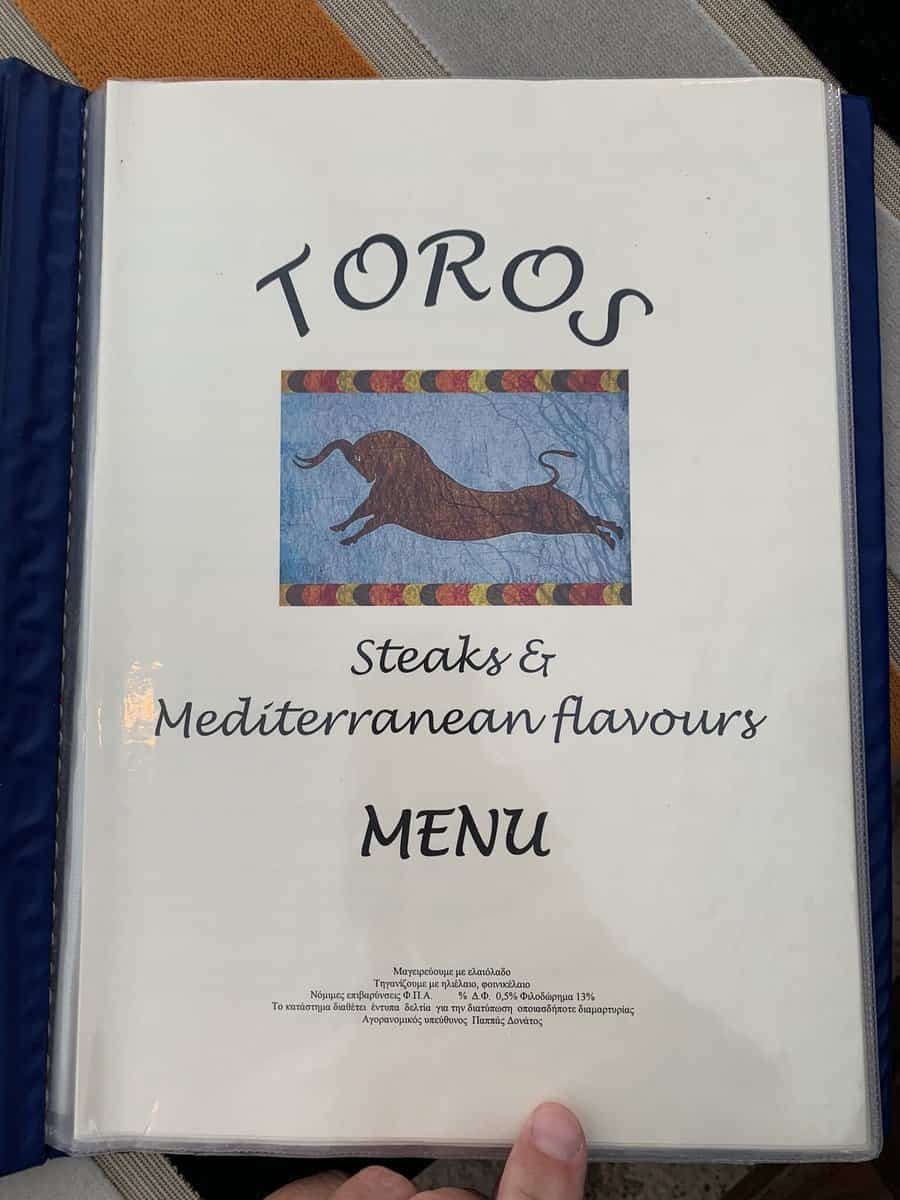 And here is my beef stifado – a magnificent serving of local Greek culinary loveliness.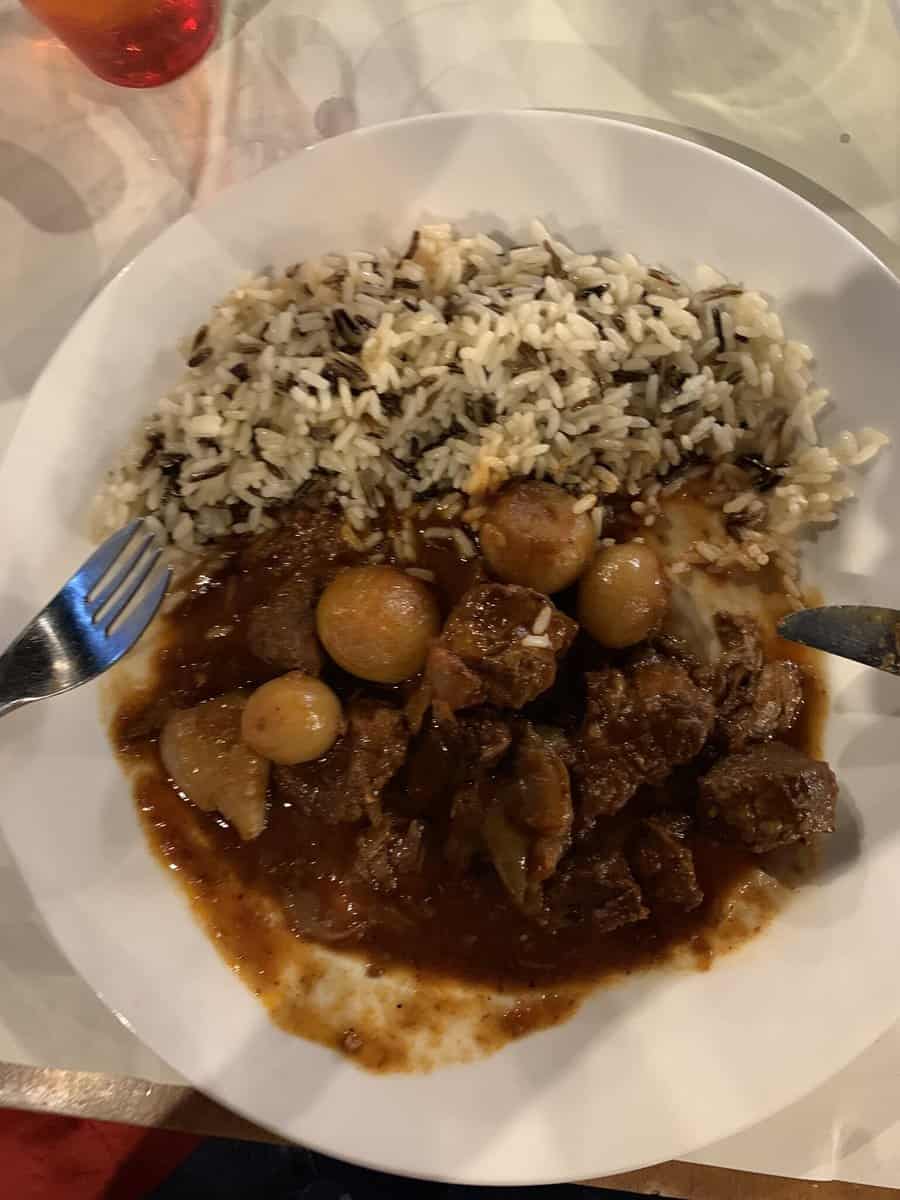 And here is our table!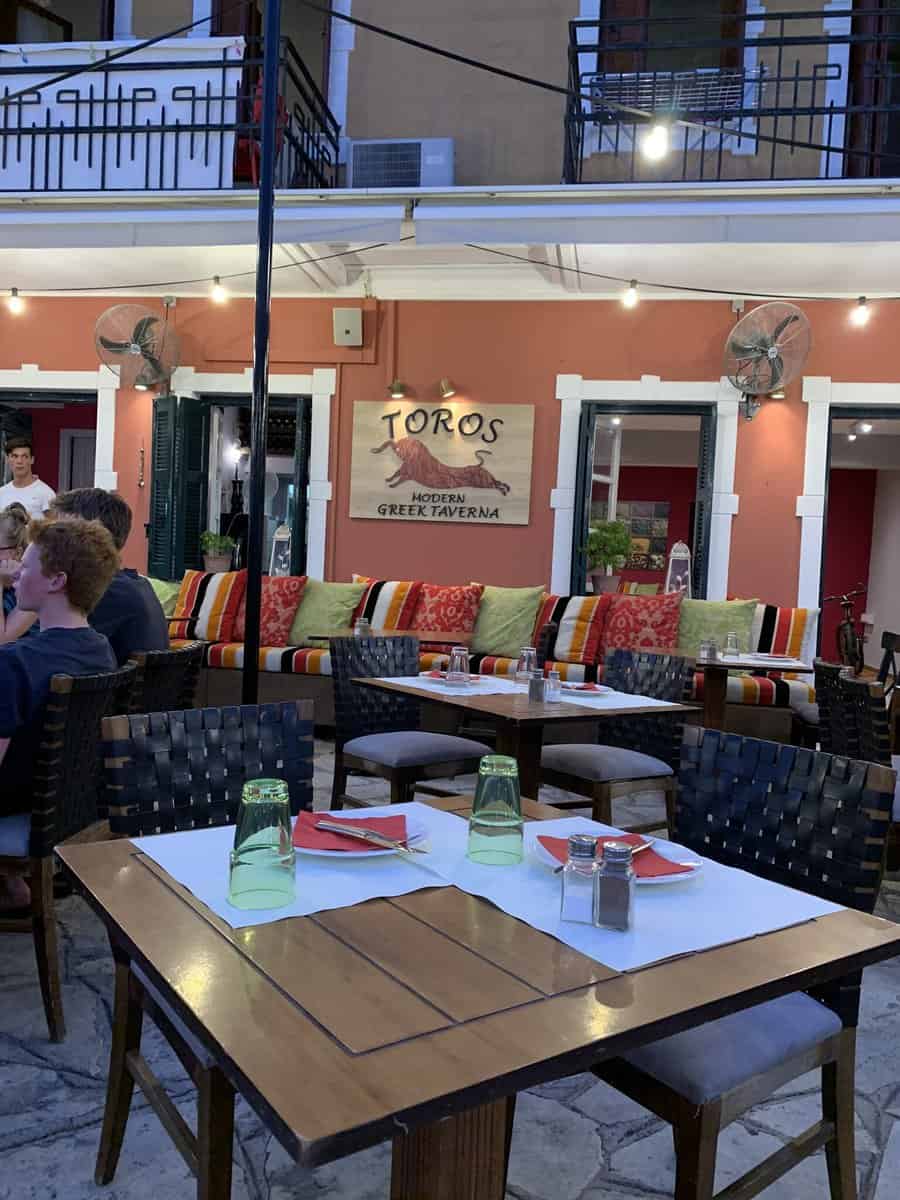 Apart from that nothing else to report from today!
Day 12 – 22nd August – Corfu Town
I will write all about this in a separate blog post next week.
But we got back to the hotel at 7.pm having got up at 6.30pm. So we eat in the hotel tonight. Not last night as I thought.
We just could not be bothered going out. It gets like that on holiday, going out every night can become tiring!! Especially after a long day like today.
Dinner at the Alea Resort
It is such a luxury not having to walk down the hill into Parga. No crowds to battle. Just taking it easy.
The problem was the evening chef left, and they could not find a replacement in August, so all they could offer was the snack menu. As we spent a lot of time at the pool taking it easy, we had completely exhausted the snack menu, and did not want that in the evening as well.
The full menu
So we eat in the hotel which has a new chef and a full menu.
Starters are fried saganaki, and I have spaghetti Bolognese and Nickie has linguini something.
And a 1 litre carafe of very nice wine.
It was very quiet in the hotel restaurant but all very nice.
And there was the cat who was clearly expecting to be fed.
It was a shame that there was no one else there – there is something rather unsettling about being the only people eating in a restaurant.
Day 13 23rd August.
This is how I wrote about this day! I love it so am not going to change it.
Alarm 5am.

Sunrise shoot

High res on tripod. Low light stuff. Church. Outside restaurant at end. All good. Videos walking around Parga x 2.

Tripods – both. Simple. High res great. Love screen. Loving camera and walking around with lightweight set up.

No NDs

Kit used minimal

Camera, 2 lenses, 2 tripods, lens cloth and solution. Battery charger. That is it. Nothing else. Oh yes phone and Wi-Fi first shoot.

Sunrise videos. Video on Olympus on tripod.

Lost phone on rocks!

Bins, deliveries, watering steps, morning noise, cats and fish.
After the sunrise photo shoot.
Cappuccino from smiley man 1958 photo

Walk back with 2 croissants 1 bagel I baguette from bakers 7.90 euros.

Back to hotel

Hot walk back this morning.

Pool. Sun lounger incident. Beer. Snacks.

Afternoon in Parga

Down to Parga. Nickie nails. Beers from Mikes. Valtos Beach. Snorkel. Teenagers taking photos. 3 relocations. Snorkel. Melt. Debris. Quicksand gravel. Loose flip flop. England 67 all out.

Melt on walk back. Return bottles to Mikes.

Back to the hotel

Taxi rank straight way. Back to hotel. Mojito 8 euros can Mythos

Late. Quick change.

Out.

That was how I wrote the day up!
Back to normal English now.
Shopping in Parga
After showers we walk down through the old town and have a miraculous shopping trip. We find everything we were looking for in Corfu Town on the path we were walking down anyway.
We get
3 lovely pairs of Reefs for 85 euros

2 leather belts for 8 euros from a shop where the man makes leather stuff. Why did I only get 2???

2 lovely pairs of silver earrings for 35 euros

Another big sheet thing for 15 euros

An oil pourer to go and we are done (we never found that)
Time for dinner
We go to the Italian at the end of the front where I was taking sunrise photos that morning. We had a bit of a kerfuffle with the table. It was very quiet, there were loads of tables empty, and we asked if we could sit at a nice table which we did.
Grumpy waiter
 The waiter had pointed to a table way back in the middle of nowhere which we did not want to sit at, so we said we were fine where we were. He picked up the table he wanted us to sit at and moved it next to two other people. And then gestured at us to sit there.
So we walked out
We got up and walked out and returned to the Greek restaurant we went to the other night. Toros.
It was déjà vu all over again!
The same gent welcomed us, the same lovely waiter served us, and the same gent bought the same bottle of wine. The only difference was that we were on a different table.
A very nice prawn saganaki was followed by a not so great chicken sofrito for me and Moussaka for Nickie.
49 euros including drinks.
And time for bed
We paid and walked back to the taxi rank exhausted – the hill to Mikes Bar and onto the hotel after were too much for us tonight!
Day 14 24 the August – The last full day.
Up to the pool for 9. Well 10 for me. I was a bit dopey this morning. I know it is my last day, so I am done with sunbathing completely.
Cereal bars for breakfast and then the pool.
Lunch
Lunch was pork gyros for me, a Greek omelette for Nickie, accompanied by a small and a large beer. 22 euros for lunch then an afternoon listening to the cricket and dozing, with frequent dips in the pool to cool down from the absolutely melting heat!
It is odd that I do not like pork, but this was nice I have to say.
Late check out
I got our room till 6pm tomorrow for an additional 20 euros – pick up time is 4.15pm so glad that is sorted.
Last night tonight – where are we going to eat?
We went back Shanghai would you believe!
Day 15 – going home
It is our last day. Boo hiss. I don't want to go home. Well I do actually. Parga is fine but I do not love it. I wish we had gone to Paxos again.
Oh well – the only way to learn these things is by doing them.
Today all we have to do is pack and go to the pool. I won't bore you with any of this.
Cricket
Today was what is now called "Headingley Sunday". If you don't like cricket move on.
I don't like cricket – I love it!
I am going to jump straight to the airport, having left the hotel and dragged two suitcases up the hill to our pickup point.
We had a problem on the way to the airport – someone was sick. So we had to pull over while they dealt with the unfortunate poorly passenger. Must have been awful for her.
Back to the cricket
I can see blokes in the airport staring at their phones and looking around anxiously. I am one of them.
Sneaking quick looks at the BBC Sport website.
Can England win?
I get to security and England need two runs to win. The cricket lovers are less subtle now – I can see them!!
And then the bloke tries to go through the x-ray machine with his phone in his hand and his headphones on. I have to put my stuff in the plastic trays and get through as quick as I can.
I see one bloke punch the air, another letting out a muted "Yes!" and I know that we have won.
I get my plastic tray and there is the news on my iPhone – England have miraculously won.
Ben Stokes – legend.
And then it is time to sit down for 2 ½ hours. I read the BBC Sport website.
We get on the plane.
We get back to the car.
And the door called reality slams into my face as I have to drive from Gatwick back to Poole in the dark at what to us is 2 in the morning with very little sleep on the plane!
What did I like about Parga?
The waterfront is lovely

The Venetian buildings

The shopping was surprisingly good

Valtos Beach was nice

Dallas Supermarket!

The day trip to Paxos
What did I not like about Parga?
Parga is a busy bustling location

The traffic

Parga does not have the chilled feeling that Paxos does

I could see Paxos from my hotel balcony!

The food was a bit hit and miss

I did not fall in love with Parga, so didn't take many photos – that says it all for me
What did I like about our Parga TUI package holiday?
Booking and all that stuff was good

The TUI app is good

The flights were good

TUI representatives on the plane was good

Everything happened when it should have done

The hotel was pretty much as described
What did I not like about our Parga TUI package holiday?
The coach transfer to the hotel took forever

The rep did not actually visit our hotel.

Whilst it is nice to know that we have the backing of TUIs should there be a problem they did not deal with our problems.

The location of the hotel – now this is our fault as it we knew what we were booking

Entertainment on the plane did not work going out but did on the way back.
OK where's the video for this post?
Here is a link to it INSERT LINK
Summary
I hope that you have enjoyed this series of posts about our holiday to Parga. I will finish off this series with a post about the day trip from Parga to Corfu. Then I am going to get stuck into the photos I took. There are not that many though, but I do have sme exciting new processing to look forward to.
What's on my blog next week
I think I will write a post about the day trip from Parga to Corfu Town. And then I can get into the photos that I took in Parga and Corfu Town.
And after that I am back to photography stuff. I just wanted to try out some travel writing and see how it went – I will let you know the numbers for these posts in a few months.
Rick McEvoy – Travel Writer/ blogger/ website creator
#parga #greece #pargatuipackageholidays #rickmcevoyphotography #travelphotography #travelphotographer