OK – I am continuing my journey though some of my photos of buildings, and this week I have gone for something completely different, and one of my favourite photos.
Barbados architecture is unique due to the use of bright vibrant colours applied to both the timber facades and the sheet metal roof coverings, giving Barbados its unique look and feel. Many of the buildings in Barbados are painted in bright colours giving a very colourful vista.
The bar in the photo is the Absolut Watering Hole, a vodka bar sadly no longer open, but still a striking sight on the main road from Bridgetown to the south and the airport.
And yes, this is where architectural photography and travel photography meet and merge happily together in one bright vibrant photo. I like to call this photos of buildings in nice places!
First here is the photo that I created before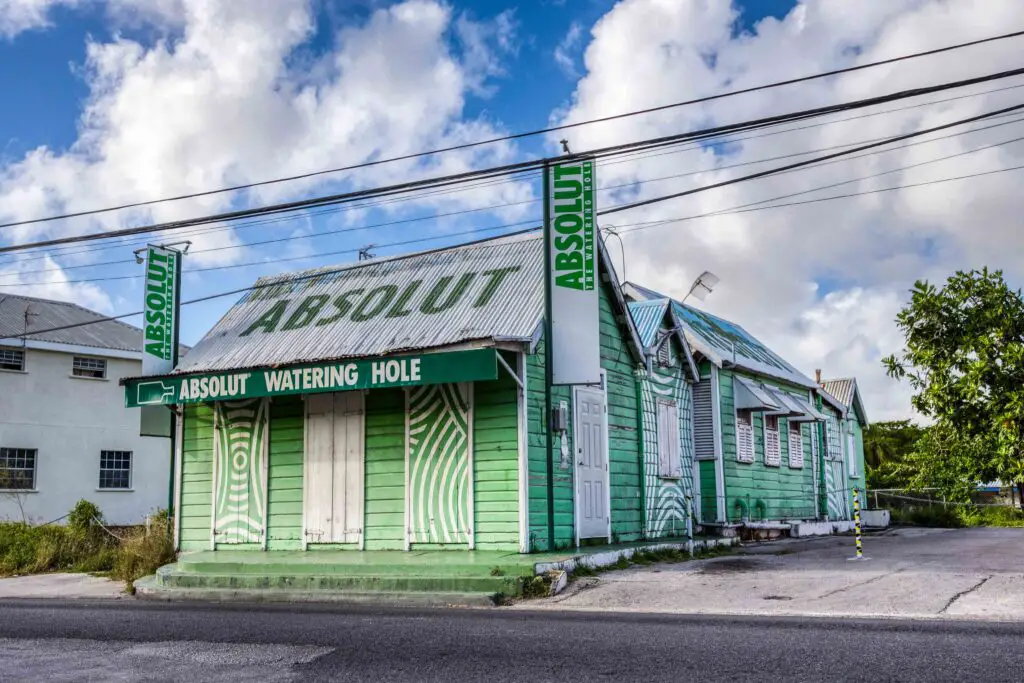 And here is the photography stuff about the photo
Camera settings
Aperture F8
Shutter speed – 1/1000th second, 1/4000th second nd 1/250th second.
ISO400
AV Mode
Focal length 35mm
How do I know that I used AV Mode way back on 2017? Well Lightroom tells me that – "Exposure Program – Aperture Priority". Clever Lightroom!
And all the other things that it tells me that I can't remember.
Gear
Canon 6D
Canon 24-105mm lens
Handheld
That's all – camera, lens and of course lens hood. But no more. Nice and simple, just how I like it. Oh sorry and my trusty wrist strap. See I stopped using a neck strap a long old time ago.
No I was walking around with just my camera and lens in my hand, just how I like it.
Where did I take the photo?
Barbados. We were there on holiday in 2017. How I miss that place. Stunning place, lovely climate and really friendly people. An absolute joy to be there.
It was December 2017 to be precise, and I took this photo on Boxing Day no less. We had enjoyed a Caribbean Christmas Day, which was great fun, and were taking it easy on Boxing Day.
I went for a walk with my camera, which is what I do when I am no holiday.
Well, Lightroom being Lightroom I can show you exactly where it is, as the Canon 6D has GPS and Lightroom has a map- put them together and voila!
Here is where it is in the world!

And here is when it is on the island.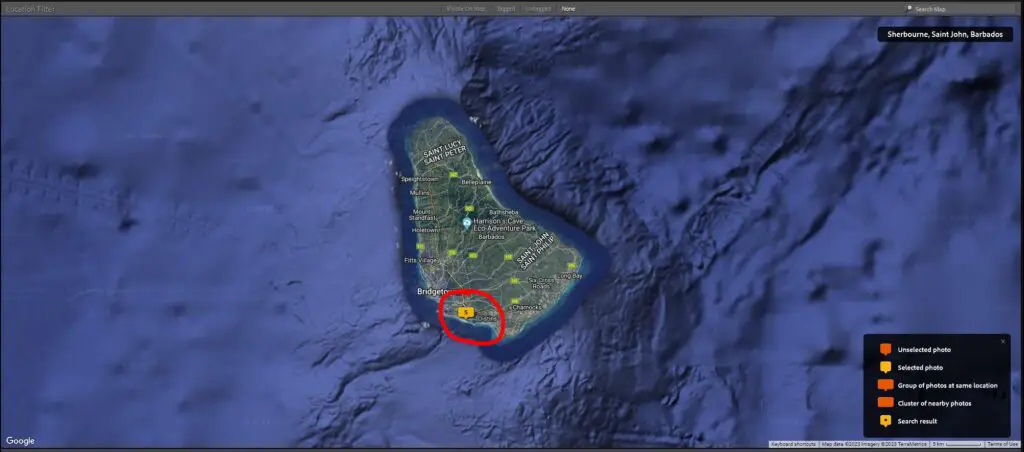 Yes the much maligned Lightroom Map Module is actually dead handy. I could show you exactly where the building is if I zoomed in, but I won't do that here. If you want to know though just get in touch and I can tell you exactly where this building is.
But it is located at the end of the famous St Lawrence Gap.
When did I take the photo?
Now according to Lightroom this photo was taken at 19:54. That's the time not the year. And this does not make sense. So I checked my phone. I took a photo with my phone at 13:51. Now that makes sense, and is probably accounted for by the time difference which is erm 6 hours!
When I say this did not make sense, well it would have been dark by that time in Barbados! And late afternoon is when I tend to go out exploring. I get to a point with sunbathing where I have to do something else, and photography being my thing I head out on foot with my camera to see what I can find.
This is one of the joys of photography to me, giving me purpose to my wandering and exploring.
Why did I photograph it?
Well it is a bright, vibrant and interesting building, so why not? It is sat there on the main road that goes from the south of the island around the coast up to the capital Bridgetown. It was close to where we were staying, and we walked past it a few times on our way to other places.
And for someone like me this is a great subject, different, interesting like I say with lots of details and things to look at.
And so, so different from buildings here in the UK.
Just a real shame that the bar was closed. I don't know how long it has been closed for but such a shame.
Now to the photos
The edited photo
The photo that I shared above is the edit that I did when we came back from our holiday. And a wonderful holiday we had too by the way.
The Lightroom auto edited photo – from a single image capture
I took the first photo of the sequence of three and did the following
Auto white balance
Auto edit in the Basic Panel
Auto transform
This is what Lightroom gave me.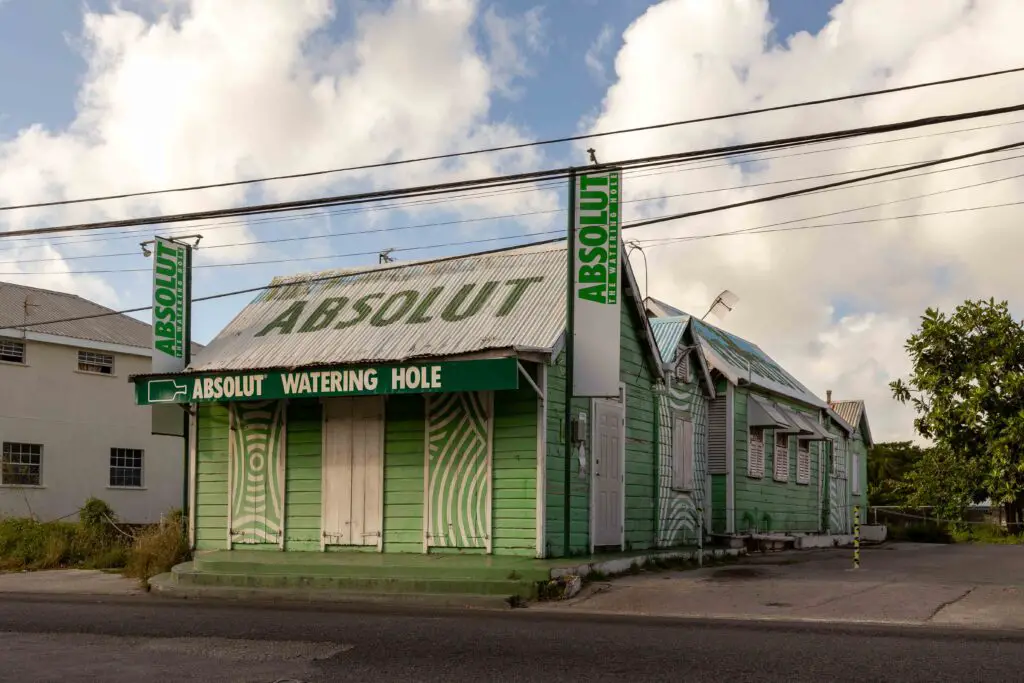 Not bad Lightroom, not bad at all. As I hit auto in the basic panel the photo began to pop before my very eyes.
Black and white with one more click?
Here is the black and white version according to Lightroom.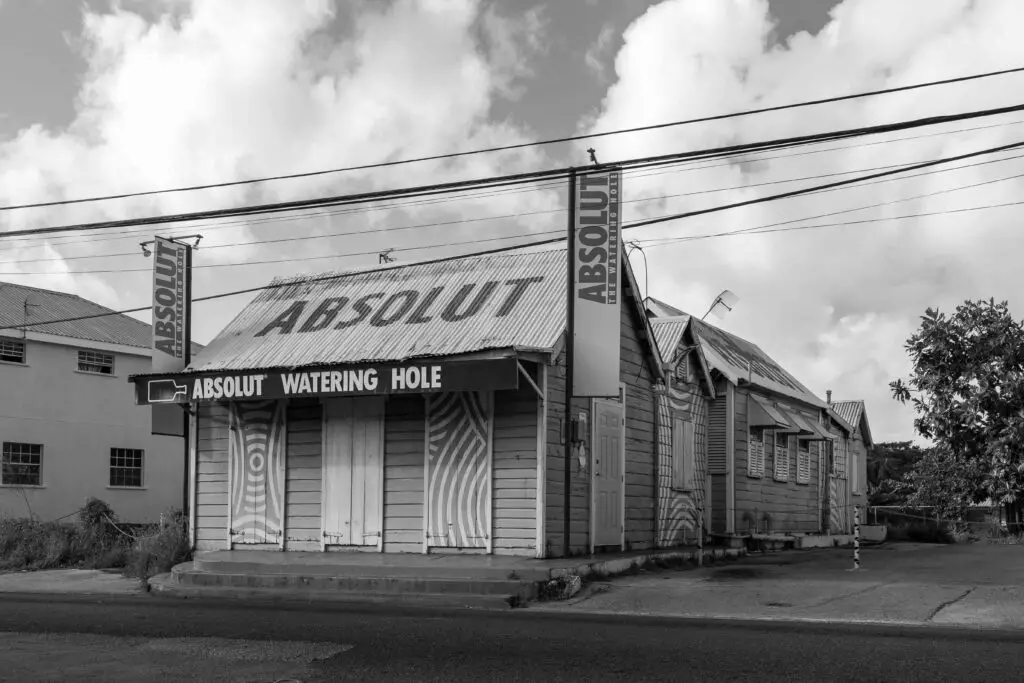 It's ok, that's all. There are lots of textures in this photo which make this potentially interesting but you lose that lovely green colour.
And now here is the re edit.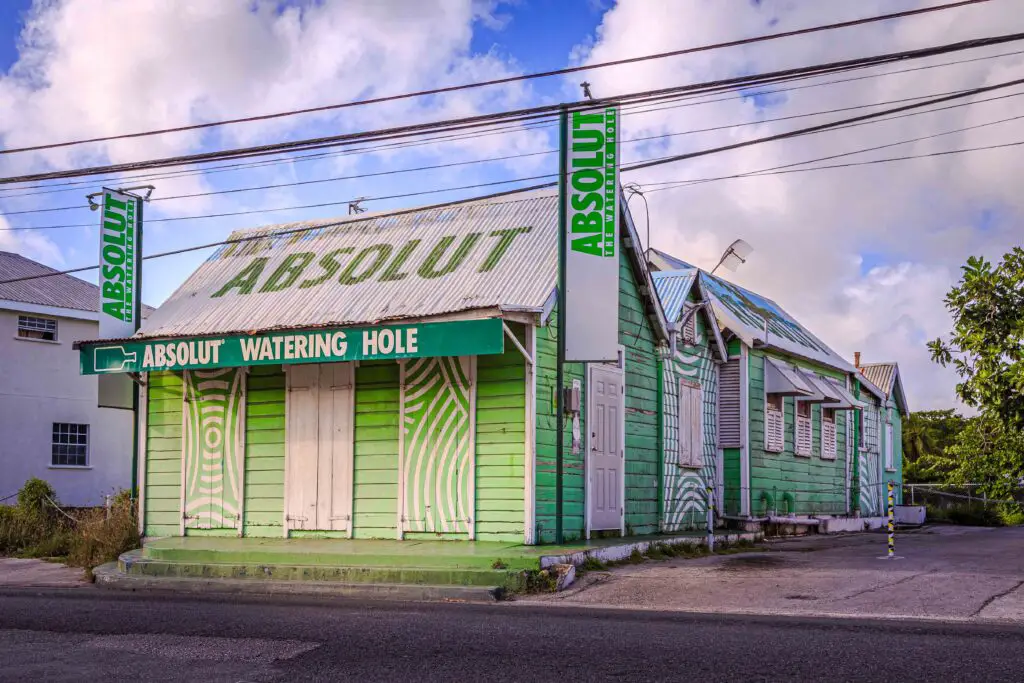 I gave myself time to do this, which took me 10 minutes.
I started off with merging the three photos again, leaving the stuff that I had applied on import. I then just went through the stuff that I normally do, and here is my brand new edit.
I cropped in a bit, and made the frontage the star of the show, making it brighter and warmer.
I like this new version, and I like going back to old photos and applying what I have learnt since I took them.
No 1 minute edit – I think that I will give up on that, the Lightroom auto edits are so good.
And no black and white version either, I don't want to do one so am not going to!
Lessons learned – gear
Change the time on your camera when you get to a new place. I forgot, but thankfully my iPhone did this automatically for me so all good. And I always forget to do this. I never check photos when I am away, I just look after the memory cards and look at what I have got when I get home.
If you have GPS on your camera I strongly recommend that you use it. I love going back on old photos in the Map module in Lightroom, which shows me exactly where I took photos. See I take photos when I am on my way from one place to another, if I see something that catches my eye I will photograph it.
And this information is there in Lightroom for you and me to go back to whenever we want. I still find it pretty incredible that I can see exactly where I took a photo in 2017. Not that I need reminding of where this lovely place is!
Other than that my good old Canon 6D and walkaround Canon 24-105mm lens did the job nicely.
But – talking of my gear
There is a page on my website where I show you all my gear. And this page is full of Amazon affiliate links, so if you click on any of these images and go to Amazon, anything you buy in the next 24 hours I think I get a commission on. You don't pay anymore, Amazon just get a bit less. And you get a big thank you from me.
Lessons learned – composition
There was not a lot of choice. I wanted the depth of the building, and not just the frontage. I wanted the whole building, and a little bit of the context of it.
So quite happy with this photo, which is the only one that I took from this view, which is a big improvement from what I used to do!! As in takes loads of photos.
Lessons learned – image capture
I think that I would have liked to have taken this building at different times of the day to see if I could have got a better photo with better light. There is nothing wrong with the photo that I have, I am just not sure if I have captured it with the best light.
Now I won't beat myself up over this too much – I was on holiday after all!
Lessons learned – processing
Power lines – well on an architectural shoot I would remove these, but here they are part of the place, such a feature, that it would be wrong to remove them. They add to the feel of the place. So they stay.
Removing other stuff
I could have tidied up bits but did not want to – I wanted to show the building and the area immediately around it exactly as it is.
And another thing.
The Basic panel in Lightroom is not so Basic. Far from it. I wish they would call it something else, it is so powerful.
What if I use a phone to take photos?
Well you will get a nice photo just like I did with my phone. And you would not have had to lug all the gear that I did with you to get it!
And you would have known what time you took the photo too! Unlike me.
Am I happy with the photo?
Yes, especially the new edit, which really does take me back to this place which is so special to both of is.
OK – and now a few more things
The Photography Explained Podcast
I want to tell you about my small but perfectly formed podcast. I am the creator and all things at the splendid Photography Explained Podcast. In my podcast I explain one photographic thing per episode in plain English without the irrelevant details in less than, well less than 27 (ish) minutes these days.
I talk about all aspects of photography in my podcast, and welcome questions from listeners that I love answering.
Related reading
Check out my website. Simple. Everything pretty much is all about taking photos of buildings.
My You Tube channel
Yes I have an ever growing You Tube channel, where I talk about what I have written on my blog. Check out the video for this post right here.
Again no frills, no bull, just me telling you the stuff that you need to know.
Get a weekly email from me to you
Yep, if you want to receive an email from me every week then fill in the form on this page – there will be one somewhere. And in return I will send you a splendid Lightroom thing, and you will receive my thoughts straight to your inbox on a Friday afternoon. Which is nice.
Finally – how can I find out more about this stuff?
Simple.
Get in touch with me – email me – sales@rickmcevoyphotography.co.uk
Get in touch, ask me a question that I can answer on my blog or podcast, or just say hi – it would be great to hear from you.
Thanks for visiting my small but perfectly formed website, and I look forward to hearing from you.
Cheers from me Rick