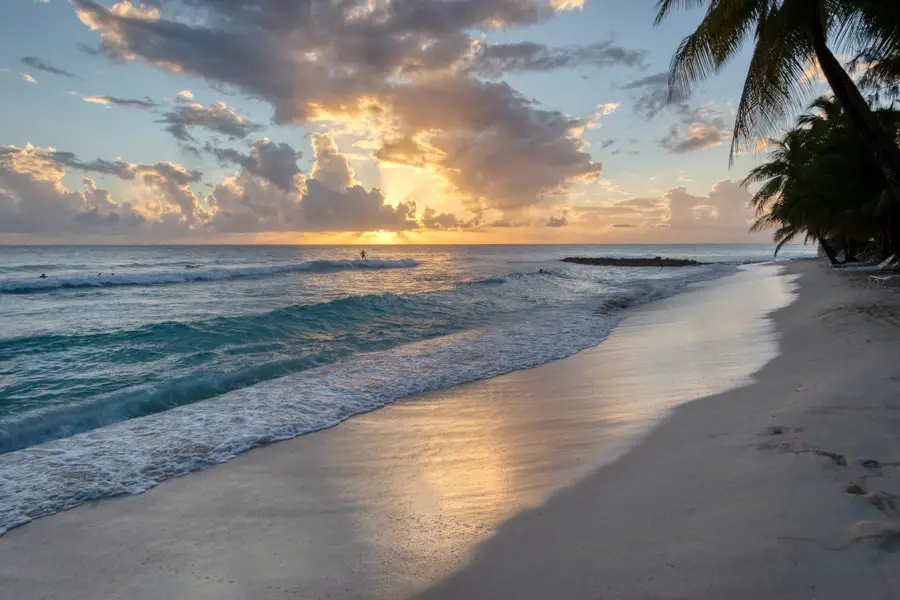 I have been using Lightroom since it's first release. And there is lots of new software out there. So what about Aurora HDR?
Aurora HDR vs Lightroom – which is best? Can Aurora HDR replace Lightroom in my workflow? No is the short answer. I am using Lightroom for my commercial photography wok, and using Aurora HDR more and more for my landscape, travel and personal photography work. Neither is better, Aurora HDR works fantastically well with Lightroom without replacing it.
Batch processing
And can I use Aurora HDR 2019 to batch produce images for an entire website?
This kind of arose during the writing of this post – I have been looking for a way to batch process images.
What's in this post?
In this post I will explore some of the features that are important to me in Aurora HDR, and show you some of the things Aurora HDR can do.
But the fundamental question that I started off answering is, well answered. Neither is best – both are amazing.
Aurora HDR cannot replace Lightroom as it does not have the Library Module.
Now that is sorted lets have a good old look at Aurora HDR.
Disclosure time
This all came out of a comment I made in an Improve Photography article, where I stated that I had bought Aurora HDR but had not got round to using it yet.
Due to the popularity and authority of Improve Photography this comment was picked up by Skylum who got in touch with me.
I'm sorry but I cannot bring myself to say "reached out" to me – is that just me being typically English do you think?
And they offered to help me learn how to use Aurora HDR. How utterly nice of them.
And teach me is exactly what they did.
One to one training with Abba from Skylum
I had an hour and a half with Abba, which was most excellent. Not only did I get to grips with Aurora HDR 2019, but he also introduced me to Luminar. And that was on a Sunday evening here in the UK.
Disclosure time 2
I had bought my own version of Aurora HDR. Since Skylum made contact with me I have become an affiliate for Skylum, and you can buy any of their software using my affiliate link here. Enter my own discount code MCEVOY and you will get £10 off your purchase.
This is the first time I have ever had my own discount code which I think is pretty cool!!
Skylum also gave me a version of Luminar for me to have a play with and write about.
As I said, that is one for another time, but Luminar might give me what I am looking for as well. Lets stick with Aurora HDR 2019 for today though.
OK – that is all that stuff out of the way at the beginning.
Why am I using new software anyway?
This is the point of this post really.
I mentioned before that I am looking for something new and different. I think I am after a change having done the same or similar for years.
Before I go on, a bit about what I am using now to process my images
I have been using Lightroom since release 1.0 in 2007. That is 11 years ago. Lightroom has evolved over the years into Lightroom Classic, Lightroom CC and Lightroom Mobile.
And I have evolved with Adobe over this time.
Now I have to state categorically that there is absolutely nothing wrong with Lightroom. I use it day in day out, and all my images are stored in a single Lightroom Catalogue.
Every image I take is imported into Lightroom, processed in Lightroom and exported out of Lightroom in Jpeg format for use outside of the bubble that is my office.
I use Photoshop for final editing of images when I have to.
So Lightroom is at the very core of my digital photography workflow, and is also tasked with looking after my Lightroom catalogue.
What is the problem then?
The world has moved on rather a lot since I started using Lightroom. I am 11 years older. I have hit the ages of 40 and 50 since Lightroom 1.0.
Now I know that Lightroom has evolved, but has the methodology that Lightroom uses evolved?
Has the workflow that I use evolved along with technology? I think not – I think that things can be done in completely different ways these days.
Advances in technology
The advances in software and technology are of course remarkable and seemingly never ending. And I want to make use of them as and when I can.
This is not using technology for the sake of it – this is about using the technology to give me better results quicker.
I want to align my workflows with the best that technology can offer. Hopefully I will be able to produce more better images quicker.
I need to word that better – I feel a catchphrase coming on.
Making the most of technology in photography – better images quicker and more of them!
Sorry where was I?
Oh yes – what am I looking for from software?
I have three distinct areas of work.
Architectural Photography.
This is the work that I do for clients. Clients book me and I photograph their buildings for them. This work needs a consistent workflow, and Lightroom is just fine for this at the moment.
I have a structured workflow with which I can produce the quality of images I want to consistently.
So for now that is just fine and will stay just as it is until I have mastered architectural photography processing using Aurora HDR.
The trial with Aurora HDR produced an image that I really liked – I just need to dial it back a bit.
And to see some of these images check out my updated architectural photography portolio page.
Travel photography
This is a completely different business area for me. This is work done for me for publishing on travel and travel photography websites. And quickly. I have produced a travel photography portfolio page where you can see a selection of this work.
But I want a distinctive stylised look that is all mine.
This is my new thing.
How I create my travel photography images.
The images on my Photos of Santorini website were created using Lightroom and Photoshop.
I am not sure how I am going to create the photos for Paxos Travel Guide.
But for my trial website, name to be determined, I am going to try the Aurora HDR/ Luminar approach exclusively.
I can do this as I can't do any harm on a trial website!!
This was a website I was already intending creating to practise with WordPress themes – the thing that I have a complete mental block with at the moment.
So I am going to create a new website, produce 25 images super quick and get them posted along with short posts. This will get that website up and on the internet quickly and will be the third experiment with websites.
This will be a test in quickly producing a travel photography website.
Tell you what – lets go with Barbados Photos, or a variant of that. Yes it will be my website with 25 photos of Barbados.
Marvellous – glad that is sorted.
Landscape Photography
I rather negligently forgot about my landscape photography work in the original post, so I will mention this quickly here. Better still go to my landscape photography portfolio page to see a selection of my work.
These are my three main areas of work, and I have just added a portfolio page for each to my website. Apologies for that digression, now back to the subject in hand.
How will I do this?
Well first I am going to play around with one image and describe the processing of that image, and then go on to the batch processing.
Here is the next image to be processed using Aurora HDR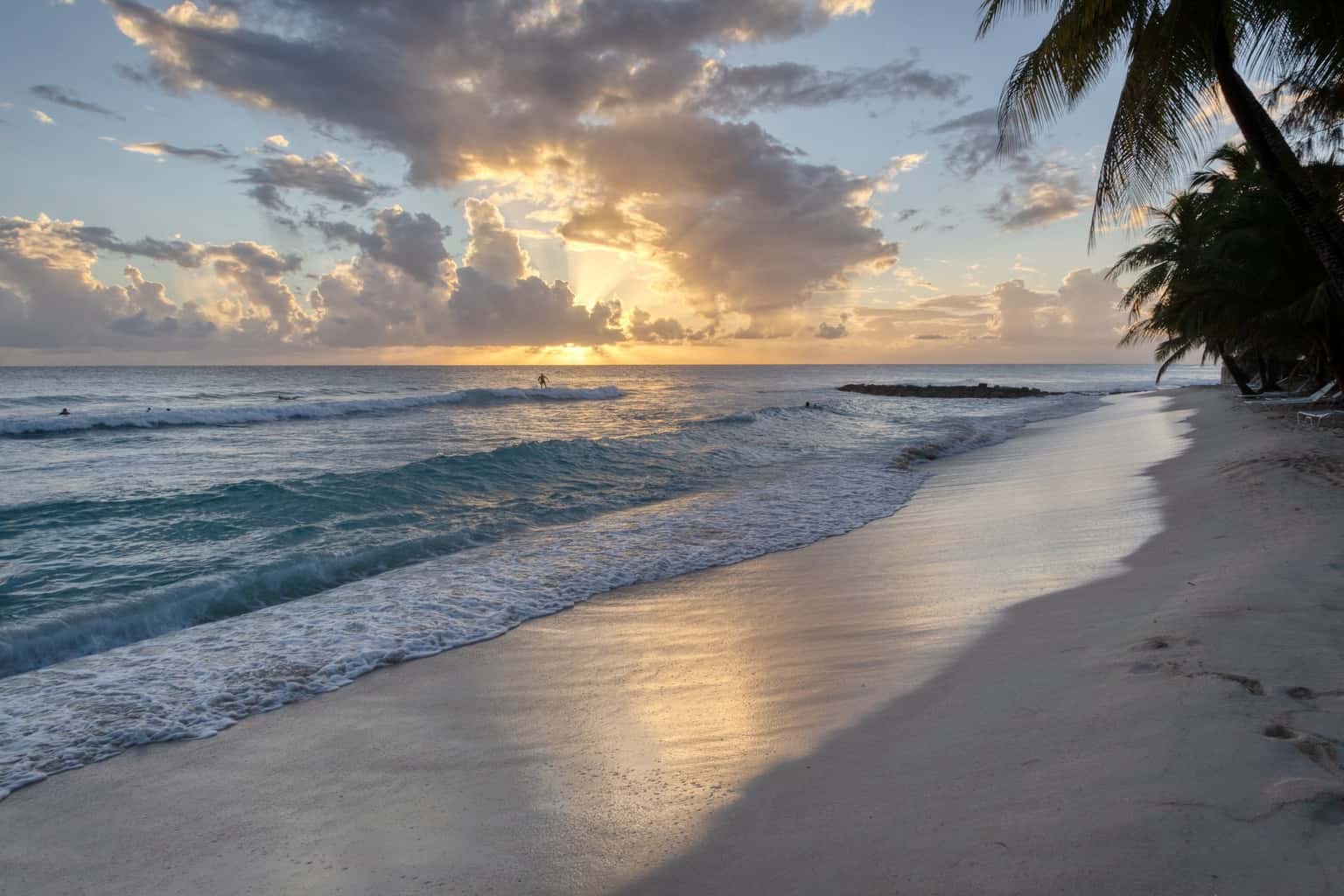 The image above is three photos converted into one HDR image using the following steps.
First I selected the three images in Lightroom and exported them "with Lightroom adjustments" into Aurora HDR 2019.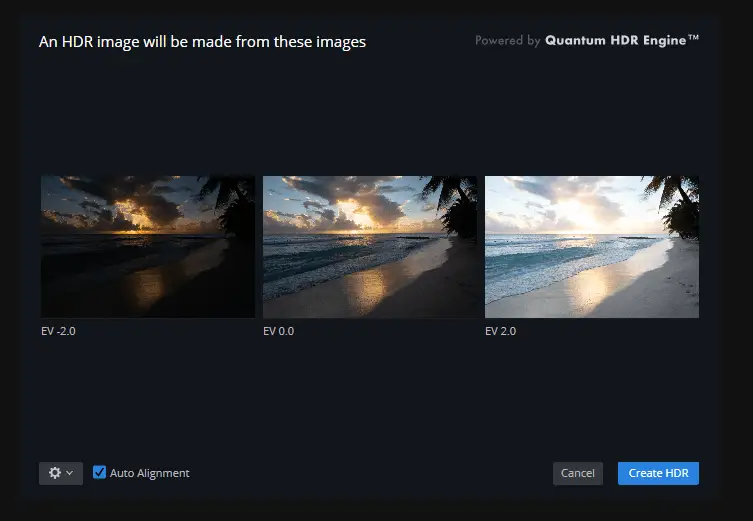 After this I let Aurora do its thing, and exported the image straight back to Lightroom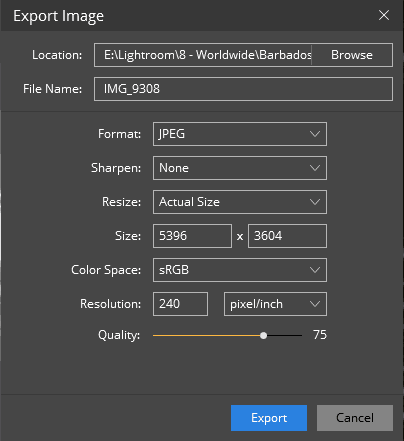 OK – that is the image that you can see with Aurora HDR doing all the work.
And I have to say the results are not bad at all. 
Batch production – the hidden power
OK – I have let Aurora HDR create one image from scratch pretty much – what about doing a load of images? 
This is what i really wanted to explore and write about here – the batch processing capabilities of Aurora HDR
So how does this work then?
You start this process in Aurora HDR 2019.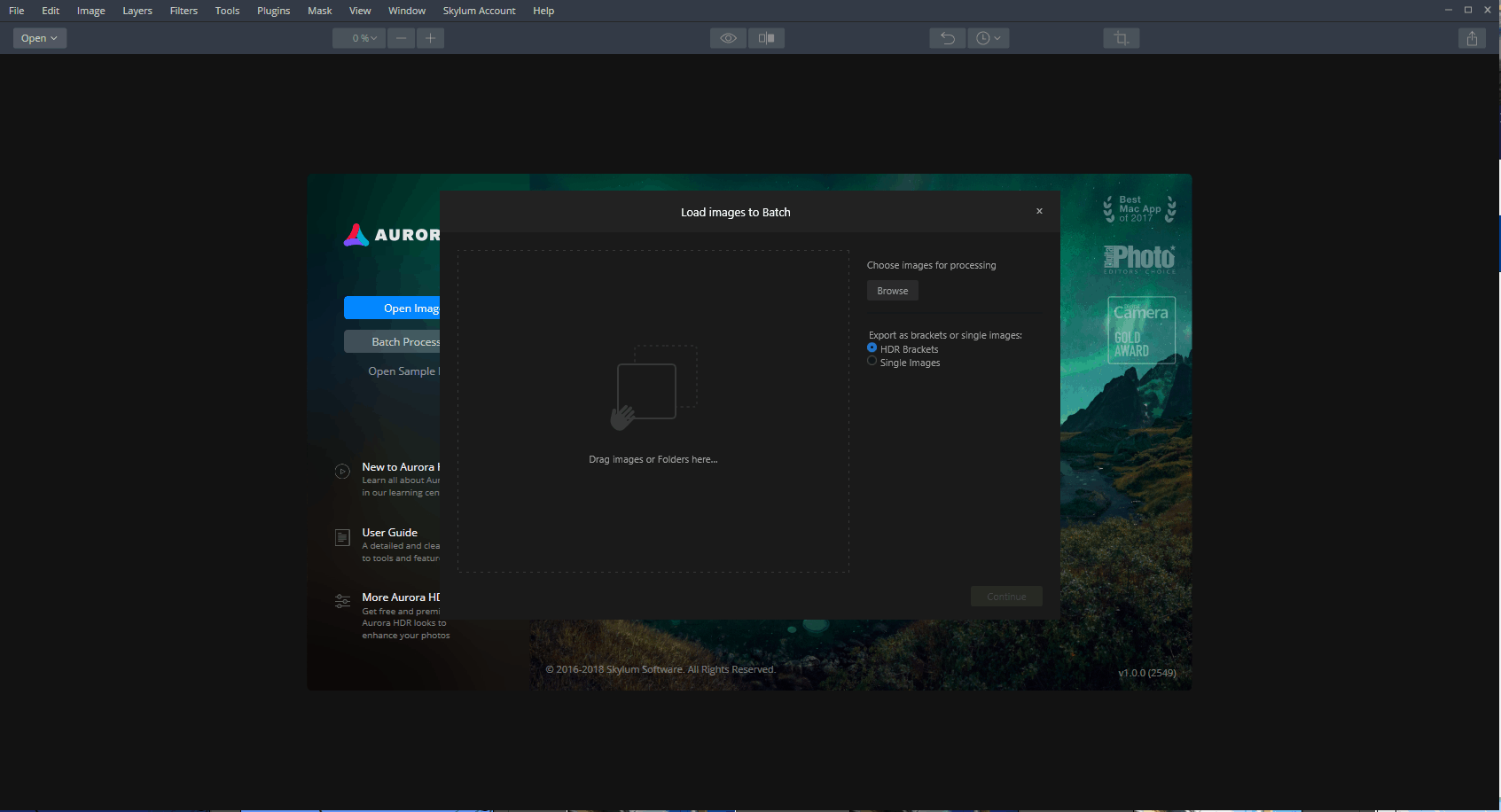 Select the images to add. I have put these in a separate folder in Lightroom, so all I need to do is navigate to this folder and select all the images.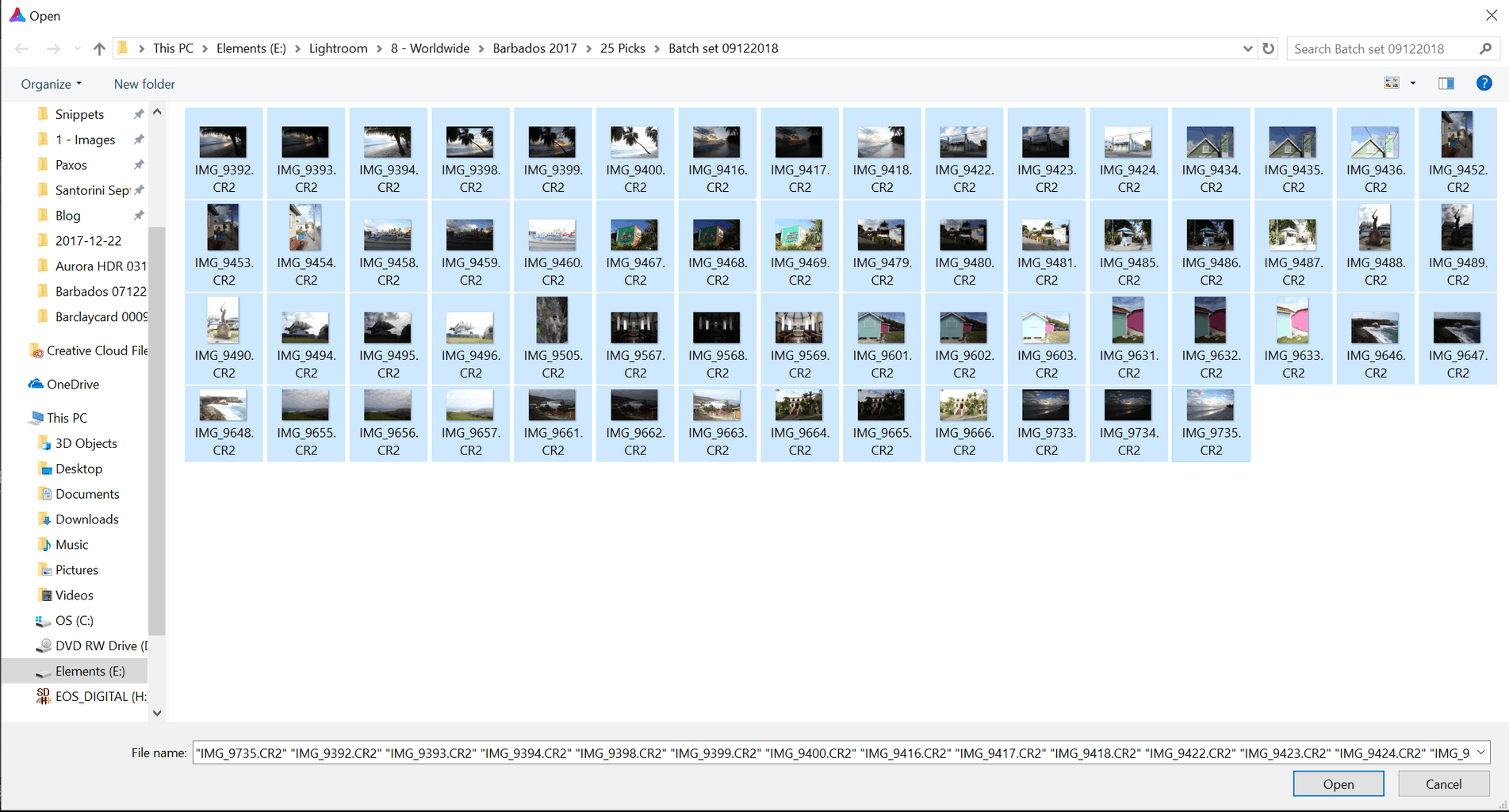 The next screenshots show the process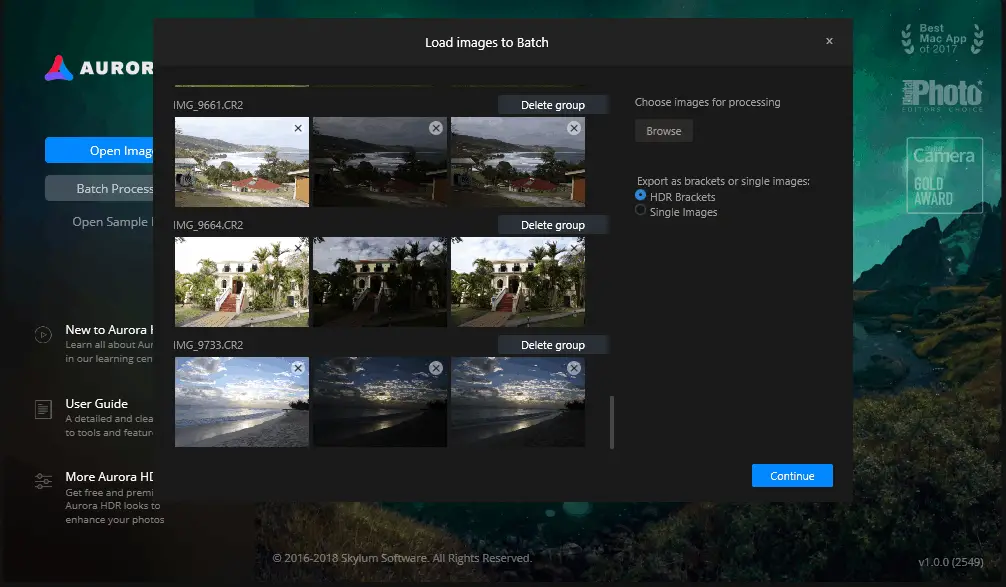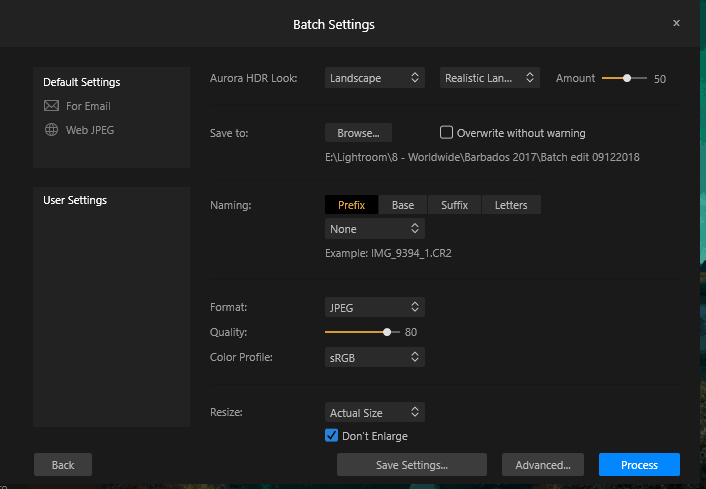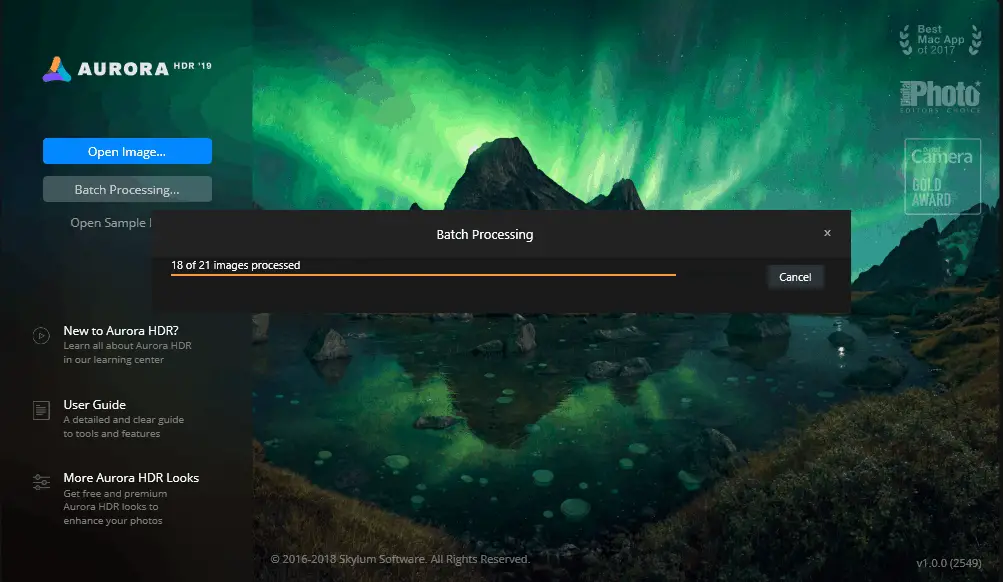 Once that was done all I needed to do was export the images back to Lightroom.
How long did the batch processing of 22 images take?
Not sure to be honest. I set it running and left it to it.
This is the process I followed. In reality it was a bit more convoluted than this as I had already played around with some of the images, but this would be the process from scratch.
Select the 25 images

Strip out all the processing done when images were imported into Lightroom

Add those images to a sub-folder within the main Barbados images folder in Lightroom for easier image selection.

Process one image to get the look I want

Bulk process the rest of the images and see what happens.
You can view the 22 images that I batch processed on a temporary page on my website titled Barbados.
Basically Aurora has taken these 22 images, analysed them individually and then processed them all using the look I assigned, which in this case was landscape realistic.
Aurora HDR 2019 has processed each image individually but automatically which I find quite remarkable.
And how did Aurora HDR 2019 get on with processing the images?
A mixed bag to be honest, and some I am going to go back and rework. Some are great, some not so impressive.
Some of the images certainly need redoing, some look really good. I was pleased that I managed to use a selection of images with varying content.
I need to repeat this process and see if the blurry images are down to me not making the right selections before starting the editing process, but you get the idea.
January update on batch processing with Aurora HDR 2019
I had another go at batch processing this set of 25 images. And this time I took a bit more time and care aover it.
And yes it was all my fault – once I had made all the appropriate selections the blurriness was gone. I will write more about this in a future post – check out the images on this page containing 20 photos of Barbados.
To recap, 25 images processed entirely using Aurora HDR 2019 with nothing from me other than setting up the process.
And if you were wondering why 20 images I had a quick rethink about the content and reduced it down to this number.
OK, back to the original post.
I said this
"22 images processed virtually all by the software with minimal intervention from me! 
That was the hope. 
Aurora HDR is not the magical one-click silver bullet for producing photos for a whole website, but I sort of knew this would be the case."
As you can see above Aurora HDR 2019 performed better than originally reported, which is encouraging news,
But I have to say I am loving some of the images, and there is a definite future use here for me with Aurora HDR 2019.
And to conclude this post let me tell you a bit about Aurora HDR and the remarkable new software that I have been introduced to by Skylum.
What is Aurora HDR 2019?
Aurora HDR 2019 is a Lightroom plug-in. The software produces HDR images, either using single images or by using bracketed sets of images.
Last week on Improve Photography I wrote about the five things that I really liked from my initial play with the software.
Here they are
"One click for great images – seriously

The increased dynamic range Aurora HDR can extract from a single image

The realism of the images produced

The different looks that can be instantly added to an image

The slidey preview thing which I just love

The ease and quickness of use"
You can view the first five images that I created using Aurora HDR 2019 in my article on Improve Photography.
So – is this the processing for an entire website done automatically by Aurora HDR?
No. Is there such a thing? Do I want there to be such a thing?
Yes and no. I want to process my images, but I want to do less of the work myself and let the technology take over.
Finally a word about automation in photography
I was going to title this post "Is Aurora HDR 2019 the future of digital image processing"
I was wondering if this would give me what I wanted, which is bulk processing of lot of images.
And it has not. Not yet. But I think that with a but more time and the knowledge I have gained to date I might be onto something here. And in this update you can see that Aurora HDR performed better than originally reported.
I am going to repeat this exercise with a set of architectural images from a shoot, a set of images that were not picks from a commercial shoot, and see what happens. I am also going to redo the Barbados photos. 
One last point – can Lightroom do this?
No – Lightroom can't do all of this automatically – there is more human intervention required. You can batch process HDR Merges in Lightroom, but further processing is required.
And that is the key difference for me – Aurora HDR 2019 adds that finishing, styling, call it what you want, automatically to batch image processing.
Summary
Well this has all been a bit of a revelation to me.
One thing I am going to is create another new website which is just photos and the metadata. And yes this idea has just come to me writing this post.
I can see Aurora HDR 2019 becoming a part of my digital image processing workflow, but not replacing Lightroom.
I have a workflow in mind which I will work on, and envisage myself using both Lightroom and Aurora HDR to pr
ocess images to produce the look I am after.
I will import images into Lightroom, organise them, crop and straighten and then send over en masse to Aurora HDR for batch processing. I will then export the new images back into Lightroom where I will add the metadata and the add these images to a new website, or a page on my website. 
Check back to my photography blog every Monday for updates on all of this good stuff. 
For the rest of 2018 I am going to continue to play with Aurora HDR, and I will write a further post in the New year once I am more proficient.
And I will be giving Luminar a try as well. 
So to answer the original question – Aurora HDR vs Lightroom – which is best?
Neither. They both have their roles in my digital image processing. Lightroom is where everything is organised and worked on, Aurora HDR 2019 is just for the fun stuff.
And I can live with that!
Rick McEvoy Photography – photographer, writer, blogger