The right tripod head will help you to take better photos of buildings. It is that simple. I am not going to do a review of all the tripod heads out there – other people do stuff like that. I am just going to tell you what tripod head I use. Simple.
I use the Manfrotto XPRO Geared Three-way pan/tilt tripod head to take photos of buildings. This tripod head is compact, lightweight, and highly portable, but more than capable of taking my Canon 6D and Canon 17-40mm F4L lens. The tripod head has micrometric knobs for precise adjustment of the camera position. The Manfrotto X PRO helps me to quickly take technically accurate, tack sharp photos of buildings.
OK – that is what I use. And I have owned a lot of tripod heads over the years, but have settled on this excellent piece of kit for a long old time now.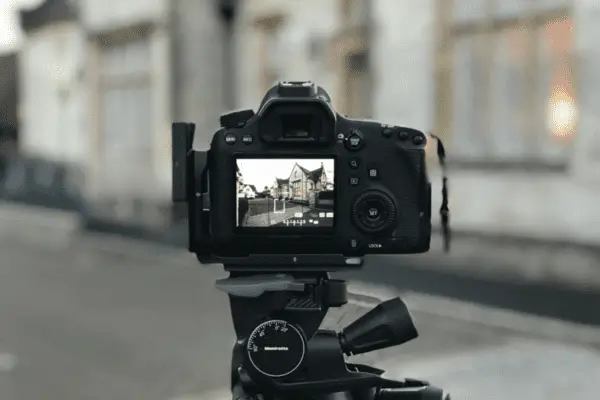 Who am I?
I am Rick McEvoy, an architectural, construction and real estate photographer based in the UK. I help photographers learn how to take photos of buildings by telling them what they need to know and no more, in my weekly blog. I am also the creator and all things at the Photography Explained Podcast.
I am professionally qualified in both photography and construction, and have been doing both for well over 30 years. So I know this stuff ok?
And I am a nice chap.
Why do I use a tripod?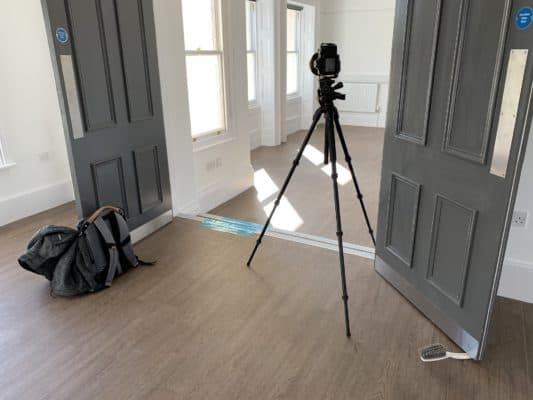 I use a tripod to take photos of buildings for a number of reasons
To help me get the composition nailed
To get the composition technically correct in camera
To get tack sharp photos
I don't need to worry about the shutter speed
I get three photos perfectly aligned
So there you have it.
For more on this check out the post Why Is My Tripod My Most Important Accessory For Photographing Buildings? This post is about the tripod head that I use.
What tripod do I use?
I use the Manfrotto 190 Go. More in the post that I have just mentioned.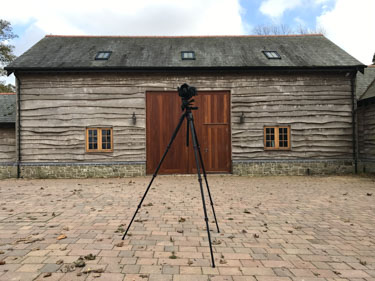 What other types of tripod heads are there?
Well there are lots out there. This is a list off the top of my head.
Geared heads
Ball heads
Panoramic heads
Gimbal heads
Ball heads are very popular, but they do not give me the precision that I need. I sometimes use a ball head for travel and landscape photography, but never for photographing buildings.
What is a geared head?
Well taking my Manfrotto geared head as an example, and why would I not? A geared head gives precision adjustment in all three planes.
The geared head has levers so you can quickly get the camera in the right position. Then to fine tune the composition rotate the micrometric knobs, "one micro-step at a time" – yes I took that bit from the Manfrotto website.
Why this helps me take photos of buildings?
And what this means for me is this. Firstly, I quickly get the composition that I am looking for using the levels, and then very quickly ai can get the building level. This is the first job. Once I have the building level using the knob that moves the camera in that plane, I quickly get the verticals using one of the other knobs.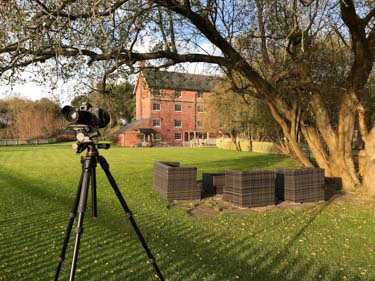 And at the same time I am checking the composition to make sure that is how I want it.
The Manfrotto X PRO geared head helps to take better photos and saves me time, it quite literally does this for me on every shoot.
This saves me time later in Lightroom, as I rarely have to make any further adjustments.
Is it good quality?
Manfrotto give a 10 year warranty on this head, so yes. And I have been using the same one for over 5 years now. And I have never had a problem with it, so yes, I would say that it is excellent quality.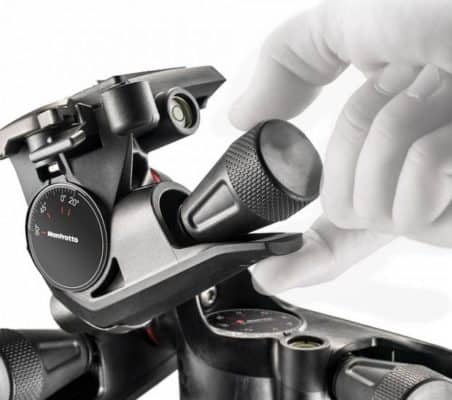 As to how much weight it can carry, it can take a 4KG load, which is fine as my Canon 6D and Canon 17-40mm lens weigh a paltry 1.25KGs.
4KG these days is quite a lot of weight, but check of course before committing to this or any other tripod head.
How much does it cost?
Not too expensive. Look to pay less than £200 in the UK, and circa $250 in the US. Now I know that that is a chunk of money, but buy one of these and it will help take photos of buildings you for many years.
Am I being paid to tell you this?
Well no. I bought this tripod head with my own money some years ago. At the time of writing this (I have to say this as you never know what might happen) I have no relationship with Manfrotto other than being a satisfied, paying customer.
But, if you want to buy one of these excellent bits of kit using my Amazon Associates link you don't pay any more but I get a small commission, which basically comes out of Amazons' cut of the sale. I am sure they can afford this.
Here is the link – if you use this I thank you.
Manfrotto X PRO Geared Tripod Head
And here is an Amazon Affiliate link to the Manfrotto 190 Go tripod.
Manfrotto 190 Go Tripod
Do I really take every photo with my camera on a tripod?
Yes, I really do. The only time that I do not is when my camera is on my painter's pole, or I am holding my camera out of a window or other stuff like that.
Summary
My Manfrotto X PRO geared tripod head helps me take perfectly composed, technically accurate, tack sharp photos of buildings time after time.
And here is a link to the Manfrotto website page for my tripod head of choice – this is where I took some of the photos from (thank you Manfrotto – I hope trust you do not miond?).
Related viewing
There is a You Tube video for this blog post which you can watch here on my You Tube channel.
OK – how can I find out more about this stuff?
Simple.
Get in touch with me – email me – sales@rickmcevoyphotography.co.uk
Check out my website Rick McEvoy Photography
Check out my splendid Photography Explained Podcast
Get in touch, ask me a question that I can answer on my blog or podcast, or just say hi – it would be great to hear from you.
Thanks for visiting my small but perfectly formed website, and I look forward to hearing from you.
Cheers from me Rick