I am a big fan of podcasts, having learnt lots in recent years whilst doing other stuff like driving and cutting the grass. But do you know what – there is a gap in the photography podcast market, which I have filled.
In the Photography Explained podcast I explain one photographic thing at a time. I explain one photographic thing per episode, in plain English, in less than 10 minutes without the irrelevant detail. I explain photographic things so you understand them enough to help you with your photography and no more. I explain things based on my lifetime of learning and practising photography.
Get your questions answered by me
Email me your question and I will add it to the list. More on this later but do this now and then read on please. I will come back to this don't worry……
But the purpose of my podcast is to answer questions submitted by my listeners.
Now on it's own website
Yes I have set the podcast free, so there is a shiny new website for the Photography Explained Podcast.
Who am I to answer your questions?
I have well over 30 years experience in photography. I am professionally qualified in photography and pretty much self-taught. Everything you read on my blog, website or listen to on my podcasts is all my own thoughts, words and all my own work.
And I am not interested in irrelevant detail, and neither should you be (if you are like me that is).
What do I mean by irrelevant detail?
Without the irrelevant detail – this is a big part of this for me. I have learnt lots of things in so much detail over my lifetime that I really did not need to know. Starting at school thinking about it.
Now if you are one for the detail then that is just fine. But this is not for me. I have absolutely nothing against people who want to know the ins and outs of everything, in fact I am in some ways jealous of people like this.
I just cannot get into that level of detail – it is just the way I am wired.
How do I define irrelevant detail?
Well let me try this analogy. I understand how to turn my TV on. I can change the channels, change the picture settings, turn the volume up and down. I can even use Netflix and You Tube on it using the remote control.
I can use my TV to give me what I bought it for.
But do I know how it works?
No I do not have a clue. And if I did understand how a TV works would it make my viewing experience any better?
No it would not.
That is how I define irrelevant detail.
OK?
Why a podcast?
I love listening to podcasts – they are such a great way to learn stuff. I listen to podcasts when I am driving around, exercising (erm ok that is not that often), cutting the grass – anytime really.
And I have learned so much listening to podcasts whilst doing other things.
This for me is the beauty of podcasts.
So why start my own?
Well that is what I have done. And I am really enjoying it I have to say.
Have I done this before?
Erm no. This is my first go at podcasting. It is actually my first go at any kind of audio creation.
I have been putting this off for far too long now, so decided to take the plunge and go for it.
And do you know what? I love it. Yes I really love doing this, teaching people all around the world photographic stuff that I have leaned over the years.
How long will an episode be?
10 minutes. Ish. It depends but I my plan is to explain one photographic thing in 10 minutes. If I cannot I will have to break it down into to parts – this just came to me while writing this by the way after feeling like I might have rushed a few episodes.
All part of the learning though.
Why 10 minutes?
Well I was looking for a podcast lasting 10 minutes ish that explained things that I wanted to learn – I couldn't find it so created it myself.
10 minutes should be enough to explain a photographic thing to the level of detail I am prepared to go to.
How did I learn how to do this stuff?
Well I followed the Podcast Cheat Sheet which Pat Flynn has created which you can download from the Smart Passive Income website. This, along with what I have learned from the listening to people that I can trust, told me all I needed to know.
It took a while though to get my head round all of this good stuff though.
What gear did I have to buy?
Just a microphone – a Samson Q2U which costs less than £100 from Amazon (this is an Amazon Affiliate link). That was all. I record straight to my PC.
Another appealing thing about podcasting is that it is easy to get into.
What I am going to talk about?
Anything and everything photography related. And hopefully I will get questions from listeners to answer which will be really cool and will be the first sign for me that I am on the right track with what I am doing.
I have a list of ideas of things that I am going to answer which you can see on this page of the Photography Explained Podcast website.
What questions have I answered?
Well these are all listed on the What Can You Listen To On The Photography Explained Podcast? page, along with podcast players so you can listen to them right from my website.
Is there a list of future questions?
Yes – see above.
How do I (the reader) ask a question?
Email me – my email address is sales@rickmcevoyphotography.co.uk. I will add your question to the list. In fact I think once the questions come rolling in I might create a new page for listeners questions.
And if you want me to explain something that I have already covered in more detail that is fine with me too.
What about my photography blog?
That will continue. I will still publish weekly blog posts. I will actually be adding to this by publishing a blog post for each podcast episode, containing a transcript of each episode.
So that will be three blog posts per week on my photography blog.
Where is my podcast?
It is hosted on Buzzsprout. This is the RSS feed. You can find my podcast on all the major podcast players including ITunes, Spotify, Google and Pandora.
I know – me on all those channels!! How utterly amazing.
Where can I listen to the podcast?
Everywhere. And if you find a podcast service that I am not on please let me know! You can also listen to podcast episodes on the Photography Explained Podcast website.
When will new episodes be published?
At the moment I publish episodes every Tuesday and Thursday at 3pm GMT. I am thinking about changing this in the future but like creating 2 new podcast episodes a week. That is a good number for me which I can sustain and hopefully use to get some good growth.
Why am I doing this?
Well it started with me wanting to try something new in addition to blogging. I love listening to podcasts so I thought – I can create my own. And this is what I have done.
I can help people by sharing what I know.
And now that I have started this and am in the swing of it I am determined to make a success of my podcast.
What does success mean to me?
Success is me never having to come up with a question to answer as they have come from my listeners. If I get to that self-sustaining and nicely interactive point I will be happy.
And also building on the work I have done on my blog to increase my presence online and hopefully add to my passive income.
I am not trying to create the biggest photography podcast on the planet – but if I do then that will be great!
But I do aim to create the best photography podcast out there, providing straight forward advice to photographers one bit at a time.
What is my aim?
To get into the top 10% for podcasts globally. Really yes this is my plan. There are numbers for this. When my Buzzsprout podcast predictor anticipates me getting 136 downloads per episode (within the first 30 days) then I will be in the top 50% globally – this is my first target.
What about the future?
Well I want to keep publishing new episodes twice per week, and hopefully in the not too distant future be answering questions put to me by listeners. And once I get to that point I will have a think about what to do going forwards.
Talking of which
My membership area
I am working on a members area, with lots of good stuff not. I am also planing on recording longer versions of each podcast episode where I expand on the subjects I have talked about, and give you a bit more of me and my experiences with the things that I am talking about.
And I have some other ideas for cool stuff.
And I might get first-hand info from industry experts I am connected with.
This is work for 2021.
Summary
So now you know about my shiny new photography podcast. Small and perfectly formed just like (sure I am kidding!) and available all over the place.
I look forward to hearing from you and answering your questions on the Photography Explained Podcast.
Want to find out more?
Check out my photography blog for more, and these posts in particular
Check Out The Most Excellent Photography Explained Podcast
Another Photography Podcast. Really? Yes Why Not??
How to create an excellent photography podcast in 2020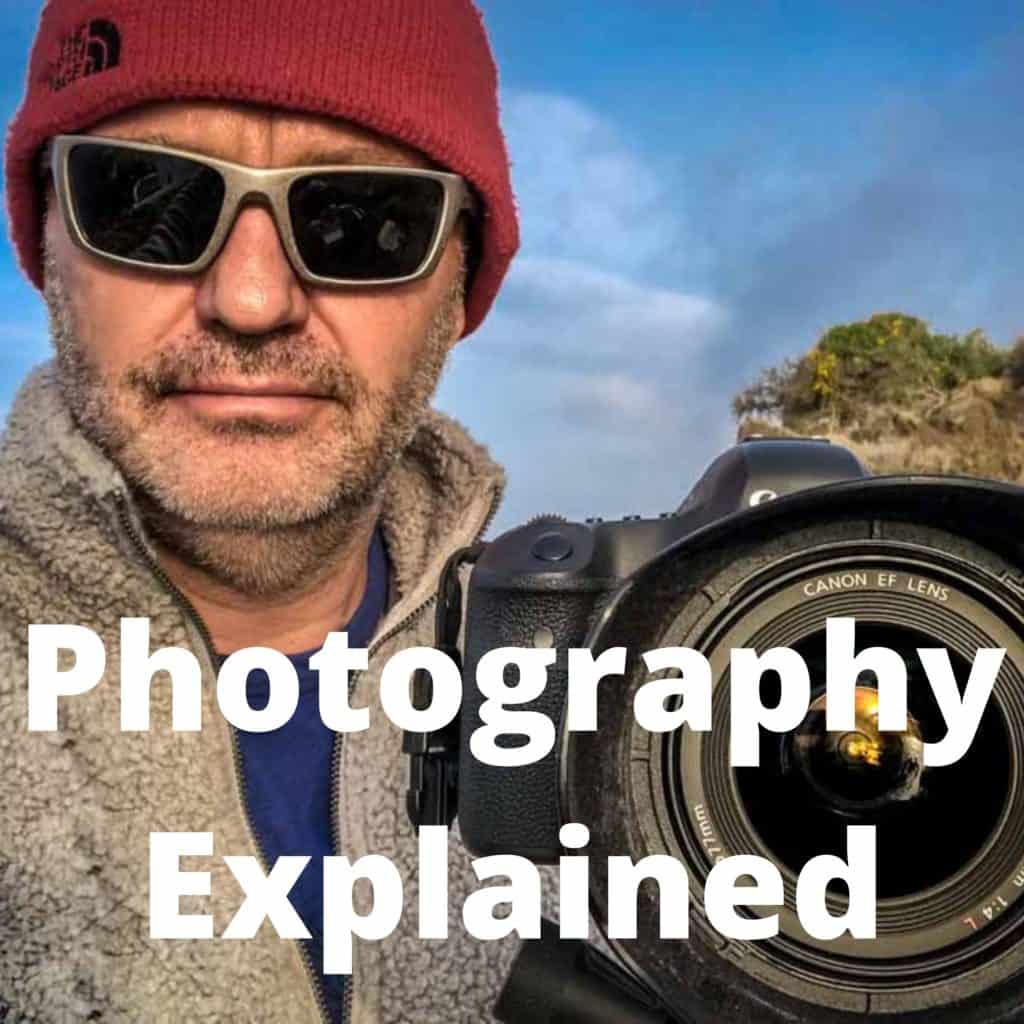 Rick McEvoy – Photography Explained Podcast